Delicious lean cabbage rolls will especially appeal to all mushroom lovers. The dish is very tender, low-fat and satisfying.
Ingredients:
Cabbage – 2 small heads (380 g each).
Mushrooms (oyster mushrooms or champignons) – 300 g.
Rice – ½ tbsp. (100 g).
Onion – 1 pc. (100 g).
Carrot – 1 pc. (100 g).
Vegetable oil – 2 tbsp. l. (32 g).
Ground pepper – 1 pinch.
Salt – to taste.
Butter – 20 g.
Dill – 2 sprigs;
Water – about 1 liter.
Cooking time: 1 hour 20 minutes. Servings Per Container: 9.
Cooking:
1. We take a head of cabbage with leaves loosely twisted on it. In it, we completely cut out the stump, capturing the bases of the leaves from it.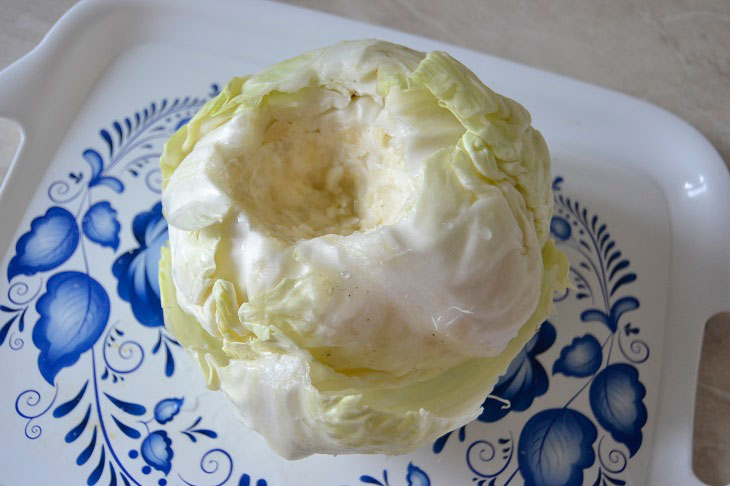 2. After removing the leaves from the head, boil them in water for 1-2 minutes.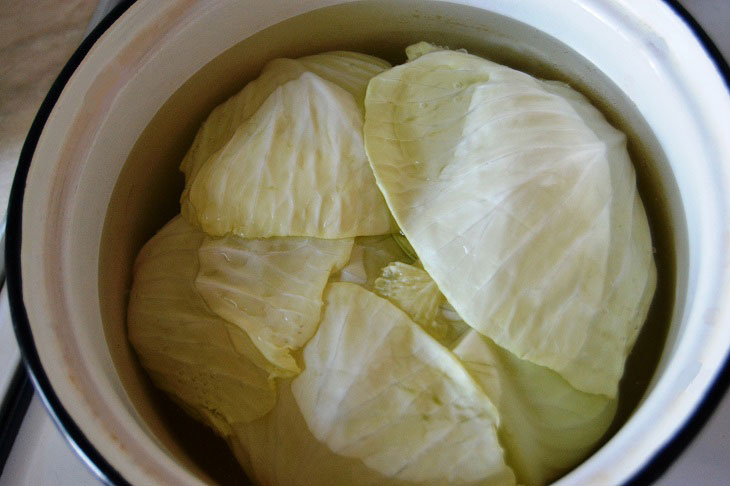 3. Cut off thickenings from boiled cabbage leaves. Then cut the leaves in half. Having coped with this work, we put the leaves in a plate, and we ourselves will deal with the stuffing for cabbage rolls.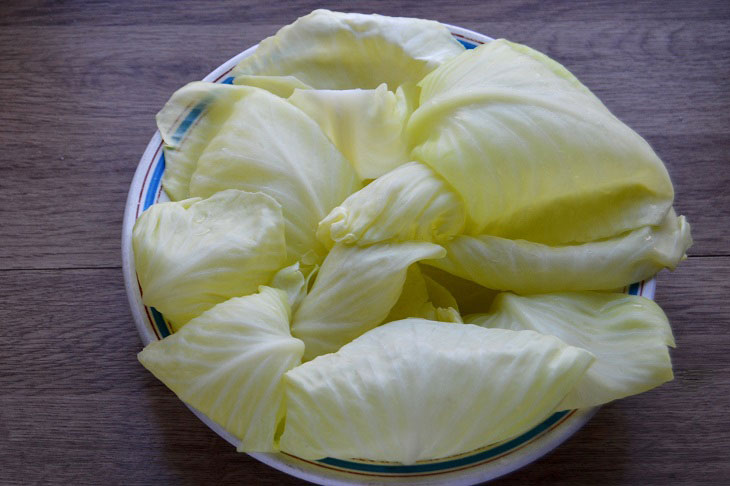 4. We wash ½ cup of rice, changing the water in a bowl with it several times. We achieve transparency of the water drained from the rice. Pour rice with a glass of clean water, put on fire. After boiling, cook it on low heat for 7 minutes.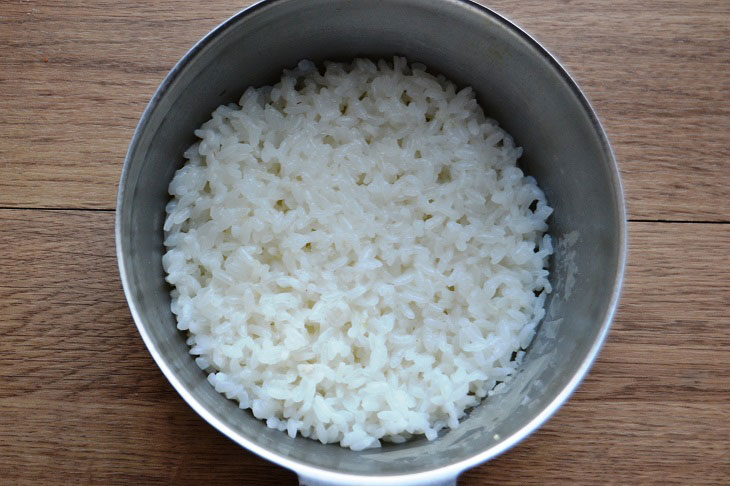 5. Cut the onion and chop the carrots on a grater.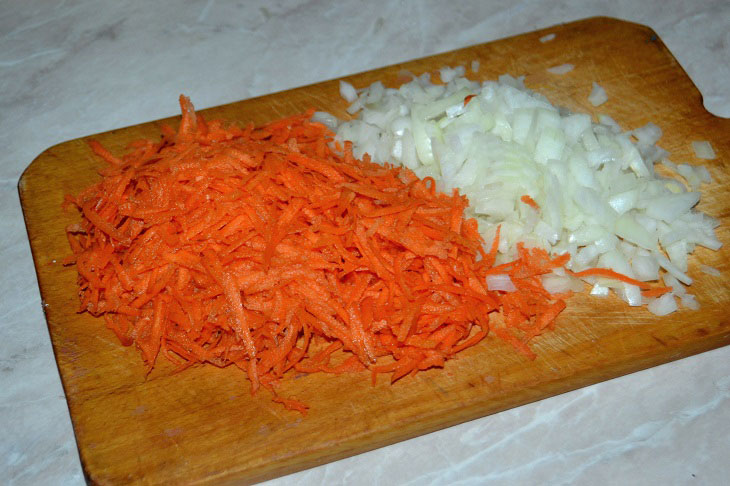 6. Next, we pass the vegetables in vegetable oil. Add finely chopped mushrooms. Salt and pepper.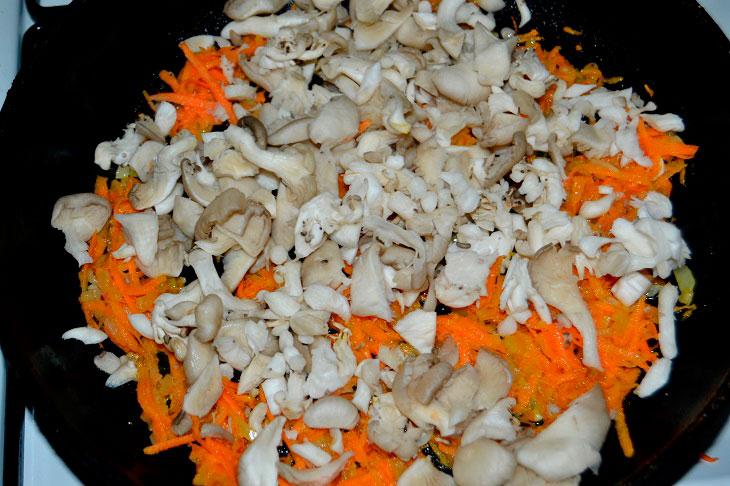 7. Fry the mushrooms with vegetables until all the liquid comes out of the mushrooms and they begin to blush.
When the filling is ready, wrap it in cabbage rolls. Take chopped cabbage leaves. Lay them out on the table, inside up. With a dessert spoon, put the minced meat in the center of the sheet. We wrap from a sheet of "packets" with a filling in the middle. We close the open part of the "bag", tucking the edge of the cabbage inward.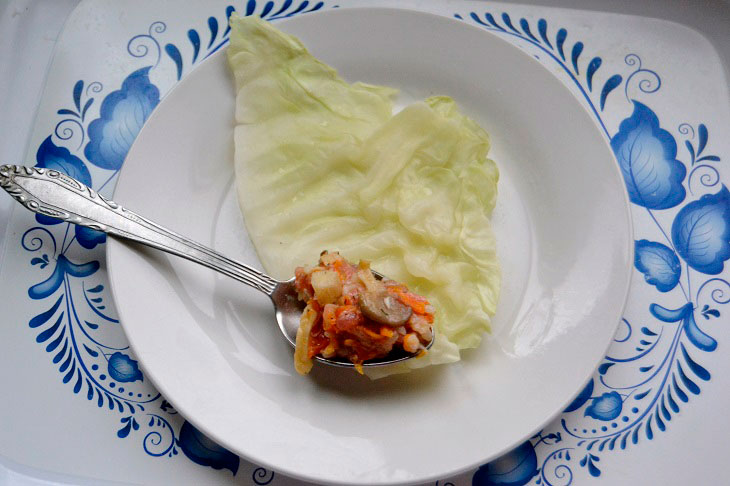 8. Heat refined oil in a pan. We put stuffed cabbage rolls in it with a seam down. Fry the stuffed cabbage blanks on both sides until golden brown.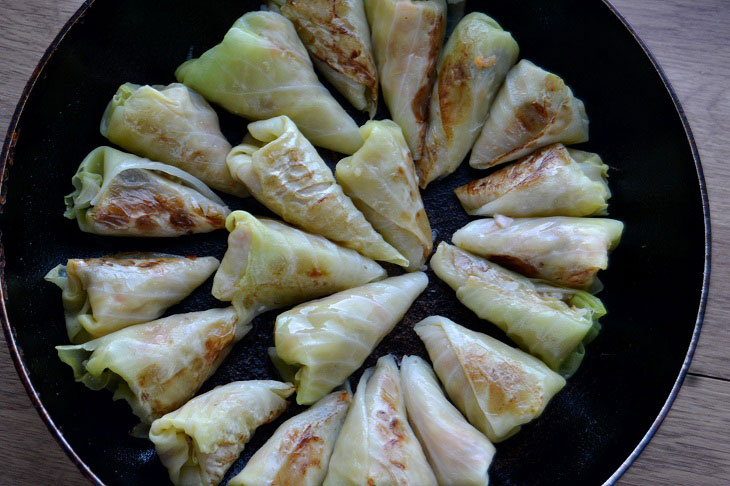 9. At the bottom of deep cooking utensils we place small leaves of cabbage, in which it is impossible to wrap cabbage rolls because of their small size. You can also put trimming thickenings from cabbage leaves.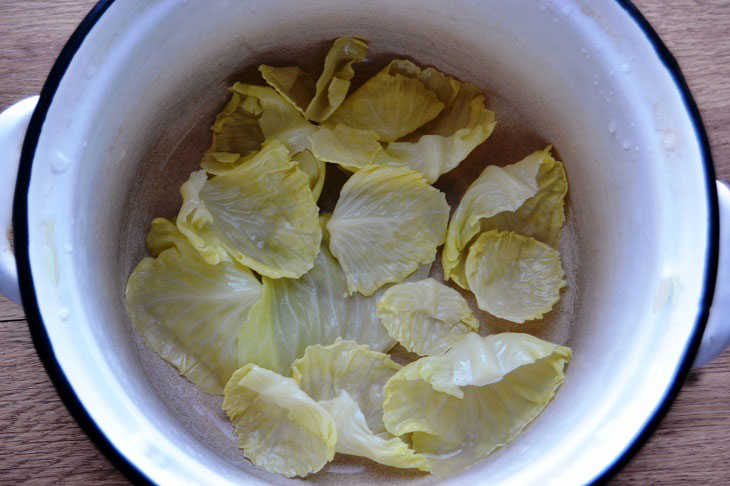 10. On a pillow of cabbage leaves, put all cabbage rolls very tightly in a saucepan. Put pieces of butter on the cabbage rolls. Fill with salted water so that it completely covers all the cabbage rolls.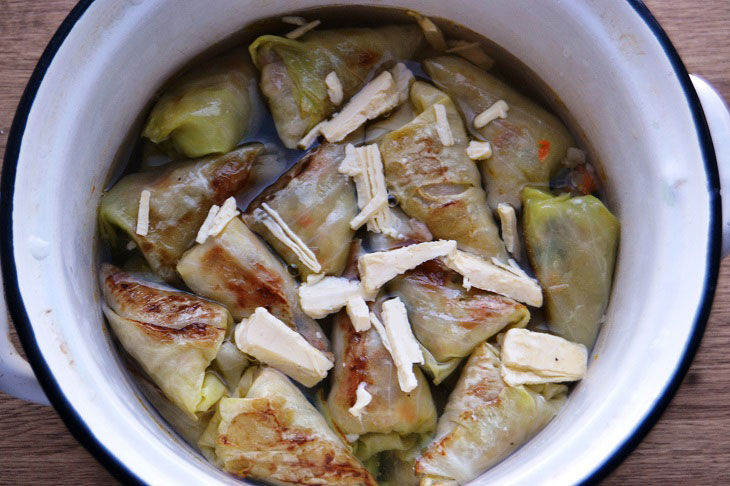 11. We cover the cabbage rolls with a plate turned upside down so that it presses them, preventing them from floating up. Place a small bowl of water on top of a plate.
We select a cup such that it does not interfere with closing the pan with a lid.
Bring to a boil, then cover with a lid and lower the heat on the stove. On a small fire, simmer the cabbage rolls for 25-30 minutes. At the end, add a fairly finely chopped fresh dill or a pinch of dry dill.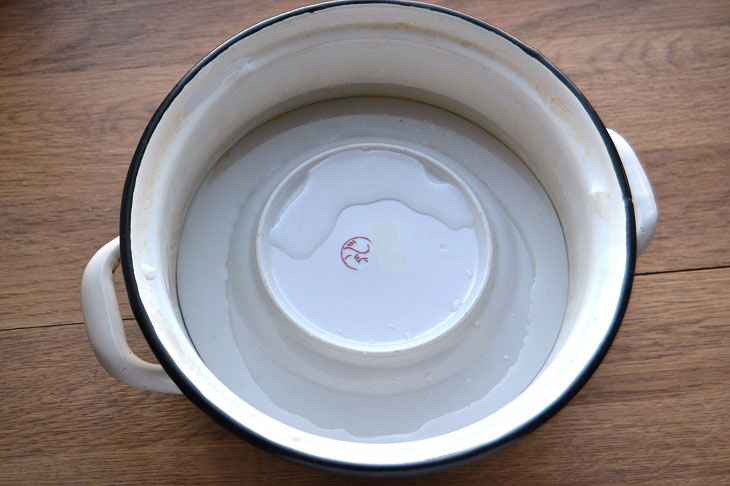 Ready cabbage rolls are served hot. Stuffed cabbage can be served with sour cream or sour cream sauce.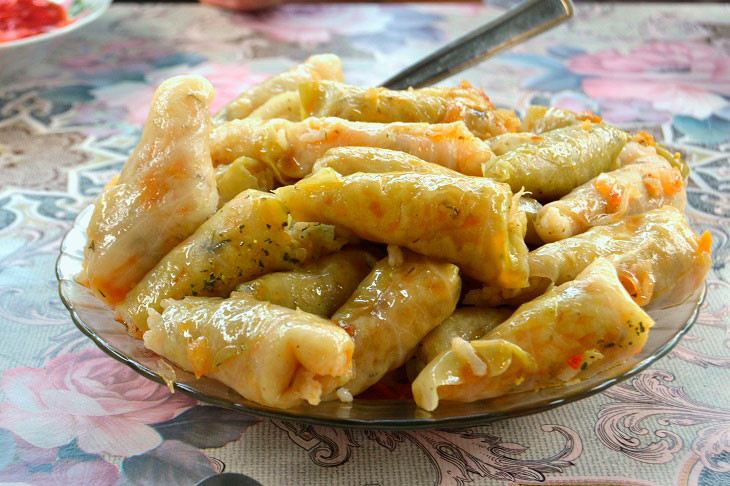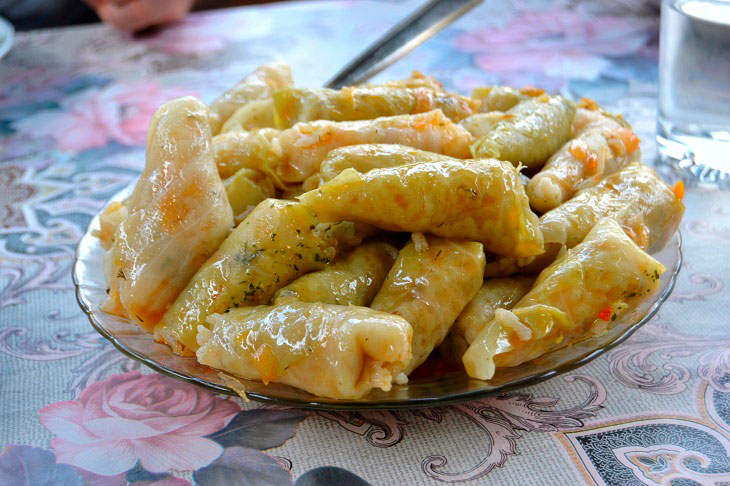 Enjoy your meal!