There are many winter holidays ahead, which traditionally begin on December 23 and last until January 13. For a festive feast, we offer red fish canapés – a great alternative to the usual sandwiches. Pay special attention to the design of the dish, and even the most sophisticated gourmets will surely appreciate the taste.
As a base, you can use slices of white or gray bread without crusts. For fish balls, any salted red fish is suitable – salmon, salmon, trout or pink salmon. Red fish goes well with cream cheese like Philadelphia or Almette. For the recipe, hard cheese with a fat content of 50% or more, with a neutral taste, is suitable. The dish is decorated with snowflakes from daikon (white radish). If you do not have special cuttings, you can cut out stars or Christmas trees with a knife according to the template.
Ingredients:
Sweet salad onion – 0.5 pcs.
Pink salmon – 250 g.
Cream cheese – 150 g.
Hard cheese – 130 g.
Eggs – 2 pcs.
Mayonnaise – 2 tbsp. l.
Daikon – 20 g.
Salt pepper.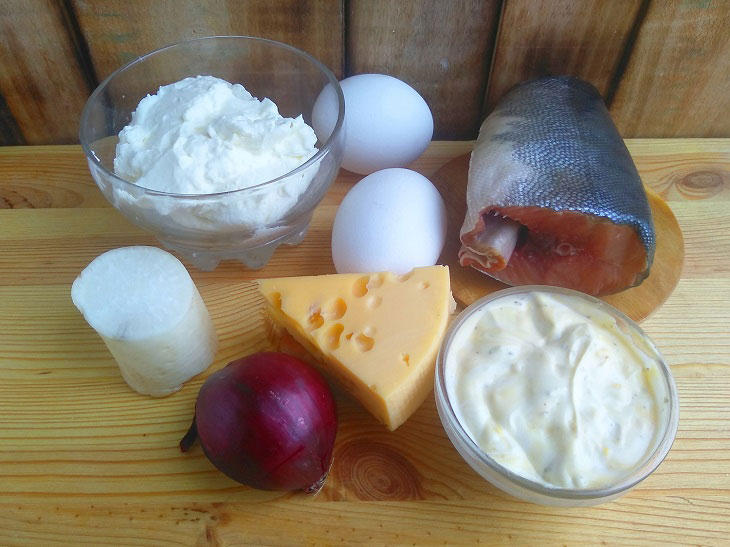 How to cook:
1. Remove bones and skin from pink salmon. Cut the fillet into small cubes with a side size of 0.5 – 0.8 cm. Put the prepared fish in a bowl for making snacks.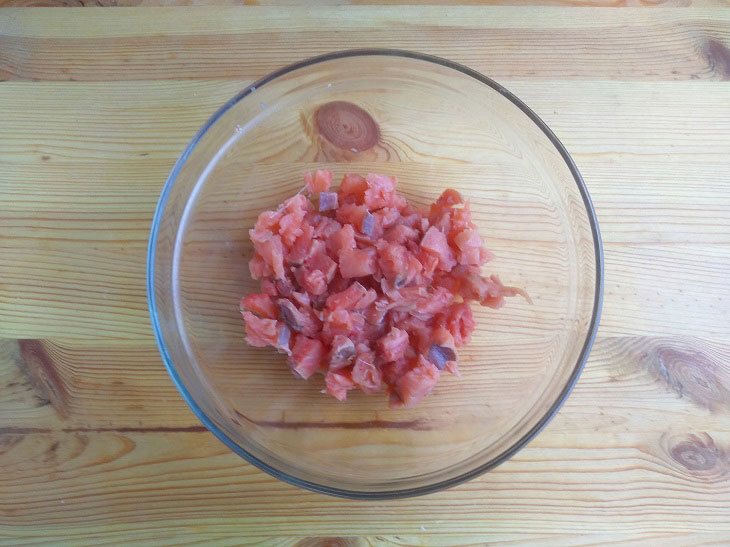 2. Peel the onion from the husk, chop as small as possible. Drizzle lightly with vinegar or lemon juice. Put on the fish.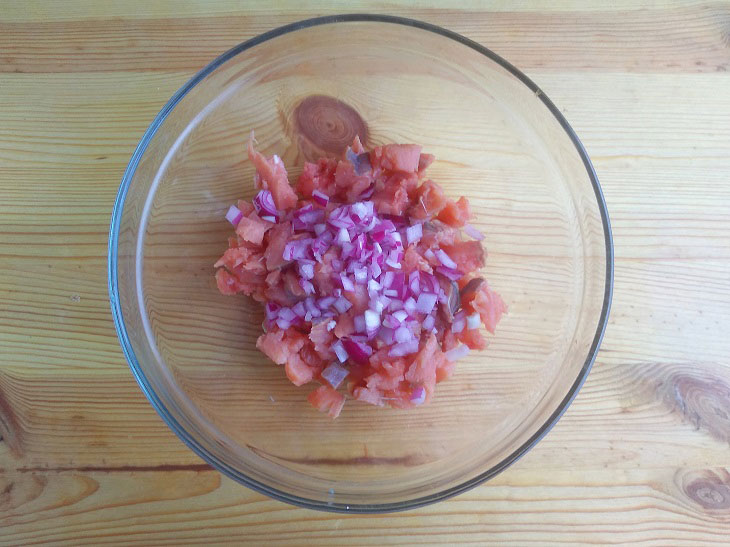 3. Grate hard cheese on a fine grater, set aside a little for sprinkling. Add the rest of the cheese to the rest of the ingredients.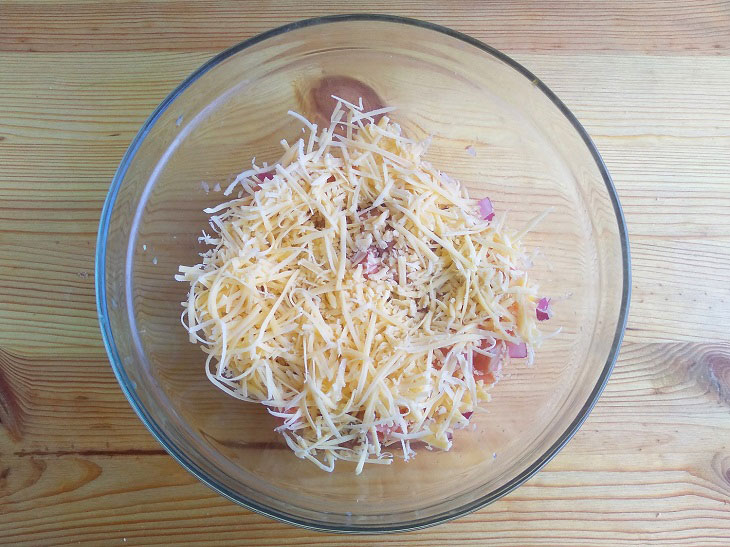 4. Boil the eggs over low heat for 8 minutes, cool in cold water. Peel them from the shell and grate on a fine grater. Put the prepared mass into a bowl.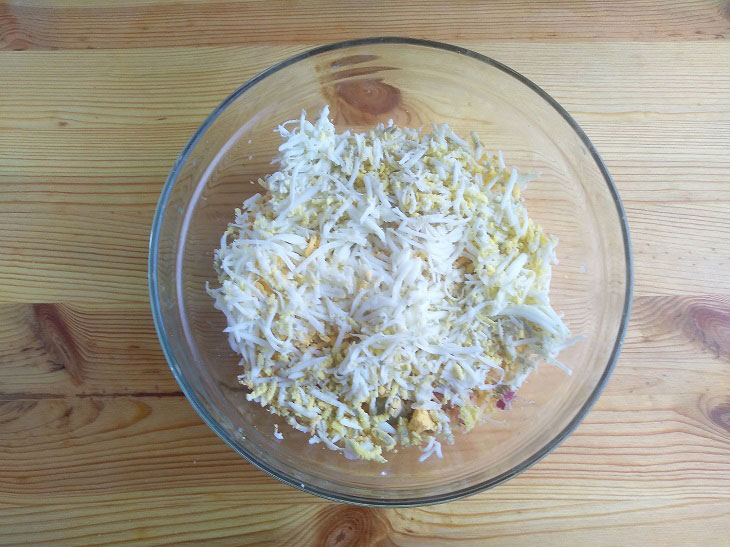 5. Add cream cheese. Salt the mixture, pepper, mix.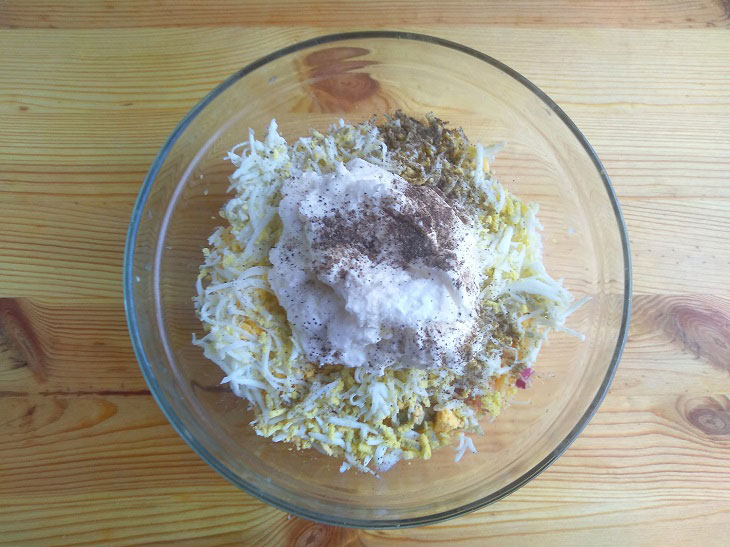 6. Season the appetizer with mayonnaise.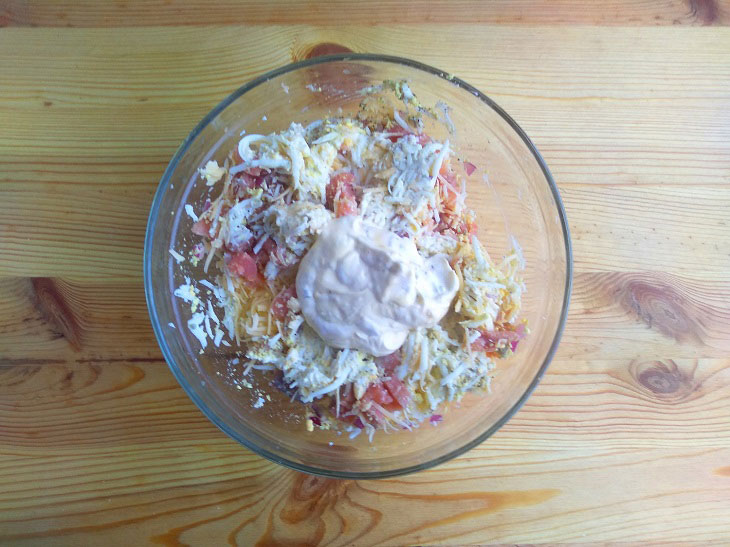 7. Leave the mass in the refrigerator for 30 minutes.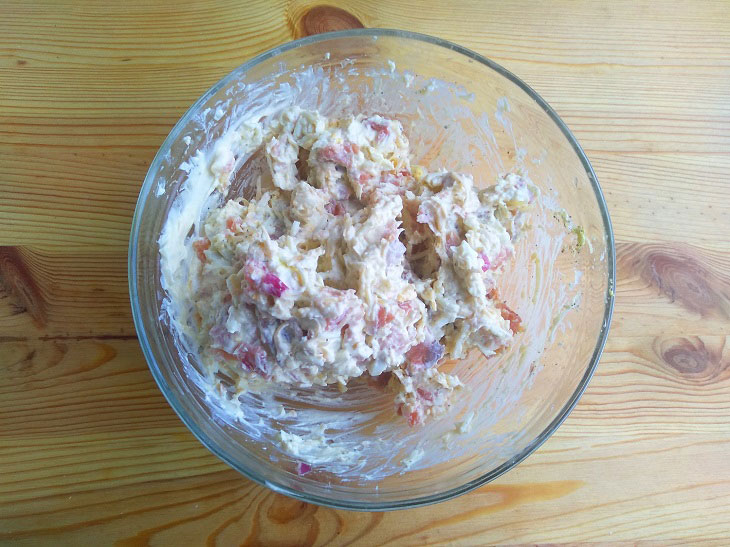 8. Cut out stars and small circles from white and gray bread.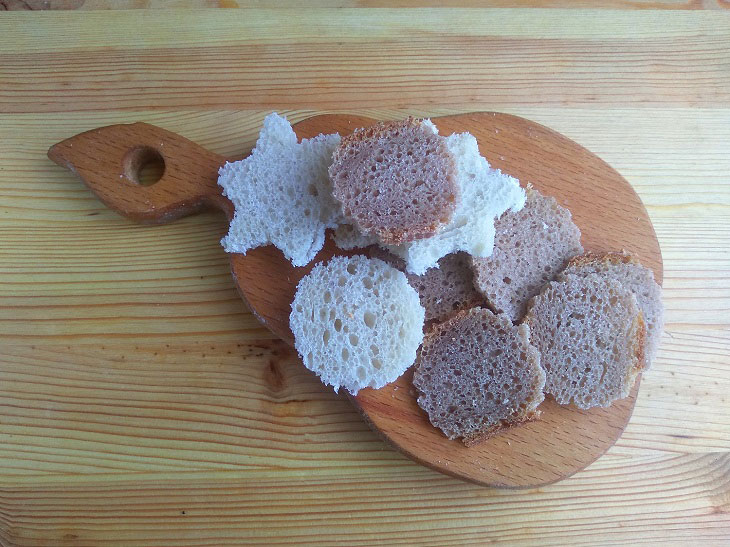 9. One – one and a half teaspoons of snacks put on a plate with grated cheese. Roll into balls, roll them in grated cheese.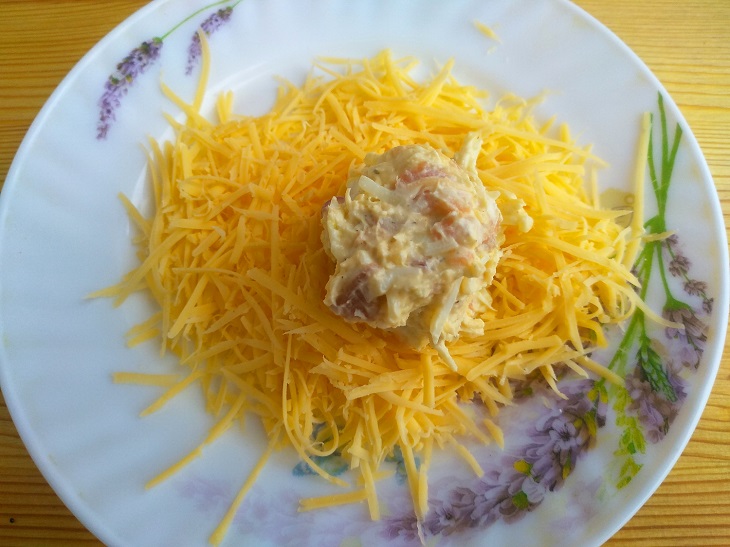 10. Cut the daikon into thin slices (2-3 mm). Cut out cookies to make snowflakes. Leave snowflakes in cold water for 10 minutes.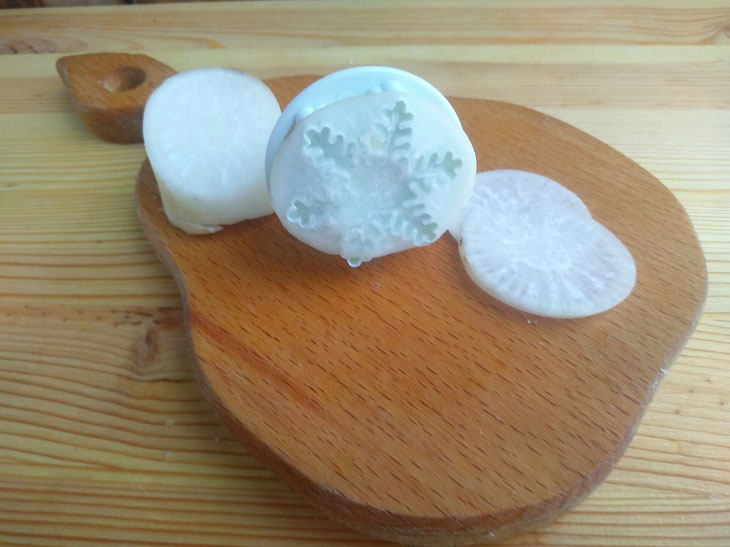 11. Put the balls on the prepared bread, place on a serving plate. Arrange snowflakes and thyme sprigs around. Decorate the top of the canape with small pieces of bitter pepper. Serve to the table.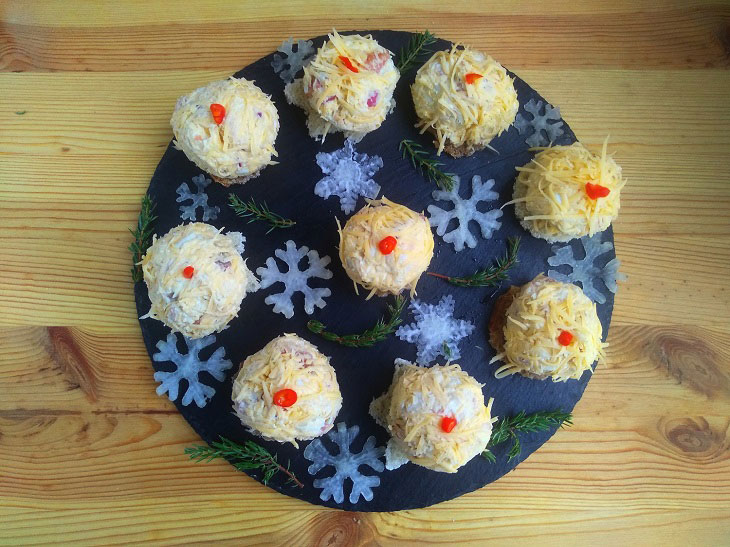 The appetizer looks bright and appetizing, and the unusual design creates a festive mood. Red fish canapes are best served with dry white wine or champagne.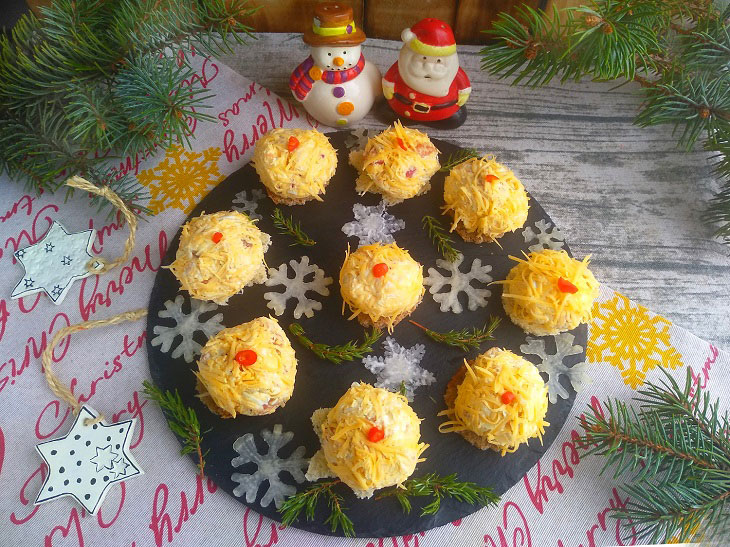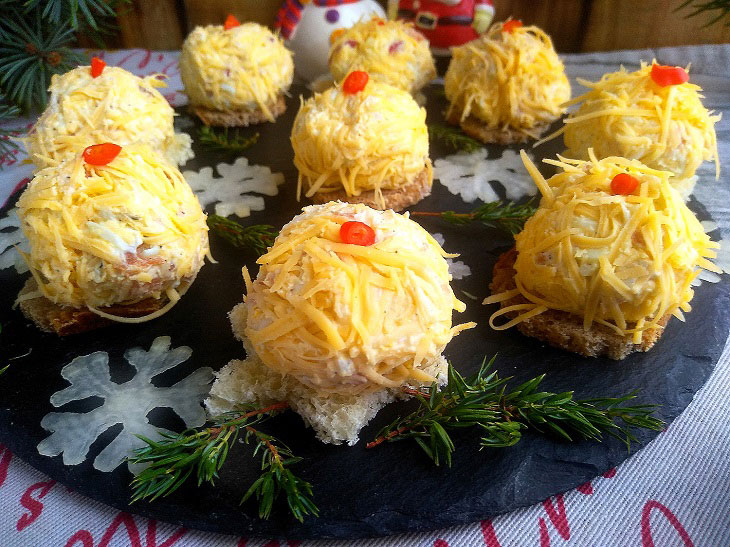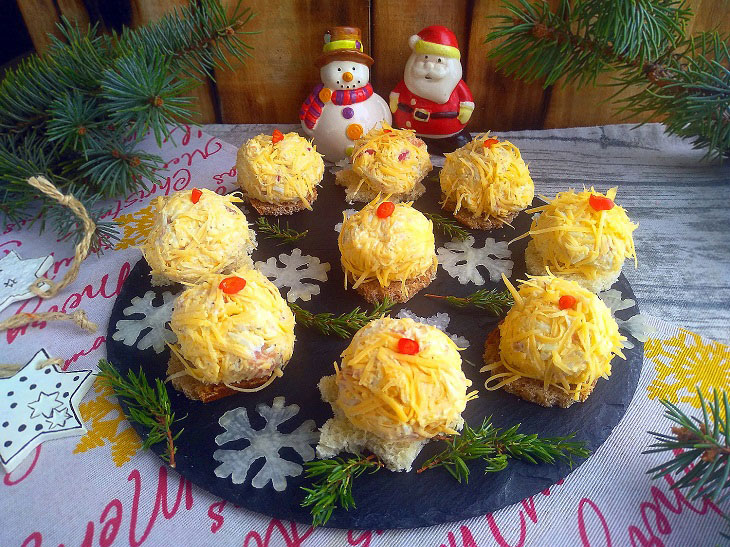 Bon appetit!