Dried fruit and almond sweets are an easy-to-prepare and healthy dessert that even an inexperienced cook can easily make. The basis of sweets is dried fruits – dates, dried apricots, prunes and raisins. Roasted almonds fill the dessert with subtle nutty notes and help to fully reveal the taste of dried fruits. Flour-ground oatmeal and coconut flakes serve as binding links. And the lemon juice softens the sweetness of the sweets.
Candies are rolled in coconut flakes and cocoa powder. The latter in appearance resemble truffles. This dessert will appeal not only to adults, but also to lovers of sweets – children.
Ingredients:
Pitted dates – 80 g.
Pitted prunes – 70 g.
Dried apricots – 80 g.
Raisins – 70 g.
Almonds – 50 g.
Oat flakes – 50 g.
Coconut shavings – 20 g.
Lemon – 1 slice.
For sprinkling:
Coconut shavings – 30 g.
Cocoa powder – 3 tbsp. l.
How to cook:
1. Peel the shell off the almonds. It's easy to do. Put the nuts in a bowl and cover with boiling water. Let stand for literally 5 minutes, then drain the water and peel the almonds.
Instead of almonds, you can use other nuts for making sweets, such as walnuts, cashews, hazelnuts, peanuts, etc.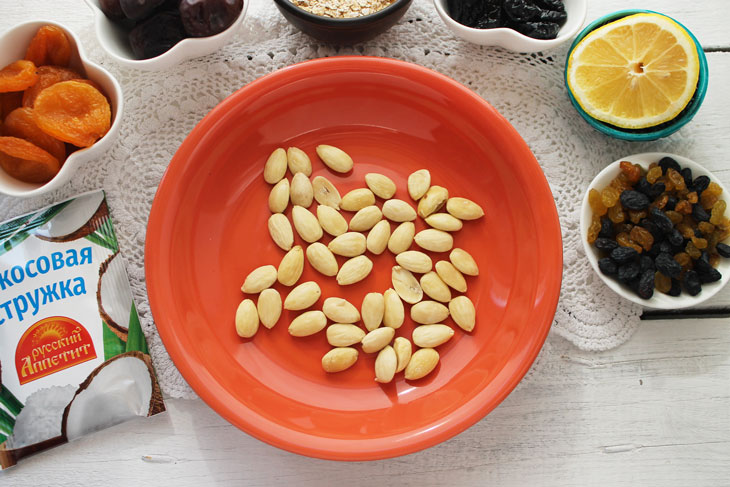 2. Toast the almonds in a dry frying pan.
Do not forget to stir and be sure to make sure that the nuts do not burn.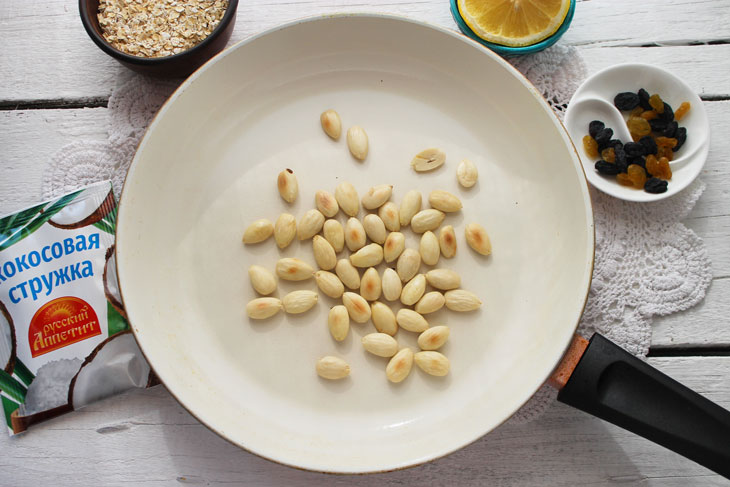 3. While the nuts are roasting, prepare the dried fruits. Put the dates, prunes, dried apricots and raisins in a colander and rinse well under running water. Let the liquid drain.
You can use any raisins – both large and small, as well as light or dark.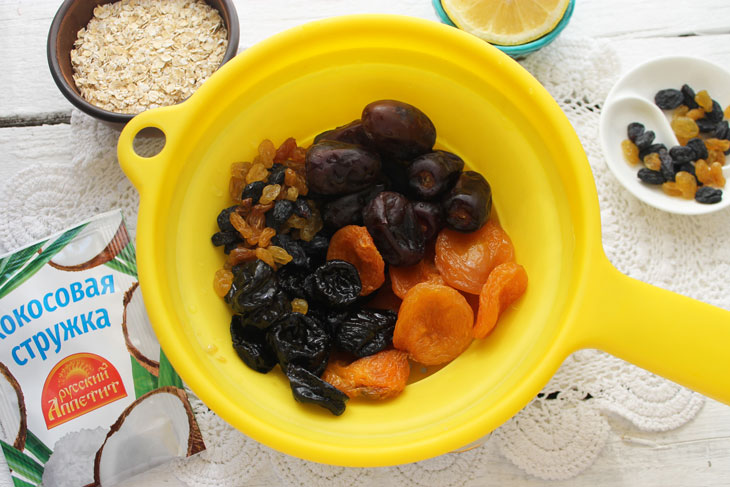 4. Put the almonds and oatmeal in a blender bowl.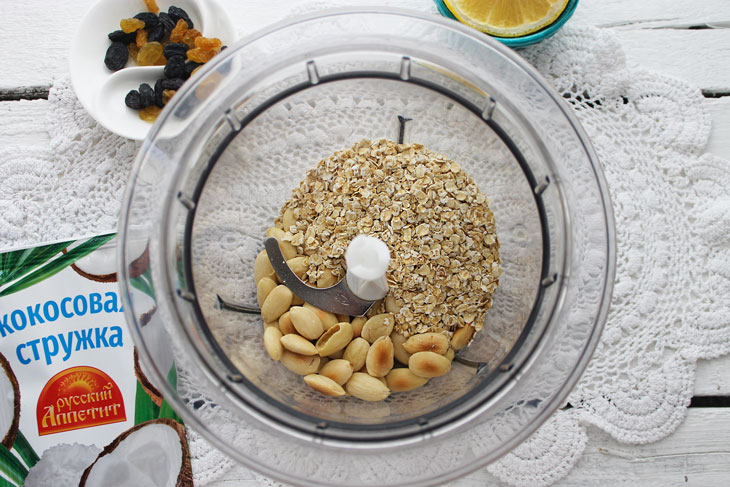 5. Grind them into flour.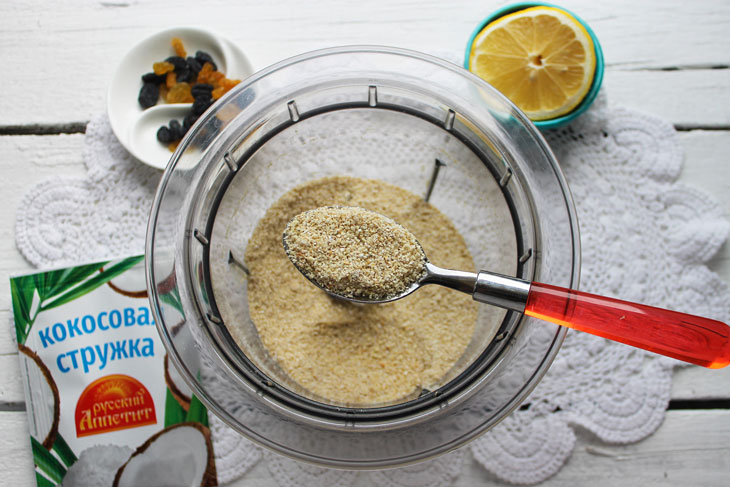 6. Add shredded coconut to the blender. Grind.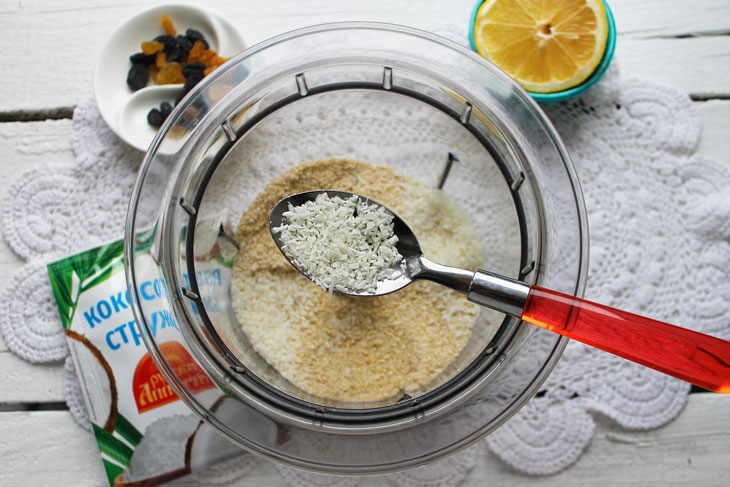 7. Next, add the prepared dried fruits in parts. And grind again. At the end, pour in 1 tablespoon of juice squeezed from a slice of lemon. Stir.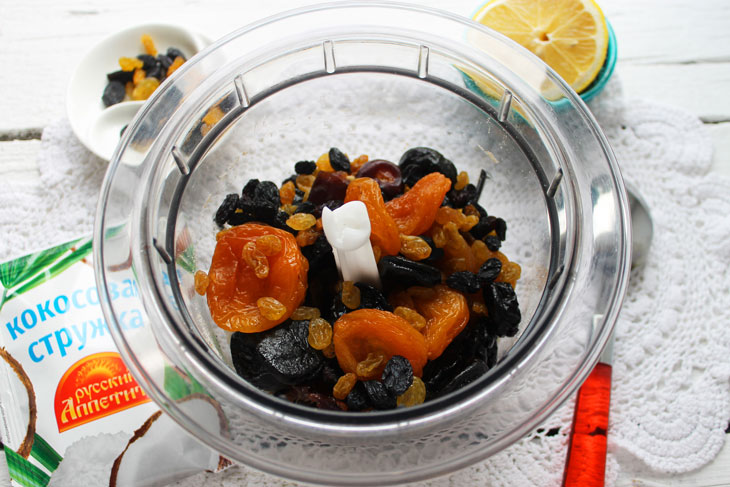 8. The result should be a homogeneous sticky mass.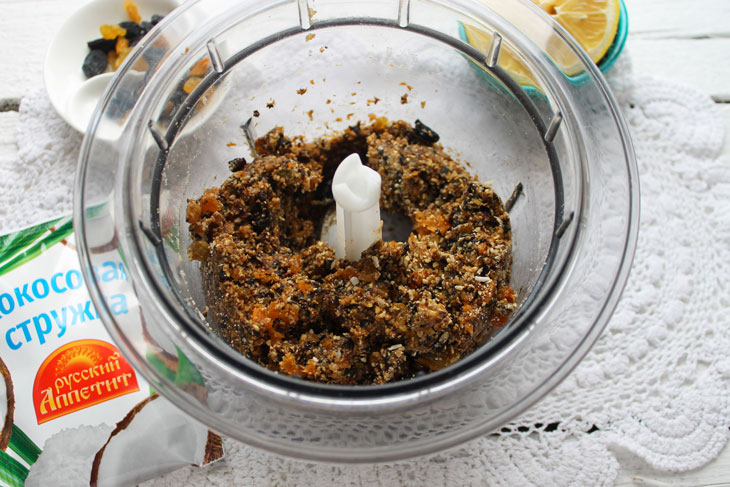 9. Pour coconut into a flat dish. From half of the resulting mass, mold balls about the size of a small walnut with your hands. Roll the balls on all sides in coconut flakes.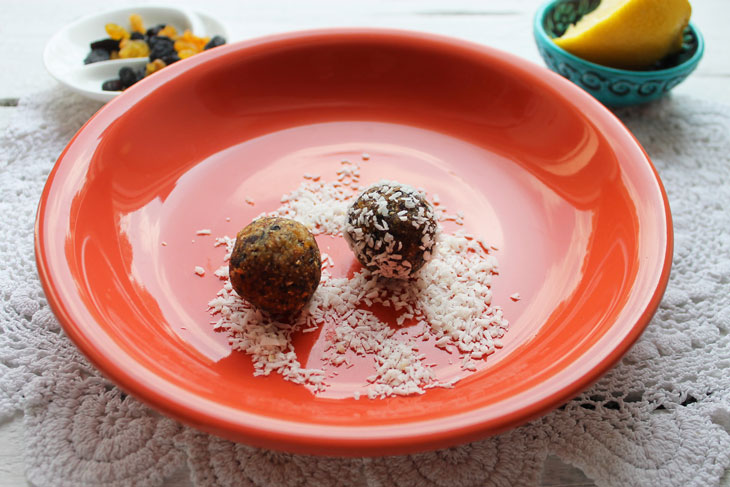 10. Then pour the cocoa powder into the bowl. Form balls from the remaining candy mass and roll them in cocoa.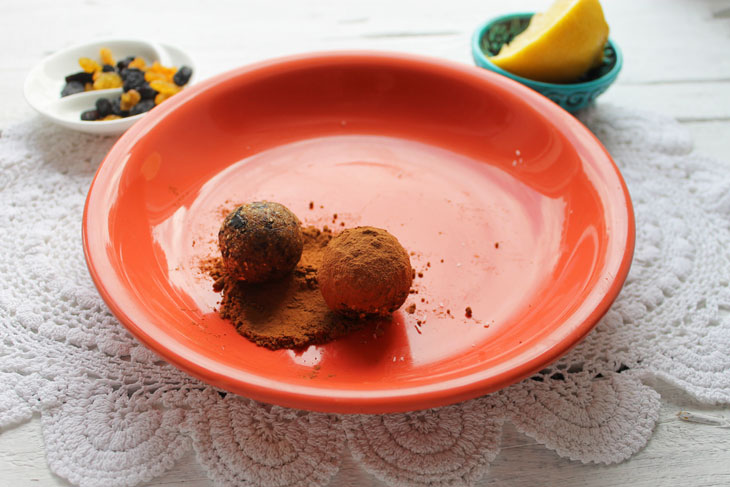 Sweets from dried fruits and almonds are ready. Put them on a beautiful dish and refrigerate for 30 minutes. Then serve.
Store candy in the refrigerator.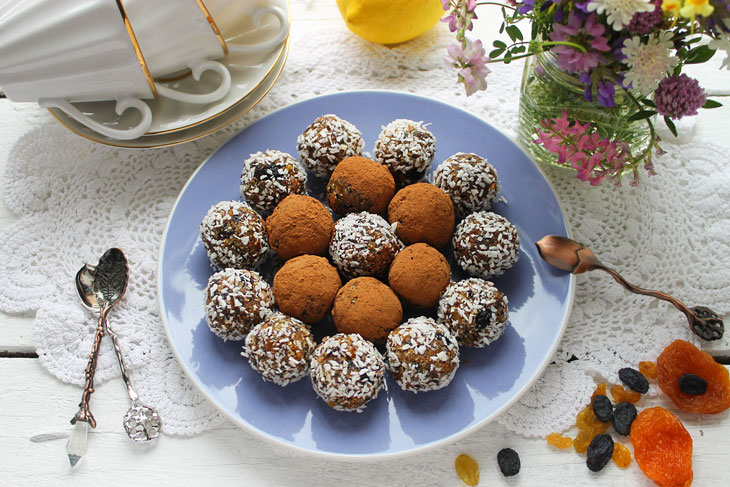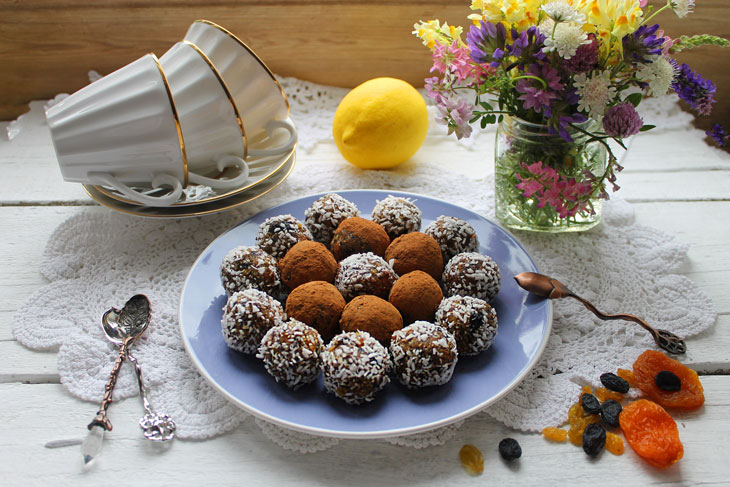 Enjoy your meal!