Salad Capercaillie nest with chicken is an original dish both in appearance and taste. The highlight of this salad is fried potato strips, which easily crunch on the teeth and make the finished dish look like a real nest. As a decoration in the form of small eggs, you can use quail eggs, or you can make them from a soft egg-cheese mass.
Ingredients:
Chicken meat – 150 g.
Fresh cucumber – 1 pc.
Potatoes (large) – 1 pc.
Oil for frying – 30 ml.
Chicken egg – 1-2 pcs.
Mayonnaise – 1.5 tbsp. l.
Salt – 2 pinches.
Spices – 2 pinches.
Quail eggs – 2-3 pcs.
Onion – ½ pc.
Fresh herbs – 5-6 branches.
Cooking time: 1 hour. Servings Per Container: 2.
Cooking:
1. Boil the chicken in salted water with spices. Cool it down and cut into small pieces. Send to the salad bowl.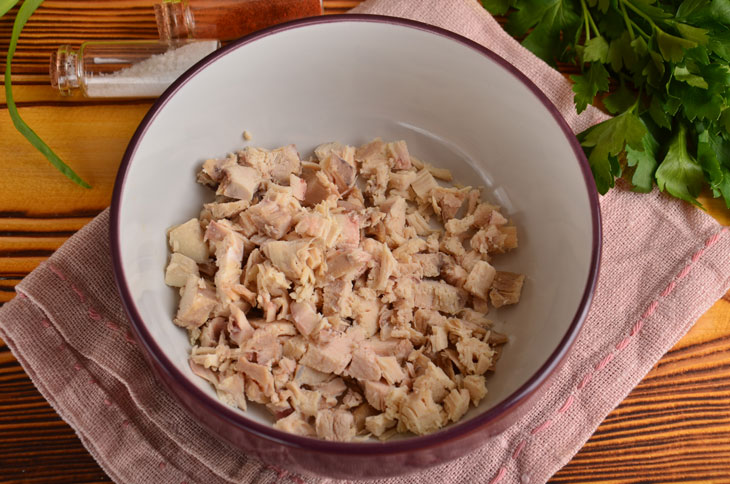 2. Rinse a fresh cucumber with cool water, cut off both sides and cut it into thin strips. Place in bowl with chicken.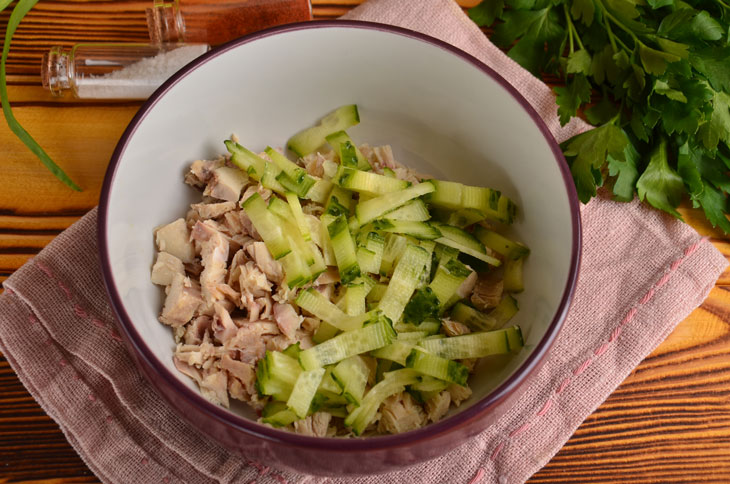 3. Peel the potatoes, wash them and grate them into thin strips using a special grater. You can also cut the vegetable with a knife.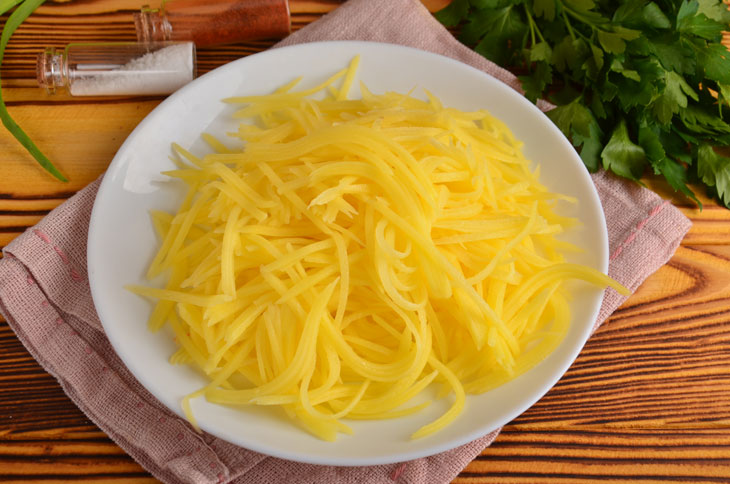 4. Peel the onion from the husk. Cut half of the vegetable into small cubes. So that it does not taste bitter, you can scald it with boiling water or marinate for 10 minutes with sugar and apple cider vinegar (2 pinches of sugar, 1 tsp of vinegar).
Before adding the onion to the salad, it must be squeezed out.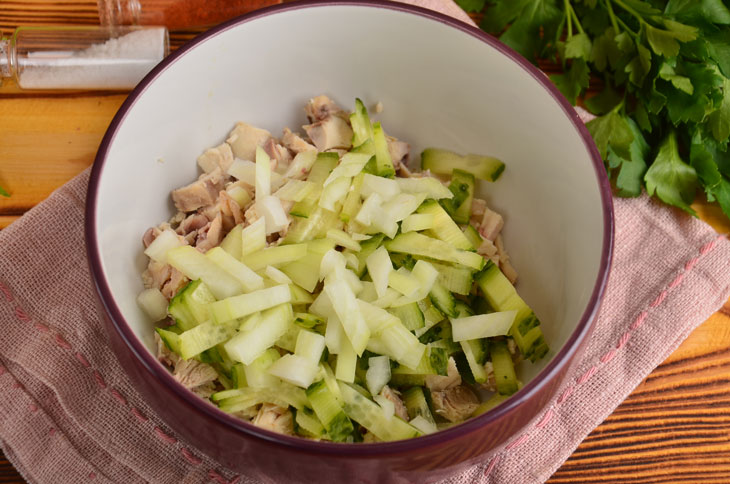 5. Hard-boiled eggs must be peeled, then chopped into cubes and sent to a salad bowl.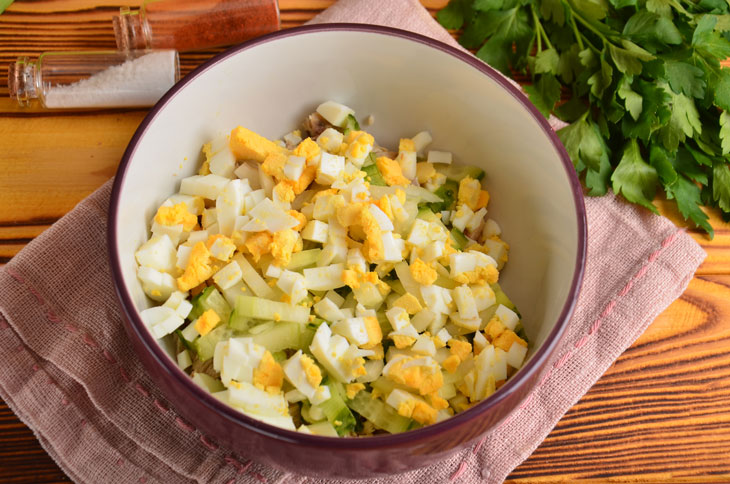 6. Grated potatoes should be fried in a large amount of oil, then put on a napkin and let the excess oil be absorbed. After the third part of the potatoes must be sent to the salad bowl.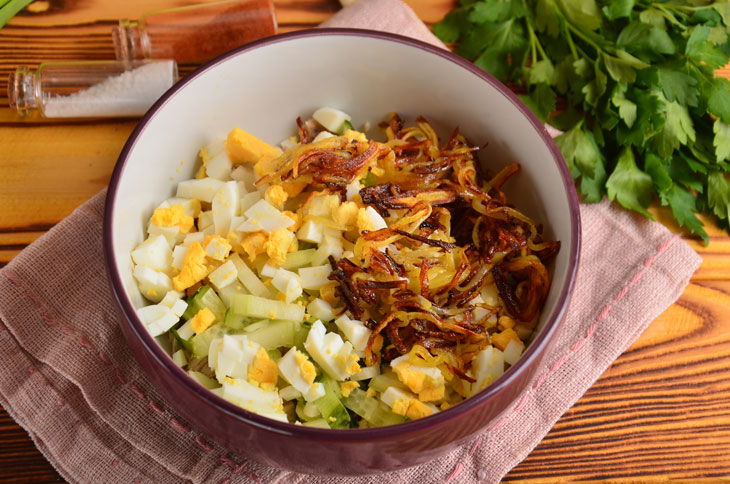 7. Next, season the salad with mayonnaise of any fat content, salt and add spices.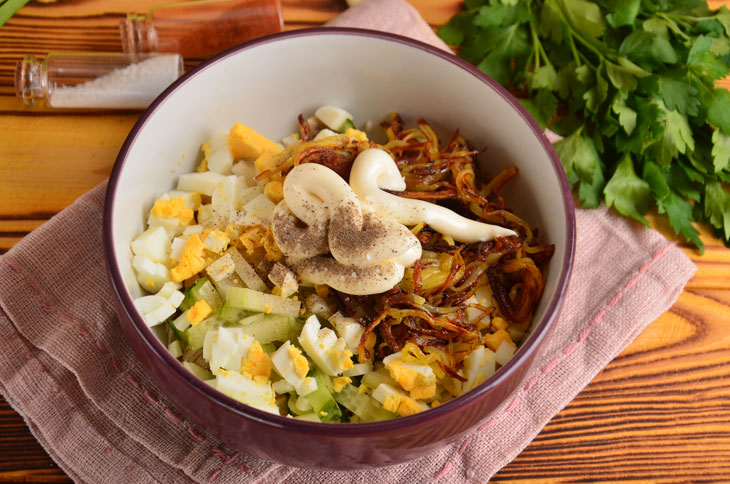 8. Mix all the ingredients and make the first tasting, add if something is missing.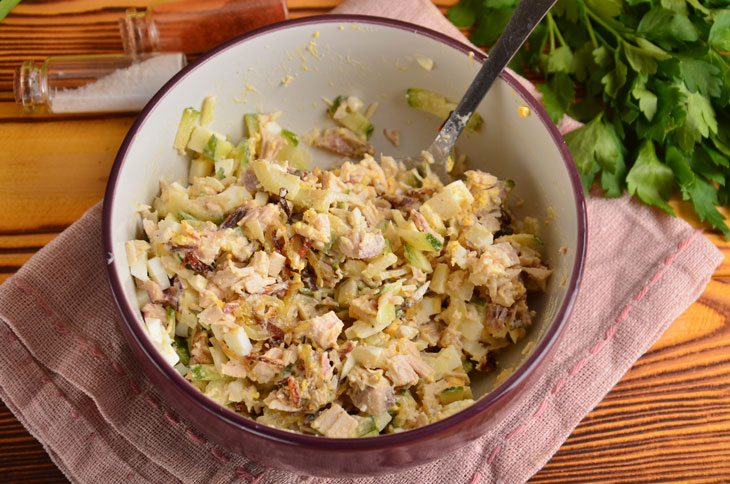 9. Put the salad in another salad bowl of a suitable shape and size. Arrange fried potatoes on top.
10. Finely chop fresh herbs, after washing and drying it. Place in the center of the salad.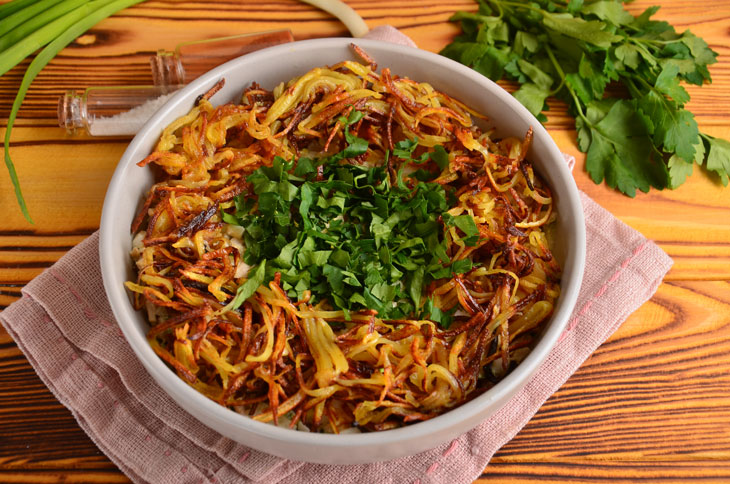 11. Peel the boiled quail eggs, cut into halves and place on top of the greens.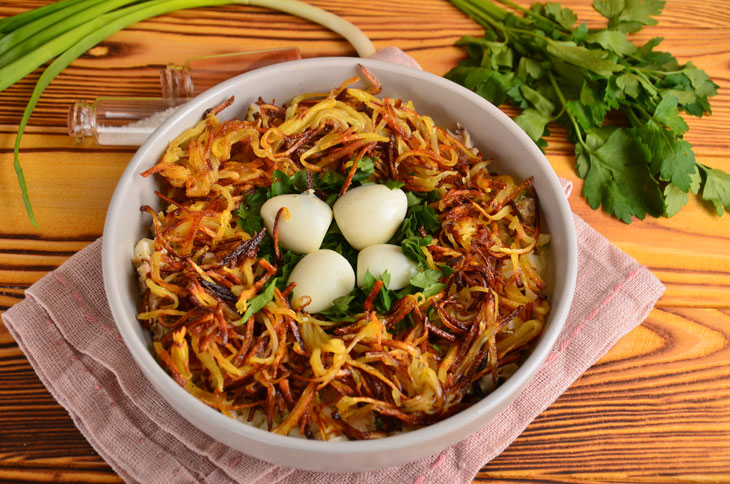 The salad is ready and it is better to serve it immediately, while the potatoes are still crunchy.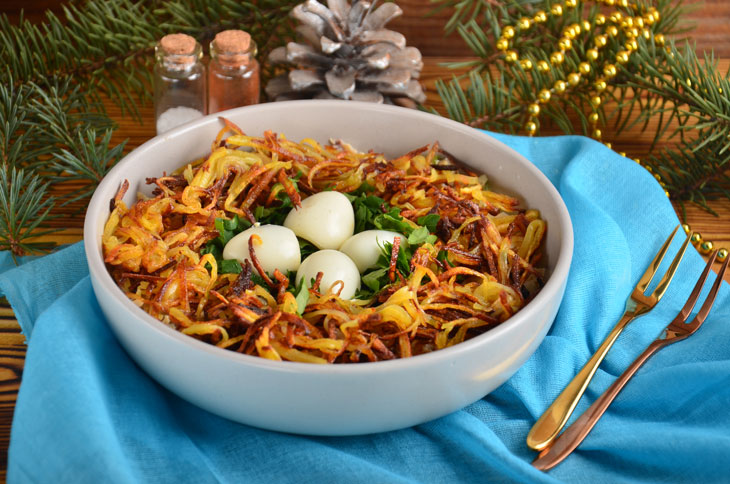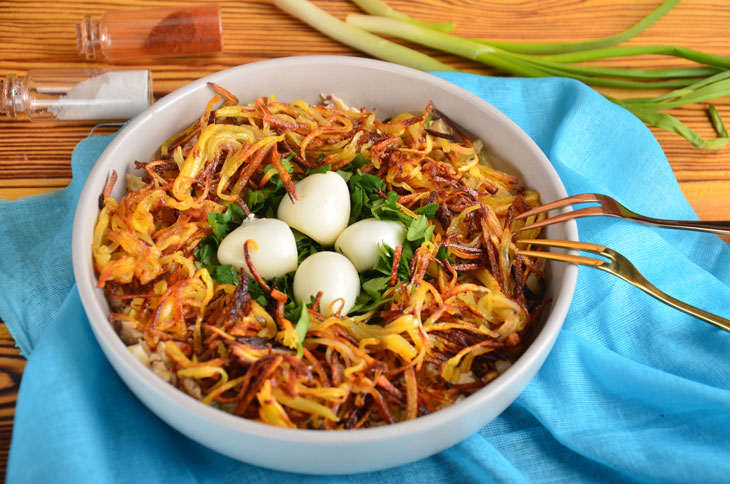 Enjoy your meal!