Salad "Carrot" looks very interesting and quite festive. That is why such a salad can be prepared, for example, for a children's birthday or any other banquet. It turns out the dish is very tasty.
For cooking, it is worth buying delicious and high-quality sardines in a jar. You can, of course, use any other fish instead, for example, pink salmon or saury. Put the products on the plate in the sequence that will be indicated below. It is best to boil carrots and potatoes in advance so that you do not spend a lot of time on this procedure later. You can do the same with a chicken egg. Each layer of products must be lubricated with mayonnaise and it is better that it be with a high percentage of fat, since it is this sauce that is thicker in consistency.
Also, after preparing the salad, it is advisable to put it in the refrigerator for at least 30 minutes so that all products are well saturated and become the same temperature. This point is quite important.
Ingredients:
Sardines – 0.5 cans.
Egg – 1 pc.
Carrot – 1 pc.
Onion – ¼ pcs.
Potatoes – 2 pcs.
Mayonnaise – 2-3 tbsp. l.
Vinegar 9% – 1 tbsp. l.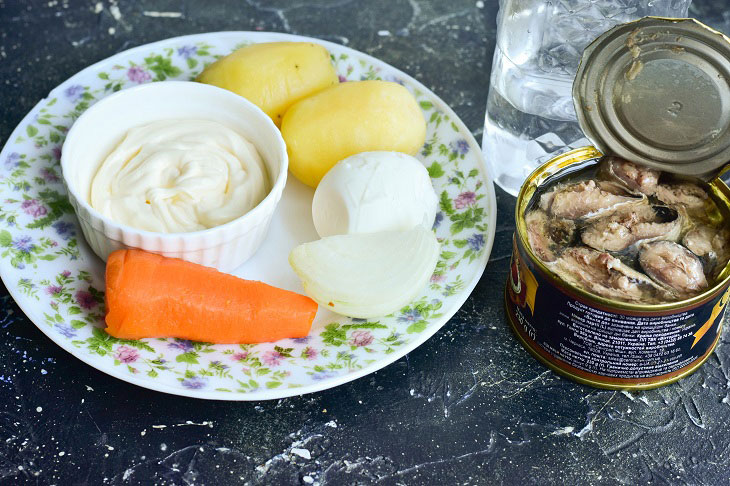 How to cook:
1. Peel the onion and then chop it very finely. Put it in a deep bowl, pour in the vinegar and the same amount of water. Leave it for 10 minutes to marinate.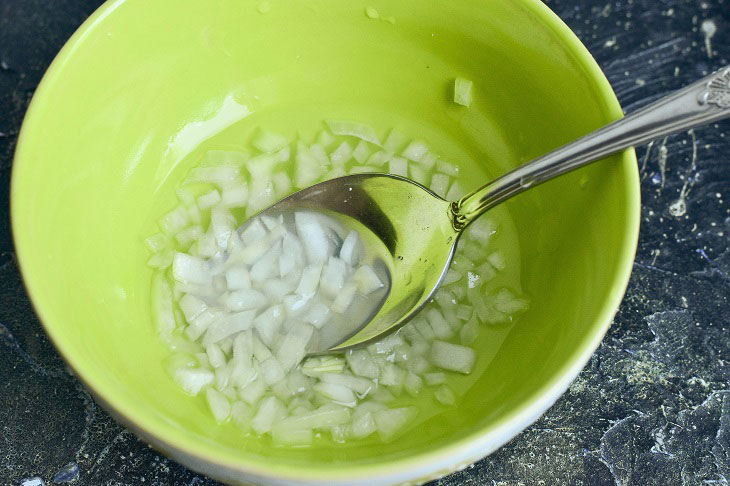 2. Open a jar of sardines with a special tool or an ordinary sharp kitchen knife. Put the fish without sauce on a plate and shape into a triangle.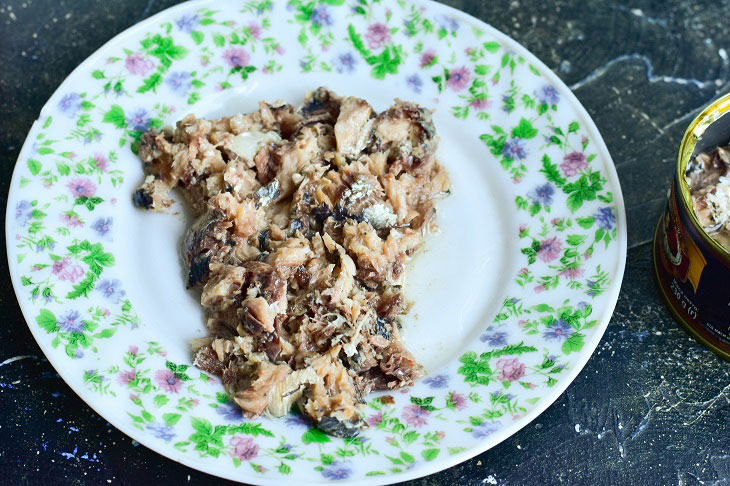 3. Boil potatoes and carrots. Clean vegetables. Grate both ingredients on a coarse grater. Put the pickled onions on top of the fish, and then the potatoes. Spread well with mayonnaise.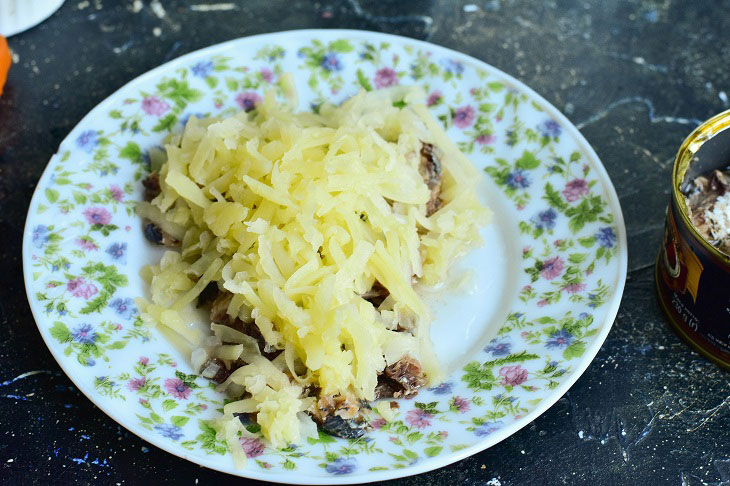 4. The next layer will be a boiled chicken egg, which must also be pre-boiled and grated.
5. The mayonnaise layer must be repeated.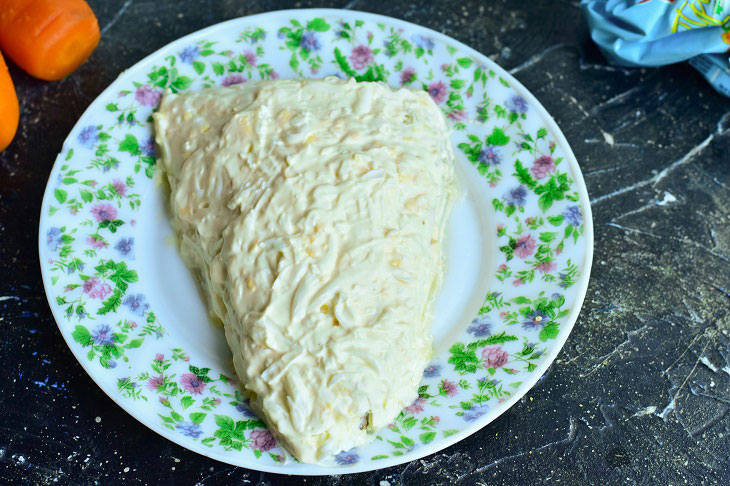 6. Finally, lay out the carrots and align the edges well on all sides with a regular kitchen spoon. By the way, it can be soaked in water.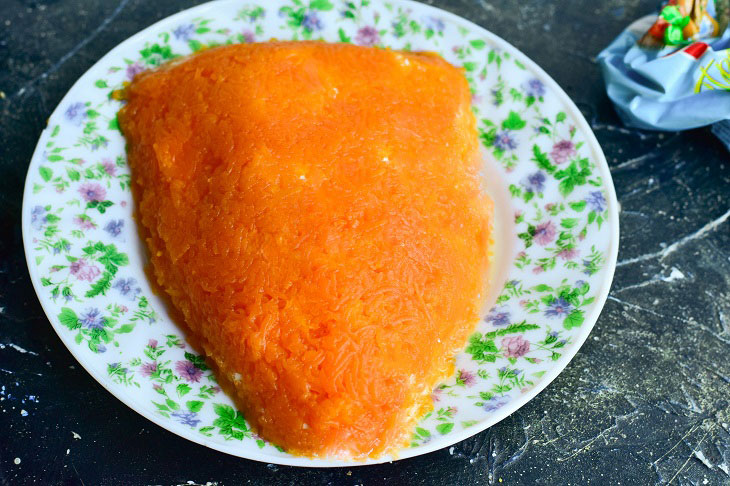 7. Decorate the salad with herbs to resemble carrots. You can use parsley leaves or dill for decoration.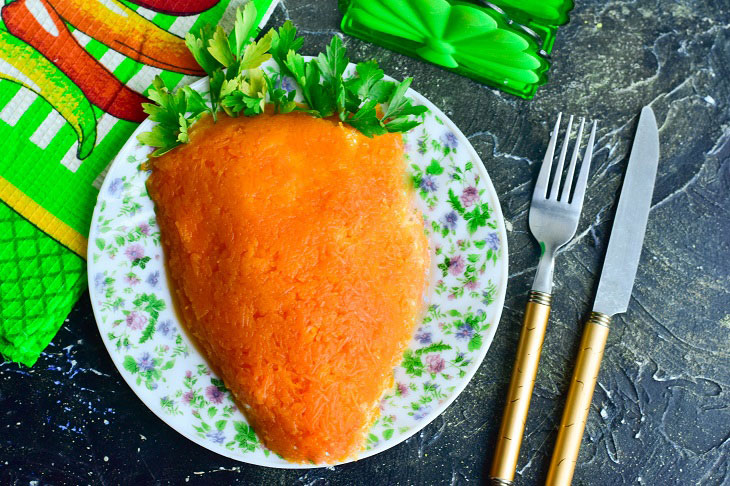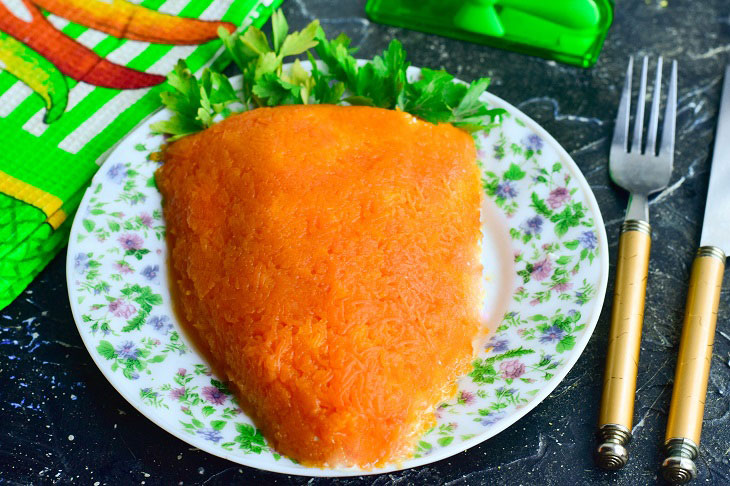 Enjoy your meal!