If you do not know what to cook for the New Year's table, then this simple recipe is especially for you. Prepare a very simple cheese snack "Christmas toys". Thanks to the unusual design, the dish looks very elegant in a New Year's way. Buy varieties of cheese to your taste.
Ingredients:
Cream cheese – 135 g.
Chicken eggs – 2 pcs.
Hard cheese – 100 g.
Garlic – 1-2 cloves.
Salt – to taste.
Ground black pepper – 1-2 pinches.
Mayonnaise – 1-1.5 tbsp. l.
Ground paprika – 2-3 pinches.
Pitted olives – 6 pcs.
Green onion (feathers) – 2 sprigs.
For breading:
Ground paprika – 1 tbsp. l.
Pumpkin seeds peeled – 30 g.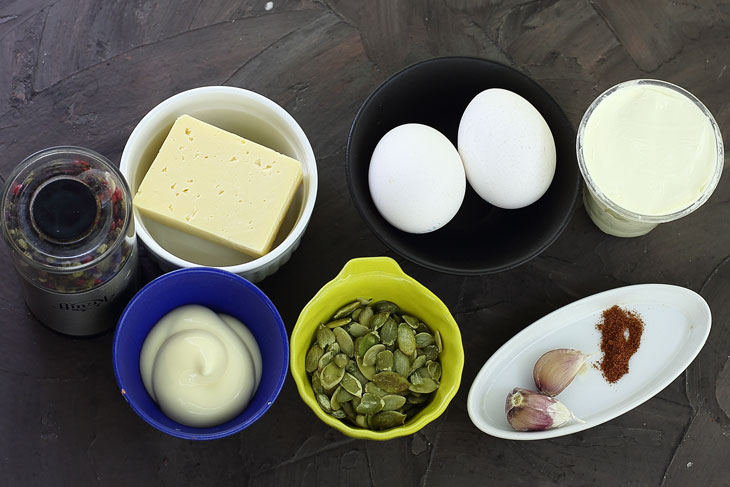 Cooking time: 30 minutes. Number of pieces: 6.
Cooking:
1. For cooking, you need hard cheese. Choose according to your taste. Grind on a medium grater and pour into a deep bowl.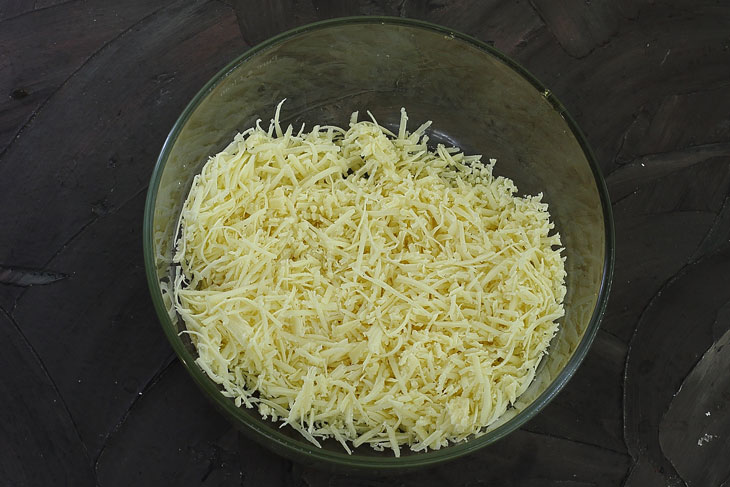 2. Add cream cheese to grated cheese.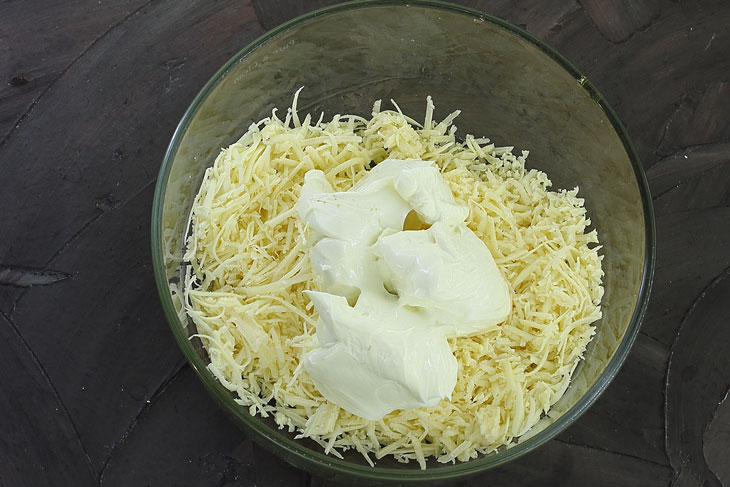 3. Now you need boiled eggs. Before cooking, be sure to rinse them with warm water. Boil in salted water for 10 minutes from the moment of boiling. Cool down. Peel off the shell. Cut in half and separate the yolks from the whites. Chop the whites on a fine grater and add to the rest of the ingredients.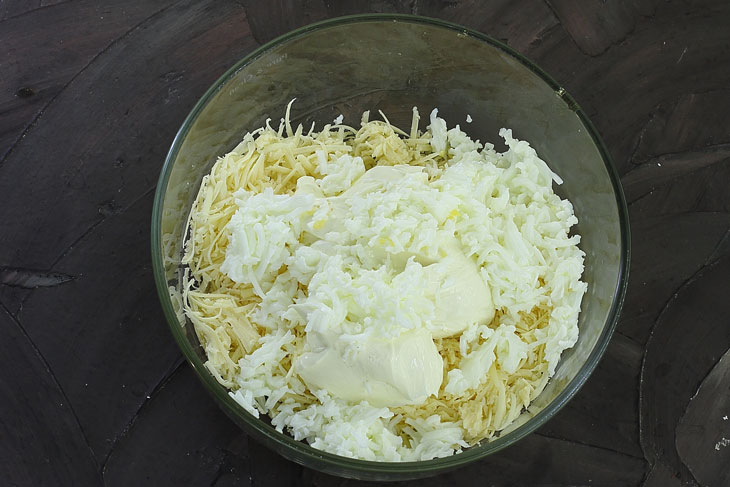 4. Add salt, crushed black pepper, paprika. Add a little bit of mayonnaise. Stir. You should get a homogeneous mixture that lends itself well to molding.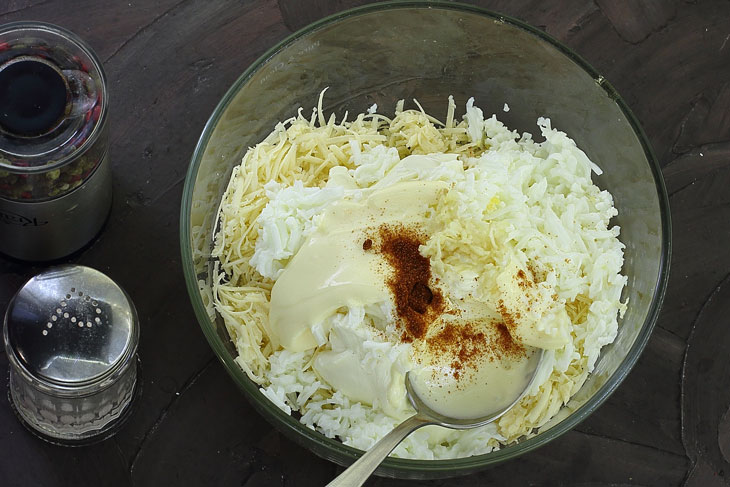 5. For breading, grate the remaining yolks. Punch pumpkin seeds in a blender until fine crumbs and pour ground paprika into the third plate. Take a spoonful of cheese mass and form a ball. Dip in breading and sprinkle on all sides.
From this amount of cheese mass, 6 balls a little larger than a walnut were obtained. Chopped nuts, finely chopped greens, turmeric, coconut flakes, chopped crab sticks are perfect for sprinkling.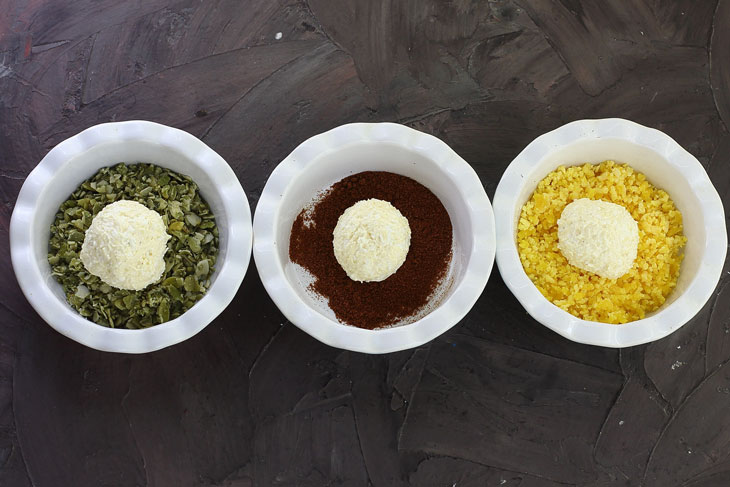 6. Lay sprinkled balls on a flat plate. If desired, the dish can be decorated with herbs.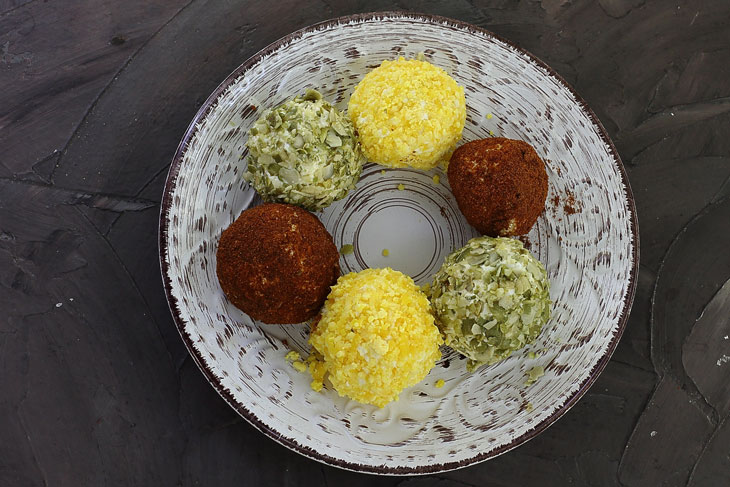 7. Cut the pitted olives in half. Cut the onion feather into 2-3 cm. Decorate the balls, imitating a toy.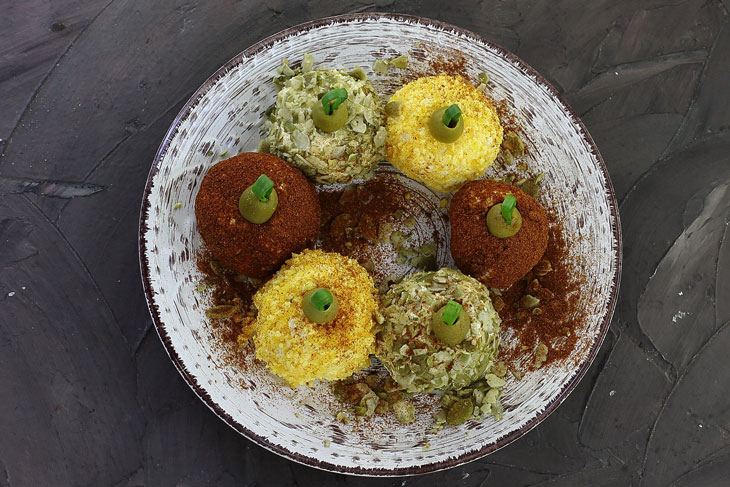 Cheese appetizer "Christmas toys" is ready. Serve at the New Year or Christmas table. Happy Holidays!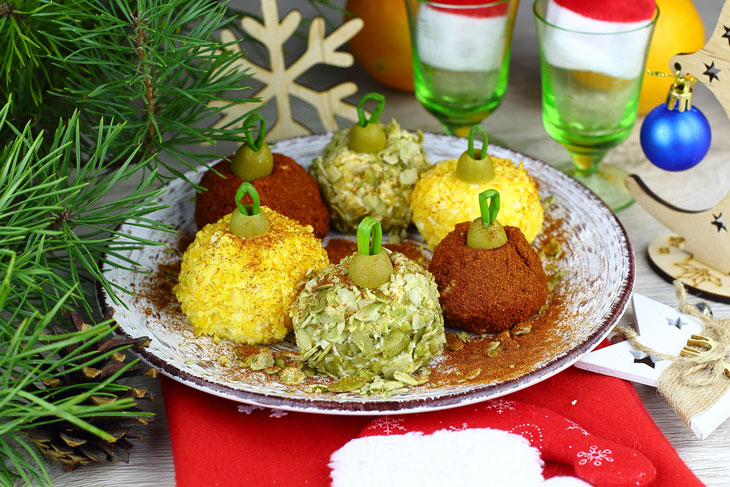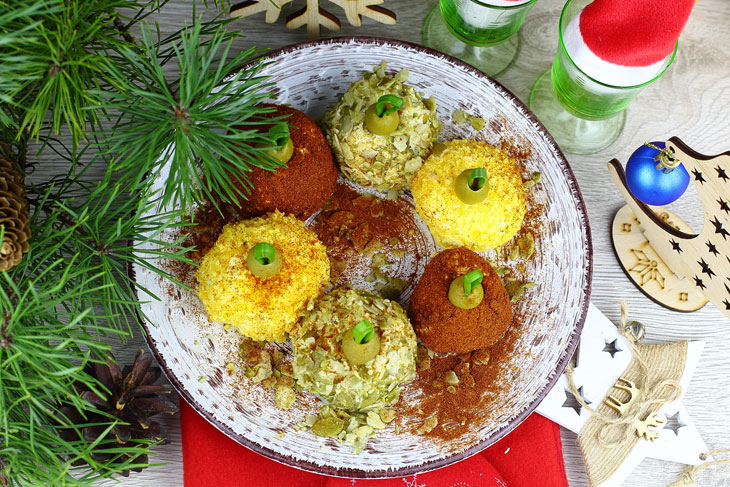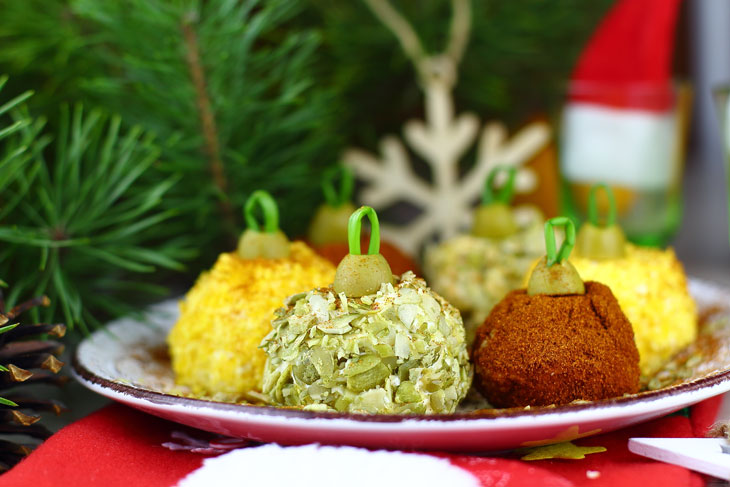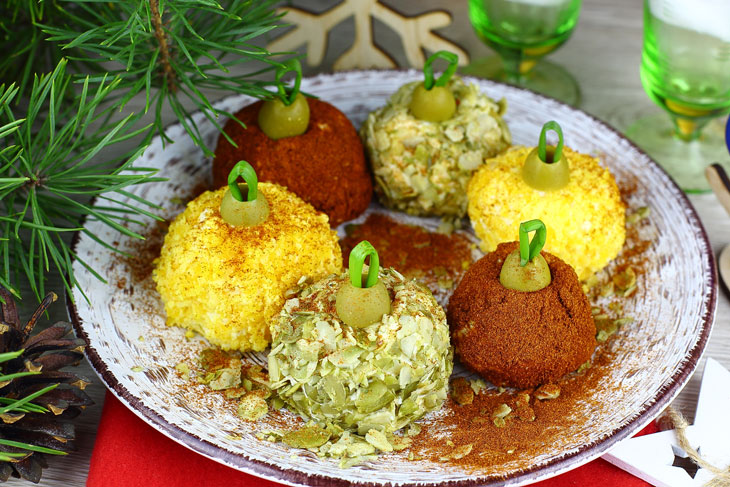 Enjoy your meal!