Today we will prepare an original snack that you can serve to guests or just please your family and friends. These will be fragrant and tasty cheese profiteroles. Appetizing cheese profiteroles can be served with or without filling inside. A special taste of profiteroles is made by cheese, which we will add to choux pastry.
Ingredients:
Water – 150 ml.
Milk – 100 ml.
Butter – 80-100 g.
Salt – a pinch.
Sugar – a pinch.
Wheat flour – 150 g.
Chicken eggs – 3 pcs.
Hard cheese – 50-70 g.
Mozzarella cheese – 50 g.
Cream cheese – 4 tbsp. l.
Smoked sausage or ham – to taste.
Parsley and green onions – to taste.
A mixture of ground pepper – to taste.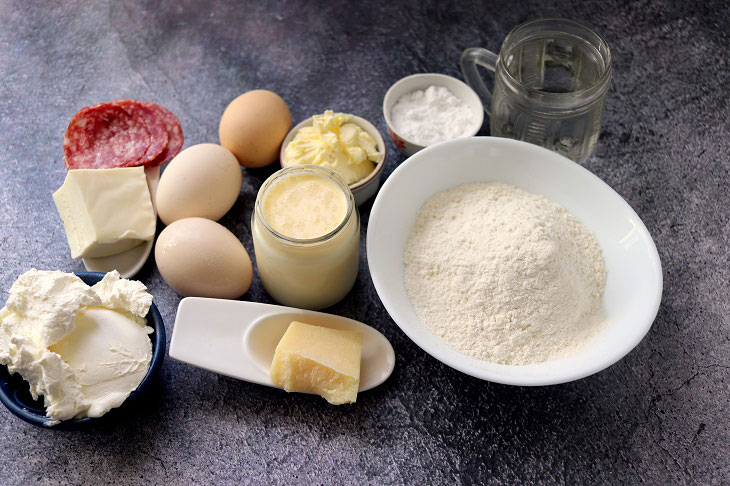 How to cook:
1. Prepare the custard dough. For this, take a pan or ladle with a thick bottom and pour water, milk. Add a pinch of salt and sugar to this.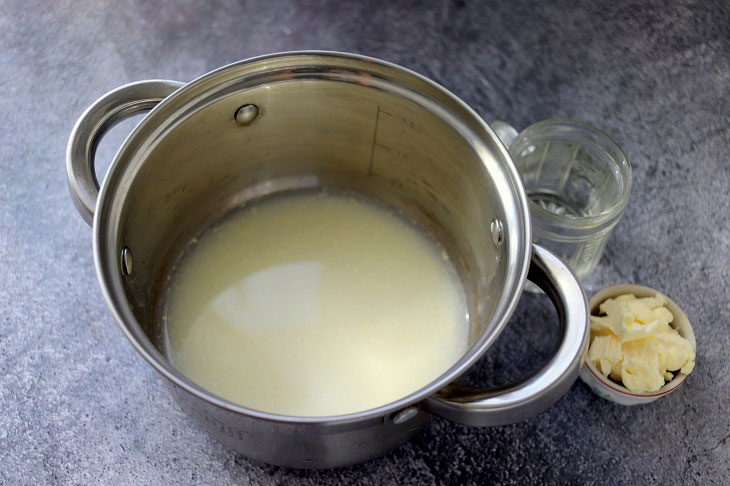 2. Bring the milk mixture to a boil and add a piece of butter, mix well. When the liquid boils again, remove the pan from the stove.
3. Add flour to the pan and mix the dough thoroughly with a spatula or, in my case, with a whisk from a mixer. Return the saucepan to low heat and continue to stir vigorously.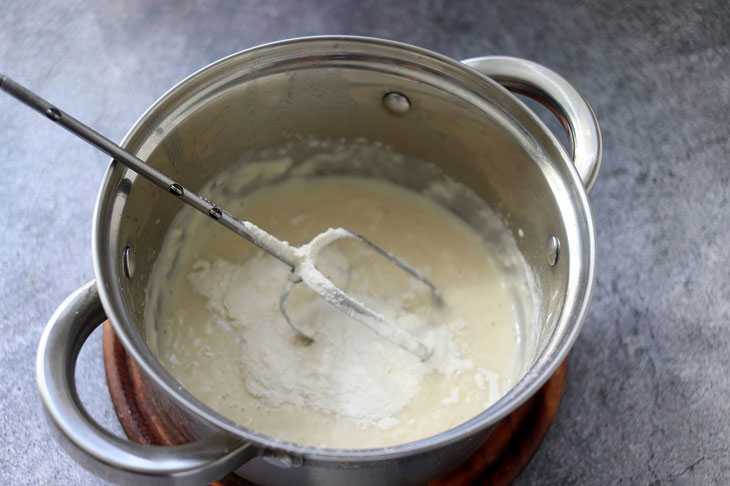 4. After a few minutes, the dough will begin to gather into a lump, a velvety crust will appear at the bottom. The dough is brewed, remove it from the fire.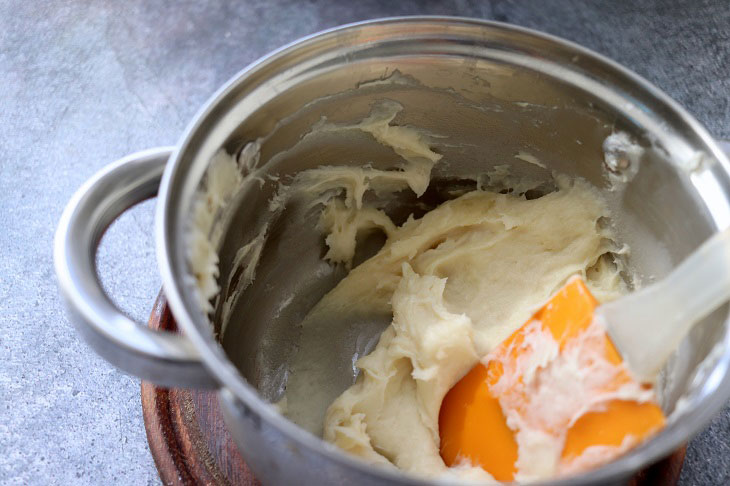 5. Transfer the custard dough to a wide bowl so that it cools faster, mix with a spatula. In a separate bowl, mix the chicken eggs with a fork until smooth, they will be needed soon. Introduce the egg mixture gradually, mixing the dough with a mixer or spatula.
6. Turn on the oven to heat up to 200 degrees. Choux pastry turns out to be a pleasant silky consistency, slightly dripping from the whisk.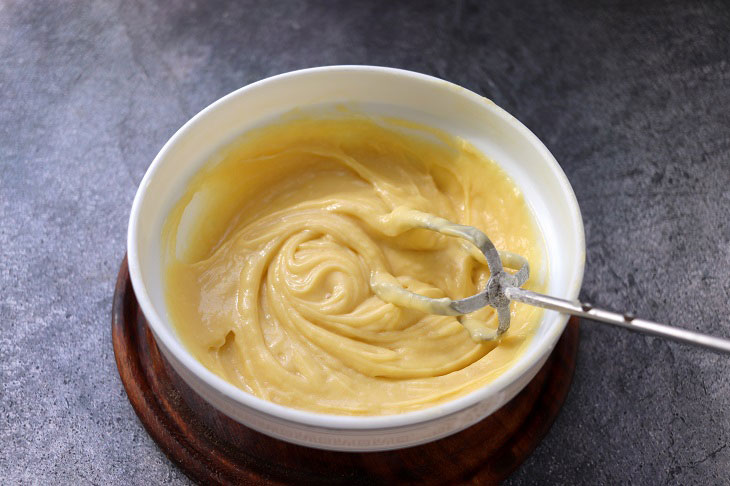 7. Grate aromatic cheese on a fine grater, add to the dough.
Additives in such a dough may be different. You can use finely chopped parsley, green onions, sesame, ham.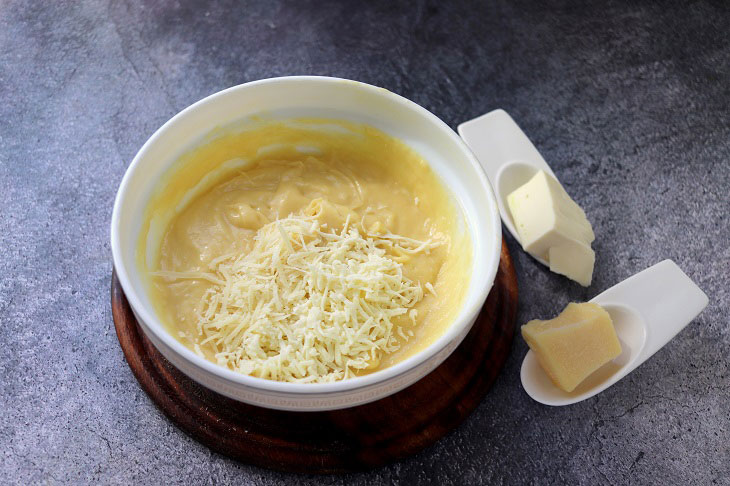 8. Line a baking sheet with parchment. Using a teaspoon, lay out the custard dough in the form of lumps, keeping a distance between them. Sprinkle more grated cheese, chopped smoked sausage or ham on top of the workpiece. Send profiteroles to a hot oven and immediately reduce the temperature to 180 degrees. Bake the profiteroles for 20 minutes without touching the oven door. Only then can you open the oven and turn the baking sheet over so that the profiteroles are reddened from different sides. Cook another 10-15 minutes.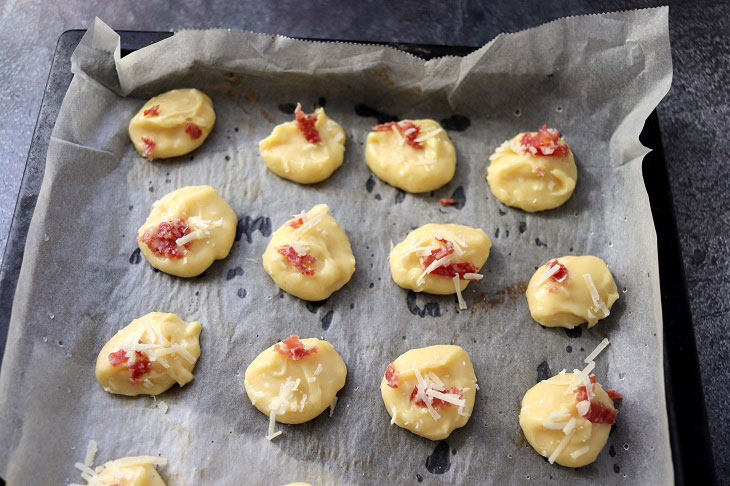 9. To fill the cheese profiteroles, mix cream cheese, grated cheese and spices to taste in a bowl. Instead of cream cheese, you can use weighed sour cream. To make such sour cream, simply pour sour cream onto a piece of natural fabric, tie it up and hang it over the sink. The next morning you get thick sour cream, which resembles cream cheese in consistency.
10. Remove the finished cheese profiteroles from the oven, cool completely. Properly baked profiteroles should be light and fairly ruddy.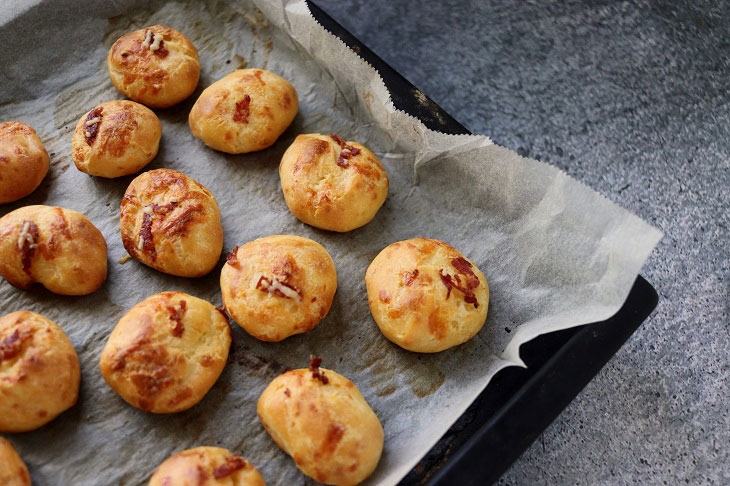 11. Before serving, cut the profiteroles and fill with cheese filling, decorate with fresh herbs.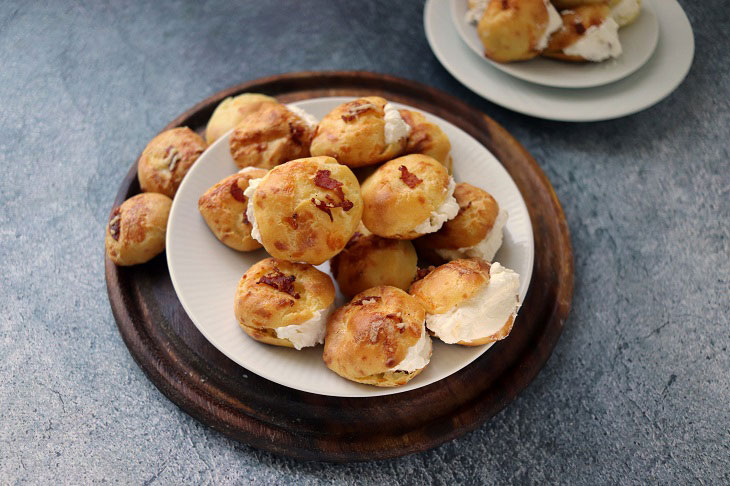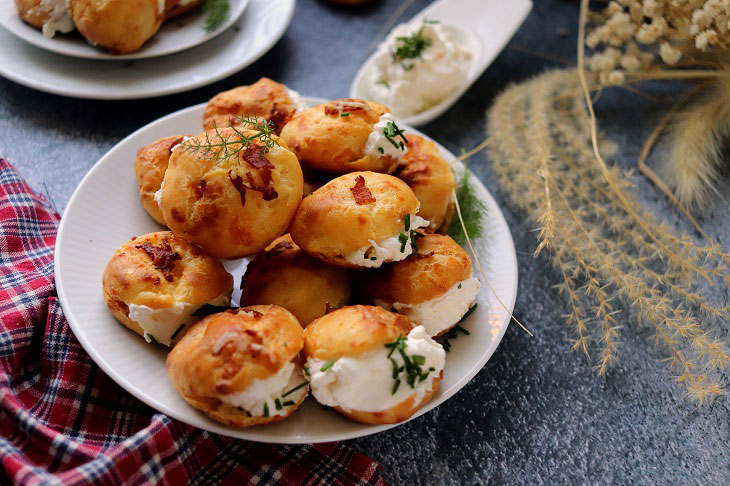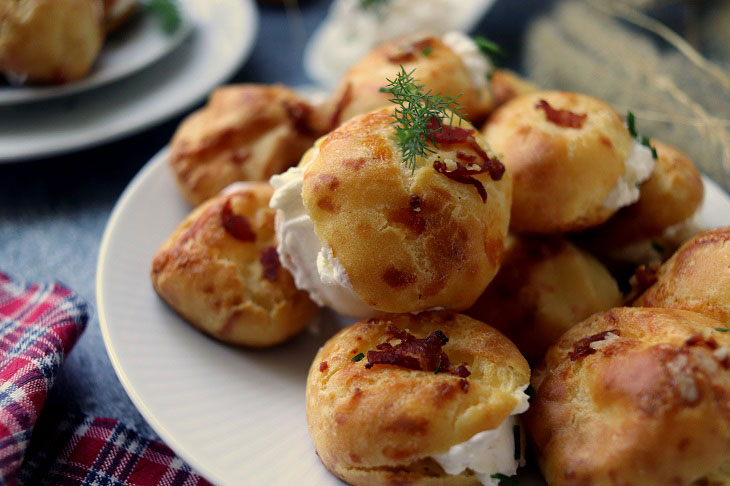 Bon appetit!