You can buy delicious boiled bacon in the store, or you can cook it yourself, it will turn out tastier and more profitable. It is advisable to buy lard with a cut of meat, the softest is obtained from the rib or back of the carcass. You can simply salt the lard with spices, bake in a sleeve or boil in a bag.
It turns out the fat is soft, fragrant and cooks quickly. You can take various spices for lard, a mixture for meat, barbecue, pork. Be sure to add garlic and bay leaves so that the fat is fragrant. So that after cooking the fat is well cut, put it in the freezer for an hour.
Ingredients:
Fresh lard – 600 g.
Dill dry – 1/2 tsp.
A mixture of spices for barbecue – 1/2 tsp.
Salt Extra – 1/2 tsp.
Black freshly ground pepper – to taste.
Garlic – 3 cloves.
Laurel – 2 leaves.
Cellophane bag – 2 pcs.
How to cook:
1. We buy a piece of fresh lard, preferably only from the market, so that you do not freeze it, after all, this affects the taste of boiled lard. If the skin is dirty, clean it with a knife. We wash a piece of lard with a slot of meat, wipe it with a paper towel.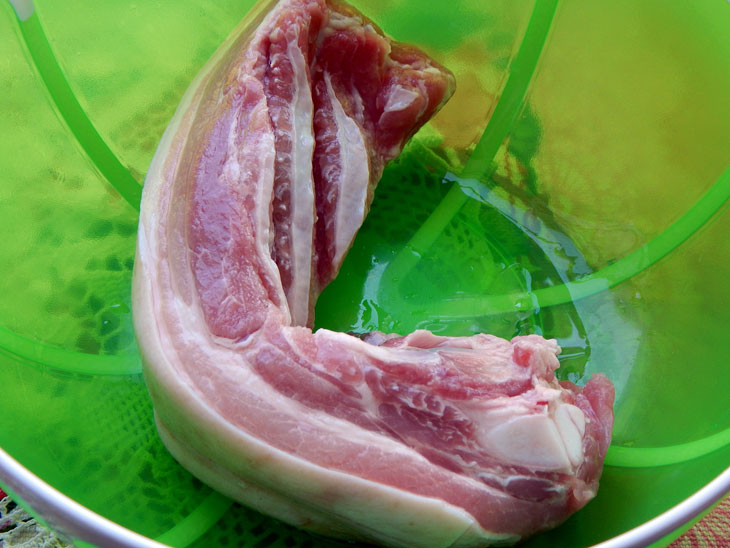 2. We have a large piece of lard, but we don't need to cut it, then we will fold it in half so that it fits in the pan. Sprinkle dry lard with extra ground salt, spices for barbecue or any other, crush with freshly ground black pepper from the mill. For the aroma of herbs, add dry dill, if you have coriander, you can also use it.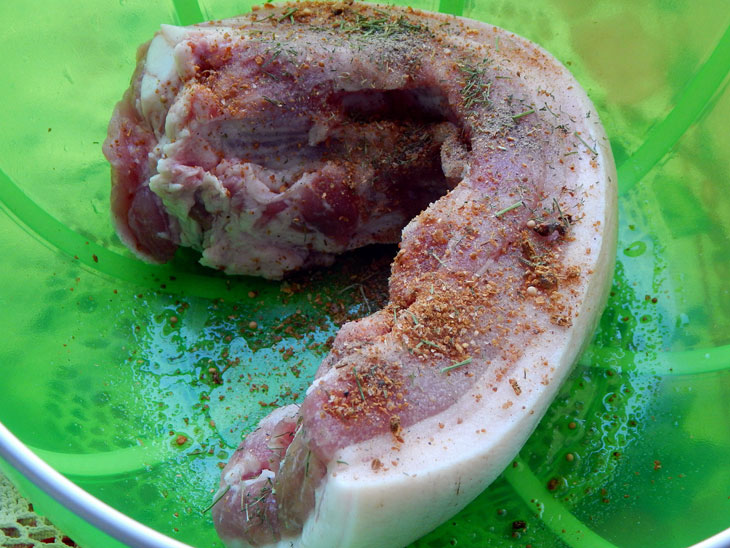 3. With our hands we rub the lard with all the spices and salt, well, evenly, over the entire piece of lard.
We clean three cloves of garlic, cut them in half so that the aroma immediately goes.
Spread the garlic and bay leaves on the inside of the piece of meat.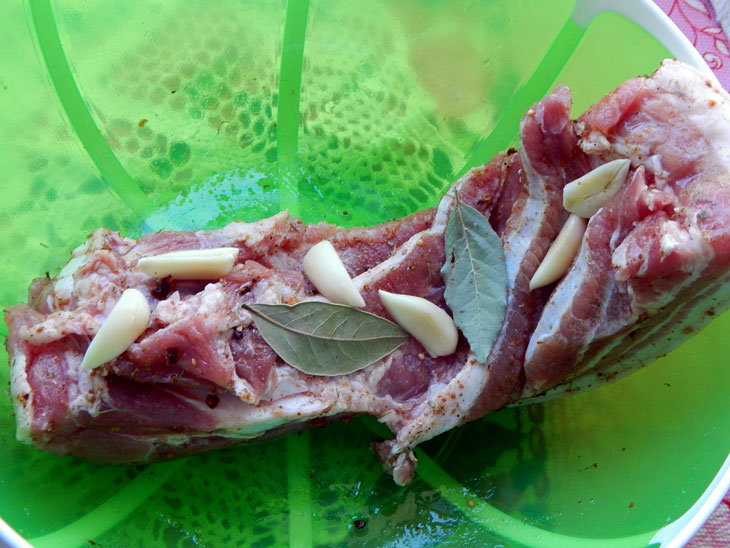 4. We fold a piece of lard in half, stuffing inside. We put it in a bag and tie it tightly in a knot.
We cut off the large tail of the bag with scissors and transfer the fat to another bag.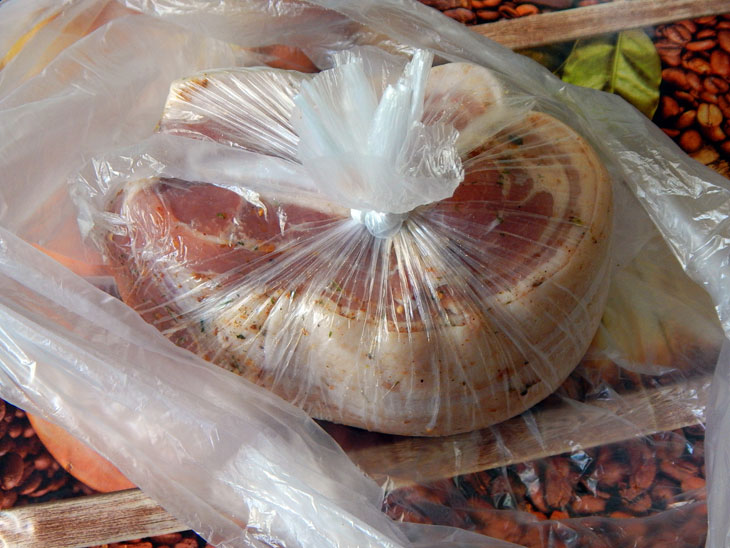 5. We tie the bag again in a knot so that water does not get in, and cut off the tail.
Pour water into the pan, about half.
We drop fat in packages. Cover the pot and put on a slow fire.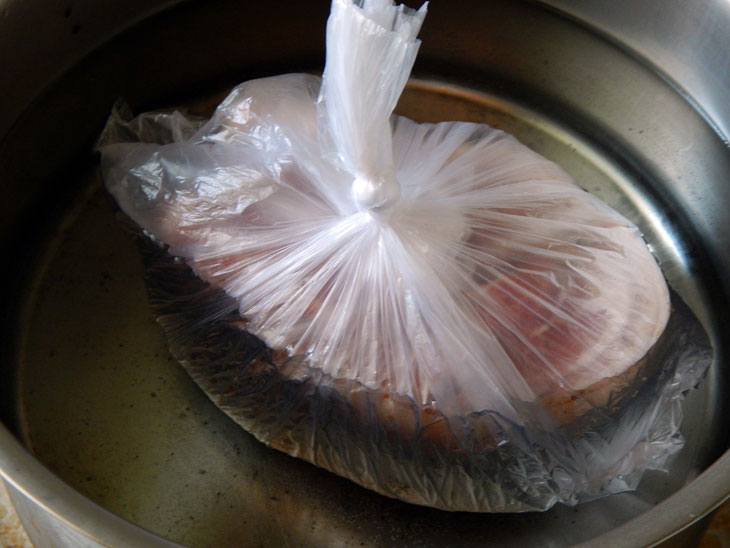 6. As soon as the fat in the bag boils, we detect 2 hours and wait. On a slow fire, the fat will just boil well.
2 hours have passed, we take out the fat on a plate. When it cools down, you can put it in the bag directly in the freezer for an hour.
Cut the cooled fat into thin slices with a sharp knife. Fragrances throughout the apartment. Salo is an excellent meat delicacy, healthy and tasty, it will decorate any cold cuts.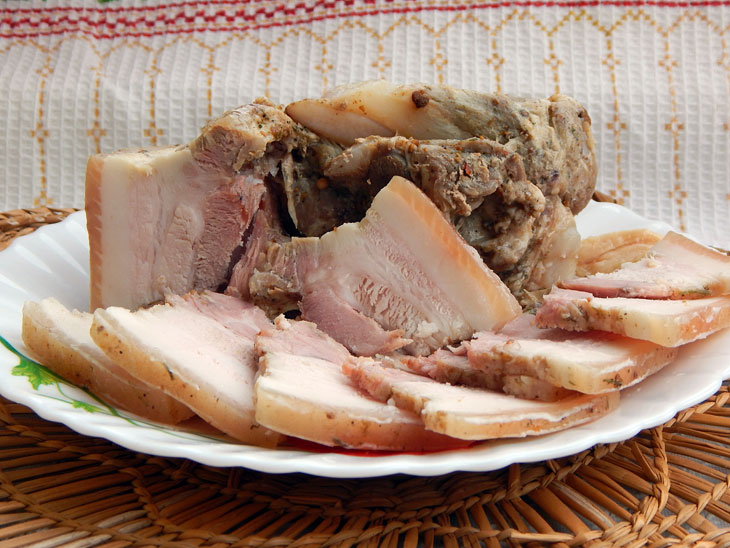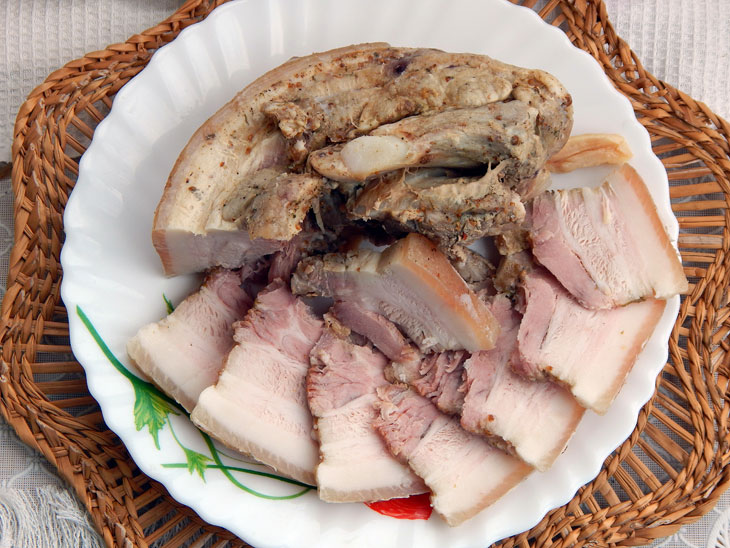 Enjoy your meal!