Chicken casserole with zucchini is a fairly easy second dish to prepare. Chicken fillet, cut into small cubes, marinated in a mixture of spicy mustard and tender sour cream. Chicken goes great with zucchini, which have a neutral taste. Fried onion subtly sets off the taste of the dish. Piquant cheese harmoniously fits into the overall composition.
This light casserole is most often popular in the spring and summer.
Ingredients:
Zucchini – 900 g.
Chicken fillet – 400 g.
Onion – 1 head.
Egg – 2 pcs.
Hard cheese – 50 g.
Sour cream – 3 tbsp. l.
Hot mustard – 1 tsp
Parsley greens – 4-5 branches.
Sunflower oil – 1 tbsp. l.
Freshly ground black pepper – to taste.
Salt – to taste.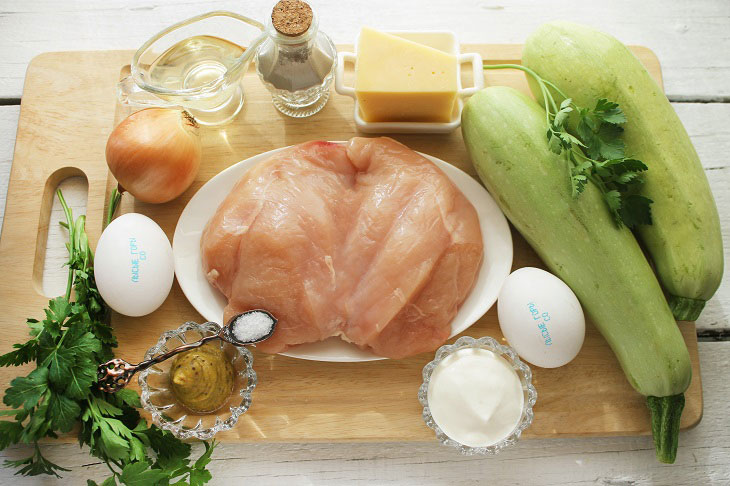 Cooking time: 1 hour 20 minutes. Servings Per Container: 4.
How to cook:
1. Wash the zucchini, remove the stalks. Grate the zucchini on a coarse grater.
For this dish, choose young zucchini.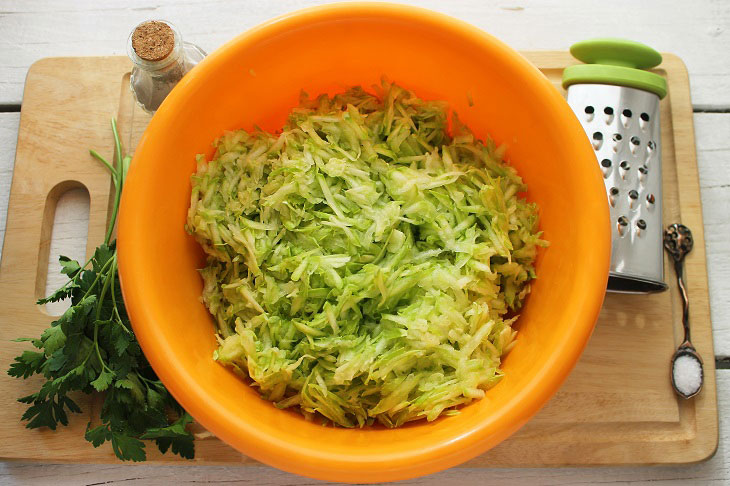 2. Transfer the zucchini to a colander, squeeze them lightly with a spoon to drain the juice. From the amount of zucchini proposed in the recipe, approximately 200 ml of juice is obtained.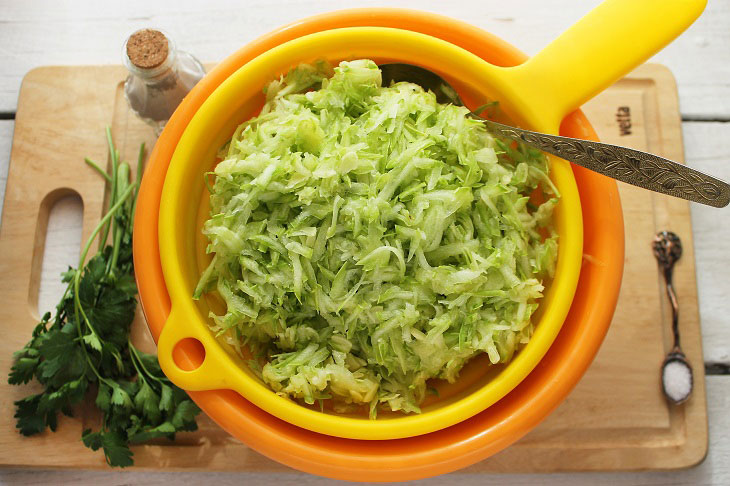 3. Rinse the chicken fillet, dry it and cut into small cubes.
Chicken fillet can be replaced with the same amount of turkey fillet.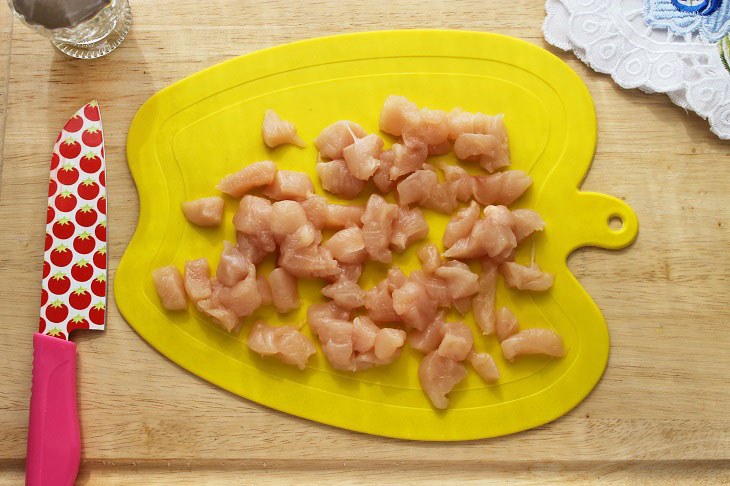 4. Put the meat in a bowl, add mustard and sour cream to it. Season to taste with freshly ground pepper and salt.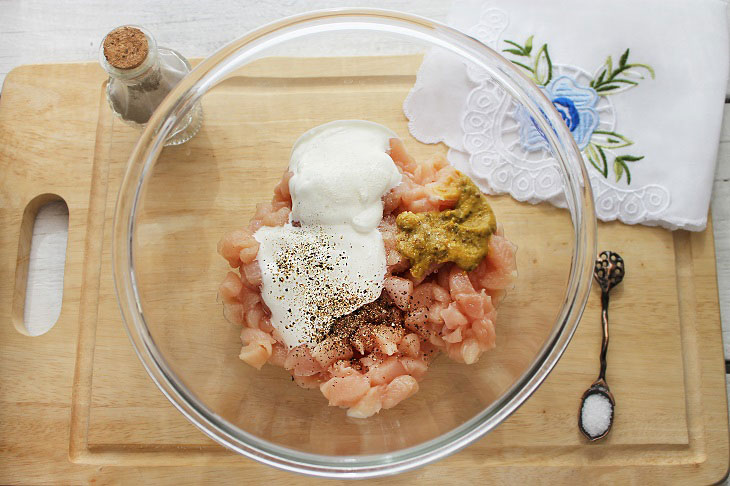 5. Mix thoroughly and leave to marinate.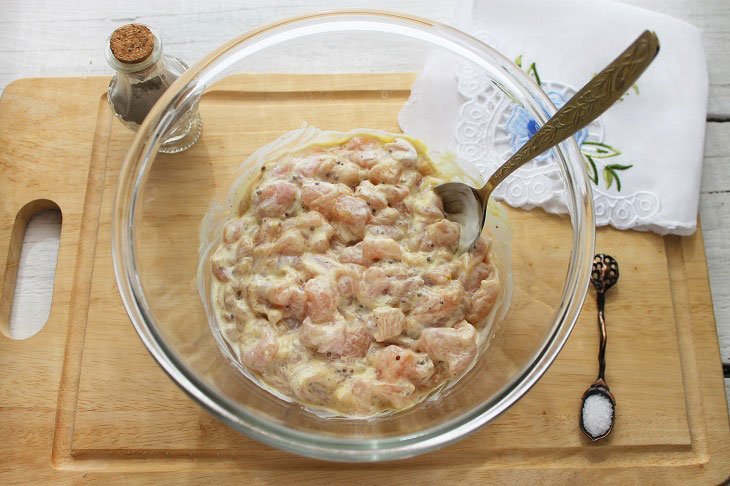 6. Peel the onion, finely chop and fry in sunflower oil until golden brown.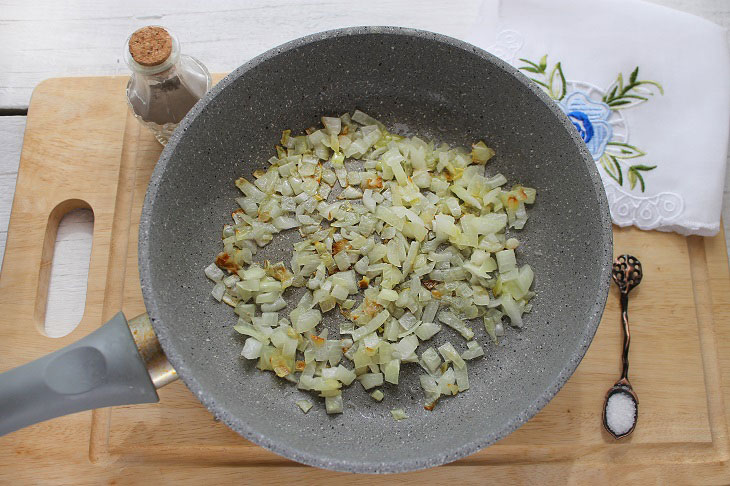 7. Grate cheese on a grater with large holes. Rinse parsley, dry and finely chop. Add cheese and parsley to bowl with chicken fillet.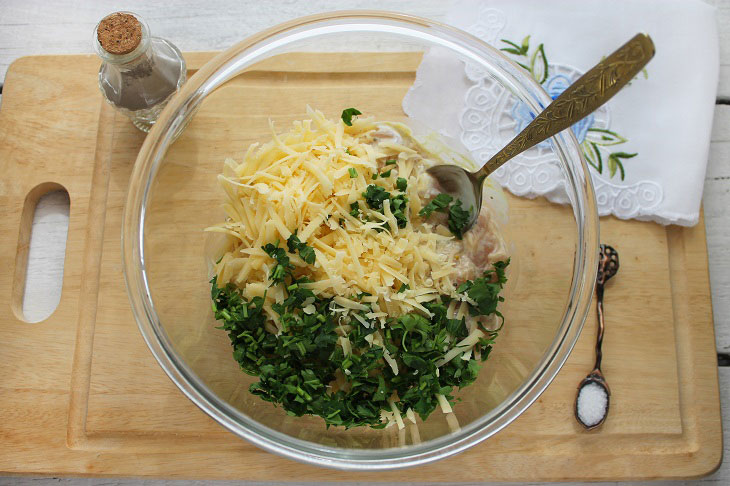 8. Pour in the fried onions.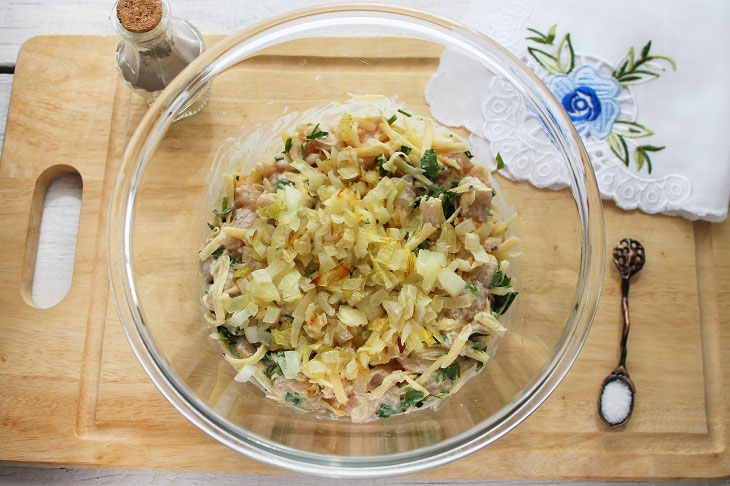 9. Beat in the eggs.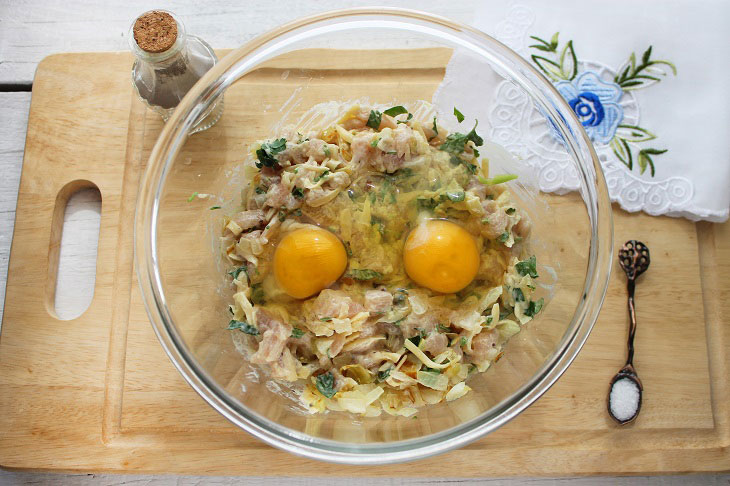 10. Add well-squeezed zucchini. Salt and pepper to taste. Mix all ingredients thoroughly.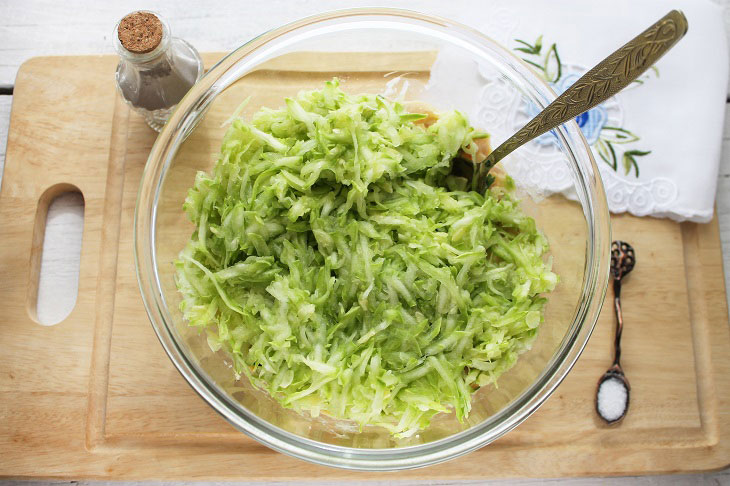 11. Preheat the oven to 190⁰ C.
Lubricate the refractory form with sunflower oil. Put the resulting squash mass into it. If you use a detachable form, as in this recipe, then wrap it with foil from below.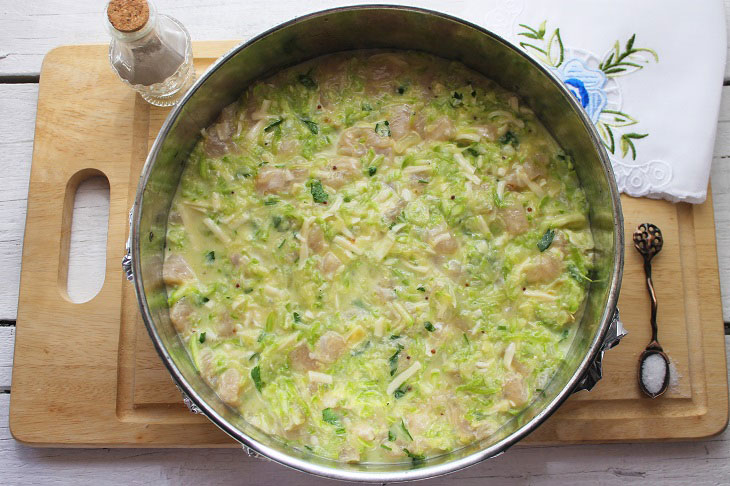 12. Place the mold on the top rack of the oven. Cook the dish for 45-50 minutes. The top should brown.
Remove the chicken and zucchini casserole from the oven. Carefully remove the sides of the mold and let the casserole cool slightly. Then cut into portions and serve.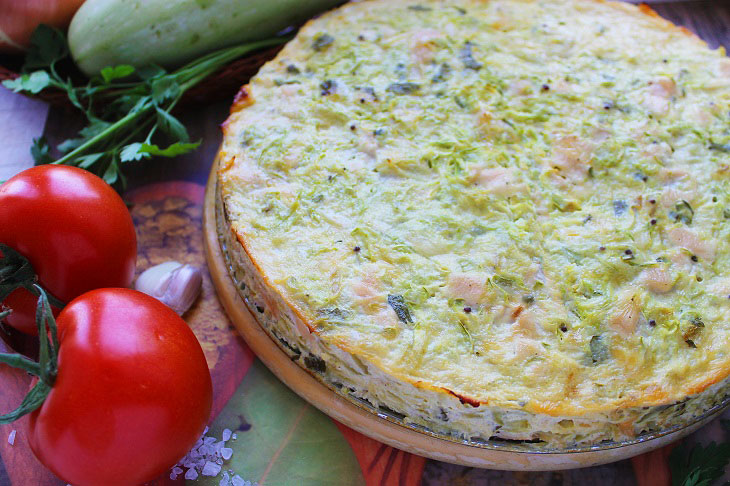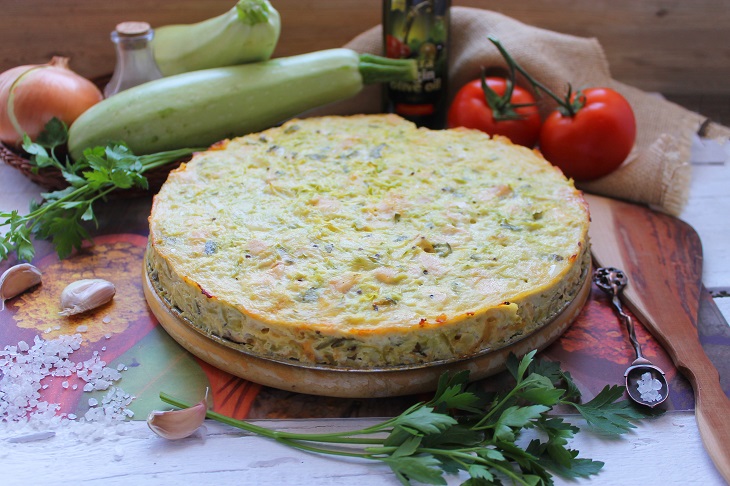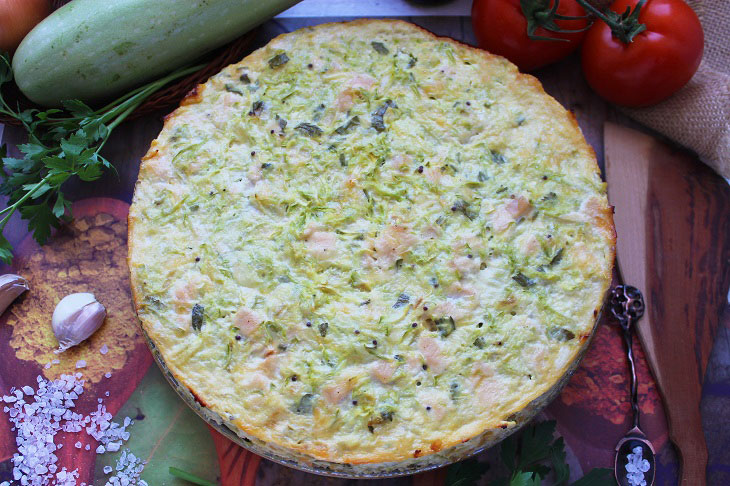 Enjoy your meal!