There are so many recipes for cooking chicken in the oven that your eyes run wide. This recipe makes incredibly juicy chicken with a crispy crust in BBQ sauce. It will take 2 hours to marinate, an hour to bake, 5 minutes of your time to prepare the chicken. A great option for busy housewives. Buckwheat can be cooked as a side dish. Active cooking time is about 2 minutes.
Ingredients:
Chicken – 700 g.
Barbecue sauce – 100 g.
Dried garlic – to taste.
Ground sweet paprika – to taste.
Curry – to taste.
Black ground pepper – to taste.
Provence herbs – to taste.
Soy sauce – 3 tbsp. l.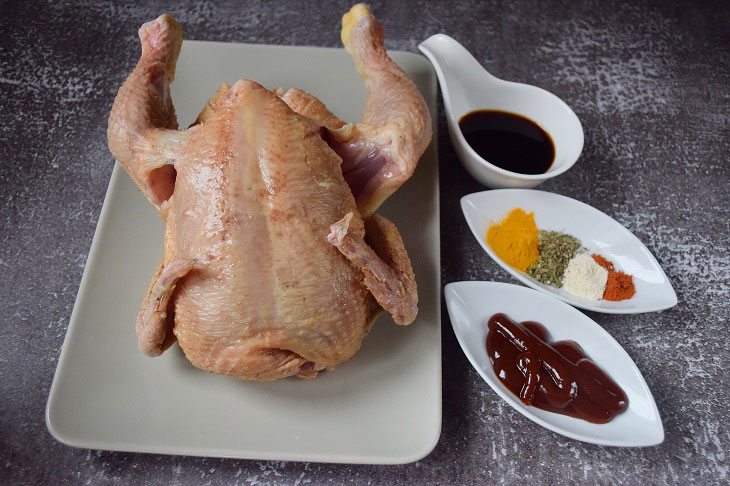 Cooking:
1. All spices take half a teaspoon. It is better not to replace dried garlic with fresh, as the taste will be slightly different.
Ideally, you need to take a domestic chicken. Its cooking time will be a little longer, but the taste is completely different. If the chicken is from the store, then choose only a proven poultry farm. Chilled chicken is more delicious.
Defrost frozen chicken on the bottom shelf of the refrigerator until soft. And only then rub with spices. Never use any thermal methods to defrost meat: no batteries, no microwave, no hot water. Otherwise, the meat will be dry and tough. Salt does not need to be added. Barbecue sauce and soy sauce have enough salt.
In a small bowl mix all ingredients. For convenience, you can use a whisk.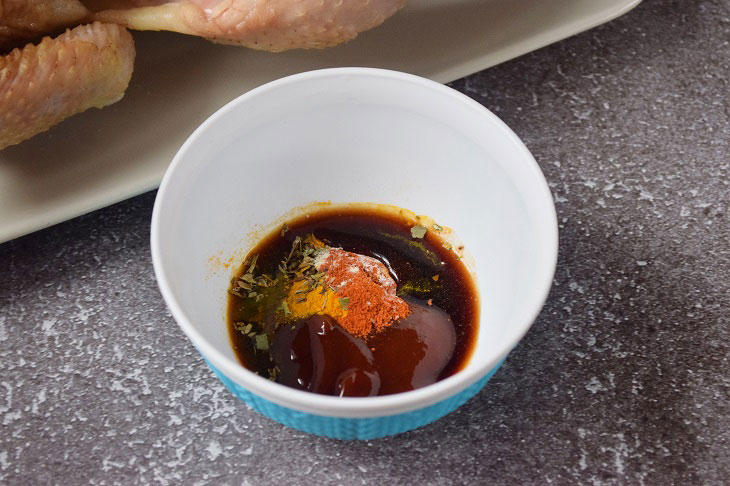 2. Check that all spices are evenly distributed. And then it happens that something remains at the bottom in one lump.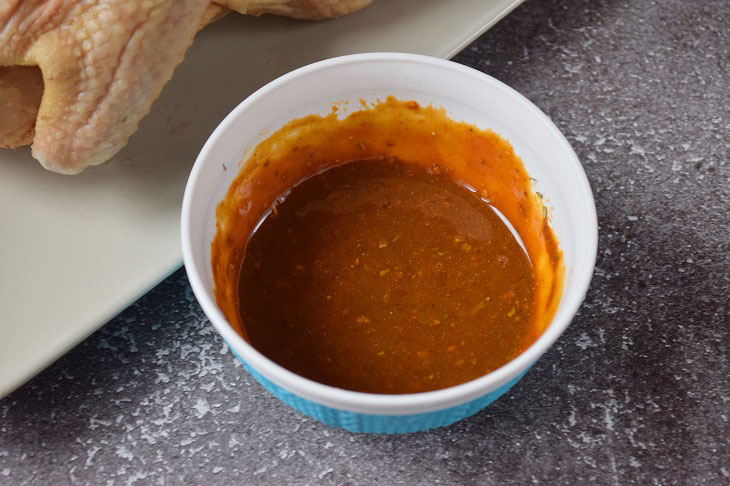 3. Don't wash the chicken. Pat dry with paper towels, remove feathers if any. Spread the sauce well on the inside and then on the outside. It is more convenient to do this with a silicone brush.
Cover the chicken so that it does not wind up and leave it on the table if the room temperature is below 20 degrees. If the house is hot, it is better to put the chicken in the refrigerator. Marinating time – 2 hours.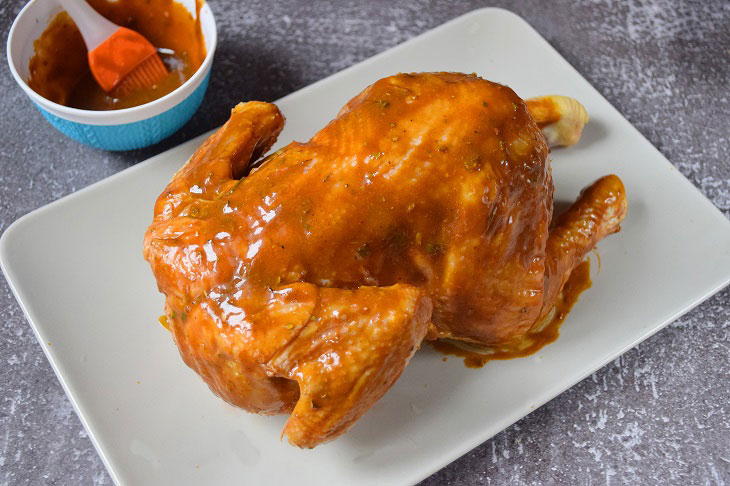 4. Line a baking sheet or baking dish of a suitable size with parchment. Put the marinated chicken, brush with the drained sauce.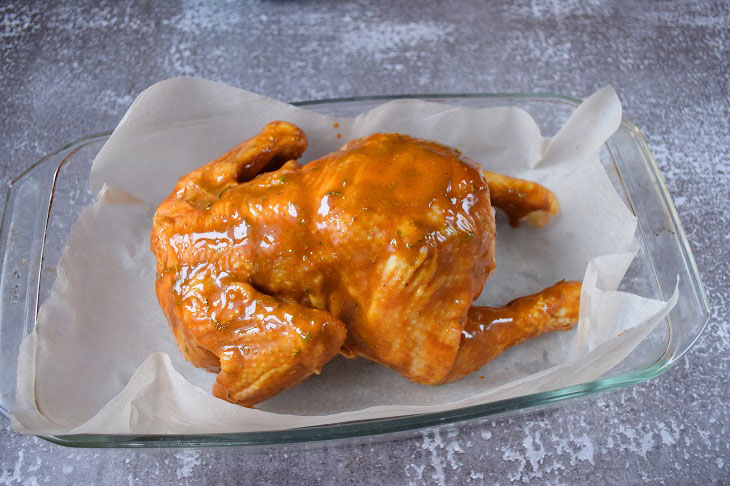 5. Bake for an hour at 180 degrees. Do not turn on convection.
At the very end, if you want the crust to be even more golden and crispy, you can turn on the grill mode for literally 7 minutes.
And one more secret to help you. Breast meat is usually dry. To avoid this, bake the chicken breast-side down. Then the breast will be saturated with juice.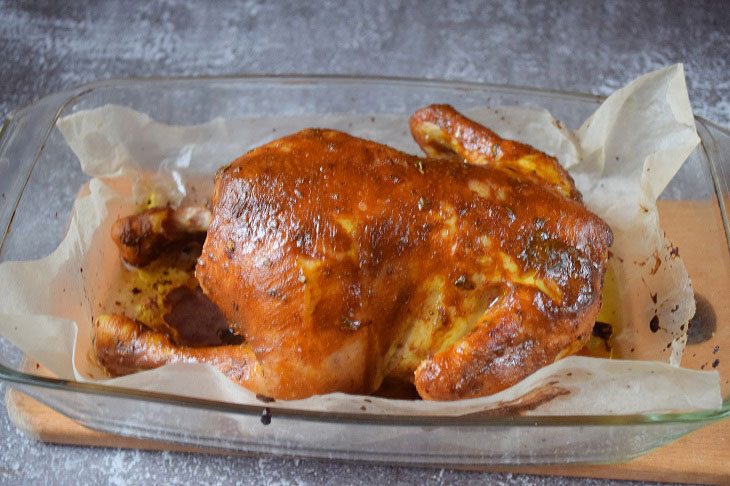 Serve with a side dish, fresh vegetables and herbs.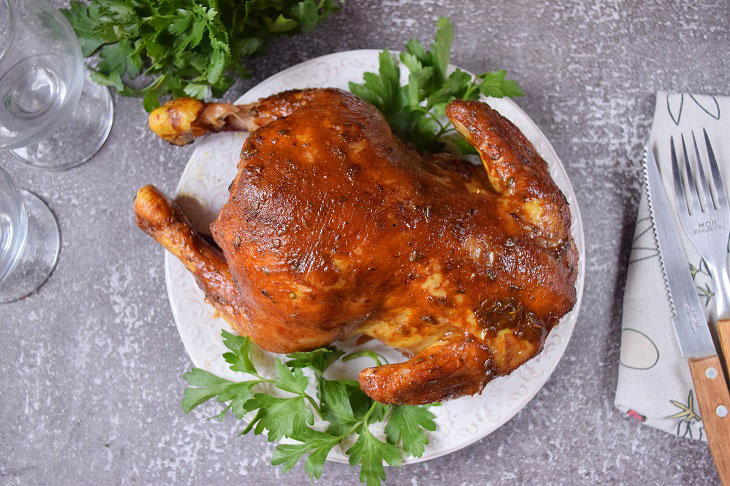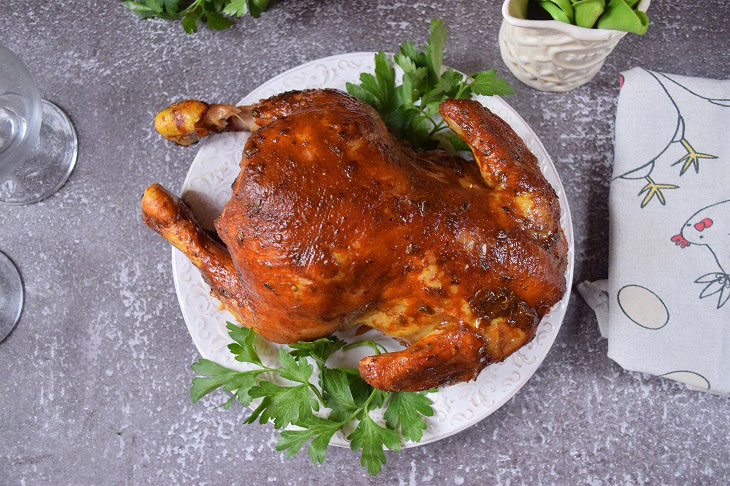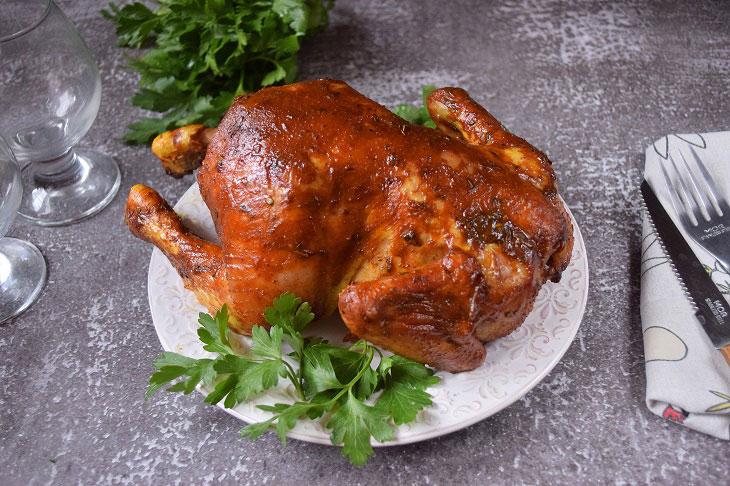 Enjoy your meal!