Chicken marinated in yogurt and baked in the oven is one of the best ways to cook poultry. For such a juicy chicken there is a place even on the festive table.
Thanks to the fact that the chicken is marinated in yogurt for 8 hours, it turns out incredibly juicy and soft. Spices can be changed to your liking. In this recipe, dry adjika (seasoning), ground chili and garlic were used, so the baked chicken turned out to be spicy and spicy.
Ingredients:
Chicken – 1 pc. (1200 g).
Turkish yogurt – 4 tbsp. l.
Garlic – 3 cloves.
Salt – 0.5 tsp.
Adjika dry (with salt) – 1 tbsp. l.
Ground chili – 0.5 tsp.
Sweet ground paprika – 1 tsp
How to cook:
1. Cut off excess fat from the chicken in the tail area, the extreme phalanxes of the wings can be cut off or left whole. Cut the carcass along the breast – it will open, "like a book." This form is very convenient for baking, and when served it looks spectacular.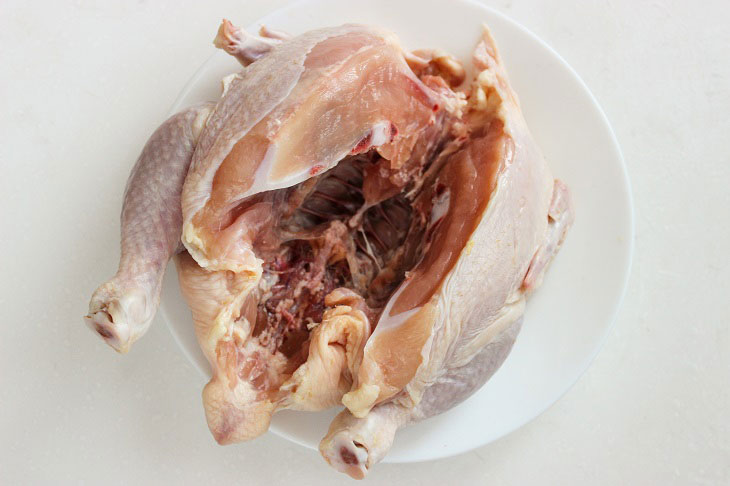 2. Using a sharp knife, make deep incisions on the skin so that the marinade can penetrate them better.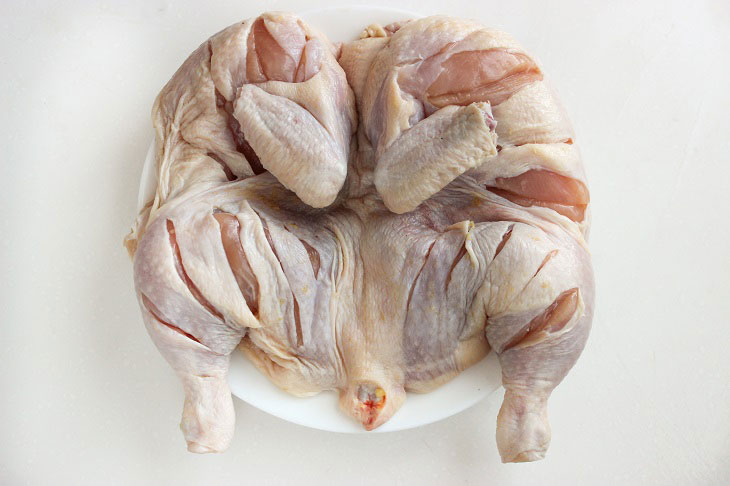 3. Sprinkle with dry adjika on all sides, rub it with your hands.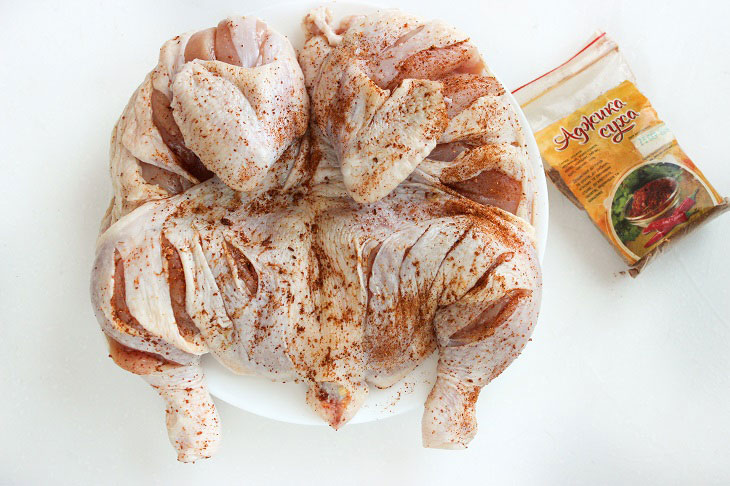 4. For the sauce, mix Turkish yogurt, salt, ground sweet paprika, ground chili and crushed garlic.
As for salt, look here by whether it is contained in your seasoning? According to the standard scheme, 1 tsp. salt is based on 1 kg of chicken. If salt is part of the seasoning, then 0.5 tsp will be enough. for every kilogram.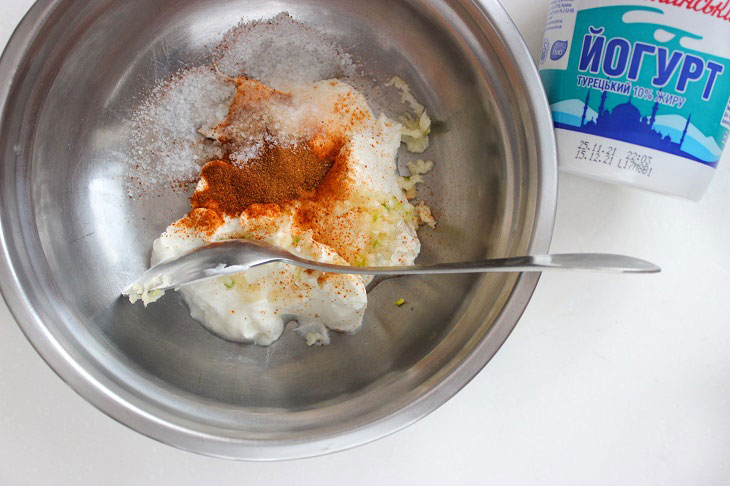 5. You will get a thick marinade, spicy and very fragrant.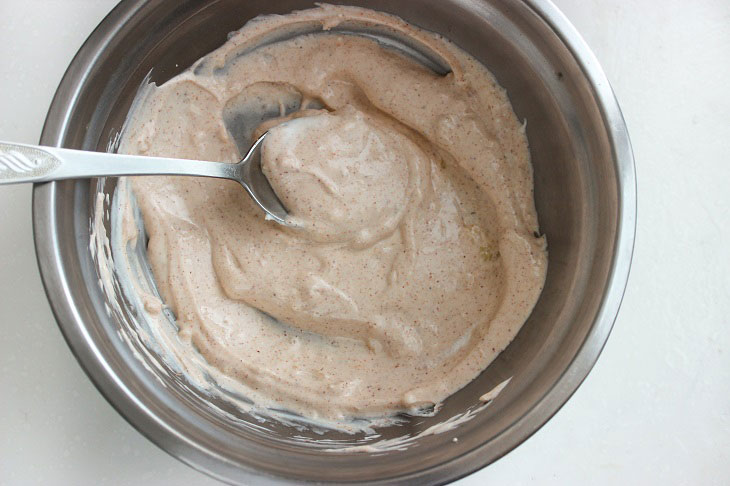 6. Lubricate the bird on all sides, leave to marinate for 8 hours – at room temperature.
In summer, when the room is very hot, it is better to marinate the bird in the refrigerator, but do not forget to take it out an hour before baking so that it warms up (otherwise it will cook unevenly).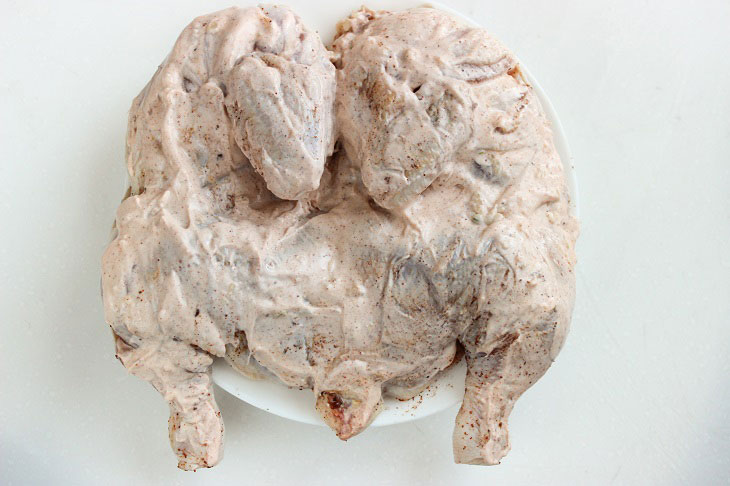 7. Transfer to a baking dish. Send to a preheated oven, bake at a temperature of 180 degrees for about 40-50 minutes (you can throw foil on the wings so that they do not burn).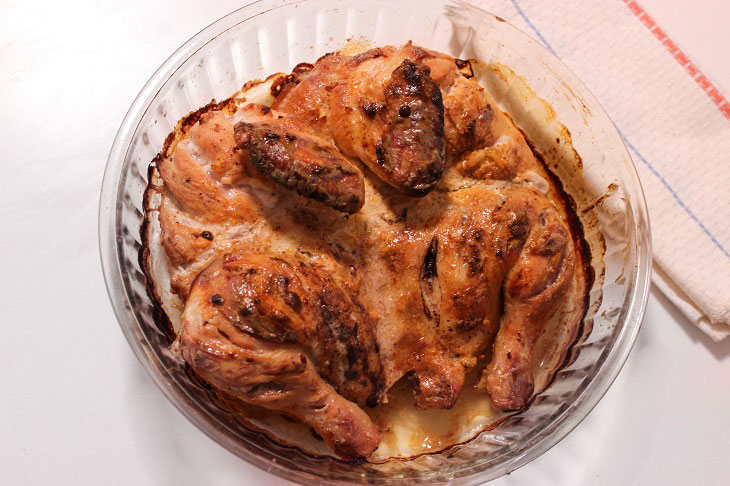 Serve hot. For a side dish, you can offer vegetable cutting or salad, fresh herbs, baked or boiled potatoes.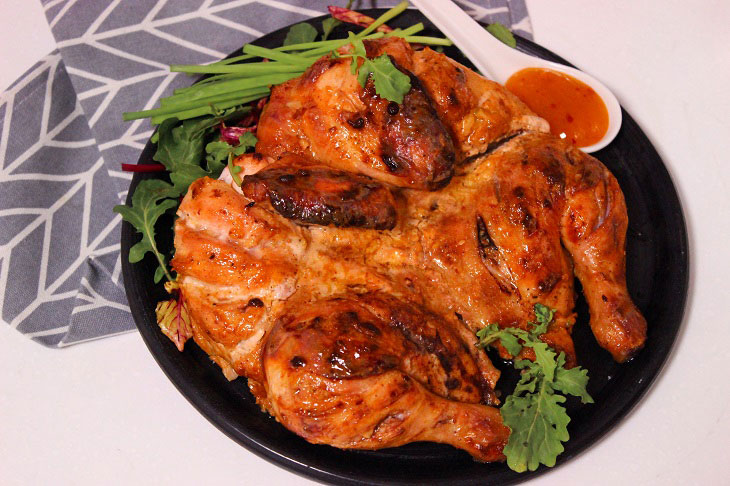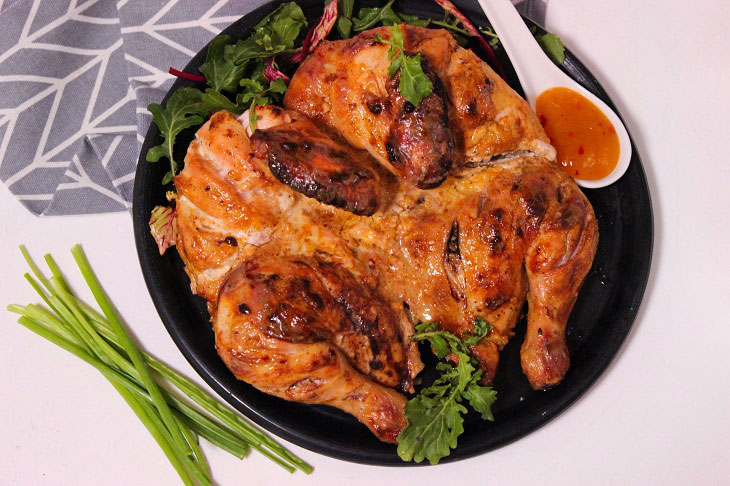 Bon appetit!