Cloud salad is so named because boiled egg whites are always laid out on top of it. It is due to them that the finished snack turns out to be light, fluffy and something like a cloud. But that's not all, preparing such a salad is very simple and the products are not quite expensive. Therefore, if for a holiday you want to make not only a beautiful, tasty and original-looking salad, but also relatively inexpensive, then take note of this recipe. It will definitely please all the guests, and you will be glad that you were able to please each of them.
To prepare the Cloud salad, you can boil chicken eggs in advance. When shopping for processed cheese at the grocery store, it's best to get one that tastes good and you've already bought it. The meat you like is suitable, this recipe used boiled chicken fillet. But you can also take turkey fillet.
Ingredients:
Chicken fillet – 70 g.
Onion – 1 pc.
Potato – 1 pc.
Processed cheese – 1 pc.
Chicken egg – 2 pcs.
Salt – 1 pinch.
Sugar – 1 pinch.
Vinegar 9% – 3 tbsp. l.
Mayonnaise – 0.5 tbsp. l.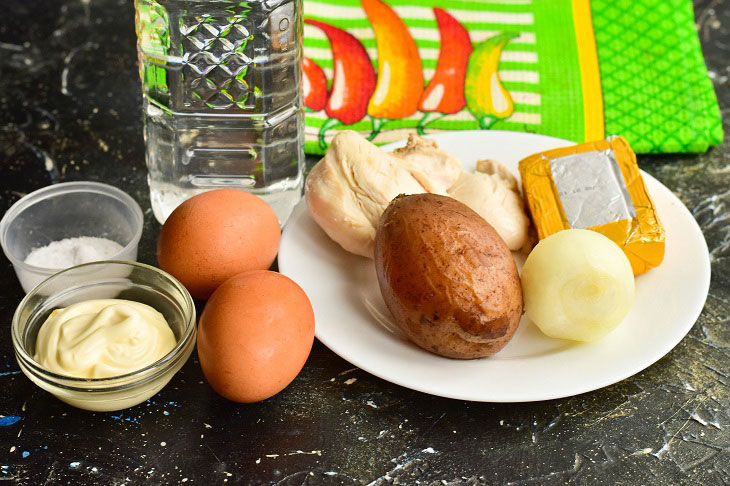 How to cook:
1. So, if you didn't have time to boil the meat in advance, then put it in a bowl, fill it with clean water. Boil it for 30 minutes.
You can cut the meat into smaller pieces for faster cooking.
Tear the finished meat with your hands into fibers, put it in a ring, which you place on a bright and beautiful dish. Make a grid of mayonnaise. In the future, grease each layer of products with sauce.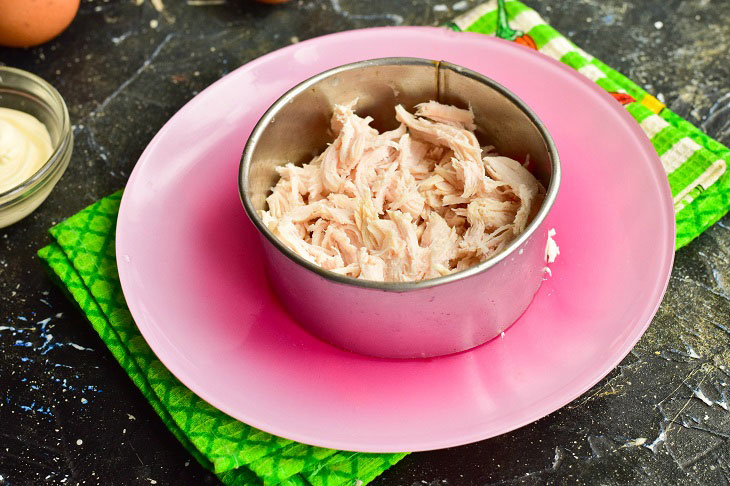 2. Cut the onion into cubes as small as possible. Put it in a bowl, pour in vinegar and water in this ratio, add salt and mix everything very well.
If you want the onion to be a little sweet, then add a pinch of sugar to the marinade as well.
Leave the vegetable for 15 minutes.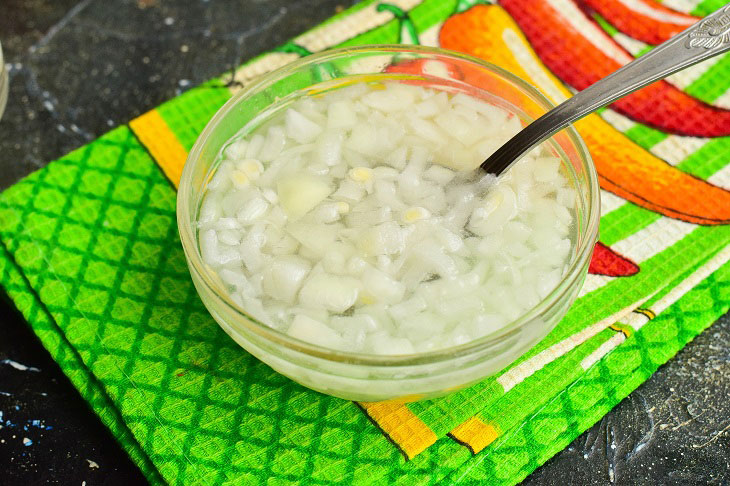 3. Drain the marinade and lay the onion on top of the pieces of meat.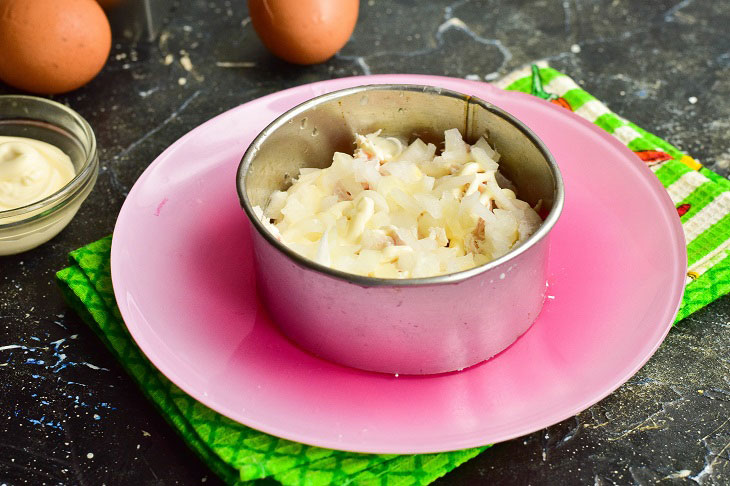 4. Boil the potatoes for 30 minutes, remove the peel with a knife, grate the vegetable and put on top of the pickled onion.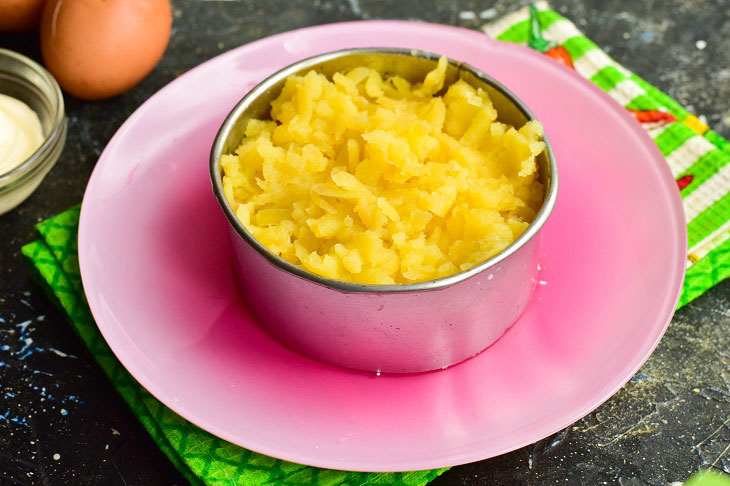 5. Now lay out the chicken yolks grated on a fine grater, leave the whites, they will be needed for the final layer. Do not forget to make a grid of mayonnaise for each layer of products.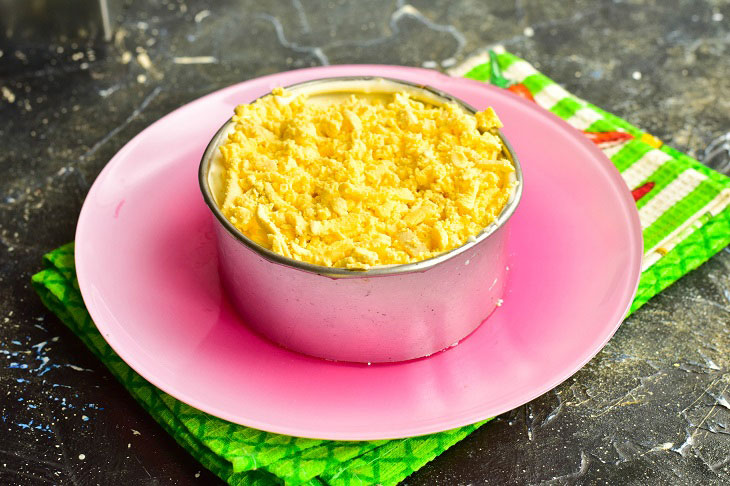 6. Grate melted cheese on chicken yolks.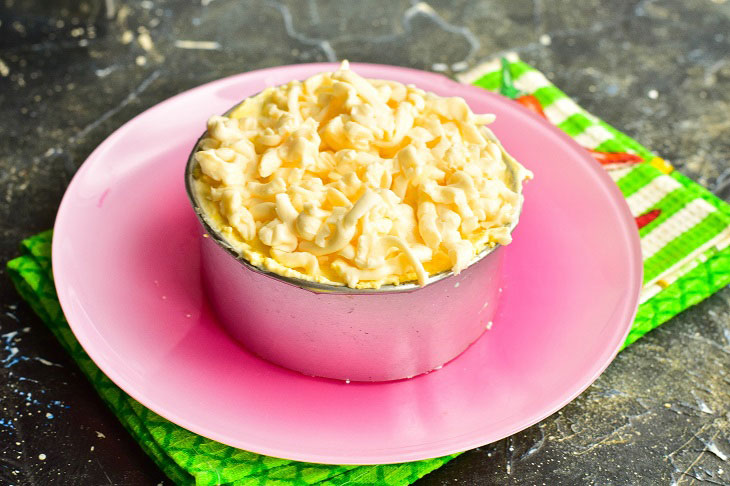 7. Put chicken proteins on it with the last layer.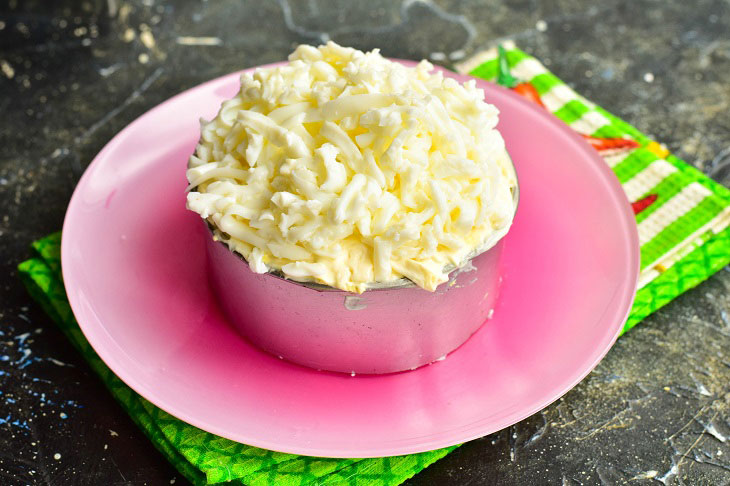 Remove the ring and serve the salad to the table!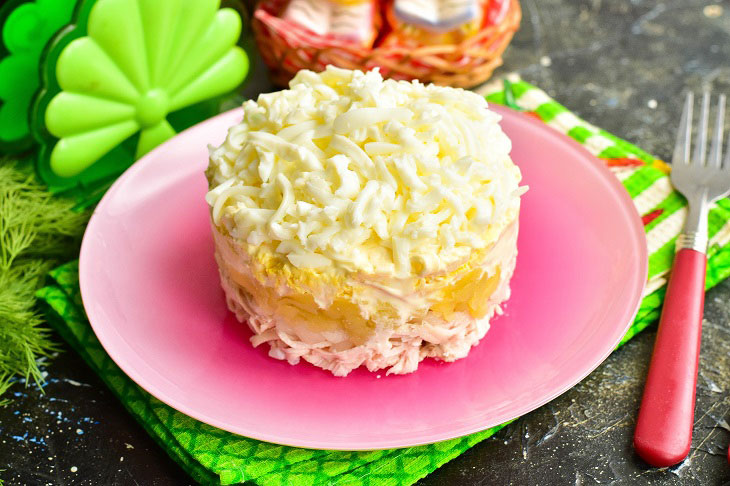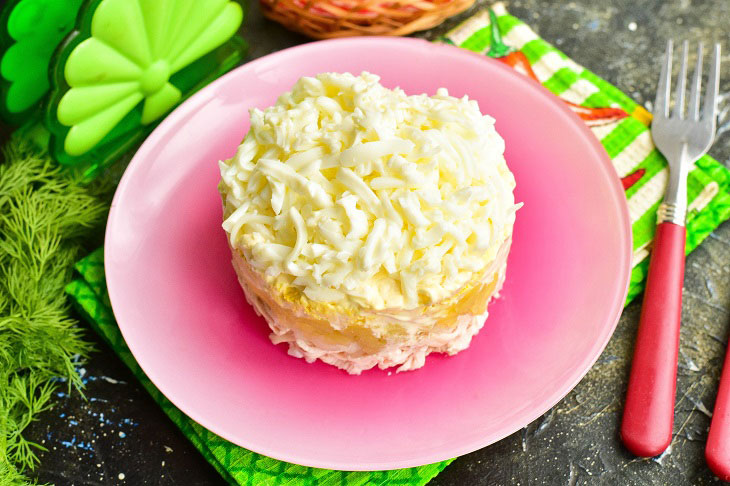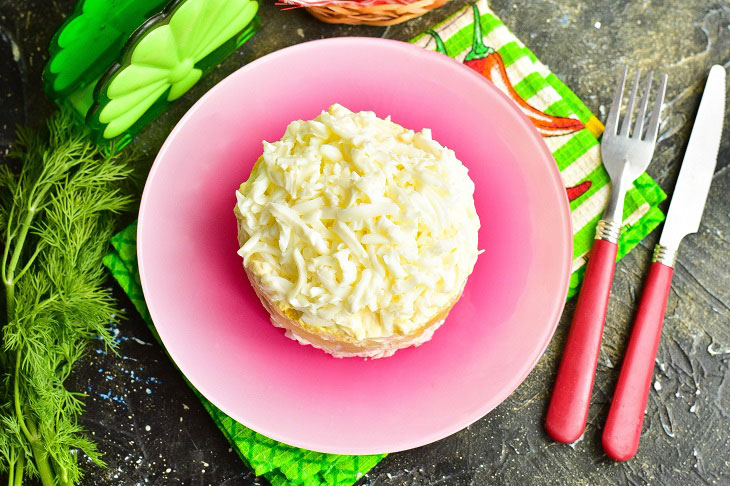 Enjoy your meal!