Salad "Parizhanka" is prepared with chicken and pineapples. In addition, you will need hard cheese, boiled eggs and canned corn, which will give the salad a sweet touch and juiciness. The ingredients in this dish are perfectly combined, and also complement each other. They are easy to buy in any store and at any time of the year.
The salad turns out to be tender, spicy and everyone will like it, especially the female half. Juicy pineapples and corn are ideal for dryish chicken breast, so the dish is harmonious. Salad "Parisian" can be safely prepared for the festive table – you get a delicious feast. Guests will certainly appreciate your efforts and will definitely ask for a detailed recipe.
Ingredients:
Chicken fillet – 200 g.
Hard cheese – 80 g.
Canned corn – 100 g.
Chicken eggs – 2 pcs.
Canned pineapples – 150 g.
Mayonnaise – 120 g.
Black salt, pepper – to taste.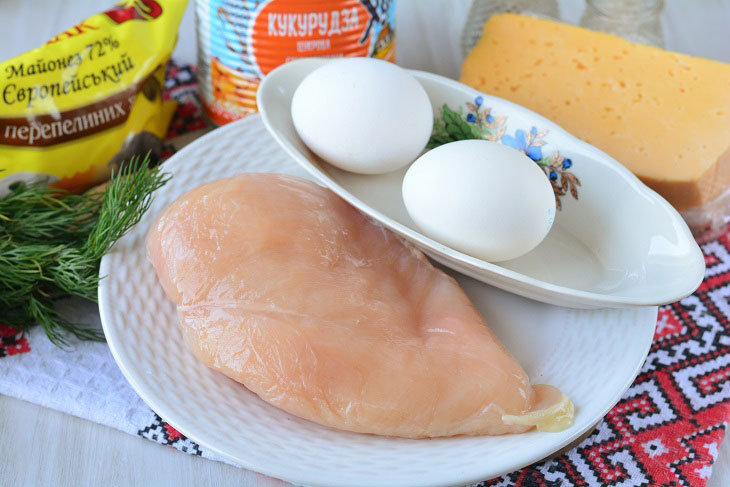 How to cook:
1. Rinse the chicken meat, put it in a saucepan, pour cold water over it and cook after boiling for 20 minutes. Salt to taste, remove the foam, cook over moderate heat. Cool the finished fillet in the broth – so the meat will turn out more juicy. And from the broth you can cook any soup.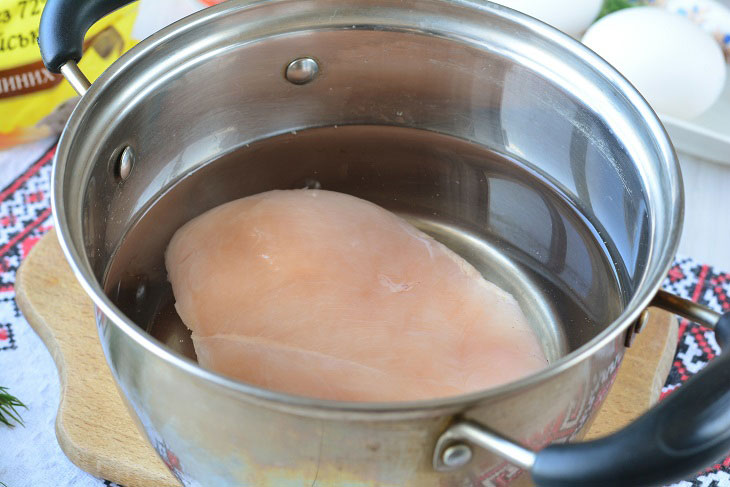 2. Cut the chicken fillet into cubes for salad or disassemble into small fibers.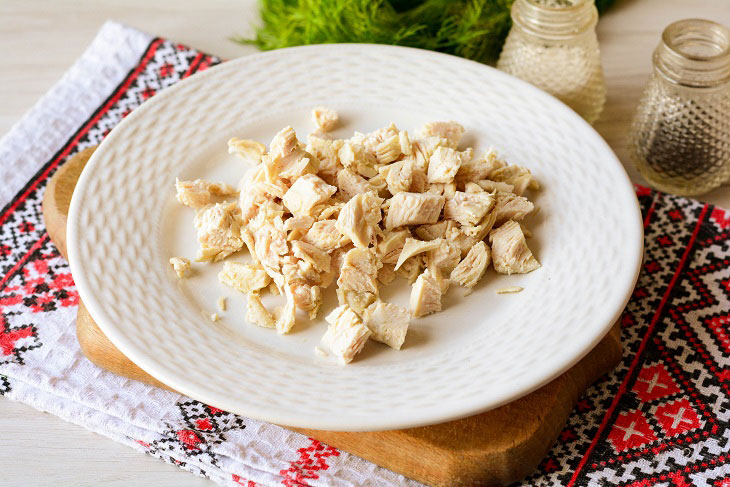 3. Rinse chicken eggs, pour cold water over and cook after boiling water for 8 minutes. After the egg cool, peel and cut into cubes.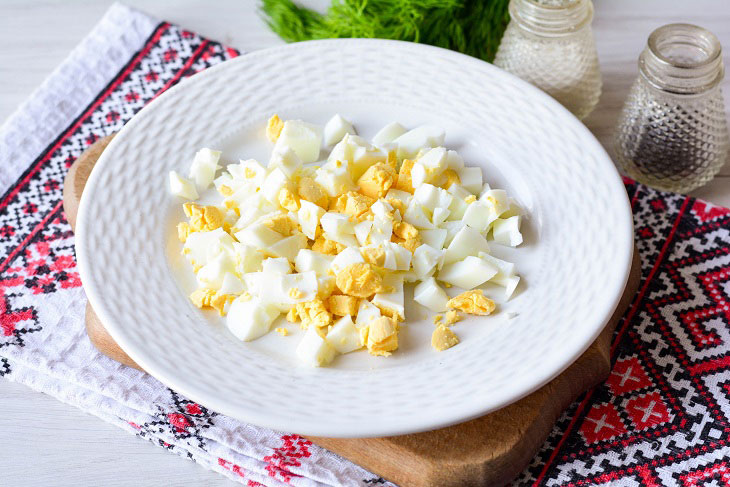 4. Grate hard cheese. You can take any type of cheese, to your taste and which is in the refrigerator.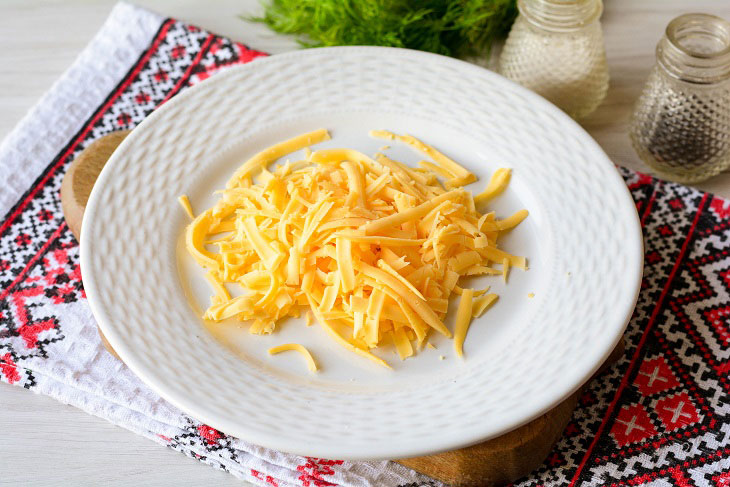 5. Pour all chopped ingredients into a deep container – chicken, cheese, eggs. Drain marinade from canned corn, add grains to salad.
6. Season the dish with mayonnaise, salt and pepper to taste, and mix to make it juicy and soaked.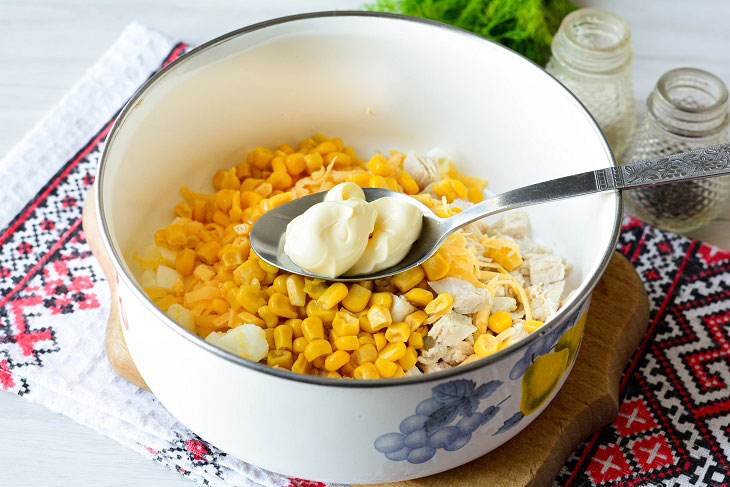 7. Put the salad in portioned dishes, serve immediately.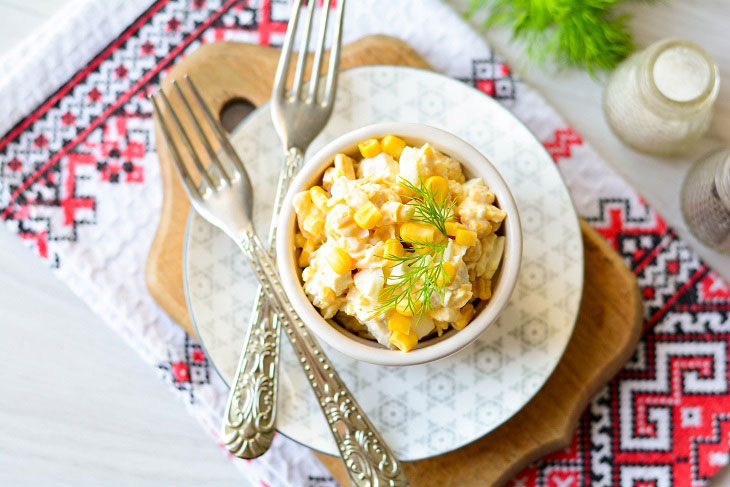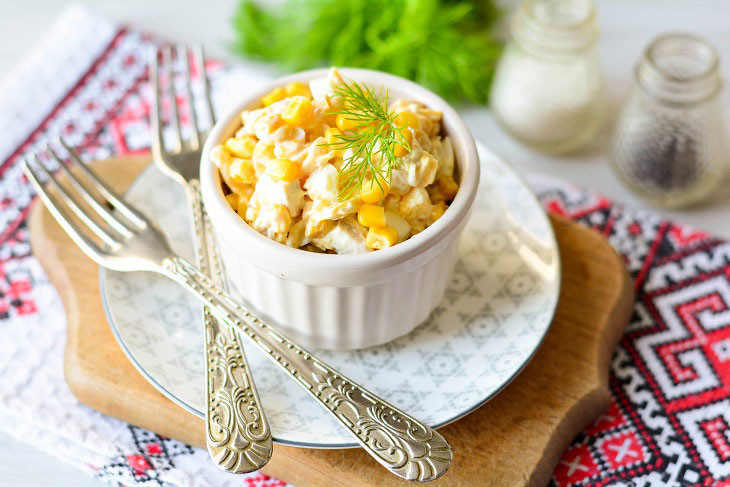 Enjoy your meal!