Salad "Idyll" is a beautiful salad that turns out delicious. It is not difficult to prepare it. The main ingredient is chicken fillet. It can be boiled in advance or baked in the oven until cooked, so as not to spend a lot of time on this procedure. Also, a fresh apple is added to the salad, which gives it juiciness and a unique taste. A pancake is prepared from the egg, which is cut into strips and laid out on top. It is thanks to him that the appetizer turns out to be so attractive in appearance.
Dressing the salad is best with mayonnaise, but if you are critical of it, then replace it with sour cream or yogurt without any additives.
The ready-made salad "Idyll" is combined with absolutely any side dishes, but it can also be safely served at the table as an independent dish. If you want it to come out more spicy in taste, then you can add chopped garlic to the list of ingredients or add it in dry form.
Ingredients:
Chicken egg – 1 pc.
Pickled cucumber – 2 pcs.
Fresh apple, not sour to taste – 1 pc.
Chicken fillet boiled or baked – 100-150 g.
Mayonnaise or any other sauce for salad dressing – 0.5 tbsp. l.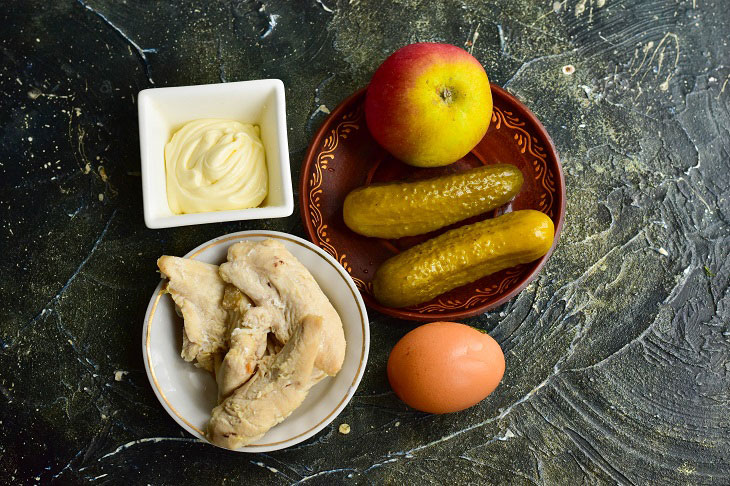 How to cook:
1. So, first of all, boil the chicken fillet for 20 minutes. Use the broth to make any sauce.
You can bake the chicken in the oven for 30 minutes, wrapped in foil.
Cool the meat and cut it into pieces or even tear it with your hands.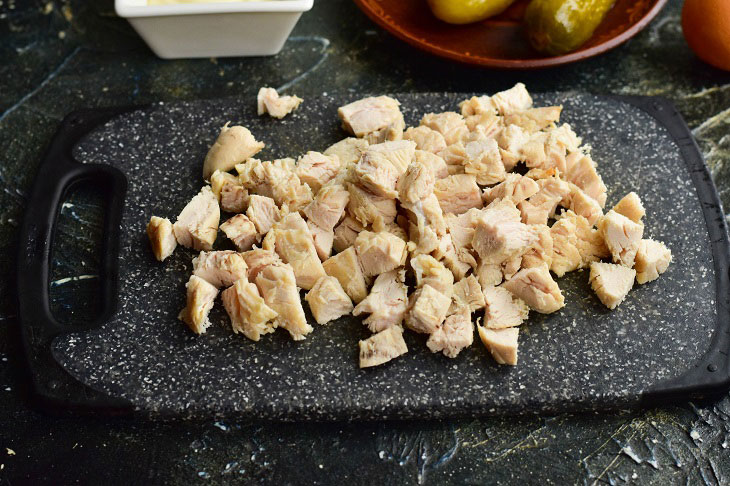 2. Cut off the edges from a fresh cucumber, cut the rest into the same cubes as the meat.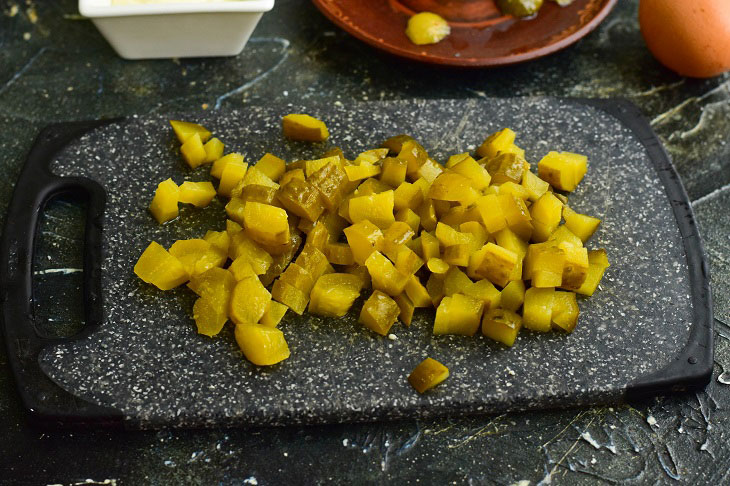 3. Wash the apple, peel, remove the core with seeds. Cut the fruit into medium pieces.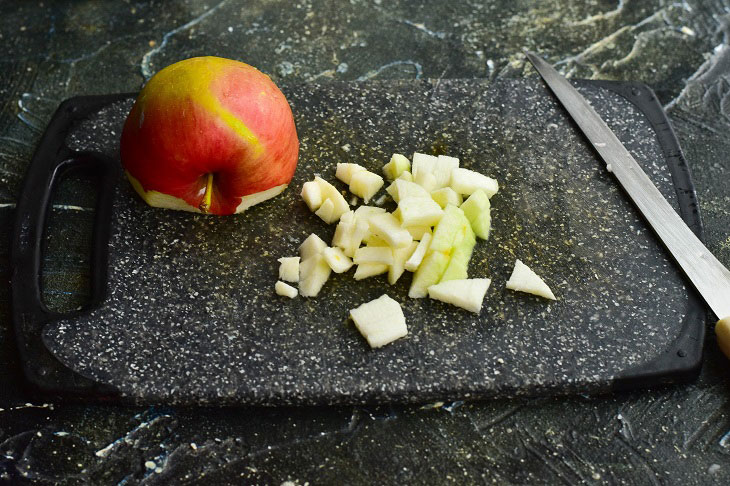 4. Beat the chicken egg into the bowl. Shake it with a fork.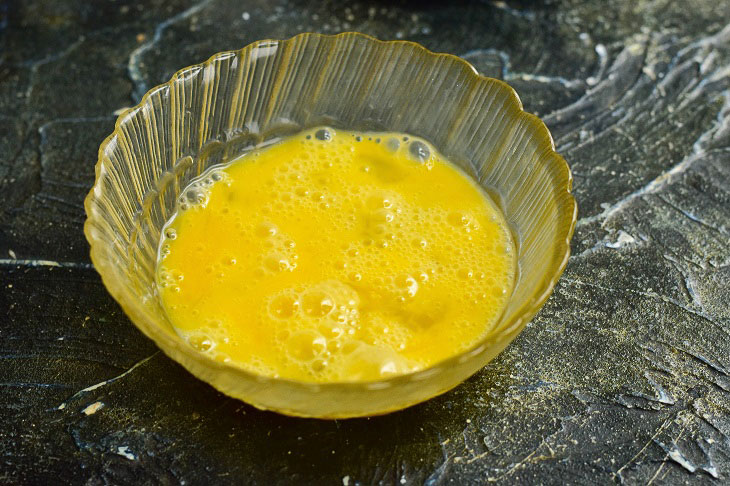 5. Pour the egg mass into the pan and fry the pancake. Then cut it into strips.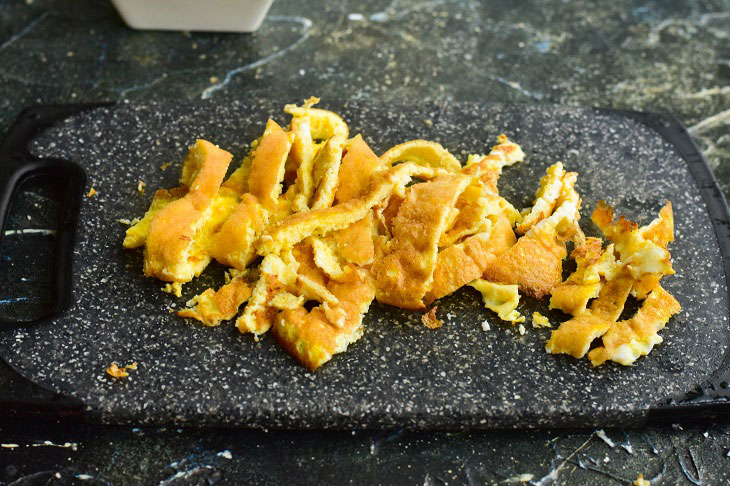 6. Place chopped meat, apple and cucumber in a bowl.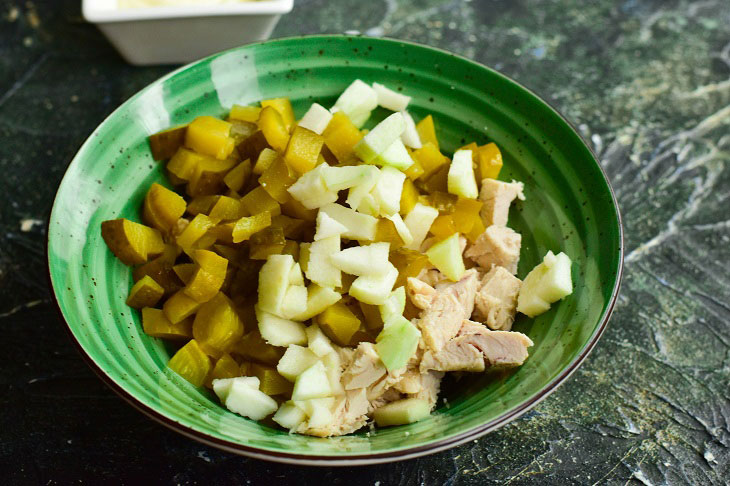 7. Add mayonnaise.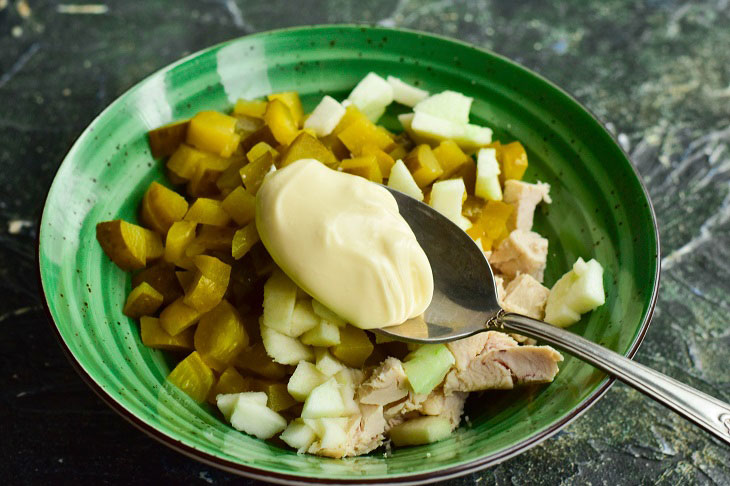 8. Mix the salad very well. Put it in a beautiful bowl with a leg. Lay the egg pancake on top. Decorate the finished salad "Idyll" with fresh herbs.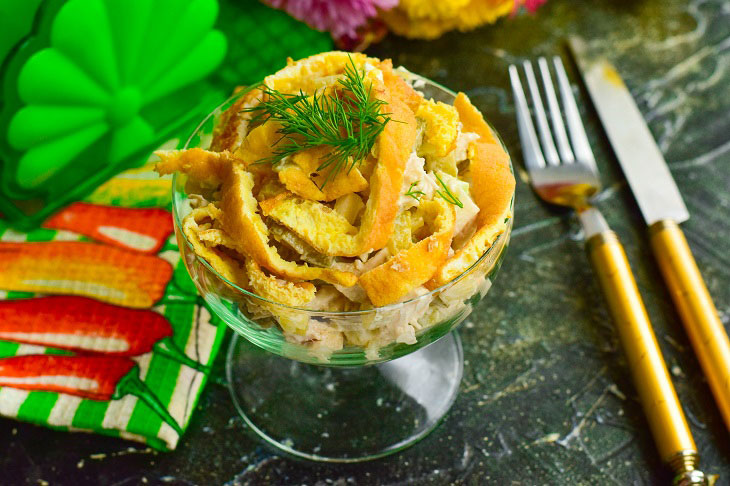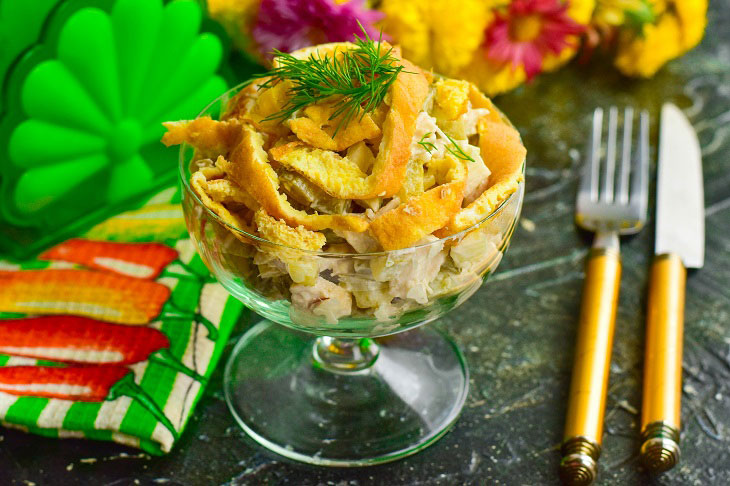 Enjoy your meal!