A coffee bean, a small miracle, before coming to us thanks to Peter I, made an exciting journey: from Africa through the Red Sea to the Arabian Peninsula, further to the East, to Europe. This brave traveler, invigorating and fragrant, is dedicated to a delicious dessert – a coffee bean biscuit cake.
Delicate structure with a bright taste of coffee, wrapped in chocolate icing. Not a cake, but just a delight. In addition, it is very easy to prepare, the ingredients are the most affordable.
Ingredients:
Cookies – 200 g.
Butter – 35 g.
Coffee with condensed milk – 6-8 tbsp. l.
For chocolate glaze:
Milk chocolate – 30 g.
Cream – 2 tbsp. l.
Cooking time: 45 minutes. Servings Per Container: 6
How to cook:
1. After breaking the cookies into small pieces with your hands, put them in a blender cup.
Choose tasty cookies, preferably crumbly.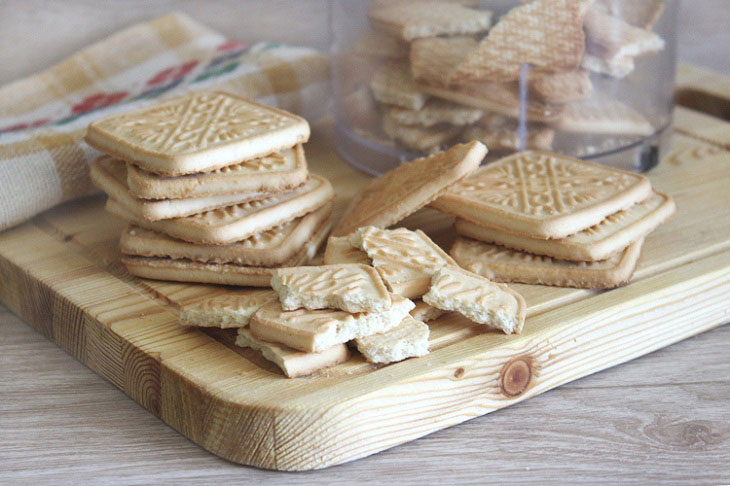 2. Using a blender, grind the pieces of cookies to a state of small crumbs, leaving no large pieces.
If you don't have a blender, then grind the cookies with a manual meat grinder or rub the cookies with a rolling pin.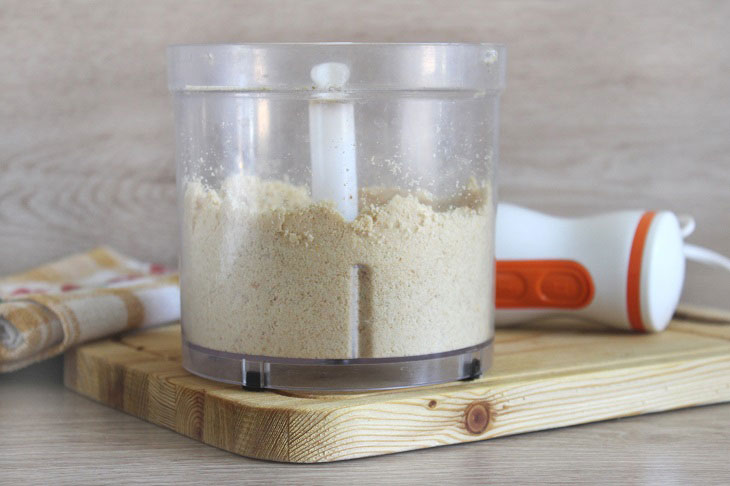 3. Pour the crushed biscuit crumbs from the blender into a cup and add the required amount of coffee with condensed milk.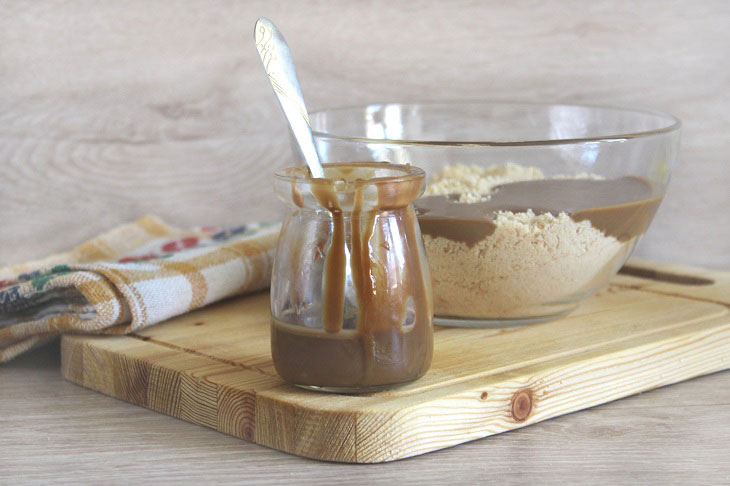 4. Grate butter on a fine grater, add to a cup with crushed cookie crumbs and coffee. Butter must be of good quality: not old or rancid, otherwise it will affect the taste of the finished product. Margarine is not allowed.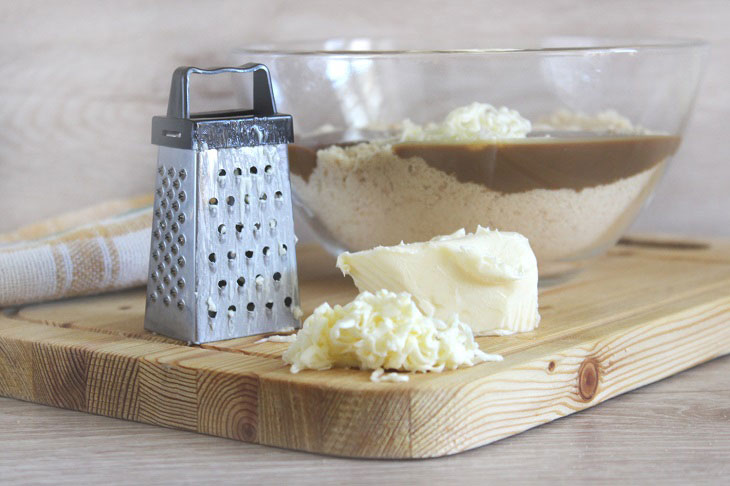 5. Mix the ingredients prepared for the cake: crushed cookie crumbs, coffee with condensed milk and butter until smooth, which will resemble soft plasticine in its consistency. It is more convenient to mix this mass with your hands, wearing culinary gloves.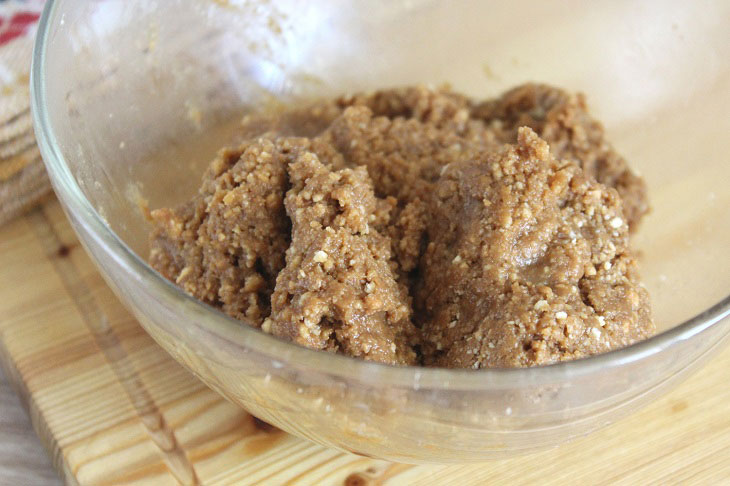 6. Divide the resulting mass of cookies into 6 equal parts, each weighing 50-55 g.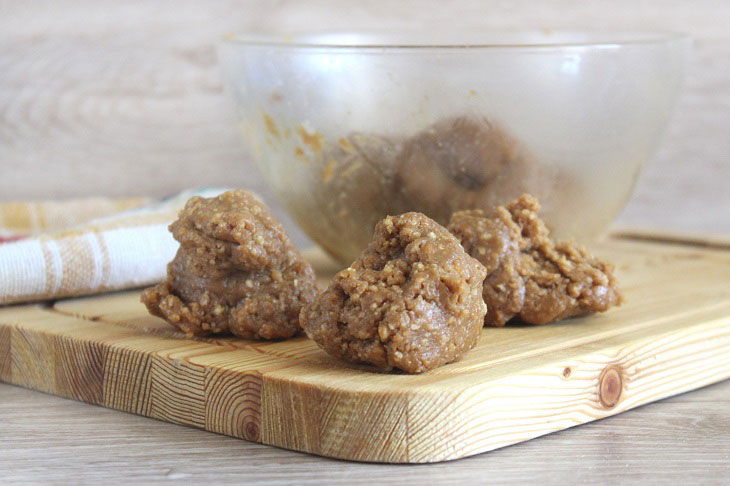 7. First roll a ball from each part, then slightly lengthen it, giving it an oval shape resembling a coffee bean.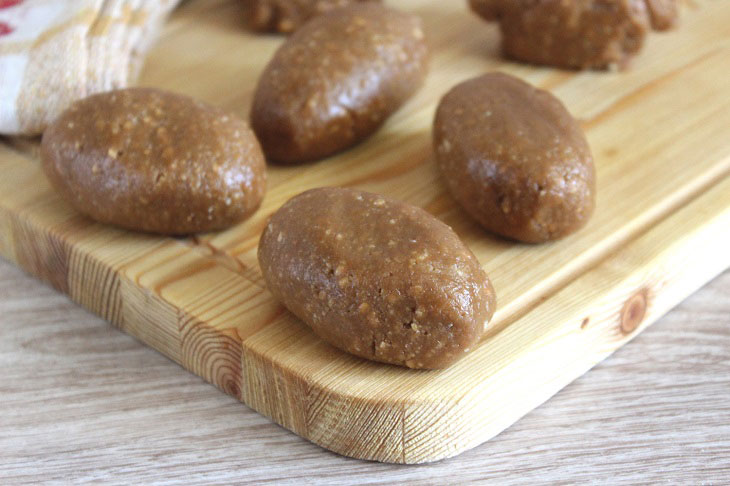 8. Using a toothpick, make a groove in the middle of each blank for the cake, like coffee beans, about 4-5 millimeters wide and deep.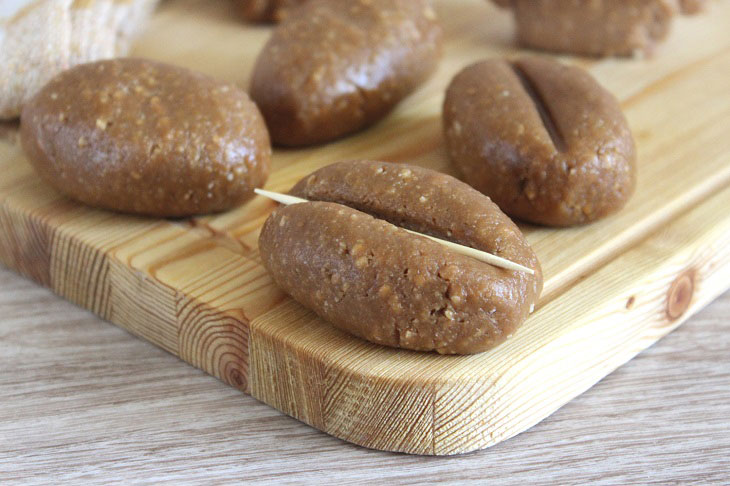 9. As a result, such a "coffee bean" should turn out. Form the rest of the cakes in the same way.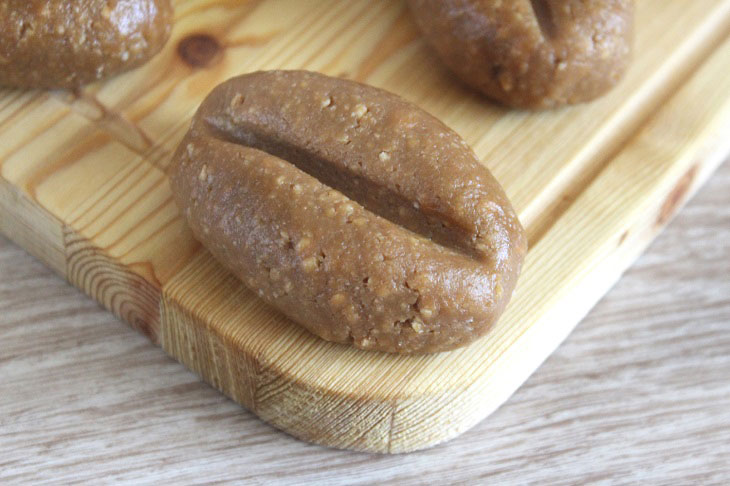 10. Fold the formed "coffee beans" on a dish and put in the freezer for 10 – 15 minutes.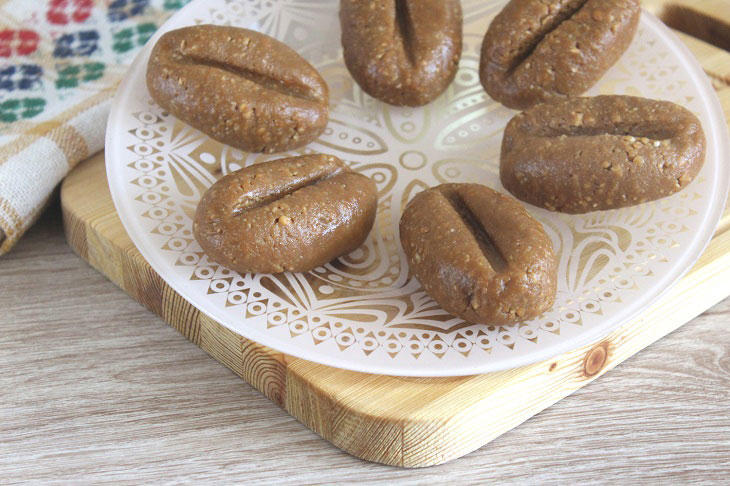 11. Place the pieces of milk chocolate in a cup and melt in a water bath. Add cream to melted chocolate and stir until smooth. Chocolate frosting is ready.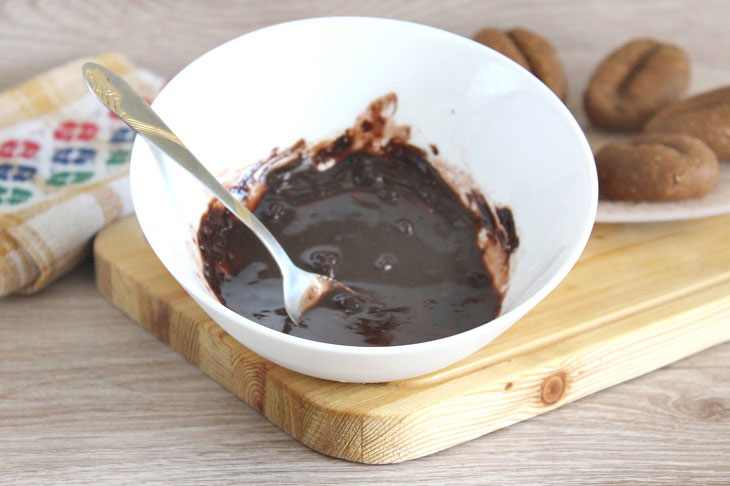 12. Remove the chilled "coffee beans" from the freezer and place on skewers (or just a wire rack).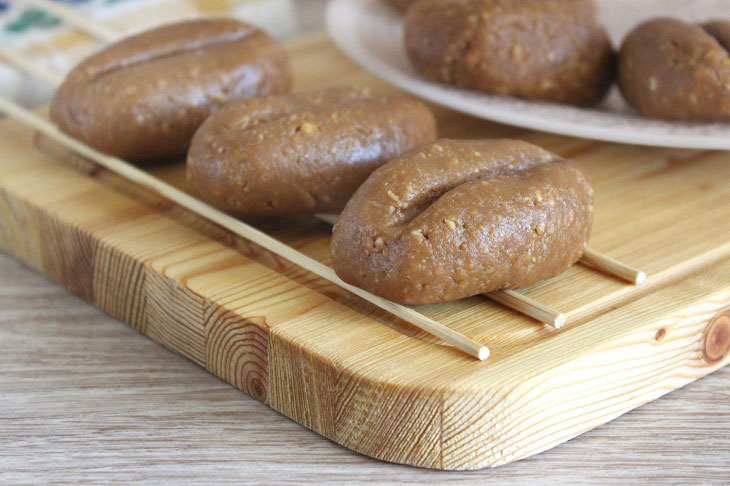 13. Pour the chilled "coffee beans" with the prepared chocolate icing.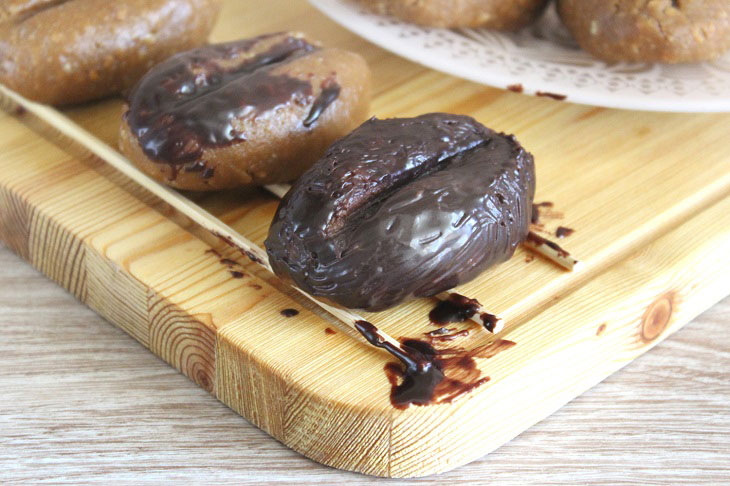 14. Allow the chocolate icing to harden well, preferably by placing the cakes on a plate in the refrigerator.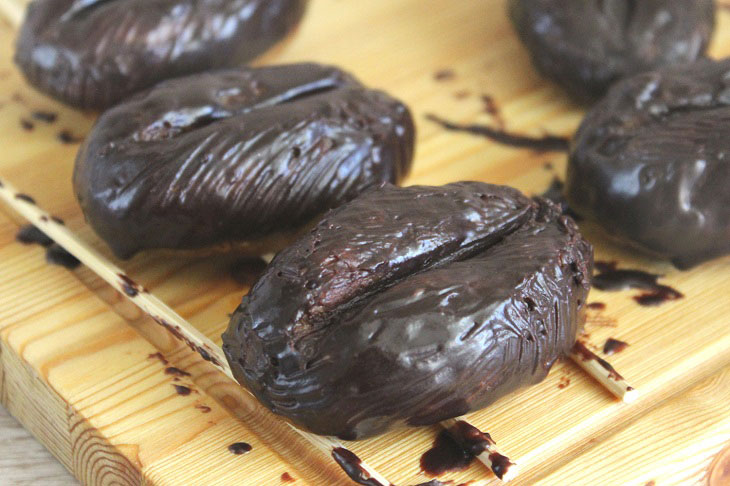 15. 5-10 minutes before serving, remove the coffee bean cakes from the refrigerator and then serve.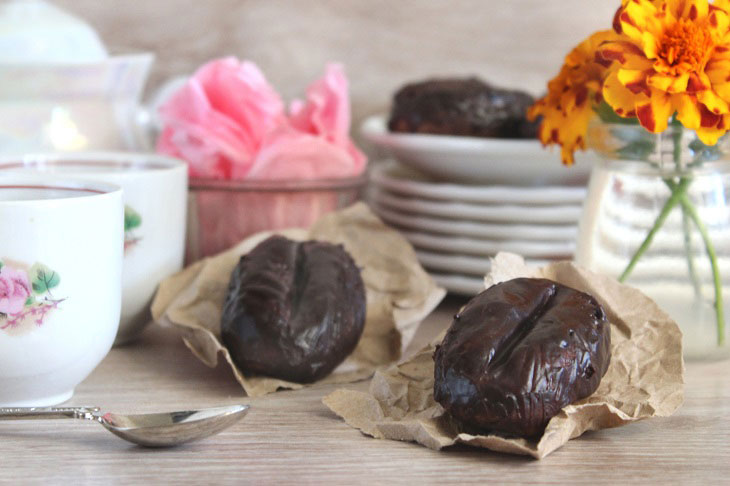 Bon appetit!