Being in the country and not having any culinary tools, you can treat your loved ones to a dessert without baking with a very interesting design. Cakes in the form of fried eggs are prepared in a matter of minutes, you just need to wait for the cream to gel. And the contour form will be a plastic bottle, cut into several rings.
Ingredients:
For 7 pcs. cakes "Egg":
Vanilla crackers – 220 g.
Butter – 70 g.
Milk – 40 ml.
Sour cream – 600 g.
Fatty cold cream – 400 ml.
Powdered sugar – 100 g.
Vanillin – 1.5 g.
Gelatin – 20 g (dissolve in 40 ml of water).
Halves of canned peaches – 7 pcs. (There are just 7 peach halves in an 850 ml jar).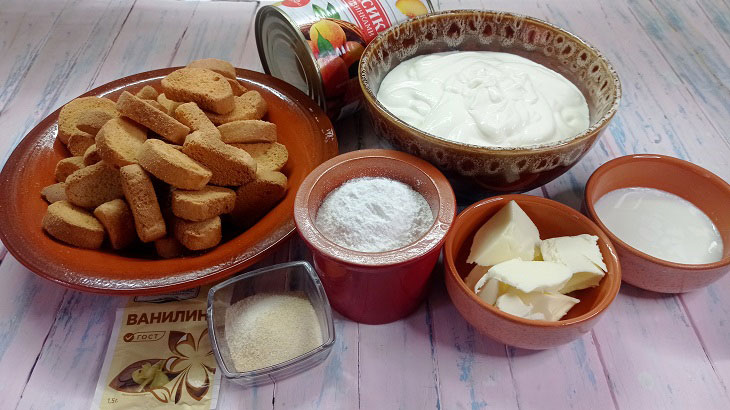 How to cook:
1. Prepare bounding molds. You will need 2 1.5 liter water bottles. Cut out 7 rings 5 ​​cm wide.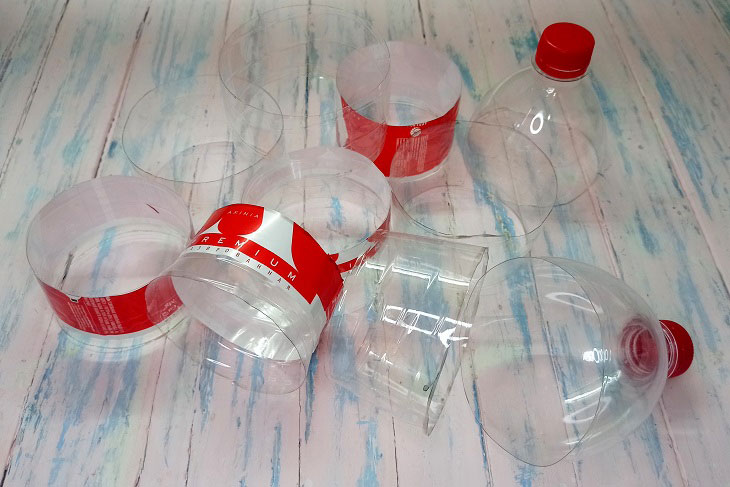 2. If the sour cream is not very thick, it should be weighed out, placed in 4 layers of gauze.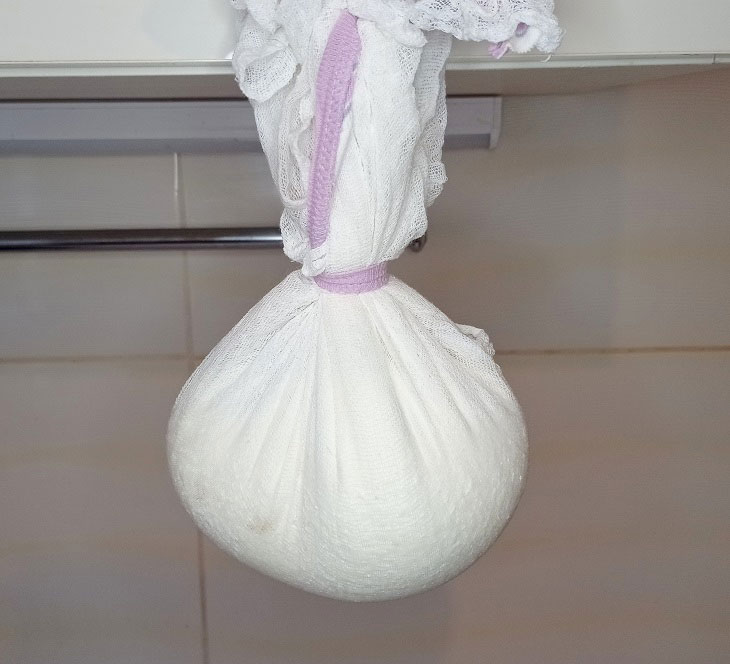 3. After 3 hours, you will get a good thick sour cream.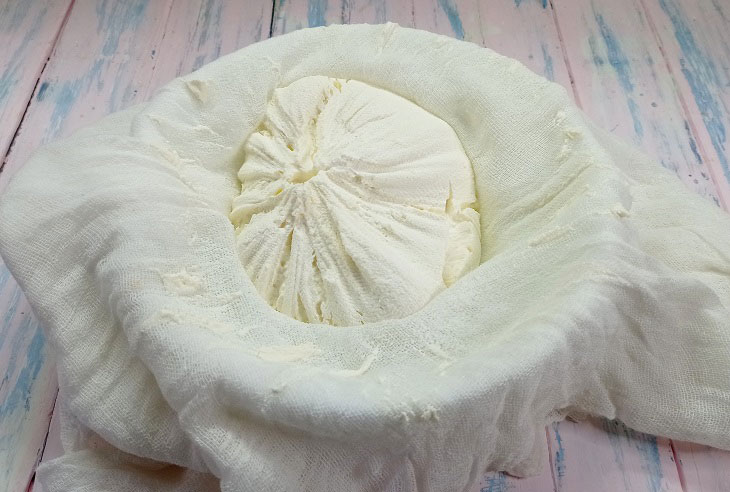 4. Grind crackers in a chopper or rolling pin.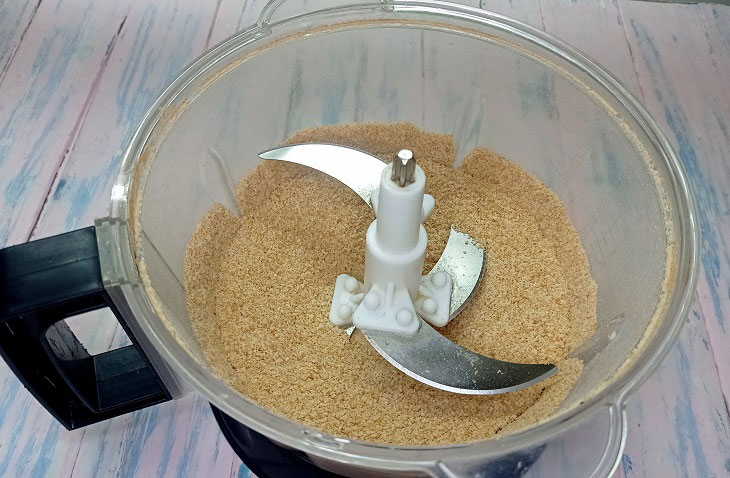 5. Add butter and milk, melted in short pulses of the microwave.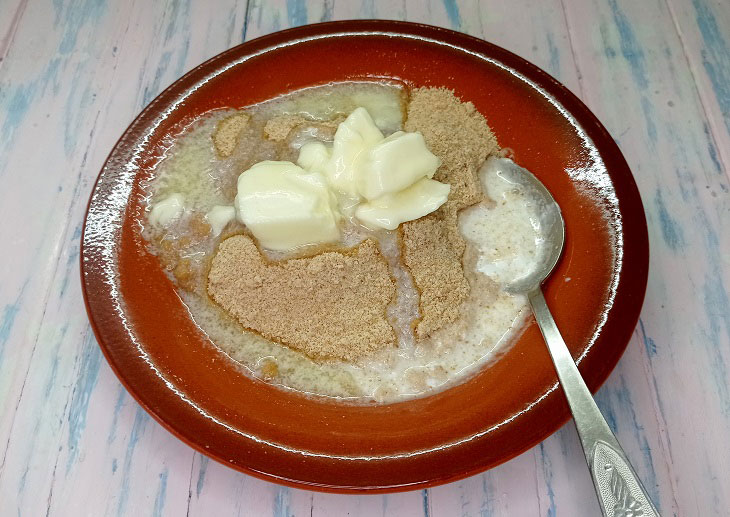 6. After mixing, you should get a plastic, moldable mass.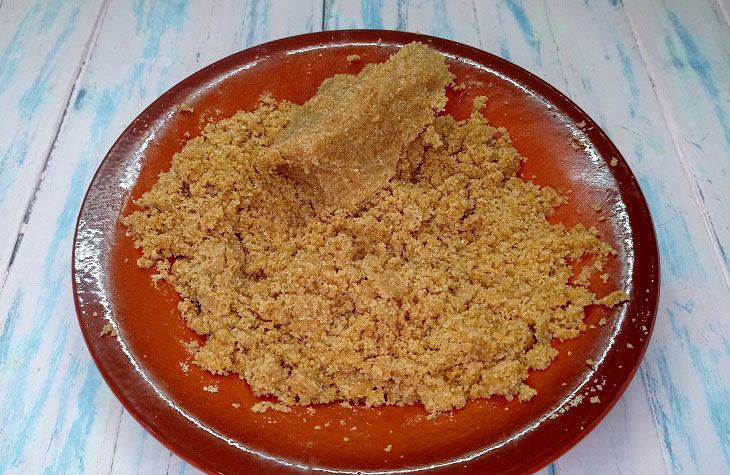 7. Arrange the base of the cakes in molds, seal it with a glass with a flat bottom and put it in the refrigerator.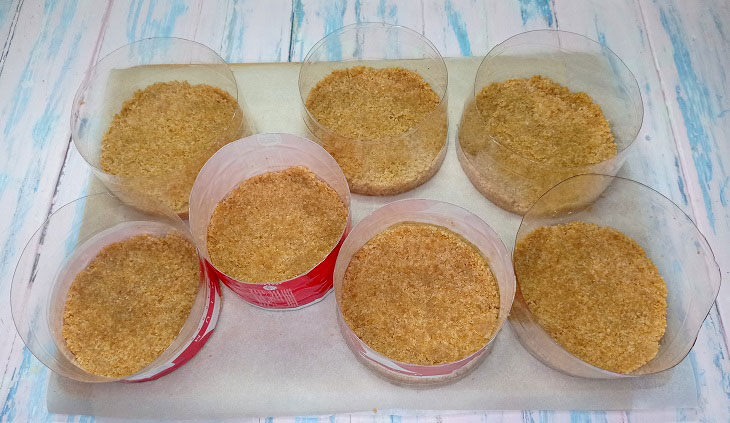 8. Pour gelatin with water.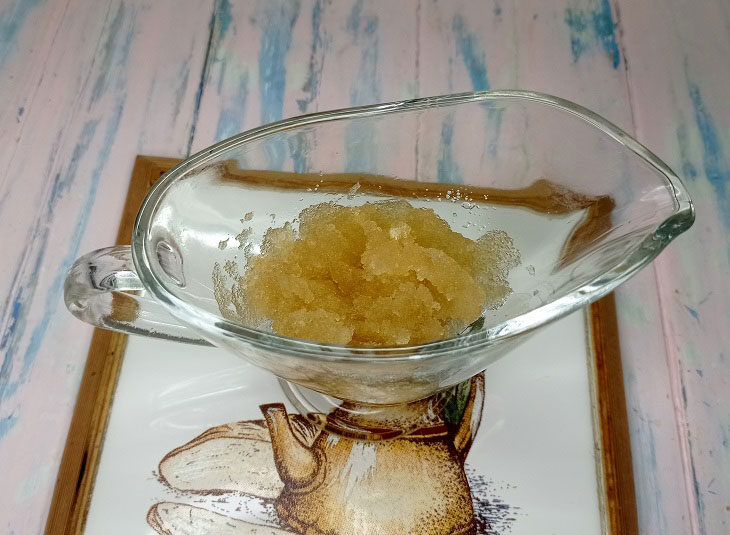 9. Immediately place sour cream, cream, vanillin-flavored powdered sugar into the whipping deck.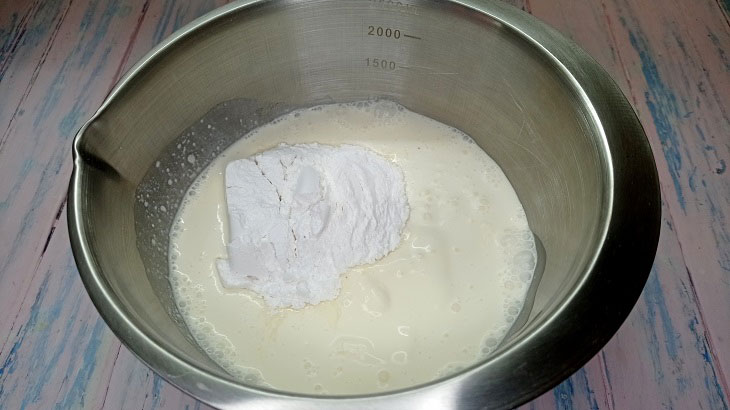 10. Start whipping first at low speed of the mixer, then increase the speed to maximum.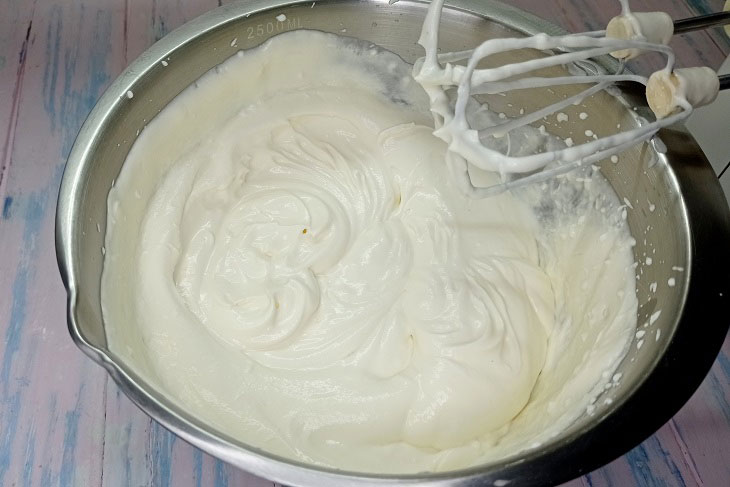 11. Pour the gelatin heated in the microwave and then the cooled gelatin into the mass that has increased in volume.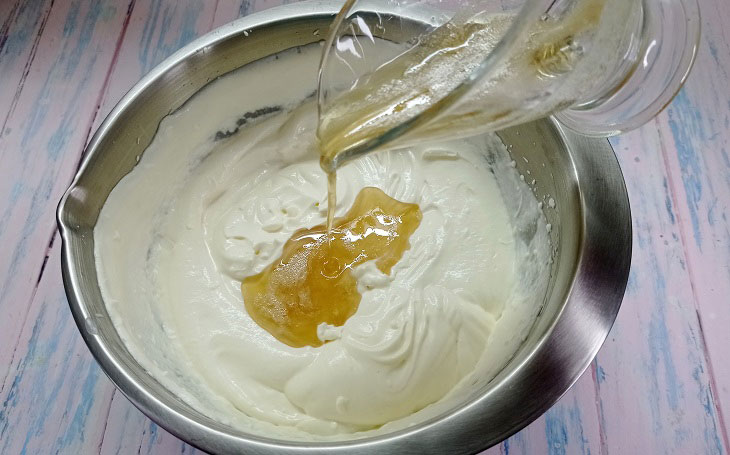 12. Spread the snow-white cream, which in cakes will symbolize egg white, into molds.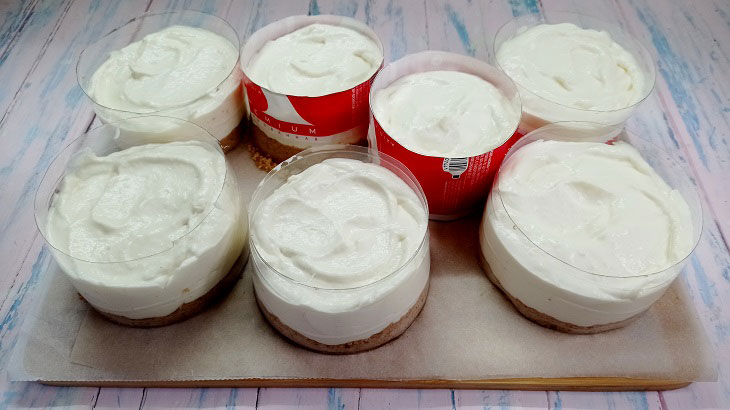 13. The role of the yolk will be represented by halves of peaches – put them in the center. To stabilize the shape, move the cakes to the refrigerator for 2 hours.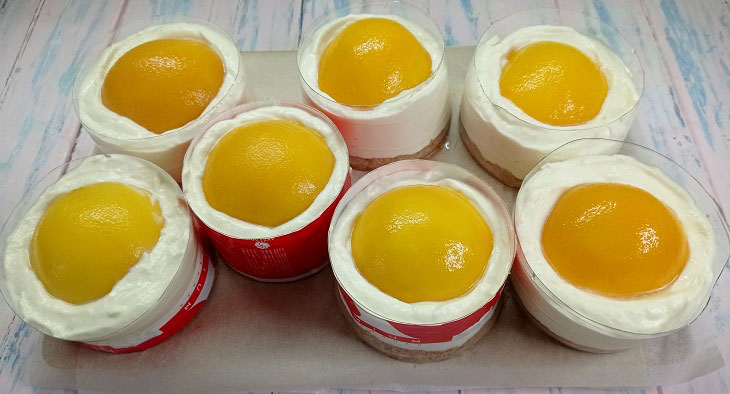 14. After the specified time, wrap the plastic mold with a hot towel for literally a few seconds and remove the restriction. And now, cakes with an interesting design in the form of fried eggs are ready.
A very delicate and absolutely not sugary taste, diluted with elastic peach, will appeal to lovers of desserts. Try it!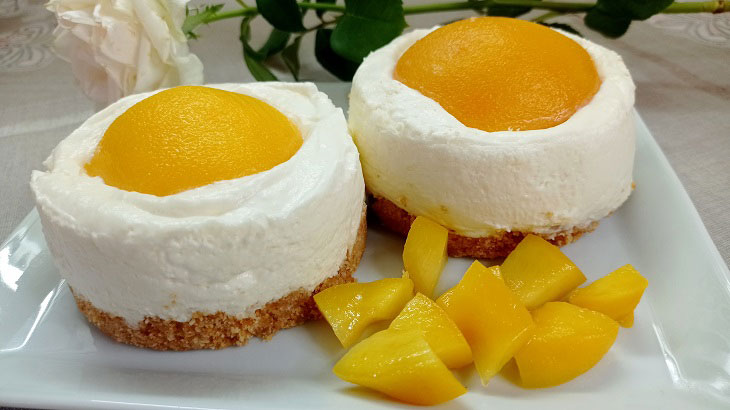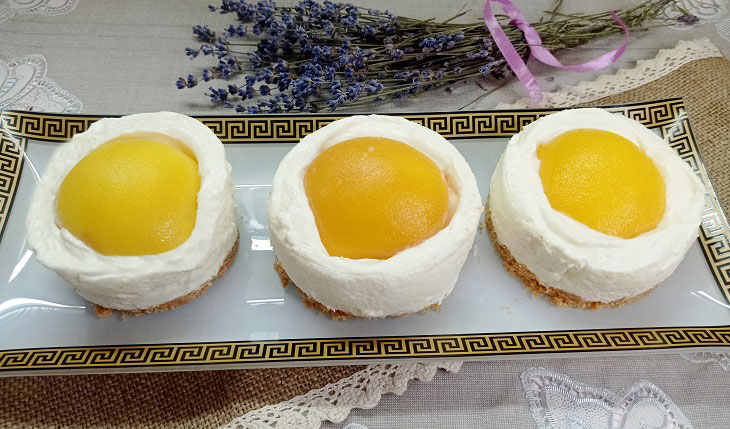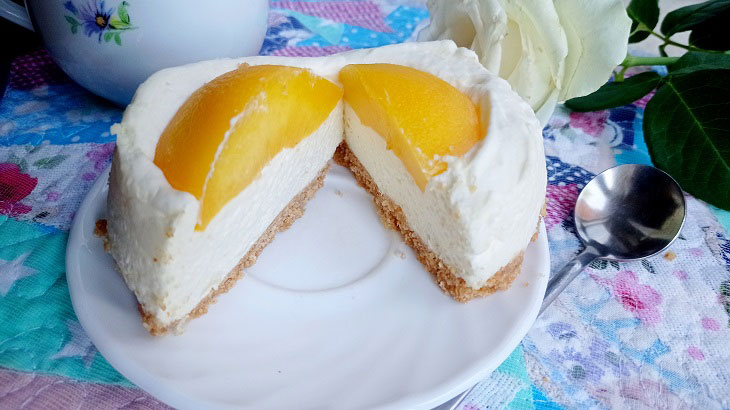 Bon appetit!