Trifle in translation from English means "trifle". Dessert is made from biscuit or biscuits soaked in fruit juice or flavored alcohol. The dish is collected in layers. It is allowed to use custard, cottage cheese or protein cream with pieces of fruit, berries and various toppings.
On the eve of the New Year, we offer to prepare a themed dish for the festive table – tangerine trifle "Striped Flight". The basis of the dessert is a chocolate biscuit, which is cooked in the microwave in a matter of minutes. For impregnation, use cognac or orange juice (for the children's version). The cream consists of two simple ingredients – cottage cheese and condensed milk (we have coconut condensed milk). When choosing a tangerine, give preference to juicy fruits with a sweet and sour taste.
Ingredients:
Cocoa – 15 g.
Flour – 80 g.
Baking powder – 5 g.
Egg – 1 pc.
Lemon peel – 1 g.
Sugar – 90 g.
Purified water – 30 ml.
Vegetable oil – 90 g.
Cottage cheese – 150 g.
Tangerines – 2-3 pcs.
Condensed milk – 30 g.
Cognac – 10 ml.
Salt – a pinch.
Cream from the bottle – a little.
Mint – for serving.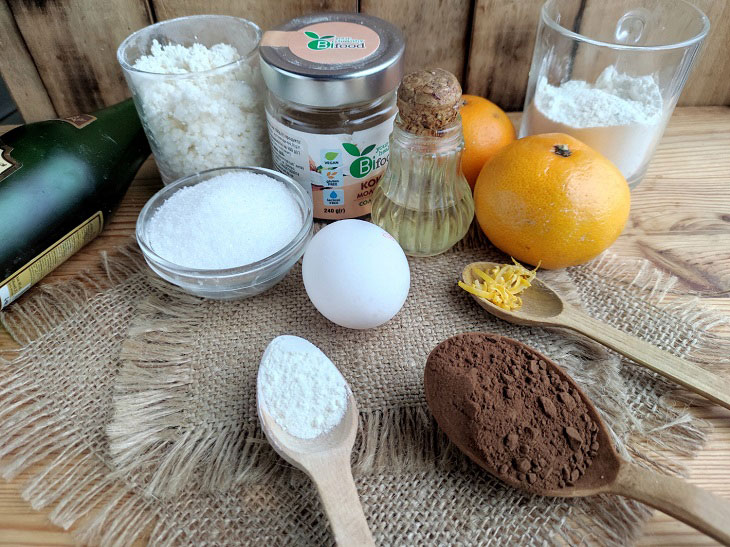 How to cook:
1. In a bowl with high sides, combine vegetable oil, sugar, egg, salt, lemon zest and water. Whisk lightly.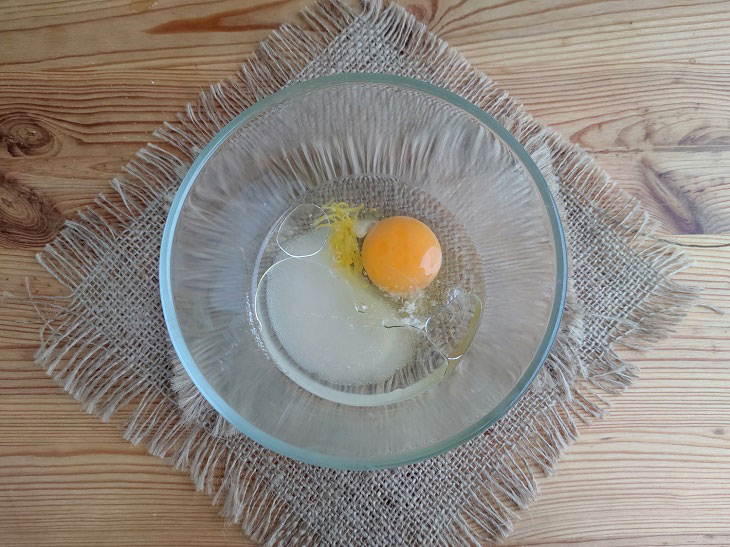 2. Add baking powder and cocoa mix.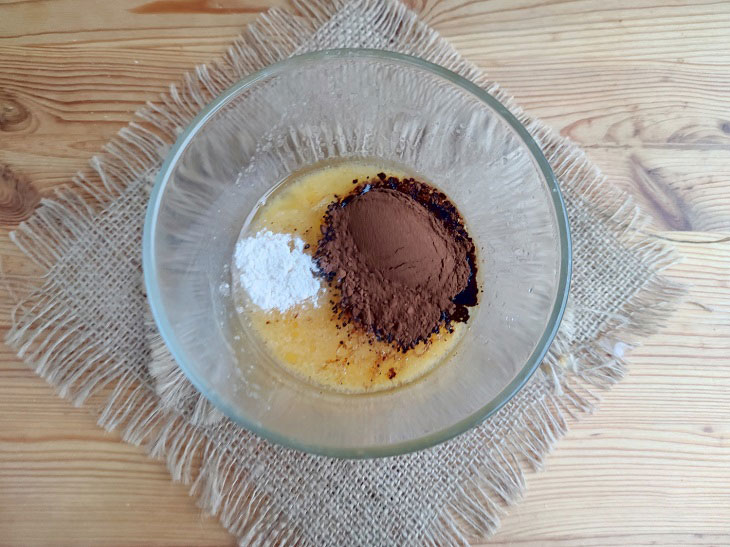 3. Pour flour into a bowl, mix with a spatula.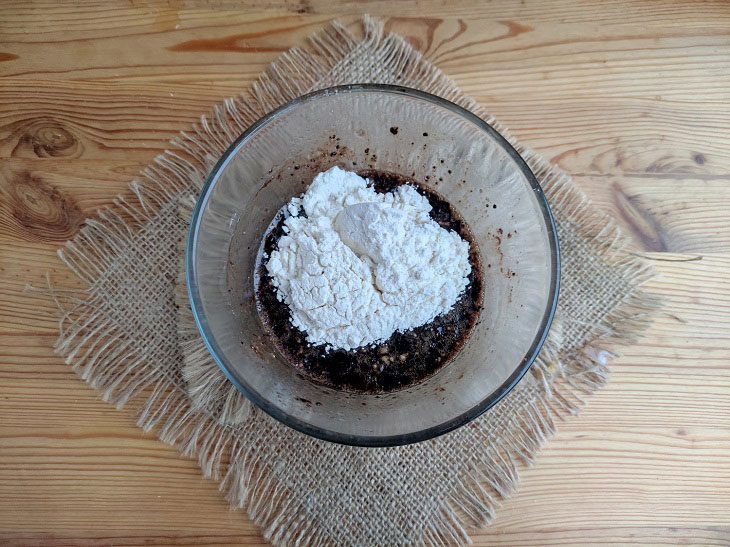 4. The dough should be as thick as pancakes.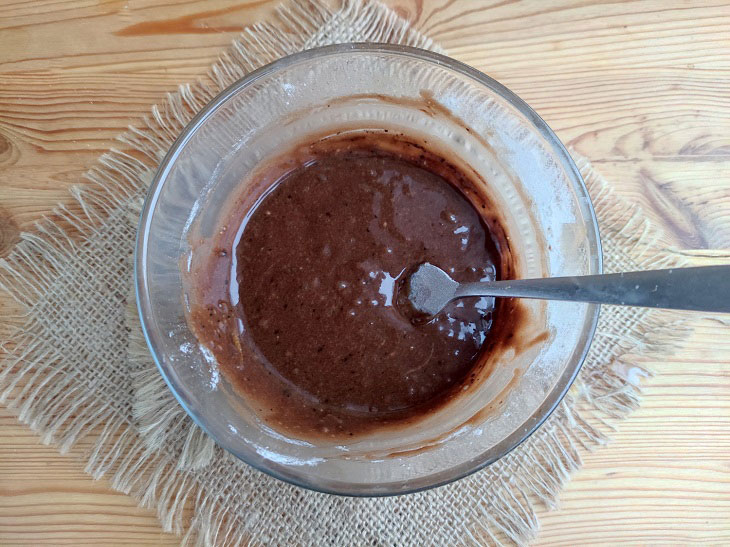 5. In the same bowl, cook the biscuit on full power for 4 minutes.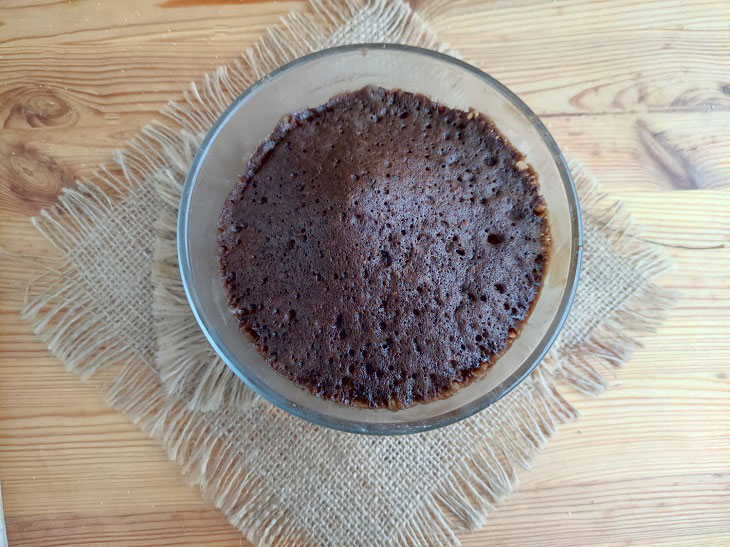 6. Put cottage cheese and condensed milk in another bowl, beat the cream with a blender.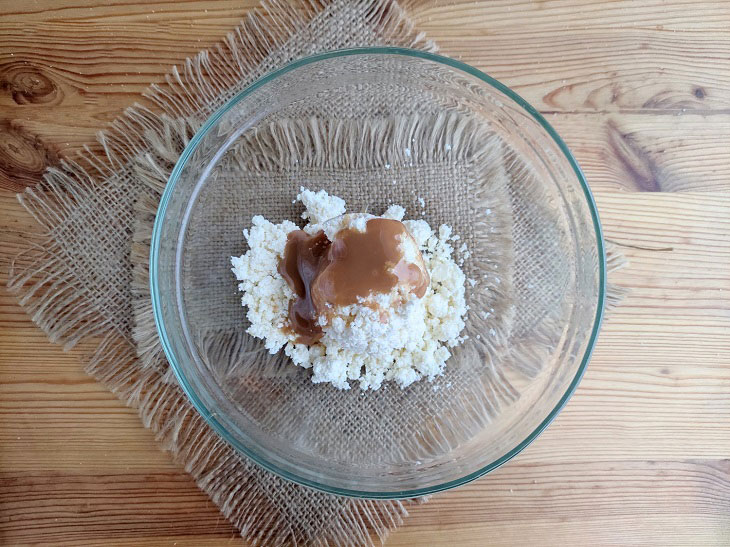 7. For the recipe you will need half a biscuit. Put the biscuit cut into cubes in a tall glass, sprinkle with cognac.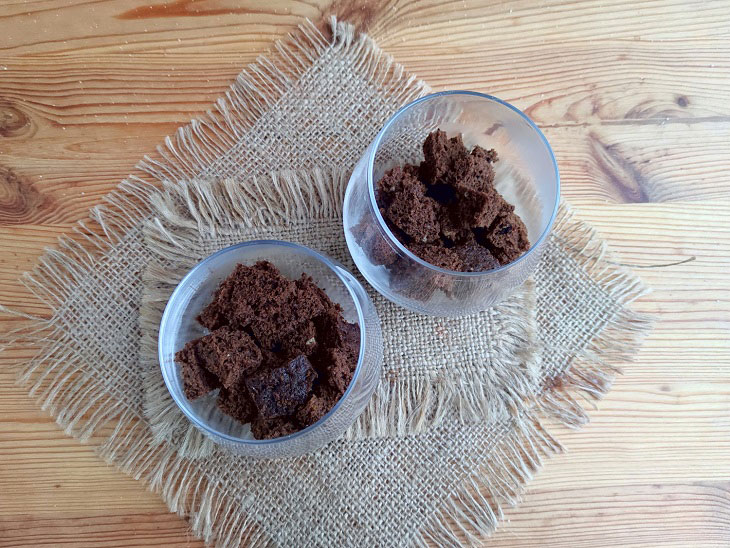 8. Place a layer of curd cream on top.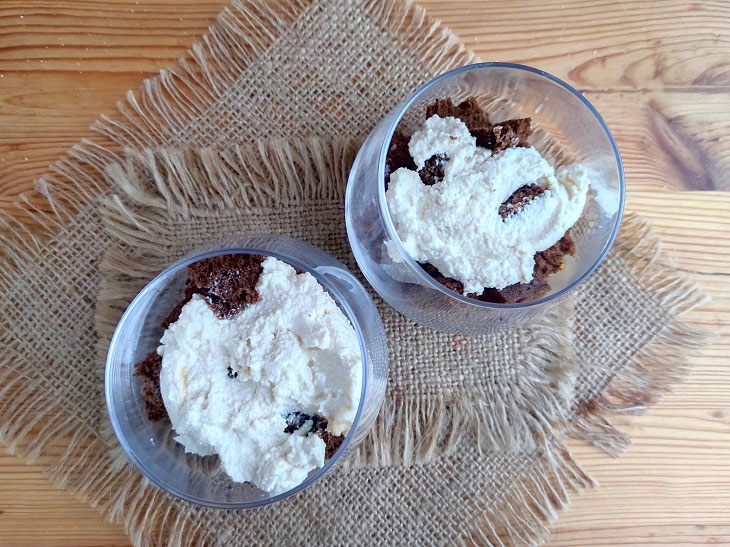 9. Peel the tangerine from the peel and seeds, divide into slices. Cut each slice in half and lay out a layer of tangerine.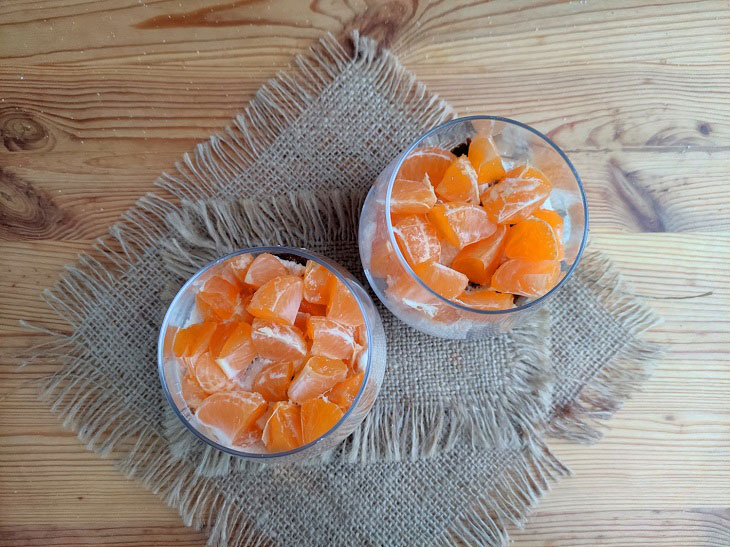 10. Put a biscuit on the tangerines.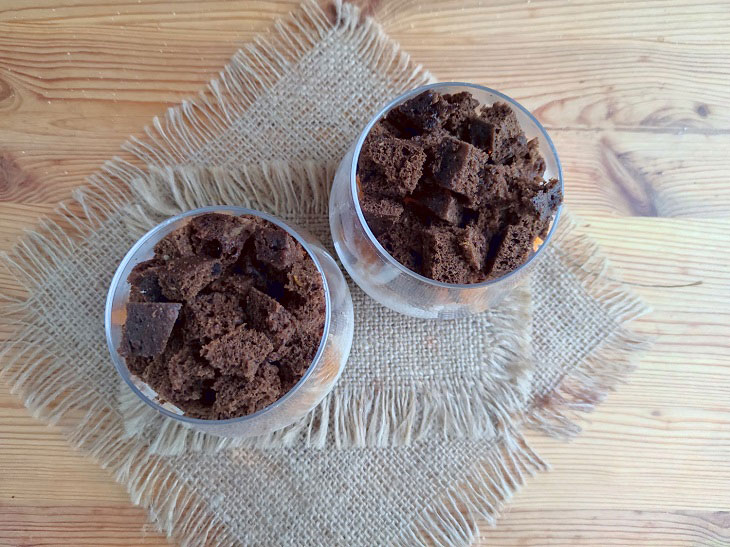 11. Add cognac and remaining cream. Lay out the tangerine slices as in the photo.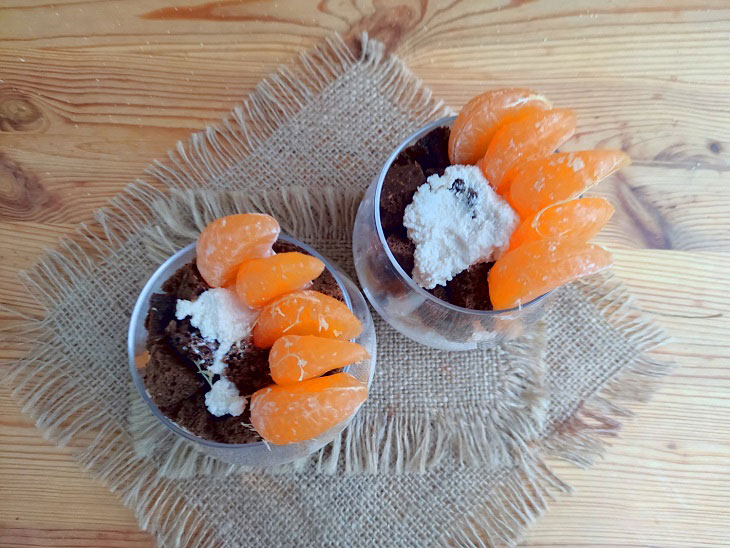 12. Decorate the dessert with canned buttercream and fresh mint. Add some candy sprinkles.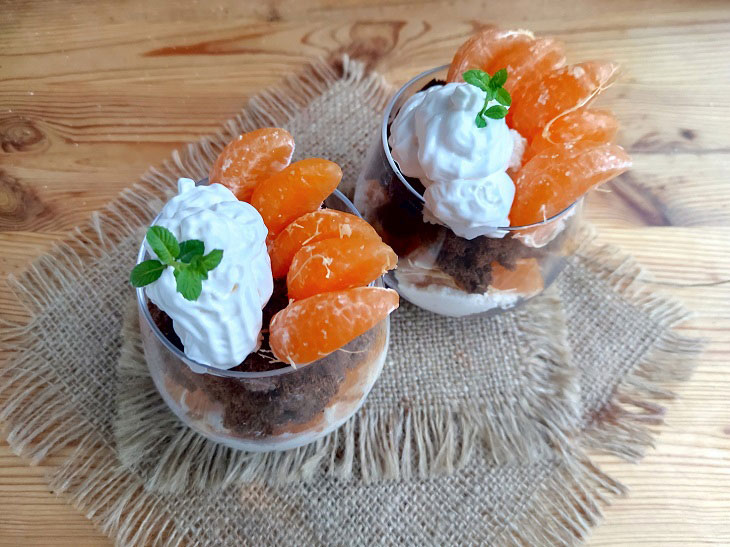 In a matter of minutes and from a minimum of products, we have a wonderful dessert ready. For a large company, collect a trifle in a large form.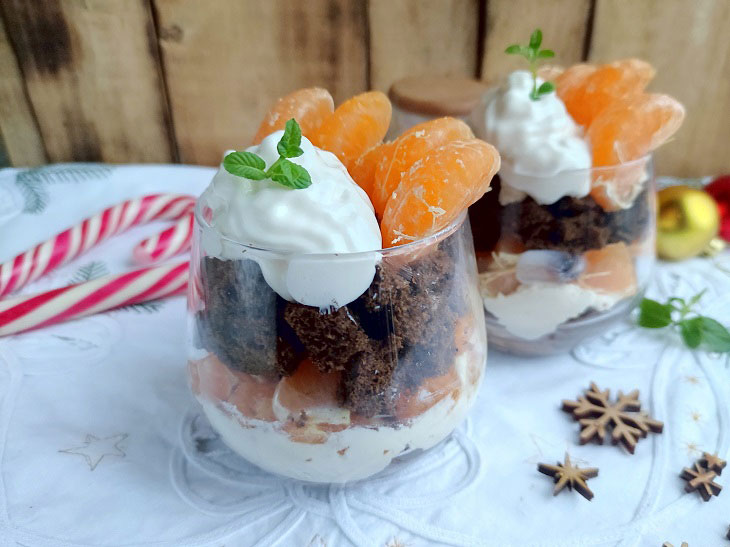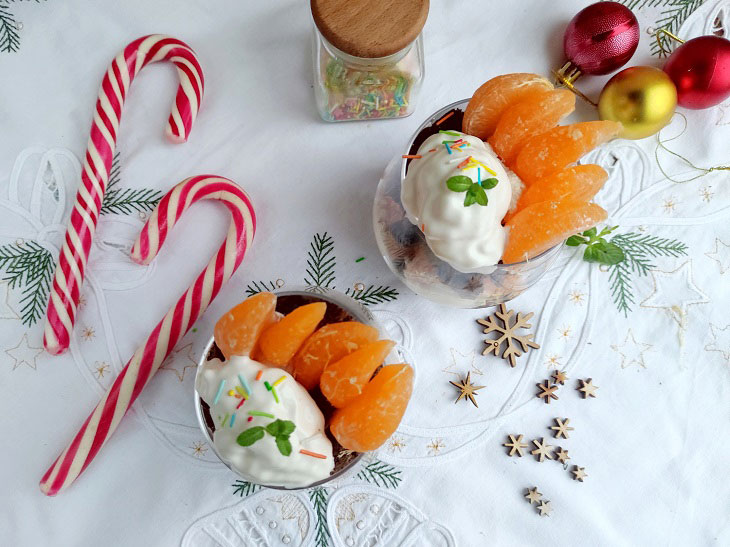 Bon appetit!