Crab sticks are an excellent product for creating any salad, including a diet 1.
We offer a recipe for crab salad without mayonnaise. For dressing you will need a delicious and low-fat natural yogurt. The main component in the salad is crab sticks. You will also need boiled chicken eggs, canned corn and fresh cucumbers. The salad turns out to be nutritious and at the same time dietary, because it does not contain fatty mayonnaise. If you boil eggs in advance and defrost crab sticks, then the salad is prepared in 15 minutes – very quickly!
Prepare such a dish for a family dinner or a festive feast, it will fly apart in an instant!
Ingredients:
Crab sticks – 100 g.
Canned corn – 100 g.
Fresh cucumbers – 100 g.
Chicken eggs – 2 pcs.
Natural yogurt – 2 tbsp. l.
Salt, black pepper – to taste.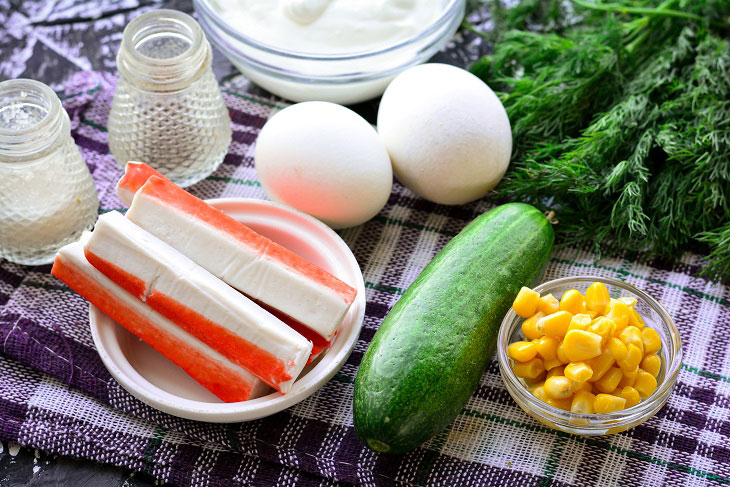 How to cook:
1. Rinse the cucumbers, cut off the tails, then cut the vegetables into small cubes for salad.
Fresh cucumbers add a great flavor to the dish.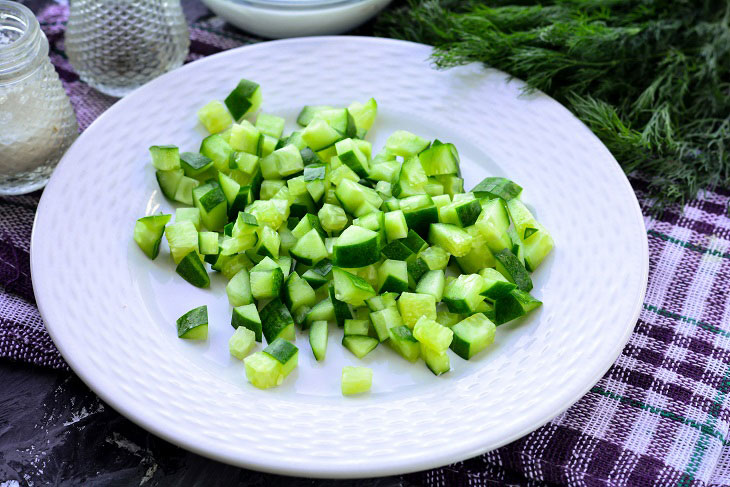 2. Remove the packaging from the crab sticks, then cut into cubes. Buy crab sticks of high quality and tasty.
3. Boil chicken eggs – pour cold water, let it boil and cook hard for 7-8 minutes. Then cool, drain hot water and fill with cold water. Remove the shells and cut into small cubes.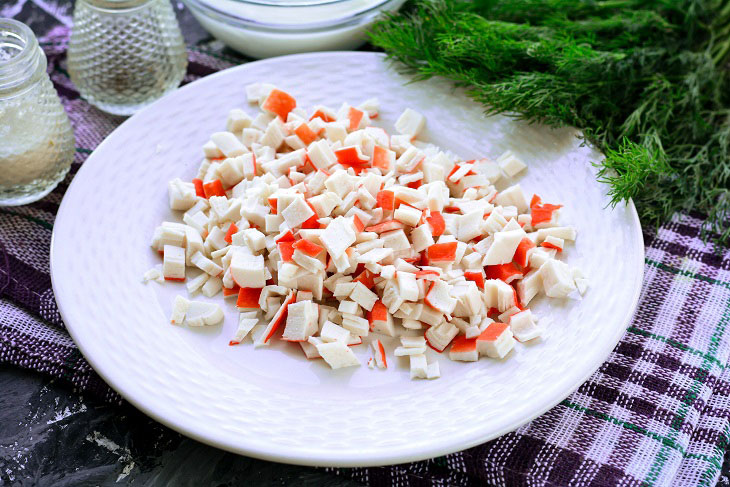 4. Put crab sticks, eggs and cucumbers in a deep plate. Lightly salt the ingredients.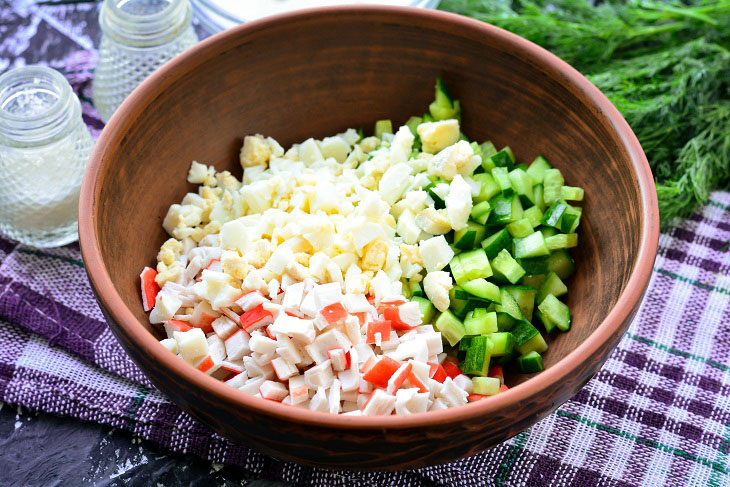 5. Drain the marinade from the corn, pour the grains into the salad. Corn will give a light sweetish aftertaste to the salad – it will be delicious to combine with crab sticks.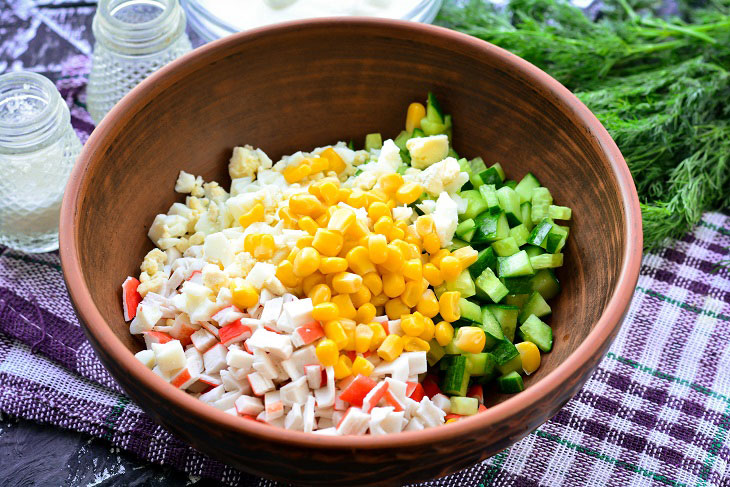 6. Season the salad with natural yogurt, pepper to taste and mix. Salad will be juicy delicious.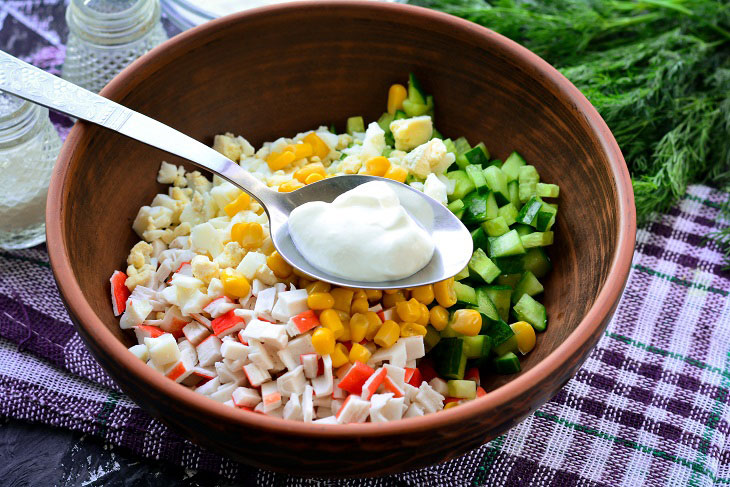 7. Immediately serve the salad to everyone in portions, decorating with sprigs of fresh herbs. Salad is best consumed immediately, not leaving the next day.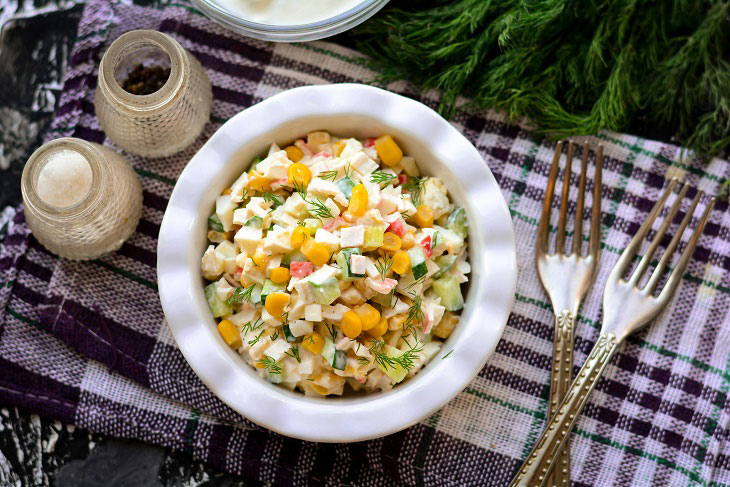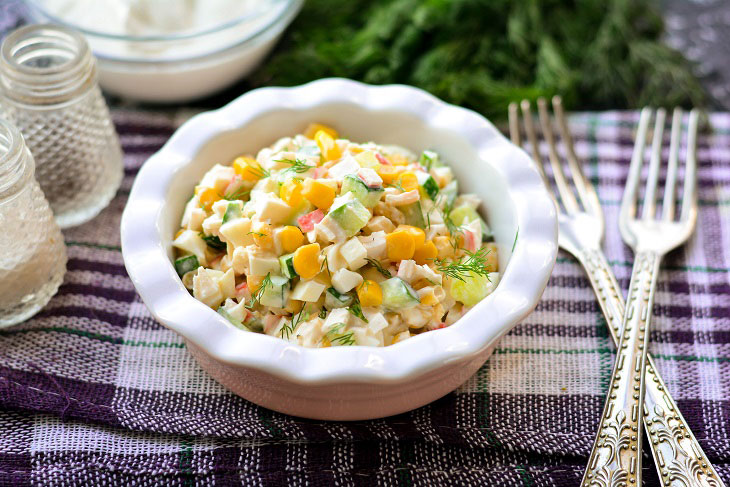 Enjoy your meal!