Imagine a large piece of battered and breaded meat, juicy on the inside and crispy on the outside, that takes up half of your plate. Delicious, isn't it? It's about the schnitzel. In the classic recipe, it is customary to cook it from beef. But modern cooking does not stand still. Increasingly, pork schnitzel and chicken fillet schnitzel are being prepared. Delicious and satisfying, you should definitely try it!
Ingredients:
Chicken breast – 330 g.
Salt and pepper – to taste.
Egg – 1 pc.
Water or milk – 1 tbsp. l.
Wheat flour – 2 tbsp. l.
Breadcrumbs – 4-5 tbsp. l.
Vegetable oil – for frying.
How to cook:
1. Rinse the chicken breast (half was used in the recipe, weight 330 g) and pat dry with a paper towel. Using a sharp knife, cut it lengthwise into two parts – they will turn out to be about 1 cm thick. Schnitzel is usually cooked large, so the pieces should be impressive in size. But if you want, of course, you can split them in half.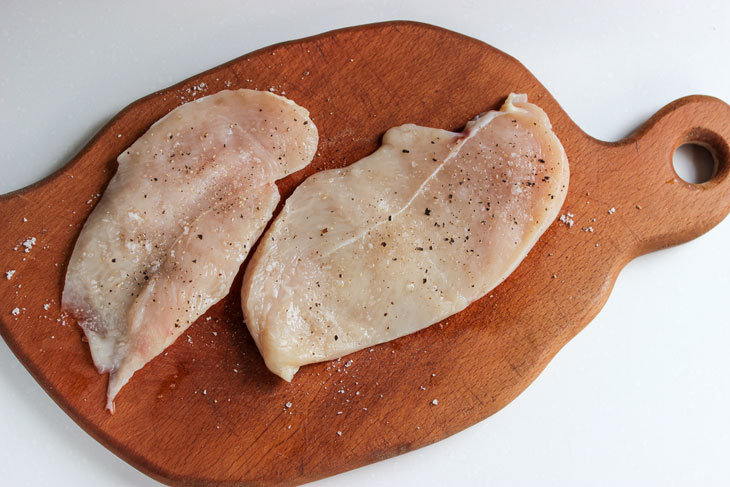 2. Sprinkle with salt and pepper on both sides. Cover with cling film and beat the meat with a kitchen hammer.
Make sure the chops don't tear.
Here the task is not to beat the meat to holes, but you need to make the pieces even over the entire area and "push apart" the meat fibers so that salt and pepper penetrate them. If you want, you can add your favorite spices or grate with a garlic porridge pressed through a press – but these additives are optional, that is, not required. If you want to preserve the purity of the meat taste, then it is better to limit yourself to only salt and pepper.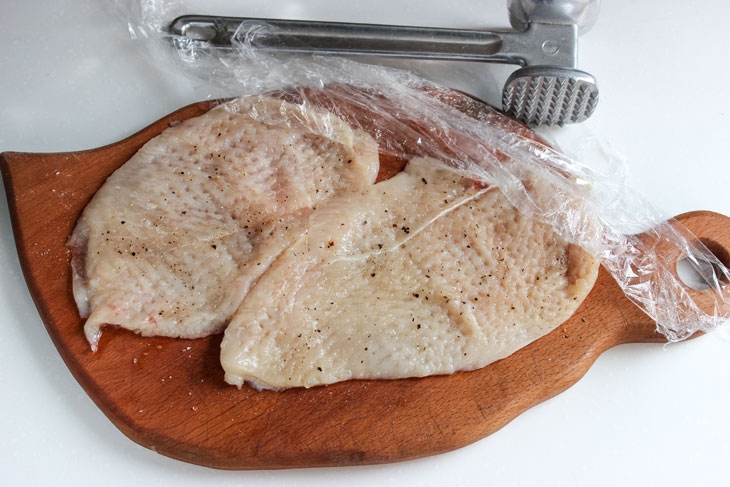 3. Roll each chop in flour – due to this, the next layer of lezon and breading will be firmly held on the surface and will not fall off when frying.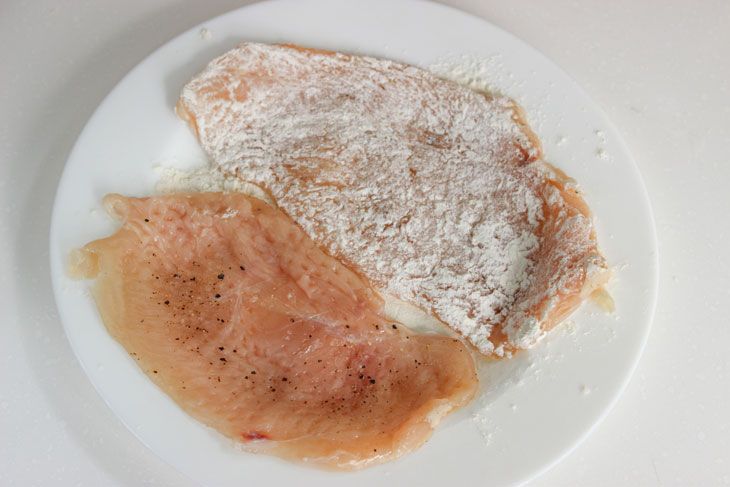 4. For the ice cream, break one egg into a bowl, add a spoonful of cold water and a pinch of salt to it. Chop with a fork until smooth (no need to beat). Dip each piece into the resulting egg mixture.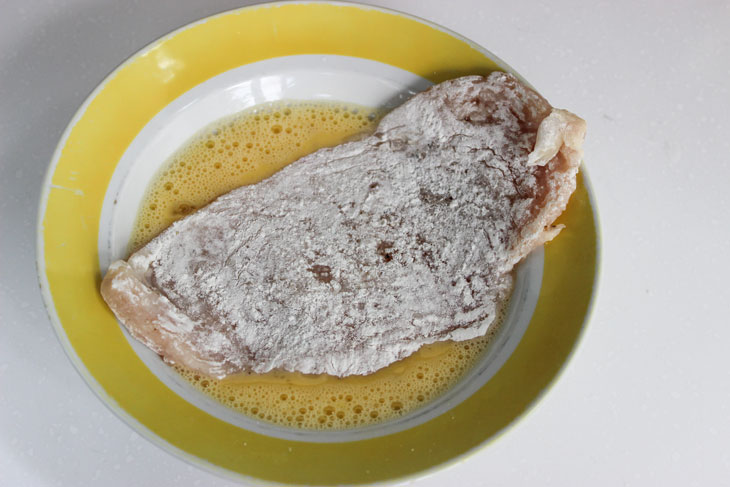 5. And finally, bread in breadcrumbs – the crust should be dense, without gaps. If necessary, you can double the breading, that is, dip again in the egg and breadcrumbs.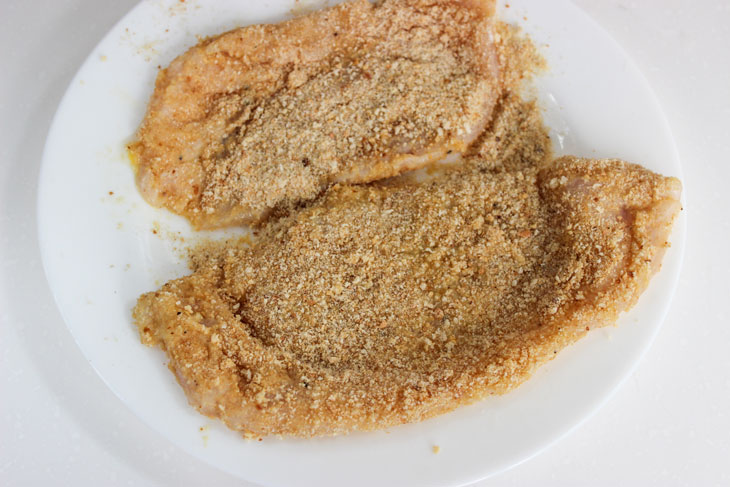 6. Heat up a frying pan with vegetable oil. Put the breaded chops on it and fry until fully cooked. Make sure that the crackers do not burn, for this, after laying out the meat, immediately reduce the heat to moderate. Cook until a crispy crust appears, turn over and fry in the same way on the other side – about 4-5 minutes. It is not necessary to cover with a lid, otherwise the schnitzel will not be crispy, it will get wet from moisture.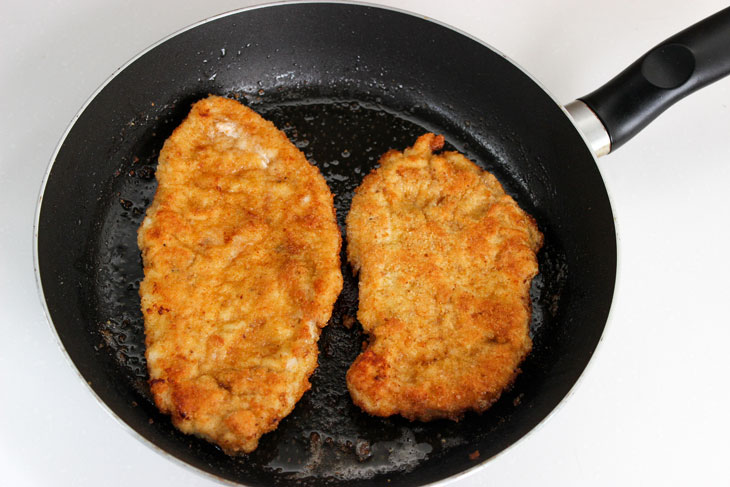 Serve hot chicken schnitzel with any side dish of your choice. It can be mashed potatoes, porridge or vegetable salad. Of the sauces, the best choice would be spicy tomato, sour cream and garlic or mushroom.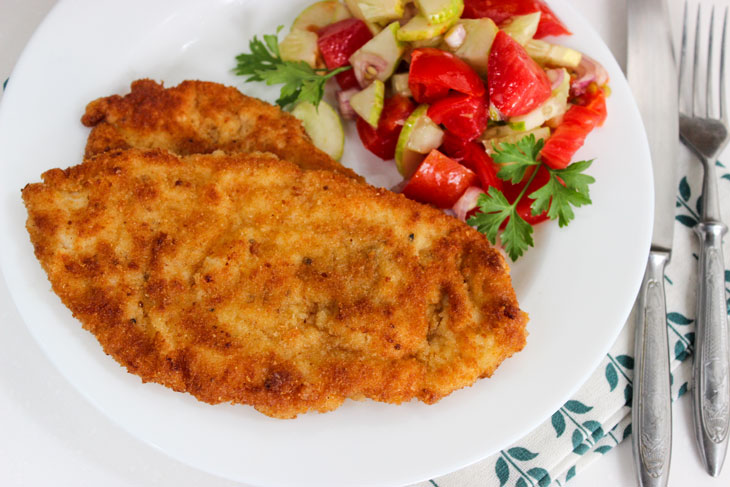 Enjoy your meal!