To prepare delicious, satisfying pies in the oven with cabbage and minced meat, it will take only an hour and a little and the simplest set of products that can be found in the house of almost every housewife.
In this recipe, we take minced pork and beef for the filling, but you can use any other one that is in the refrigerator. Fast-acting yeast will significantly shorten the dough preparation process, but you can also replace it with fresh yeast in a ratio of 1:3, if you prefer this option. In this case, the time to rise the dough will take twice as much.
Ingredients:
For test:
Kefir of any fat content – 400 ml.
Instant dry yeast – 12 g.
Sugar – 3 tbsp. l.
Salt for dough – 1 tsp.
Butter – 180 g.
Chicken eggs – 2 pcs.
Wheat flour of the highest grade – 750-800 g.
For filling:
Minced pork and beef – 300 g.
White cabbage – 500 g.
Onion – 1 pc.
Carrot – 1 pc.
Refined sunflower oil – 3 tbsp. l.
Salt, ground black pepper – to taste.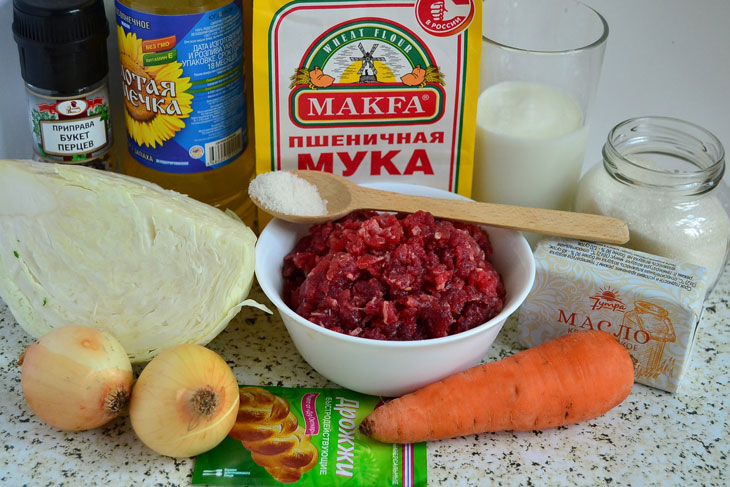 How to cook:
1. Cut the cold butter into pieces and put in a bowl with sifted flour. Part of the flour (5-6 tablespoons) is mixed with dry yeast.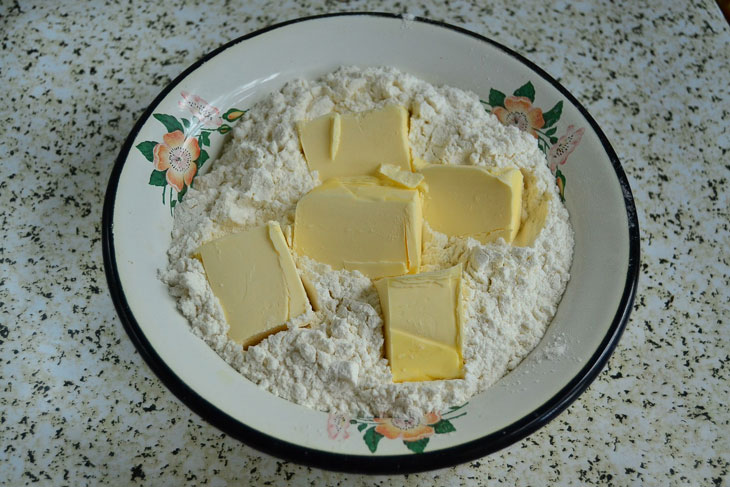 2. Using a fork, turn the butter with flour into crumbs.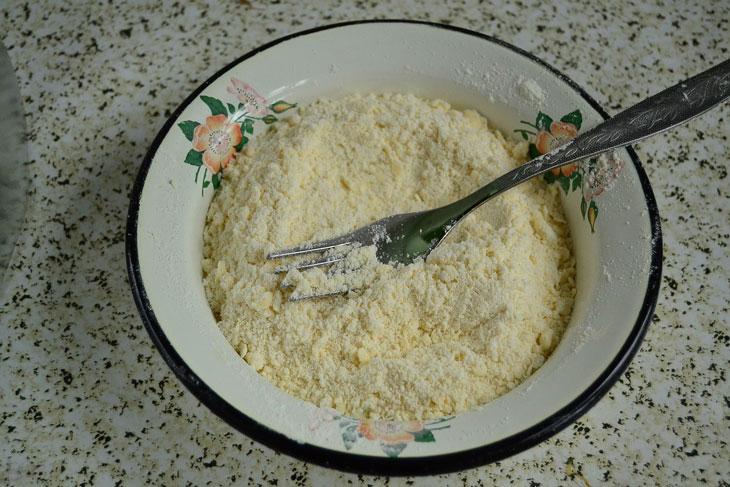 3. Mix kefir at room temperature, 1 egg, sugar and salt. Pour this mixture into flour crumbs, add yeast and flour and knead a soft dough.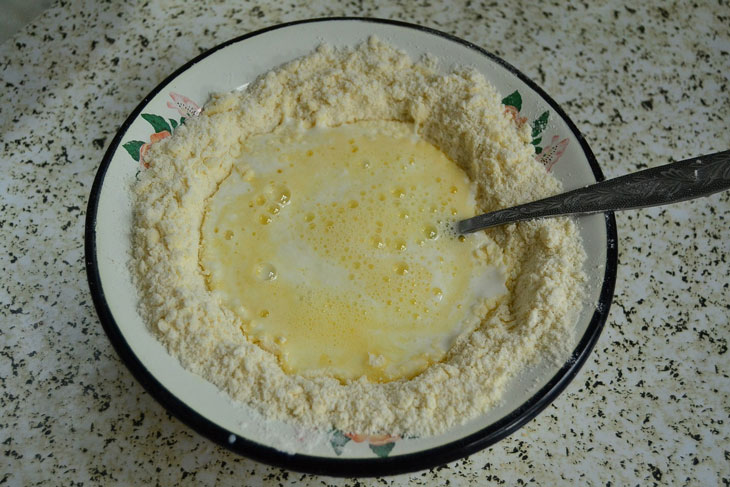 4. Roll the finished dough into a ball.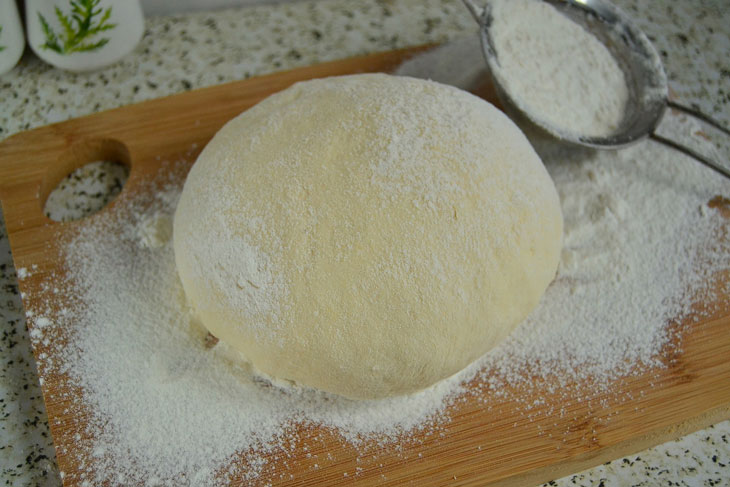 5. Put it in a bowl, cover with a clean towel and place in the warmest place in the kitchen for 35-45 minutes.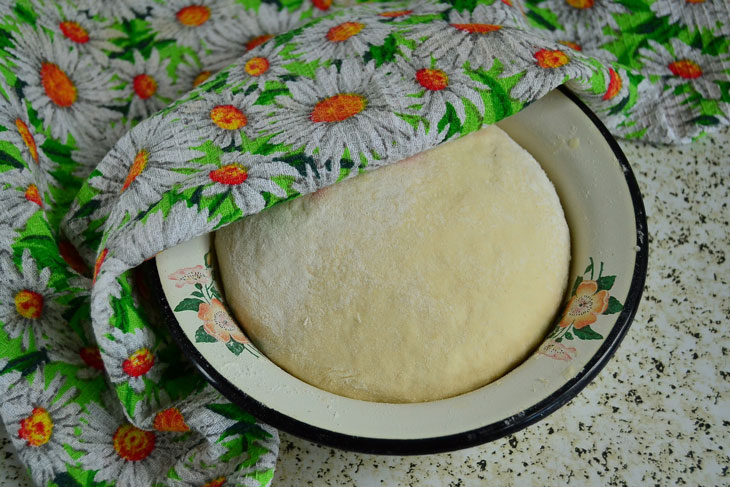 6. Now let's get to the stuffing. It can be prepared in advance, it's up to you.
Pour oil into a frying pan, put chopped onions (half of an onion), carrots and chopped cabbage. Simmer over medium heat until cabbage is tender, stirring occasionally with a spoon.
If the cabbage is dry, then add a couple of tablespoons of water at the beginning of cooking.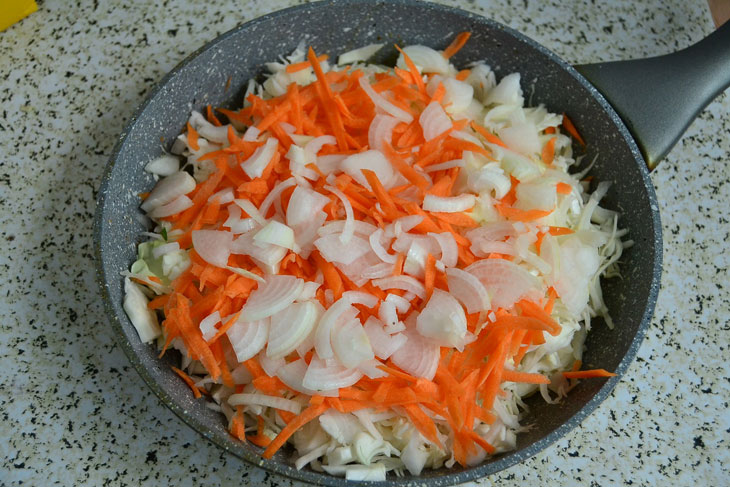 7. Separately, fry the minced meat with the remaining onion until tender.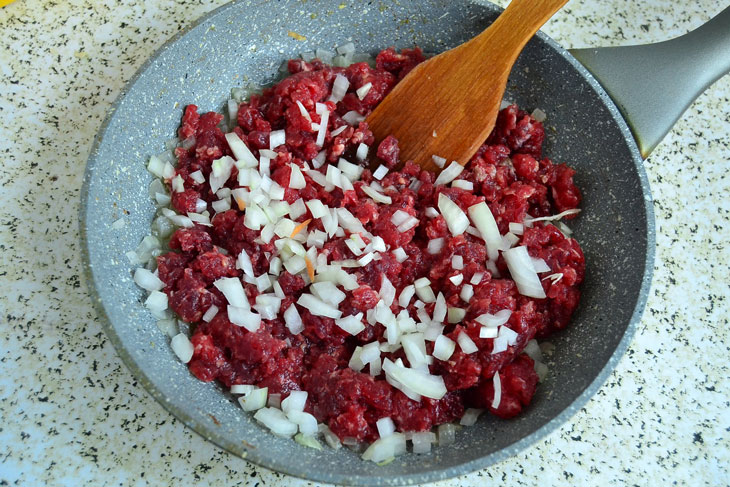 8. To avoid large lumps, during frying, constantly knead the minced meat with a wooden spatula or fork.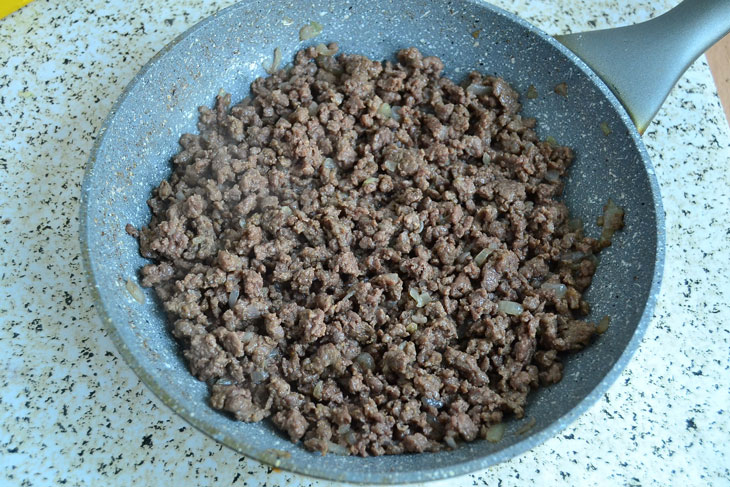 9. Mix cabbage with fried minced meat, salt and pepper to your liking. The filling is ready, leave it to cool.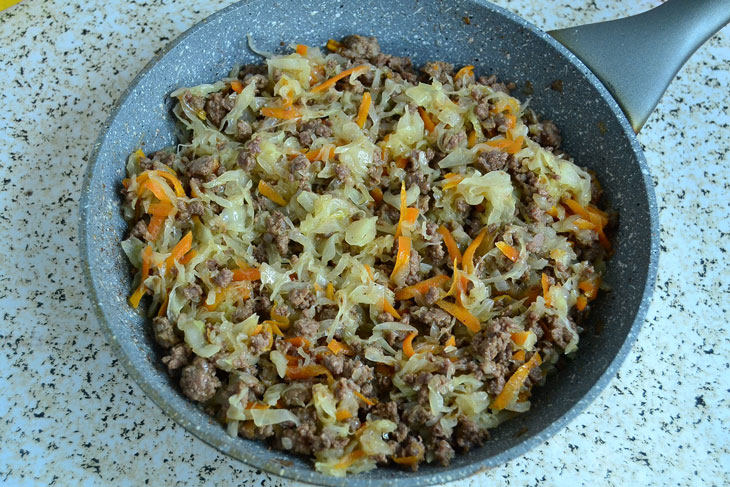 10. The dough has grown in the heat and needs to be kneaded a little on the table before cutting.
We divide our dough into pieces and roll into balls. We leave it on the table for 5 minutes so that it rests a little and becomes more pliable. From this amount of dough, approximately 24-26 medium-sized pies are obtained.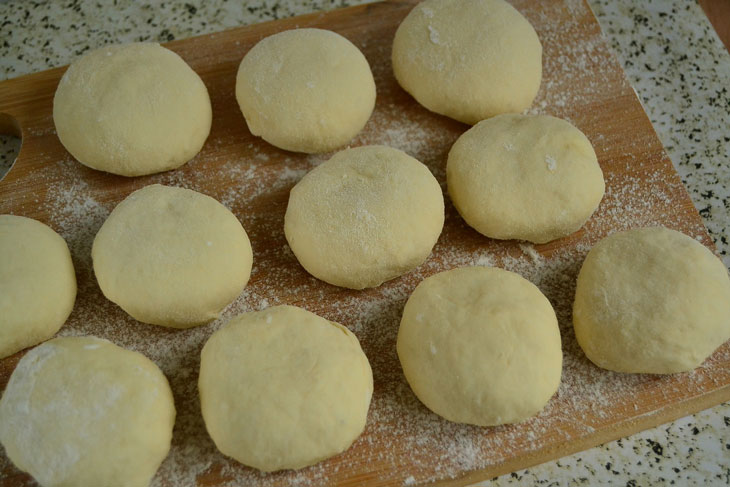 11. We knead the balls into a cake, put the filling in the middle and sculpt the pies. We spread them seam down on a baking sheet greased with vegetable oil, cover with a thin towel and leave for 15 minutes in a warm place.
Lubricate the top with a loose egg using a silicone brush and bake at a temperature of 200 degrees for 15-20 minutes.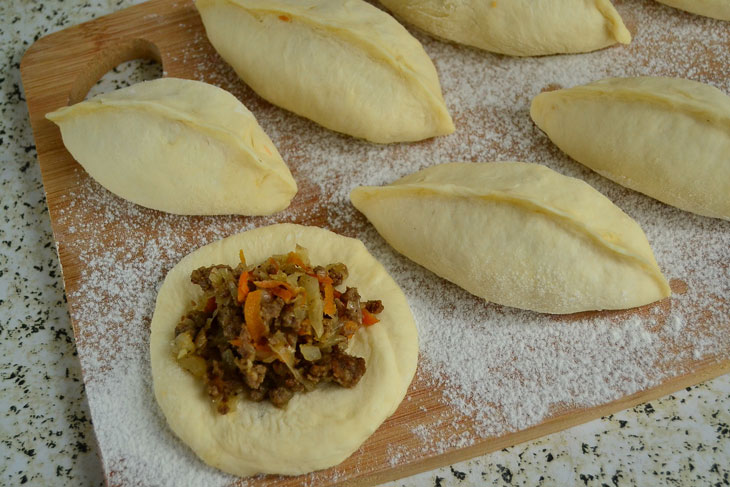 12. Once browned, take out and place on a wire rack to cool.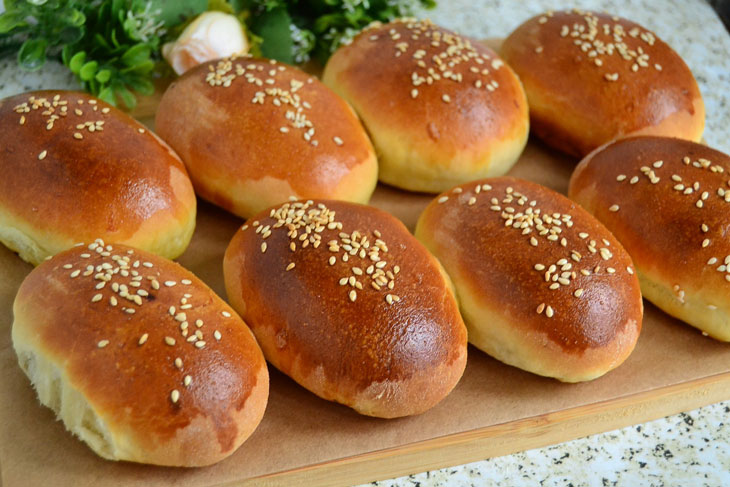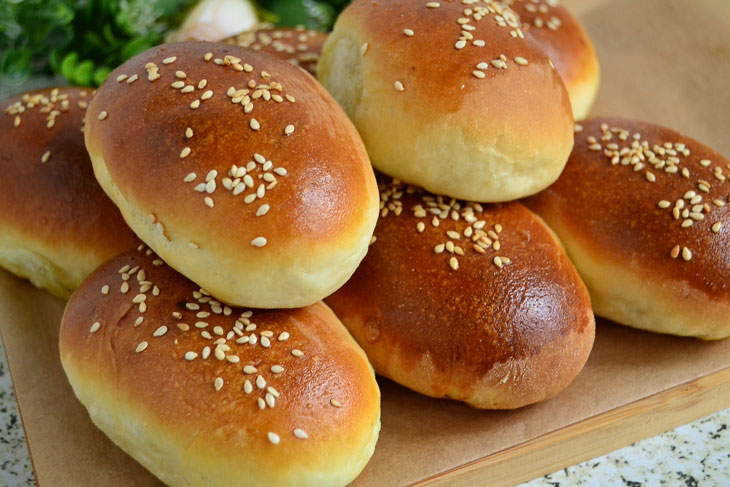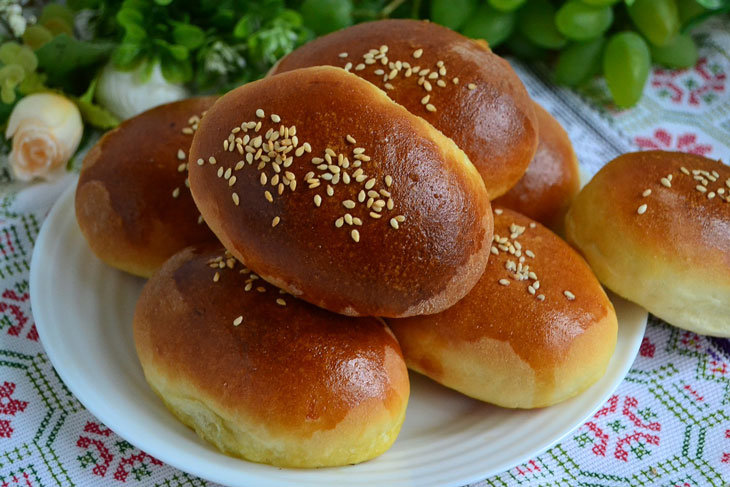 Bon appetit!