Ready-made puff pastry is a lifesaver for any housewife. From it you can cook delicious pastries for the whole family. Puffs are delicious with any filling. You can use fresh fruits, berries, jam, jam, ham or cheese.
Today we will prepare nutritious and satisfying egg puffs. The eggs for the recipe will need to be hard-boiled in advance, then used for the filling. Puffs are prepared in a matter of minutes, and preparing a delicious treat for tea or milk will not tire you much. Baking will appeal to both adults and children.
Ingredients:
Puff pastry – 300 g.
Chicken eggs – 3 pcs.
Salt – to taste.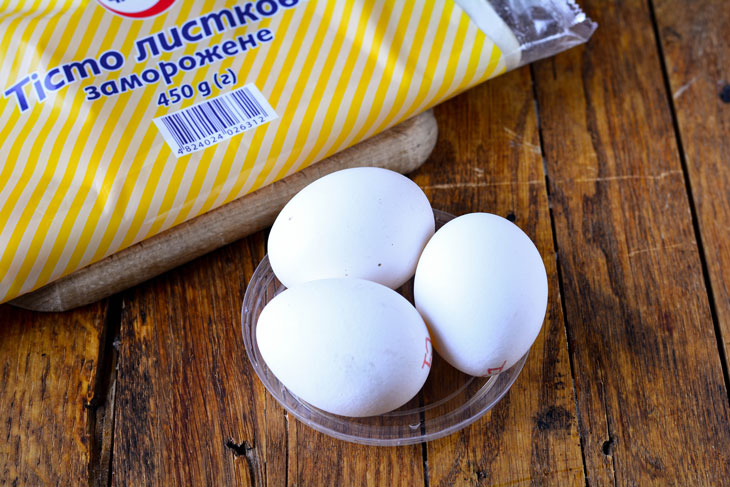 Cooking:
1. Boil chicken eggs in advance: pour two chicken eggs with cold water and boil over high heat. When the water boils, turn down the power and cook hard for 7-8 minutes. Cool the boiled eggs and cut into cubes. It turned out to be a universal and quick filling for puffs, you can add a little salt to the filling to taste.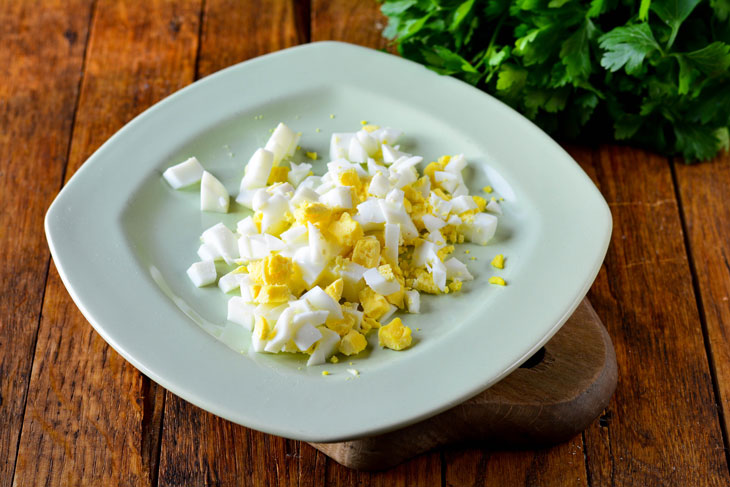 2. Defrost puff pastry at room temperature on the table. Roll out the dough a little and cut it into rectangular strips, the size is about 7×15 cm. Put the egg filling on one half, make 3-4 notches on the second half with a sharp knife.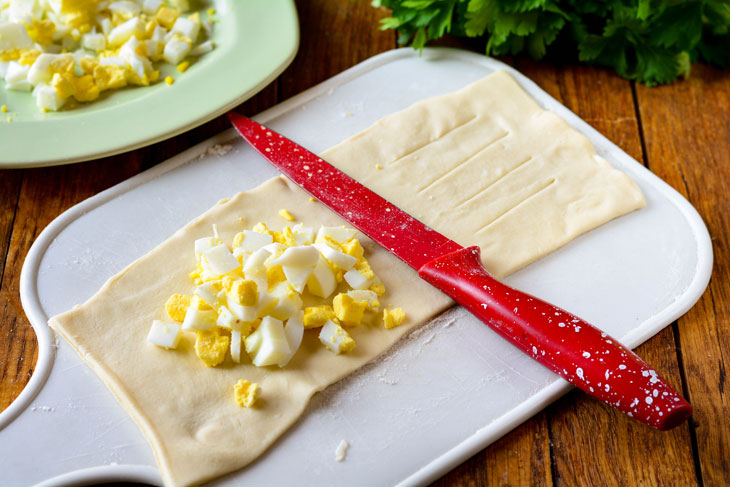 3. Close the puff so that the part of the dough with notches is on top. Pinch off the ends and run a little around the edges with a fork.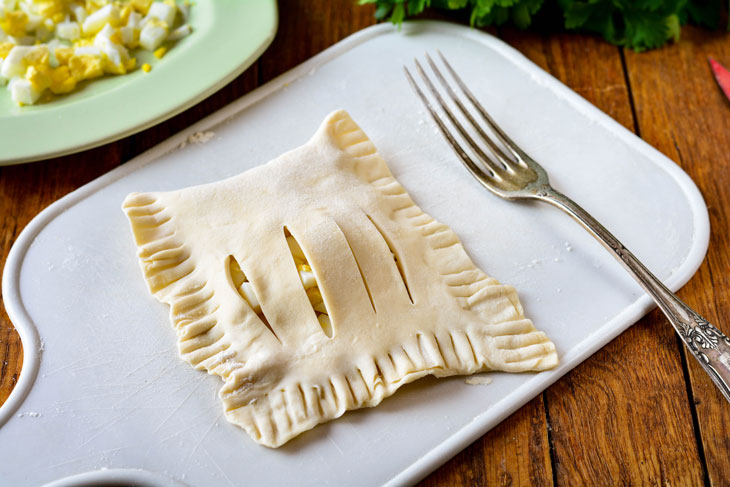 4. Put on a baking sheet, previously covered with parchment paper.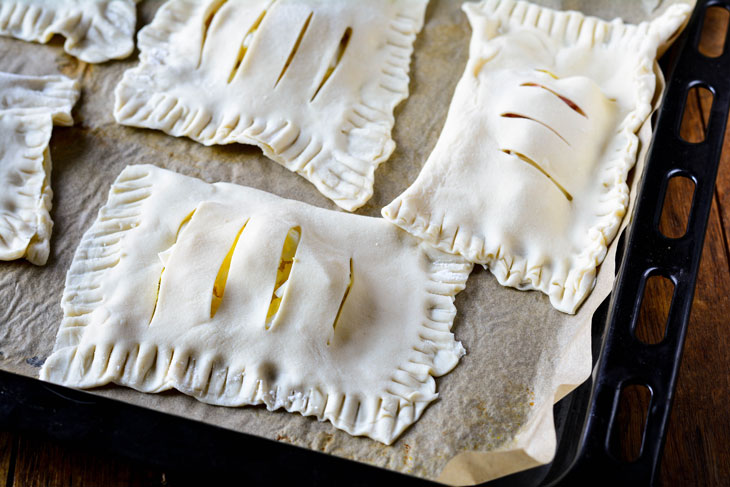 5. Lubricate the puffs with the remaining chicken egg, namely the yolk, the protein is not needed.
You can use protein to make an omelet.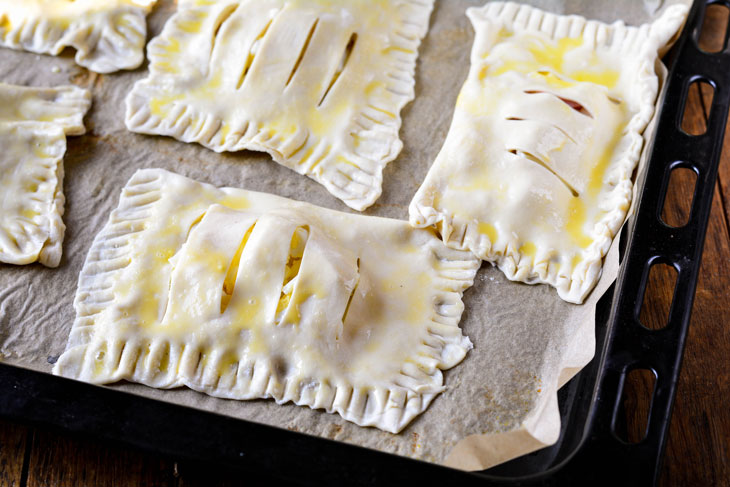 6. Bake puffs in a preheated oven at 220-230C for 10-12 minutes. They quickly brown and become fluffy. Puff pastry helps a lot in this regard. Baking always turns out tasty and appetizing. Due to the lubrication with yolk, the puffs are golden.
Put the finished puffs on plates, let cool slightly, then you can serve.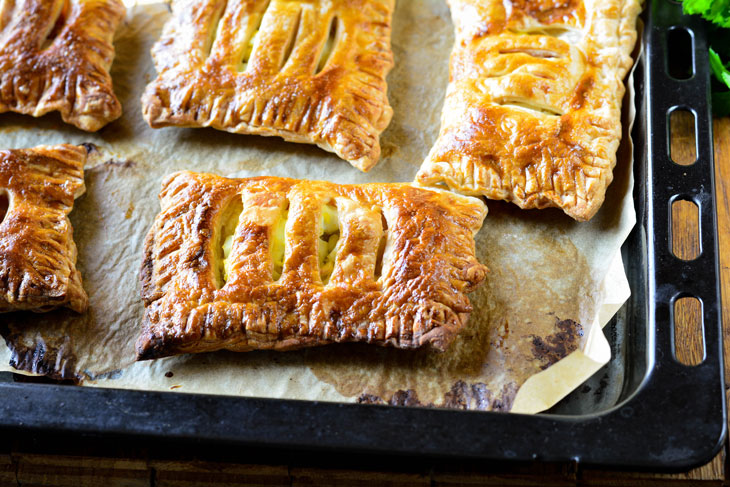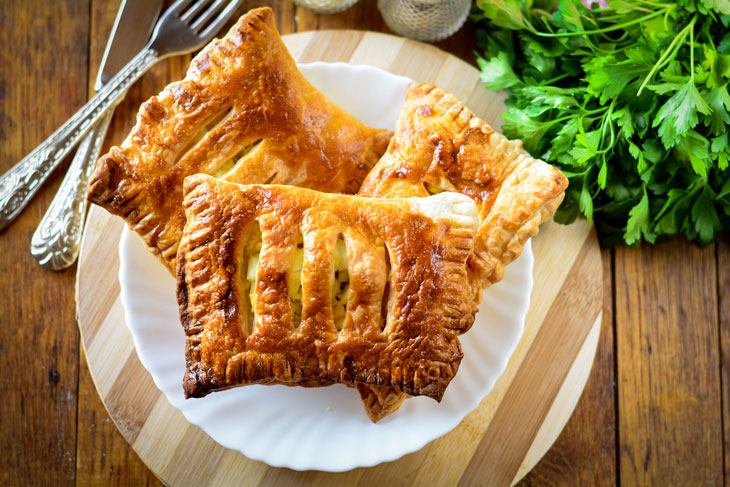 Bon appetit!