This cake is usually referred to as royal, because without it in Russia it was impossible to imagine either a wedding or any other holiday. Juicy and tasty kurnik is traditionally made with duck or chicken, but you can also make stuffing with pork or lamb. Cooking such a pie is not a quick thing, but it will easily decorate your table – no matter if it is a holiday or not. The round shape of the chicken makes it recognizable, so for baking you should take a cast-iron skillet or a baking dish. If desired, the appearance can be decorated with dough decor.
Ingredients:
Dough:
Butter – 120 g.
Boiled water – 1 tbsp.
Wheat flour – 2.5 tbsp.
Salt – 1 tsp
Filling:
Chicken fillet – 300 g.
Potatoes – 400 g.
Large onion – 1 pc.
Butter – 40 g.
Salt, spices – to taste.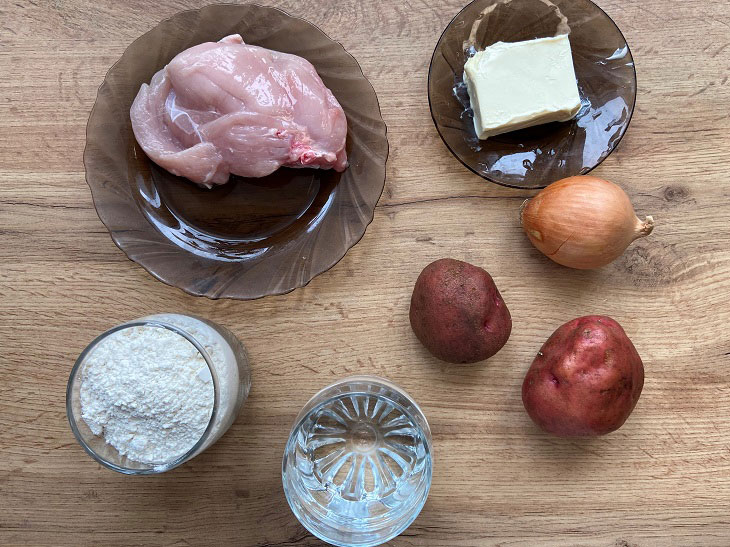 How to cook:
1. Butter can be replaced with margarine, so the dish will be more budgetary. The butter must be melted in a water bath or in the microwave in a bowl with high edges.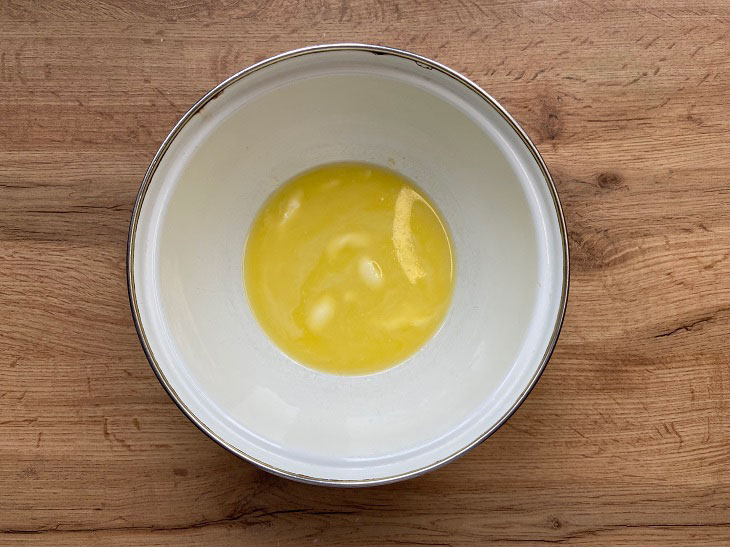 2. Add a teaspoon of salt and wait until the grains dissolve in warm oil.
There is no need to regret salt, since a large amount of flour will still be added here.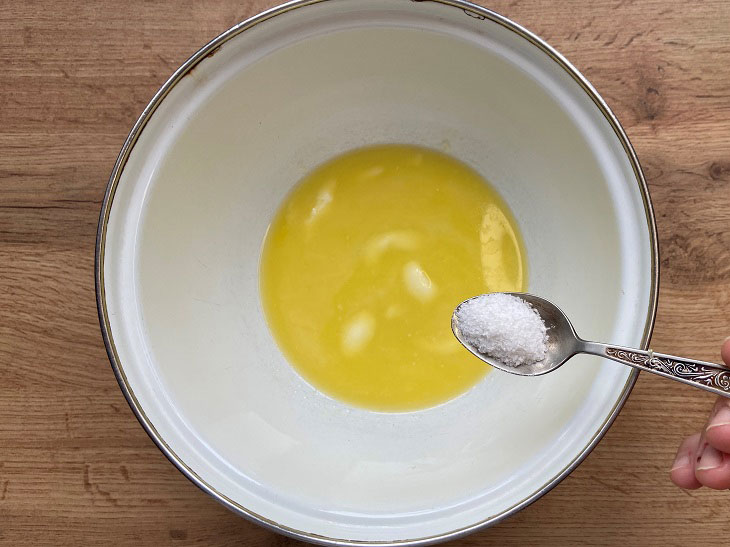 3. Pour a glass of warm water into a bowl and stir.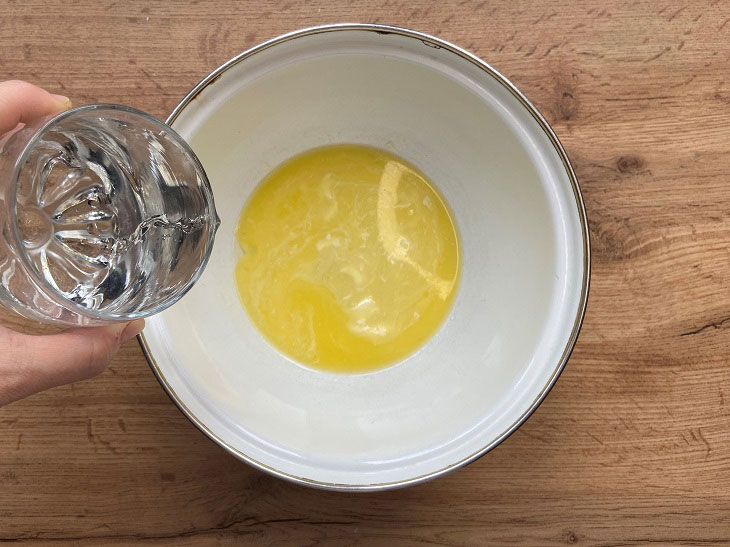 4. Now, little by little, we begin to add flour. First stir with a fork, and when the dough is thick, start mixing with your hands.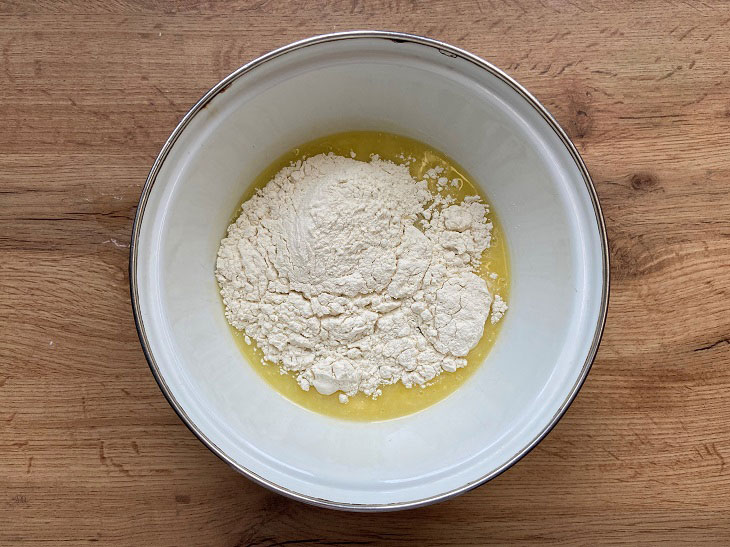 5. The finished dough needs to be put in the refrigerator for about an hour. Be sure to cover the bowl with something to keep it from drying out.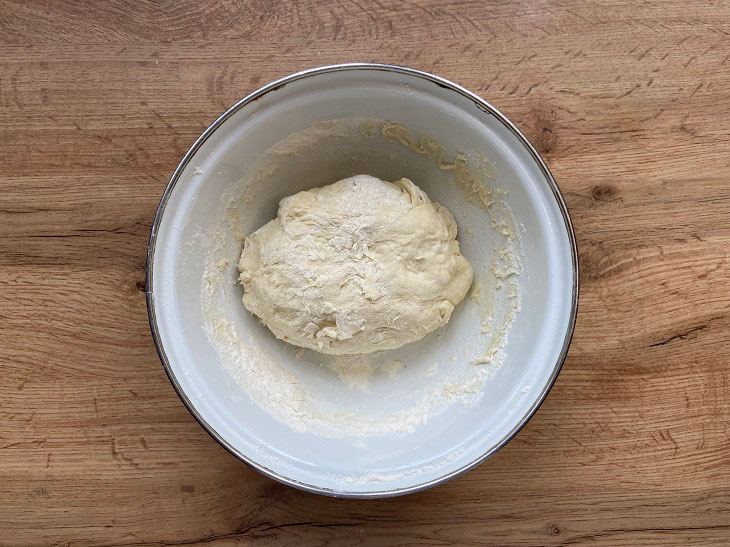 6. While the dough is rising, you can work on the filling. Potatoes need to be peeled and chopped into small cubes.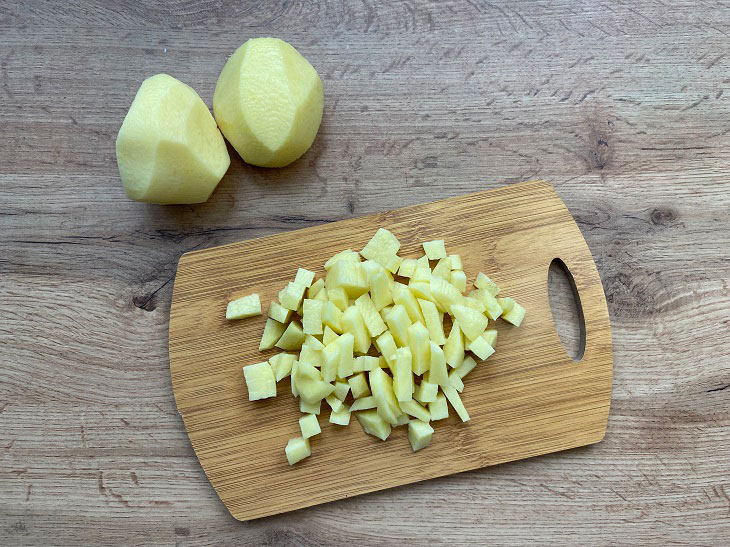 7. Do the same with meat – cut the chicken into cubes. As for the onion, you can chop it arbitrarily.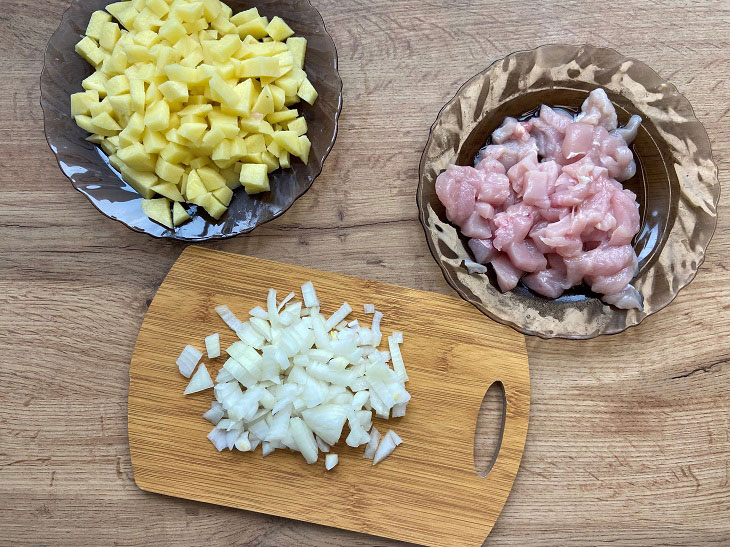 8. Pour all the filling ingredients into one bowl and mix. Add salt and spices to your liking.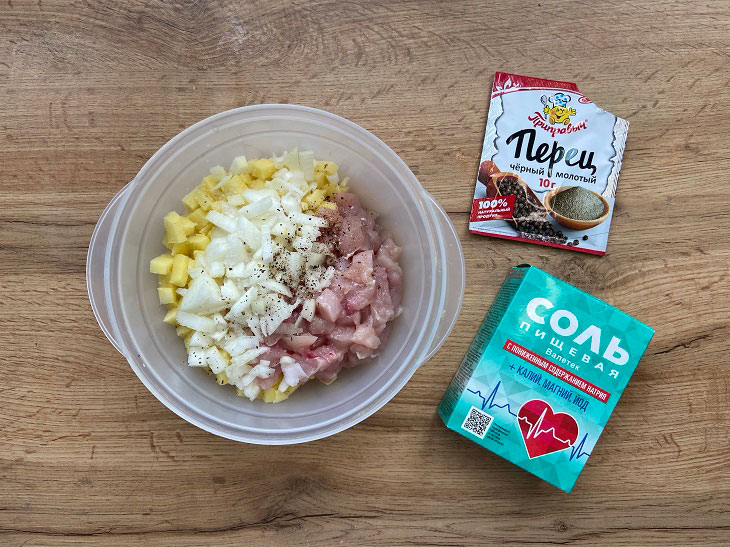 9. Divide the finished dough into two parts. It is best to make one part a little larger than the second. With a rolling pin, give the dough the desired size, and then place it in a baking dish greased with butter.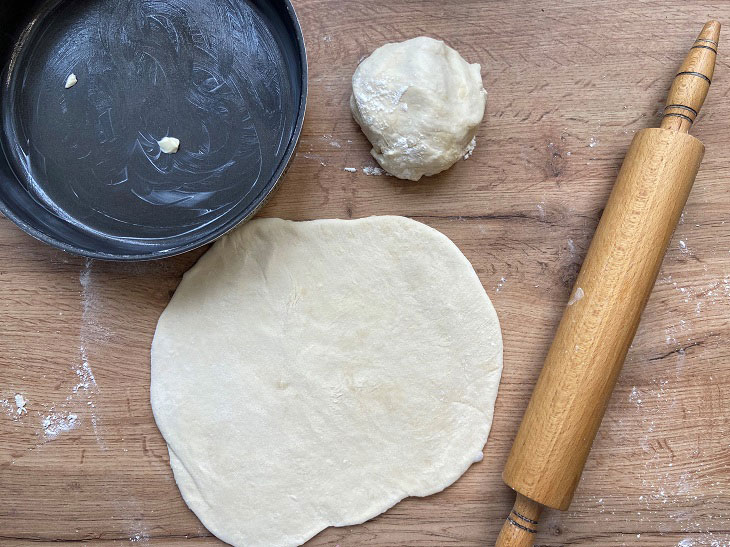 10. The dough should be laid out in a form so that the edges go on the sides. Distribute the stuffing inside.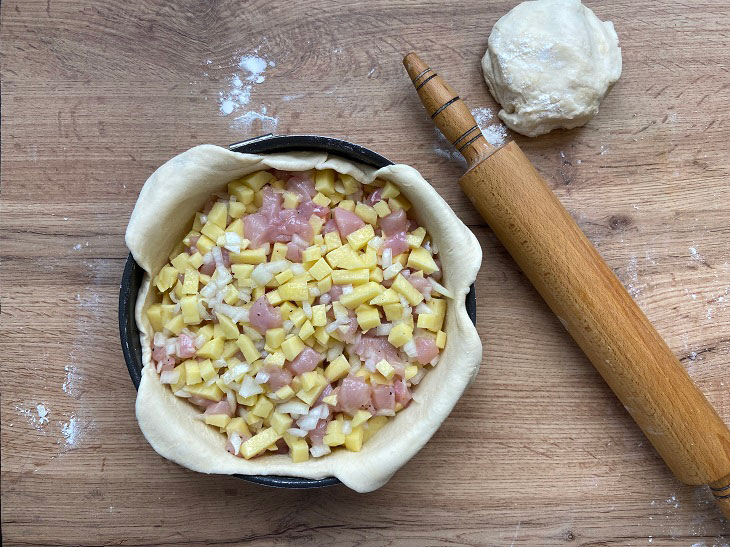 11. Place a few pieces of butter on top of the filling – they will add juiciness to the filling in the finished dish.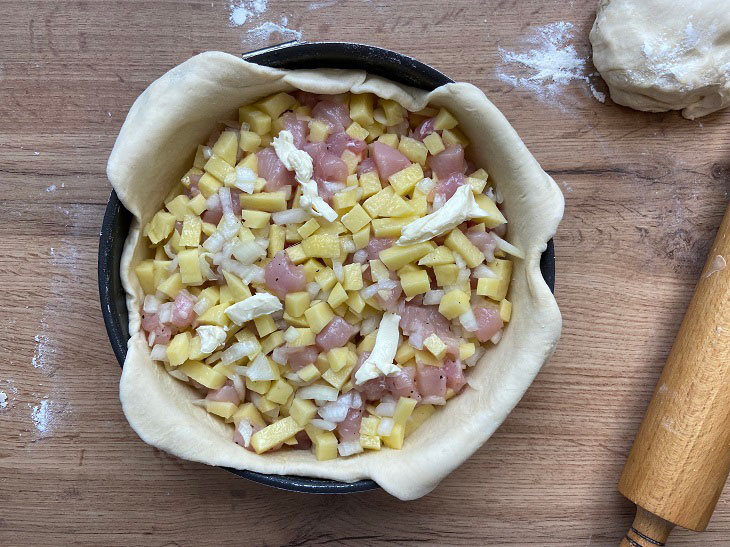 12. Now carefully close the pie with the second part of the dough and make a hole in the center so that steam comes out of it during cooking.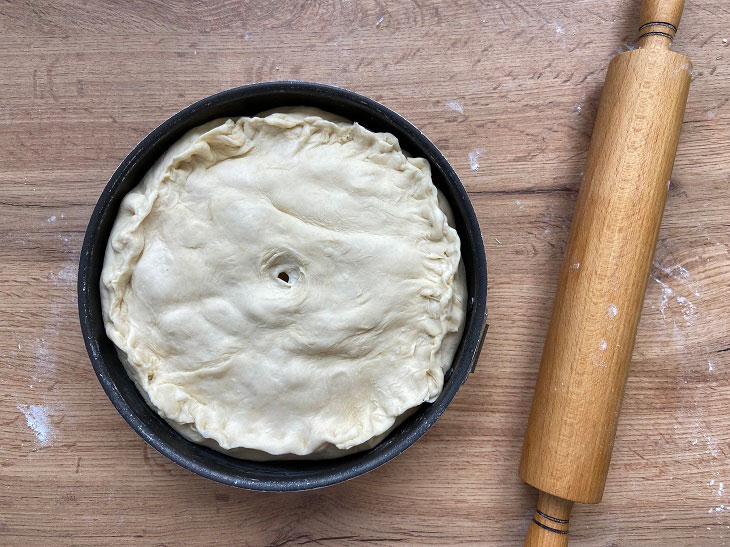 13. Bake for at least forty minutes, until a beautiful crust is obtained. By the way, the top of the cake can be decorated with petals or flowers from the dough. Serve warm, garnished with herbs.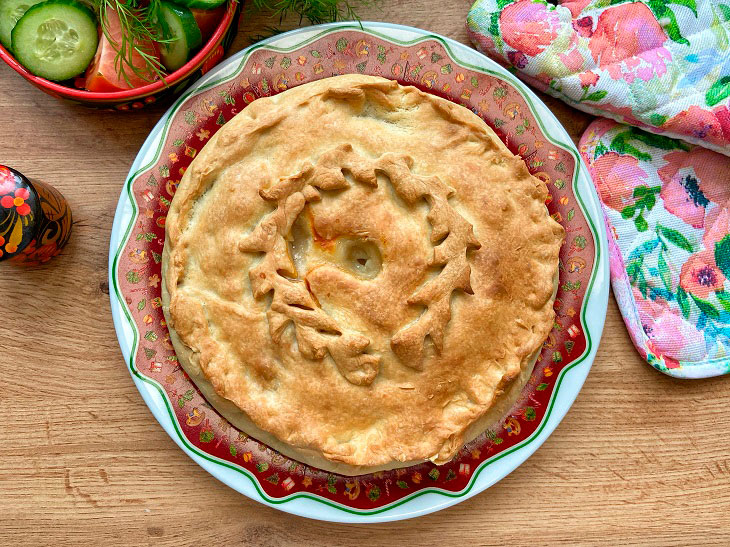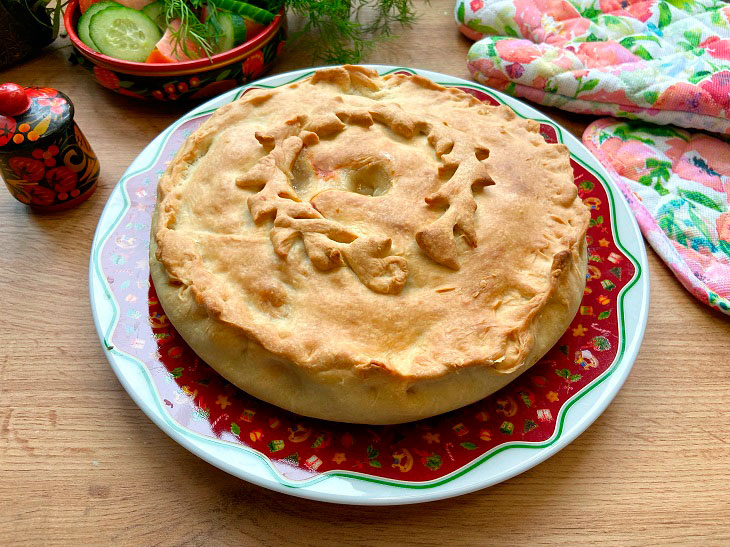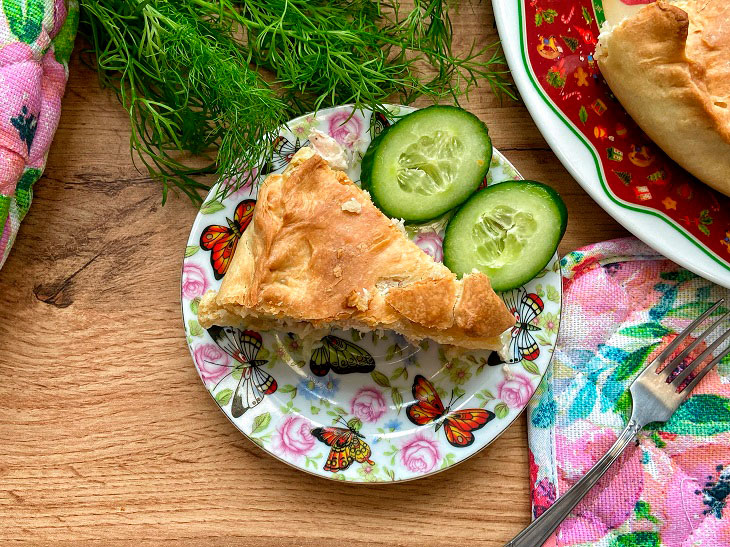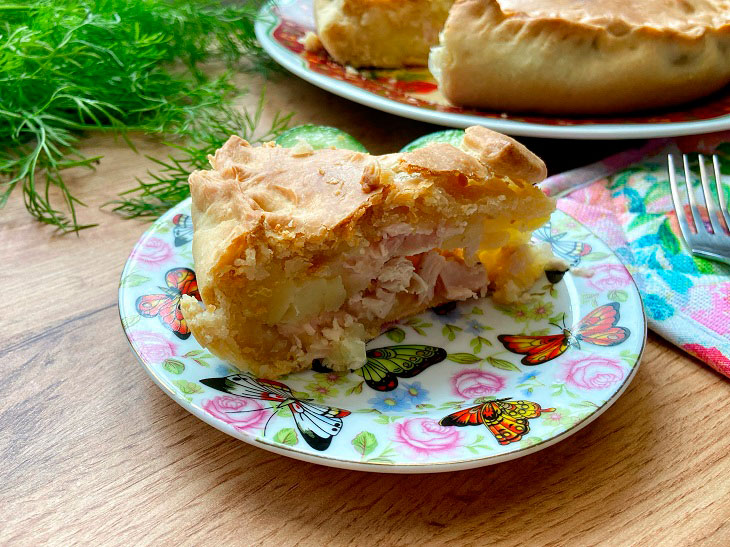 Bon appetit!