Egg rolls with crab sticks are a beautiful and very original-looking appetizer that is prepared quite quickly and simply. To prepare the dish, you should buy crab sticks of high quality and juicy, they should be fully unfoldable. Hard cheese should be tasty and not cheap. You can buy melted instead of solid. Instead of dill, you can use any other greens. It can be parsley, cilantro, green onions.
In addition to the ingredients listed below, you can also use any vegetables, pates, ordinary butter with dill and salt as a filling. In order for the pancake not to stick to the pan when frying, it must be lubricated each time with vegetable oil or use Teflon-coated dishes.
Ingredients:
Eggs – 3 pcs.
Crab sticks – 3 pcs.
Hard cheese – 50 g.
Mayonnaise – 1 tbsp. l.
Salt – to taste.
Dill – to taste.
Vegetable oil – 1 tbsp. l.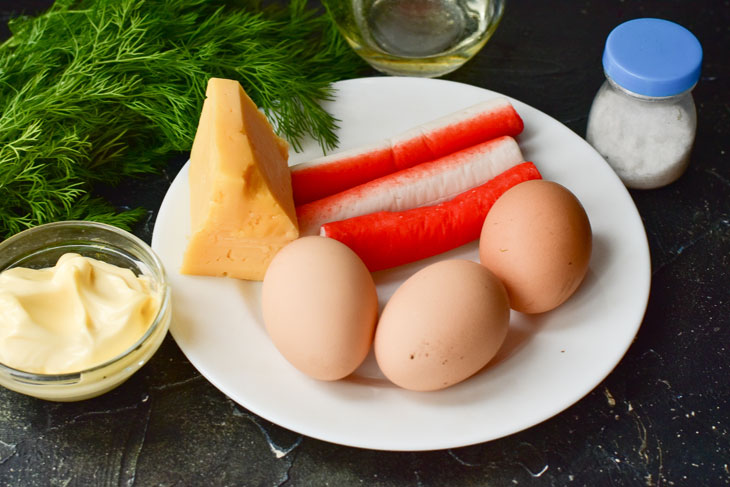 Cooking:
1. Wash chicken eggs with a kitchen sponge and detergent. After that, beat the eggs into a bowl.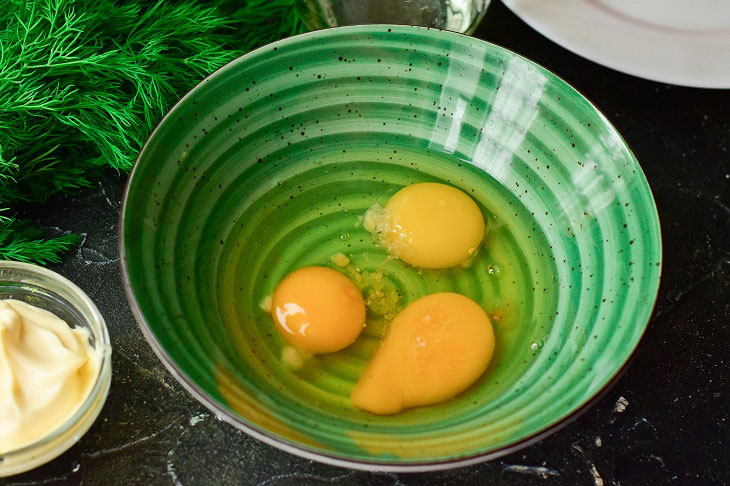 2. Beat them well with a fork.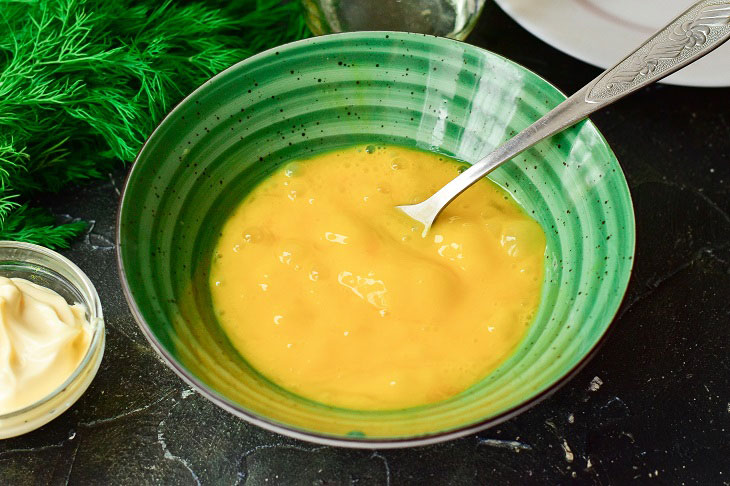 3. Cut off waxy edges from hard cheese. Grate it on the grater from the side where the large holes are.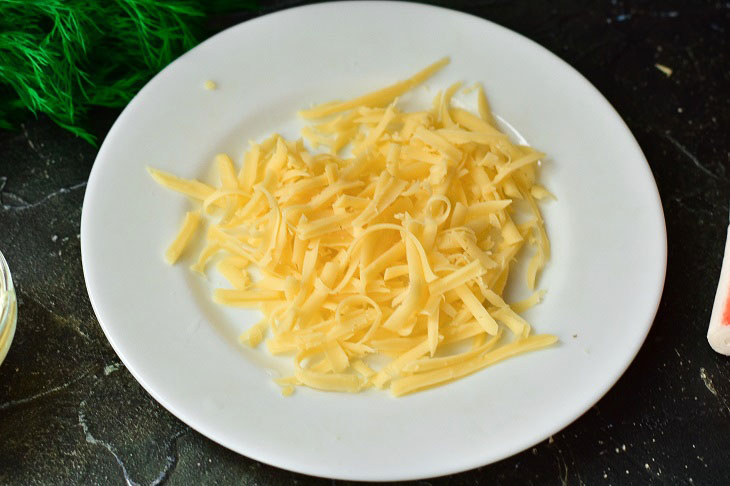 4. Unfold the crab sticks completely.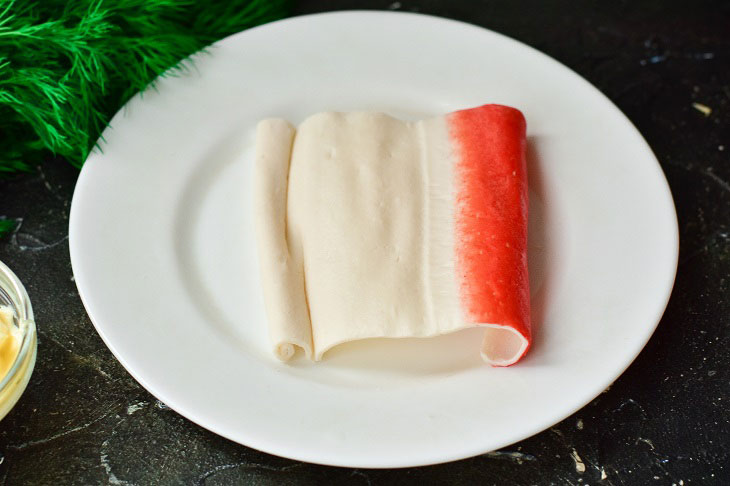 5. Using a silicone brush, grease the pan with vegetable oil, put it on the stove, after a few seconds pour a little egg mass with a ladle and bake a pancake.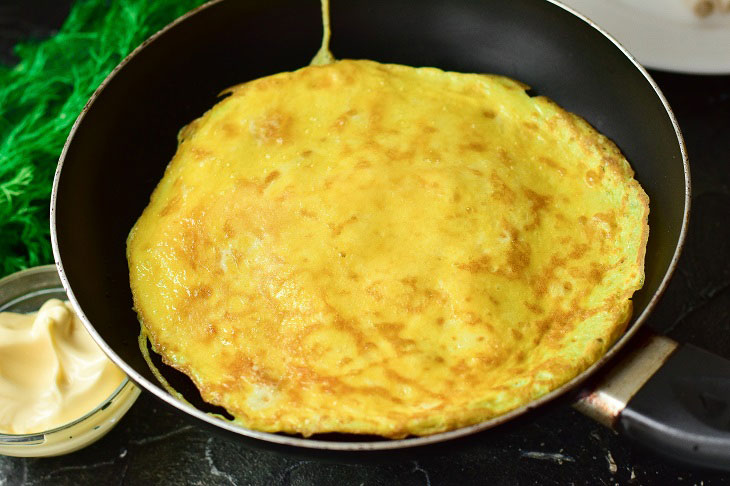 6. Put the pancake on a plate.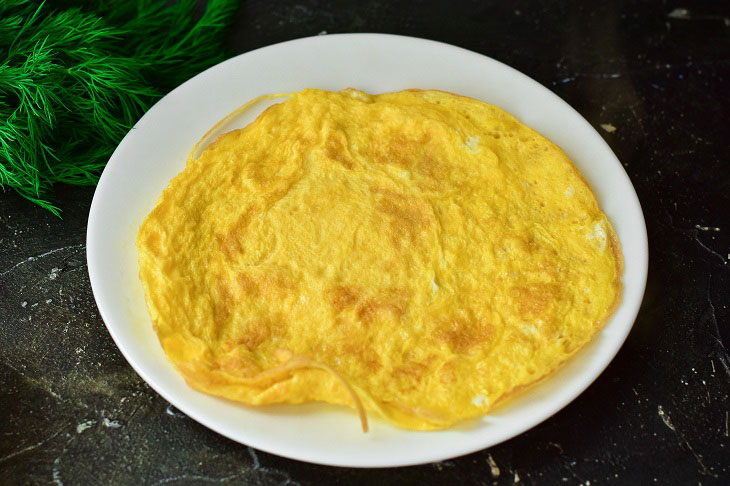 7. Put an unfolded crab stick on top of it.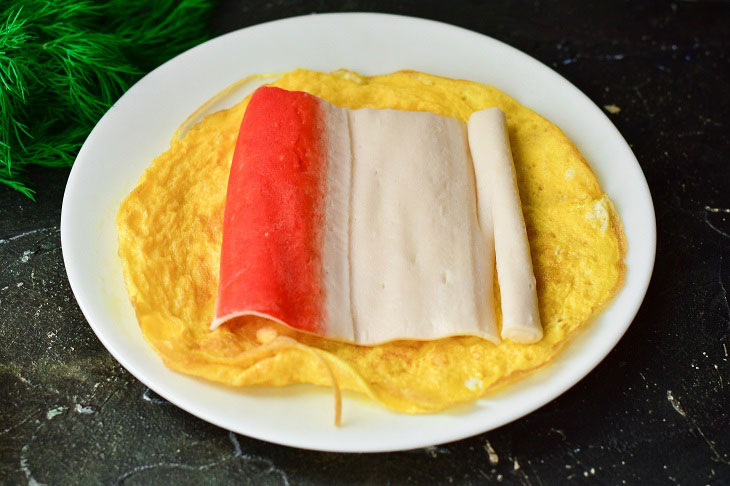 8. Then lay out a little grated hard cheese.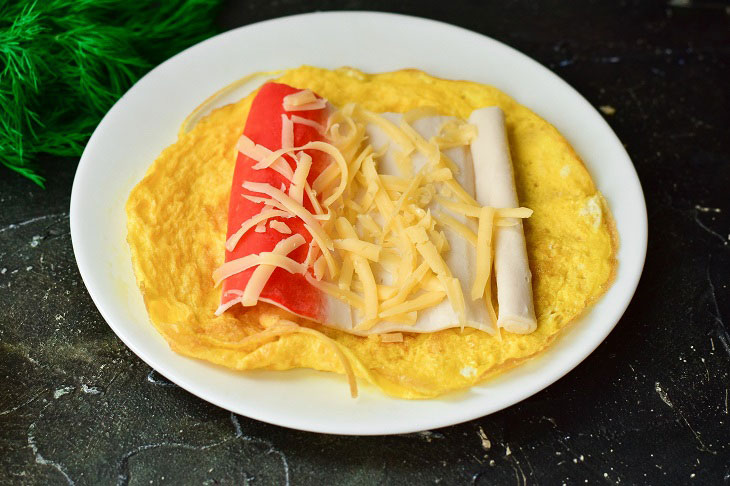 9. Put the sprigs of dill, it can also be finely chopped.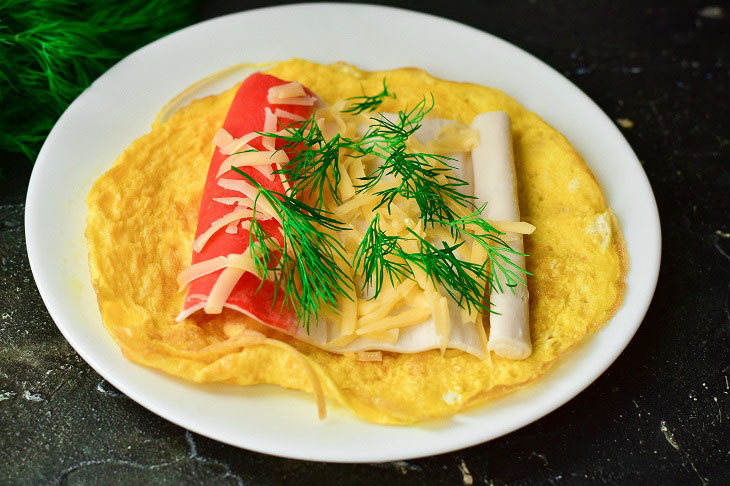 10. Lubricate with mayonnaise.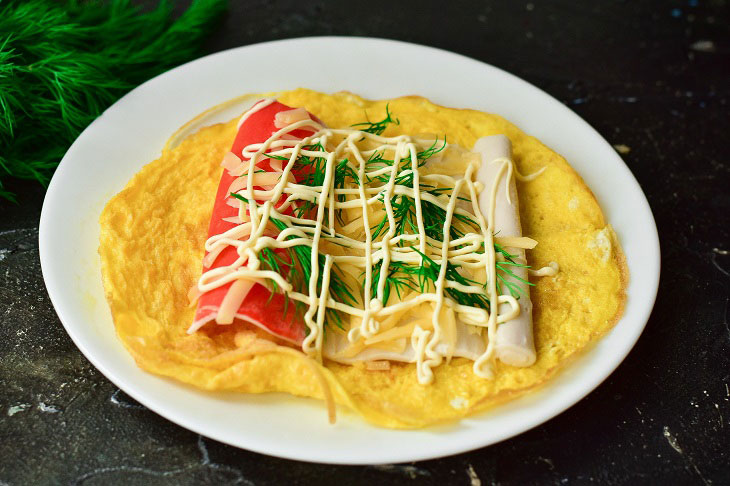 11. Gently roll the pancake into a roll.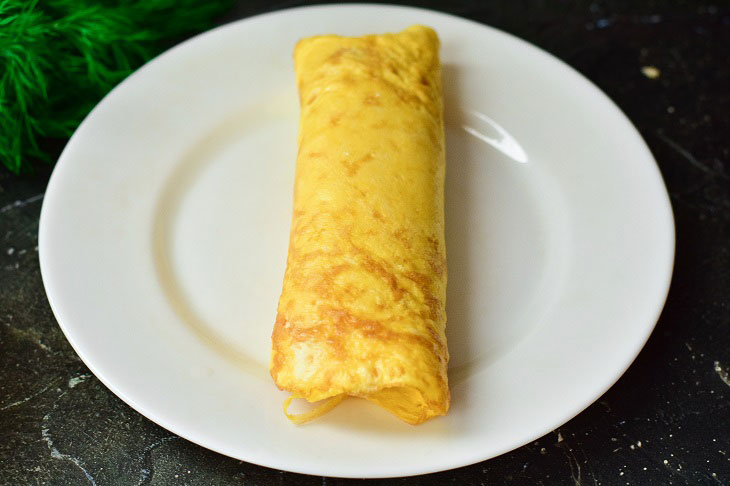 12. After that, on a cutting board, cut the pancake into pieces of the same size.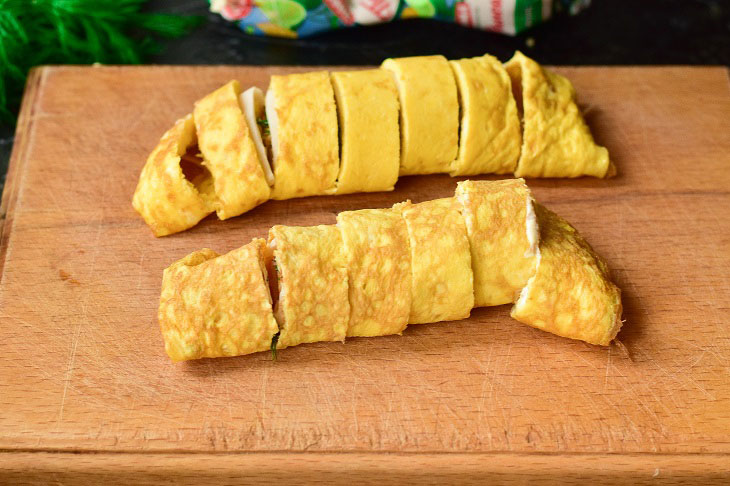 13. Put them on a dish and serve!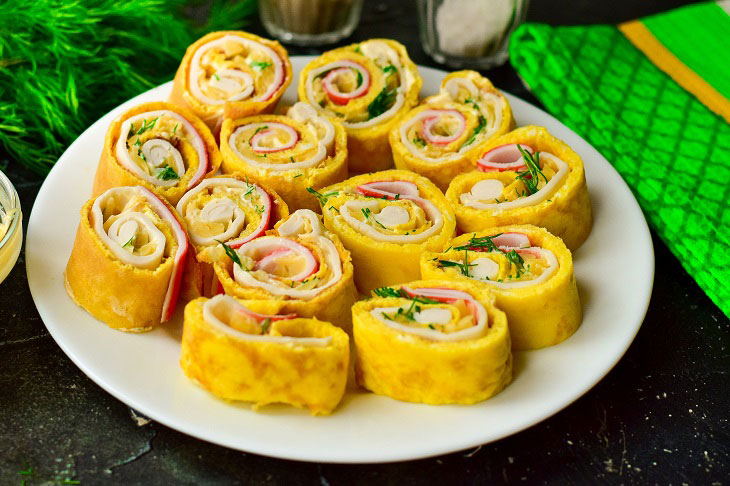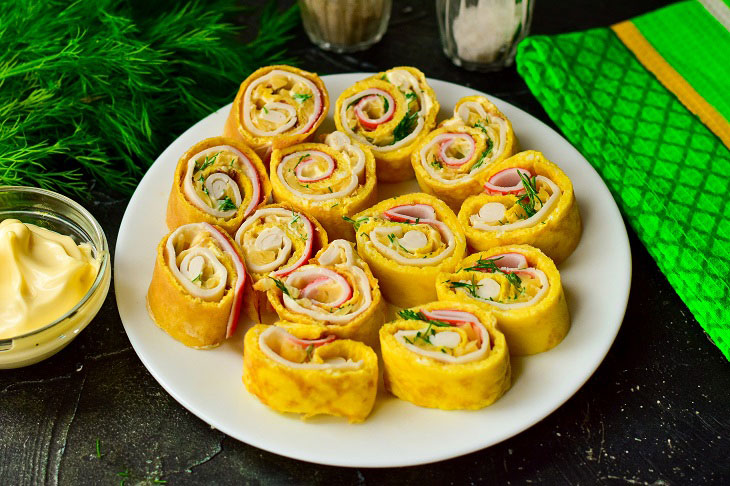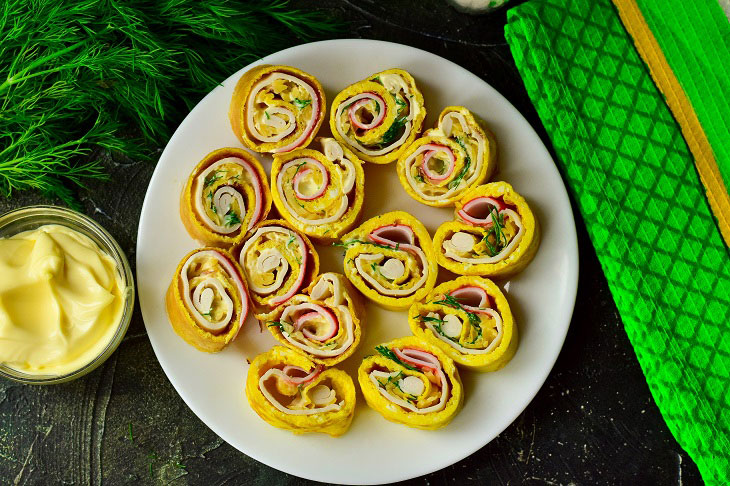 Enjoy your meal!