Salted cucumbers in a saucepan are very tasty, fragrant and crispy. Horseradish, or rather, a horseradish leaf, gives cucumbers the last property. This is because horseradish releases tannins, which make cucumbers strong. In addition, horseradish gives the workpiece a special spicy taste and aroma. In addition to horseradish, fresh dill with umbrellas and seeds is added to the pan. This ingredient shares its delicious smell with cucumbers. Garlic fills the workpiece with spicy flavor notes, and bitter pepper with a strong spicy aroma.
But, in addition to taste, the above ingredients are also preservatives.
Ingredients:
Cucumbers – 1 kg.
Horseradish leaf – 1 pc.
Dill with umbrellas – 5 pcs.
Garlic – 5 cloves.
Hot pepper – ½ pod.
Black sweet peas – 8 pcs.
Salt – 2.5 tbsp. l.
Water – 2 liters.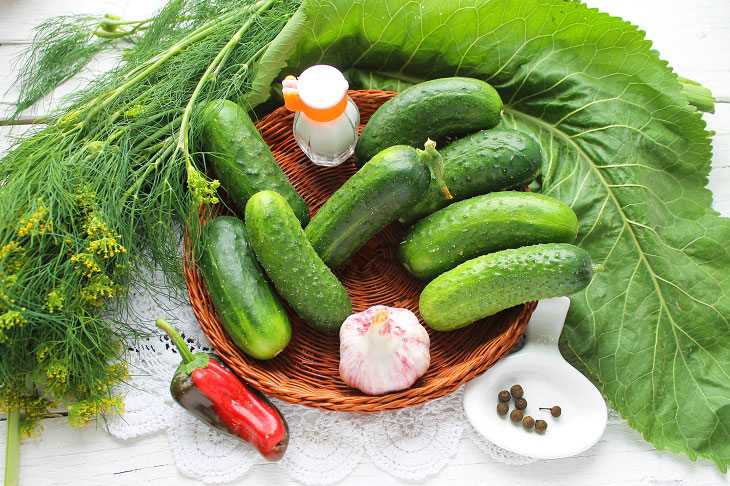 How to cook:
1. First prepare the brine. To do this, pour 2 liters of water into the pan, add salt. Let the water boil and, stirring, dissolve the salt in it. Cover the pot with a lid and leave the brine to cool slightly.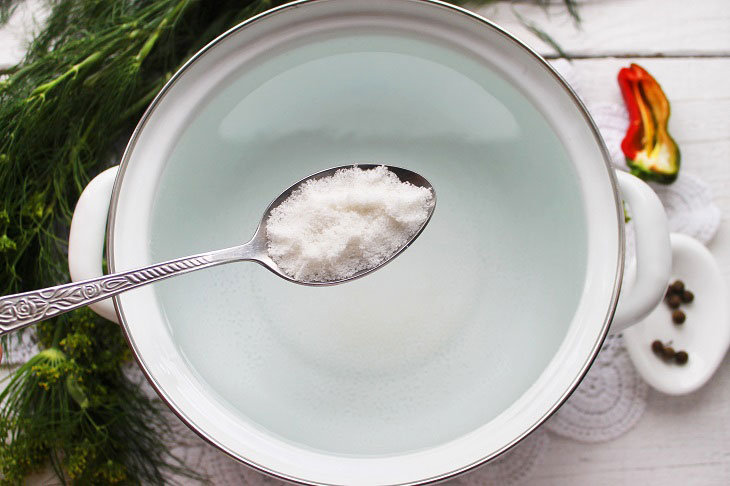 2. Wash cucumbers. Trim off the ends of each cucumber.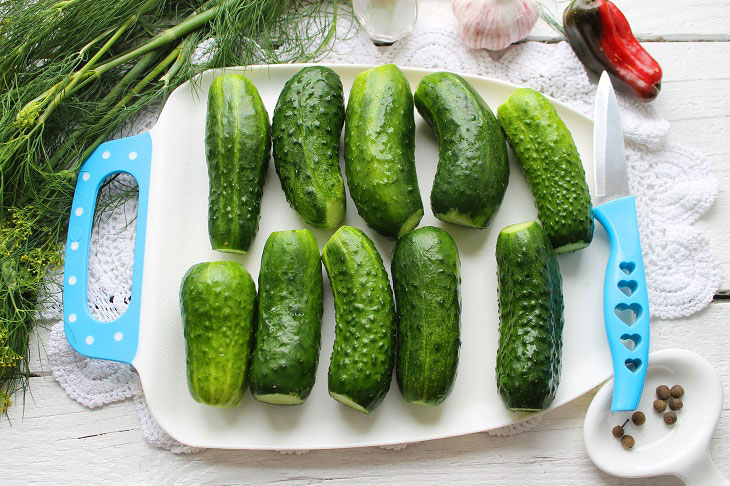 3. Rinse dill with umbrellas, hot pepper and horseradish leaf. Cut the dill into pieces about 3-4 centimeters long. Cut the horseradish leaf crosswise into thin strips. Cut the hot pepper pod in half lengthwise. Clean out the seeds from one half, cut the flesh into small pieces. Free the garlic cloves from the husk.
4. At the bottom of the pan, lay a third of the greens – dill and horseradish.
To make the cucumbers even more fragrant, you can add cherry leaves (5 pieces) and black currant leaves (5 pieces) to the pan.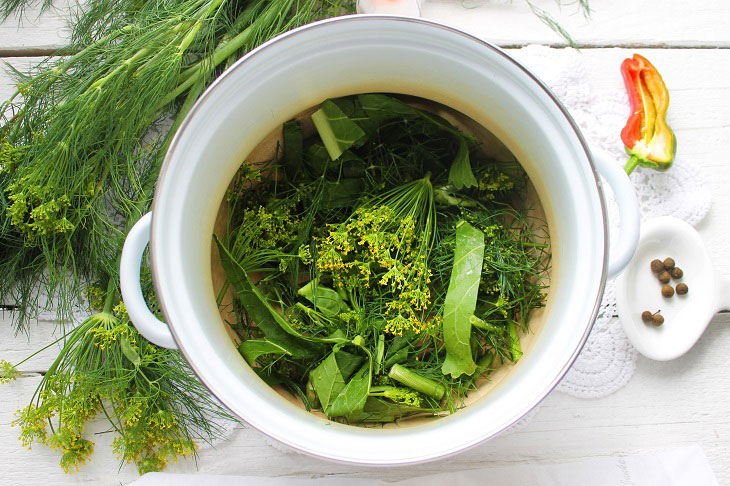 5. Then lay out half of the cucumbers in one layer.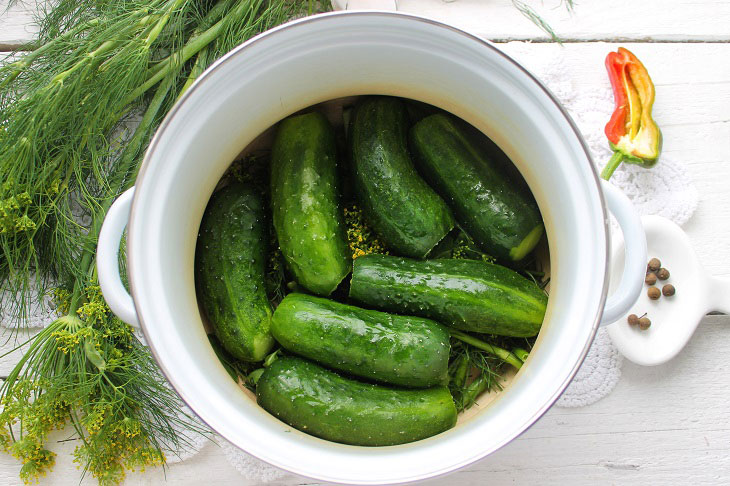 6. Then again the greens, on top of it the remaining cucumbers, and on them the rest of the greens.
Top with allspice peas, garlic cloves and hot pepper slices.
In addition to allspice, you can add 7 – 8 black peas.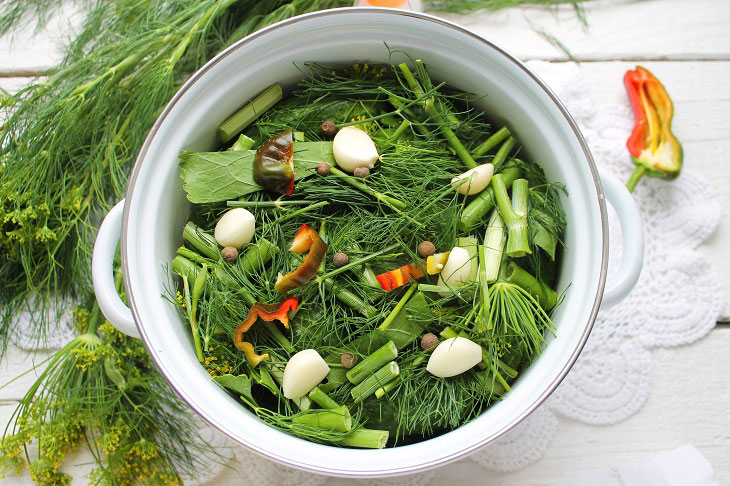 7. Place a flat plate of the right size on top. And put oppression on a plate, for example, a jar of water.
Leave the resulting "structure" at room temperature until the brine has cooled completely. Then refrigerate.
And after 12 hours, you can already taste lightly salted cucumbers in a saucepan.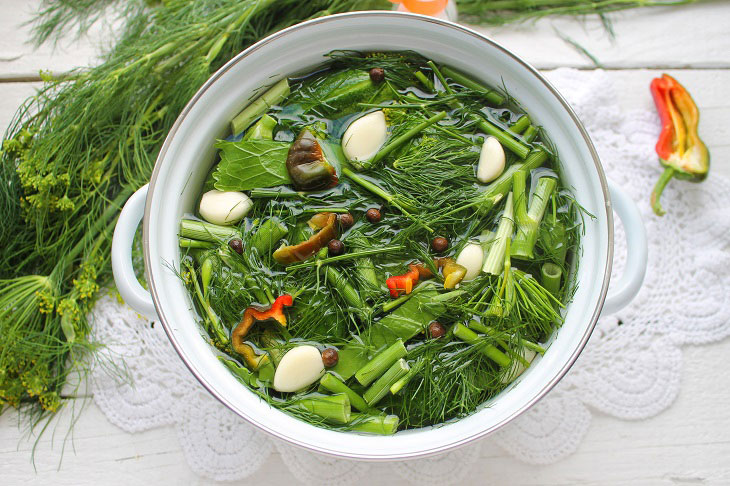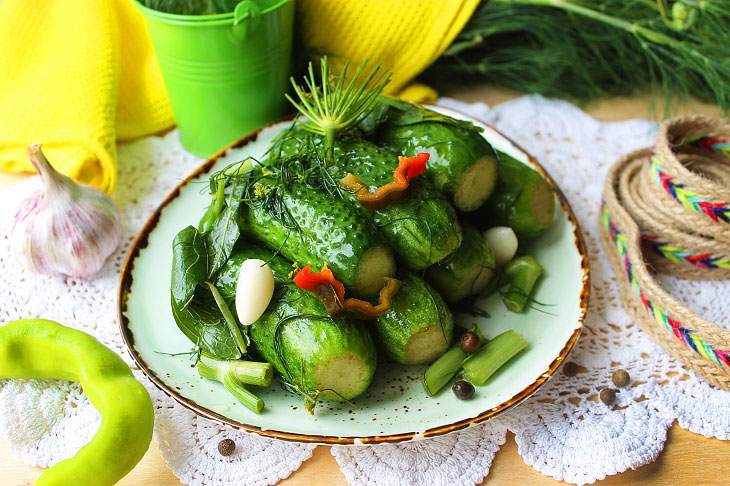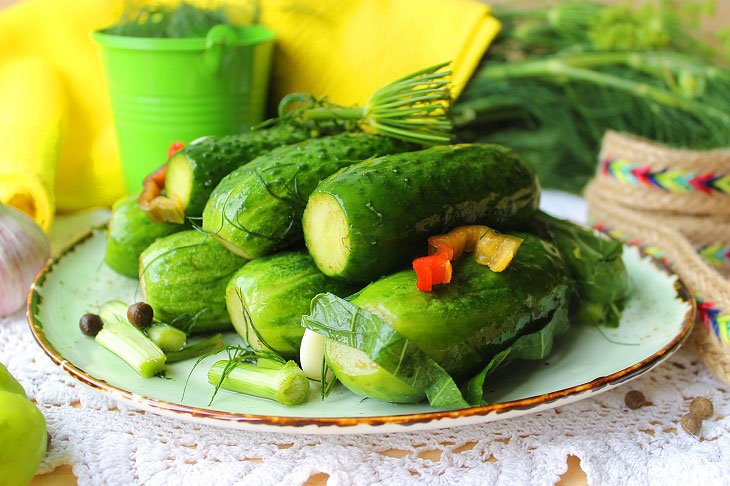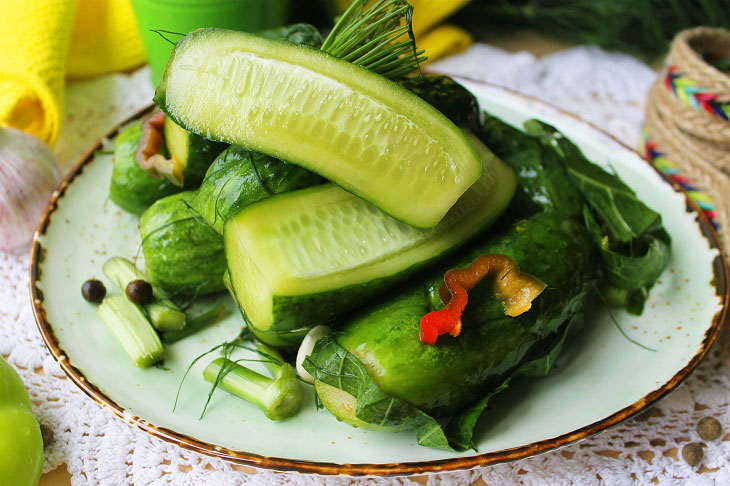 Bon appetit!