This delicious recipe is sure to be appreciated by all eggplant lovers. The dish is prepared quite simply and quickly.
Eggplant in caramel is an excellent cold appetizer that can be served both for every day and for the holiday. An unusual sweetish taste with a slight spiciness and sourness will certainly please even inveterate gourmets.
Ingredients:
Eggplant – 500 g.
Garlic – 5-6 cloves.
Bulgarian pepper – 200 g.
Hot pepper – 30 g.
Ground coriander – 2 tsp
Dried paprika slices – 1 tbsp. l.
Water – 50 ml.
Lemon juice – 50 ml.
Honey – 100 g.
Salt – to taste.
Parsley – 4-5 branches.
Vegetable oil – 4 tbsp. l.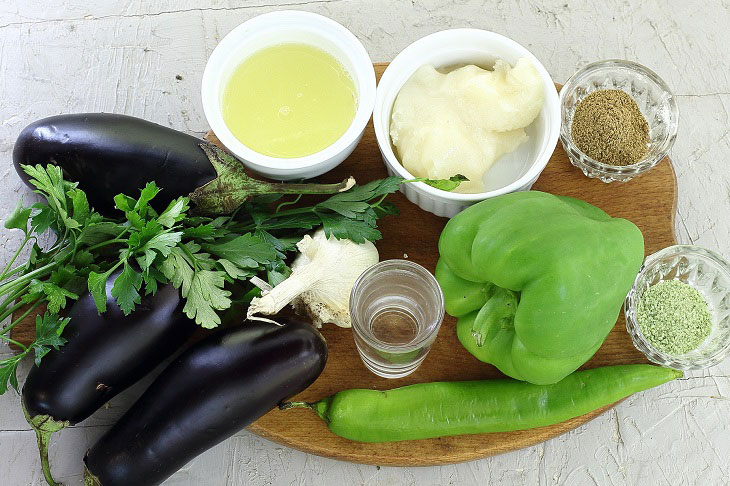 Cooking time: 30 minutes. Servings Per Container: 2.
How to cook:
1. First of all, prepare the eggplant. Wash vegetables well. Trim the ponytails on both sides. Cut into large pieces. Boil water in a separate saucepan. Salt a little. Dip eggplant in boiling water. Stir. Blanch 3-5 minutes.
Vegetables should remain semi-cooked and not boiled.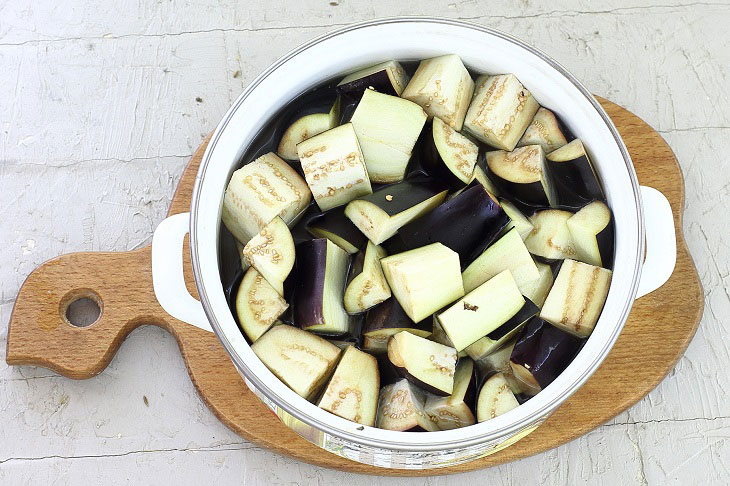 2. Drain the eggplant pieces in a colander to drain all the water.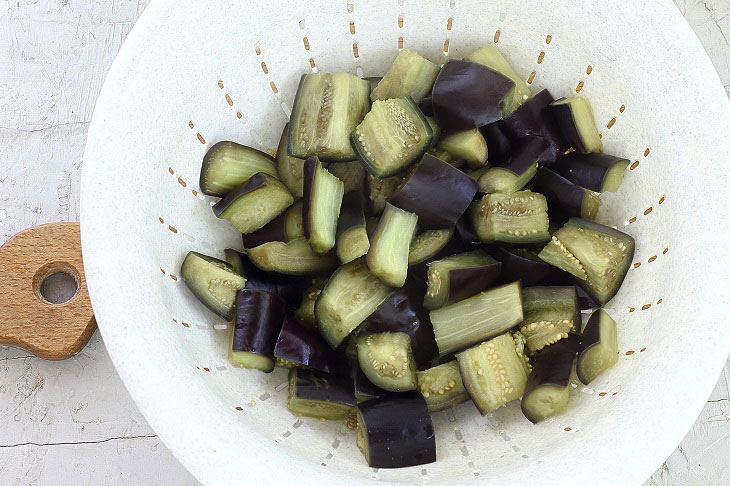 3. Immediately transfer to cold water and cool.
4. Gently wring out excess water.
If the eggplant is overcooked, it will not be possible to squeeze it out and the dish will come out watery.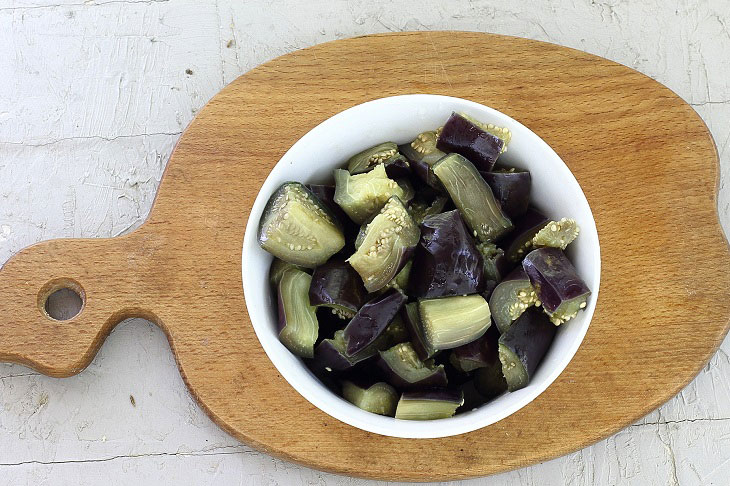 5. Now, prepare the caramel sauce. Clean the garlic cloves. Cut into thin rings. Heat oil in a deep frying pan. Add garlic. Heat for about a minute to saturate the oil with garlic aroma. Transfer the sautéed garlic to a separate plate.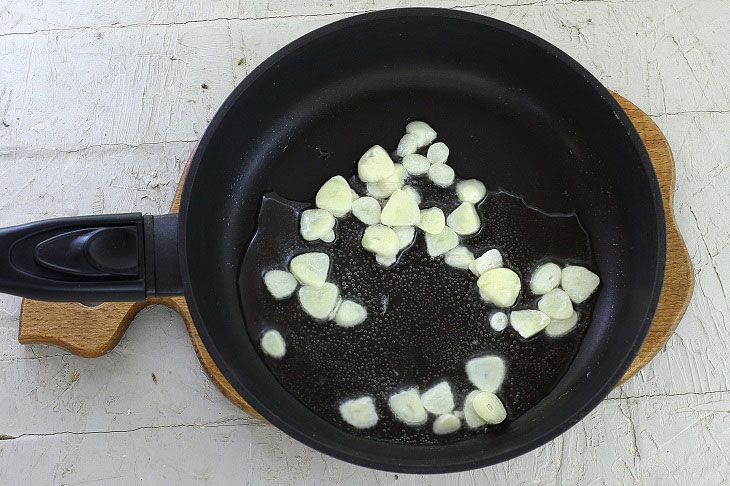 6. Add honey, water and lemon juice. Bring to a boil while stirring and cook for about 6-7 minutes over moderate heat.
7. Bulgarian and bitter pepper cut into small pieces. Add two types of pepper, sautéed garlic and ground coriander to the caramel sauce. Stir and boil for about a minute. The sauce can be slightly salted to taste.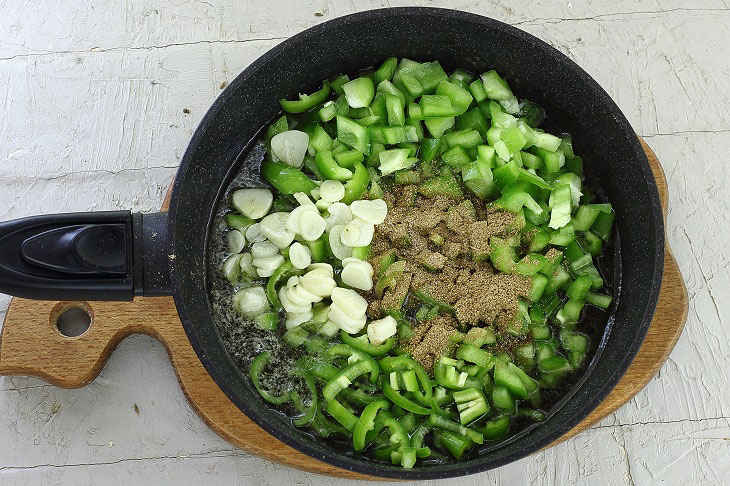 8. Add eggplant slices, dried paprika slices and chopped parsley or other herbs of your choice. Stir. Keep on low heat for 4-5 minutes.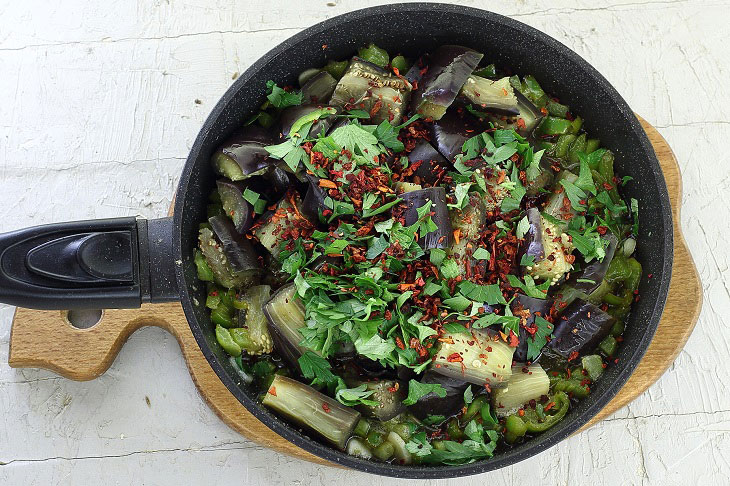 9. Remove from heat and leave to cool completely. Transfer to refrigerator for 2-3 hours. During this time, all eggplant pieces will be soaked in caramel sauce.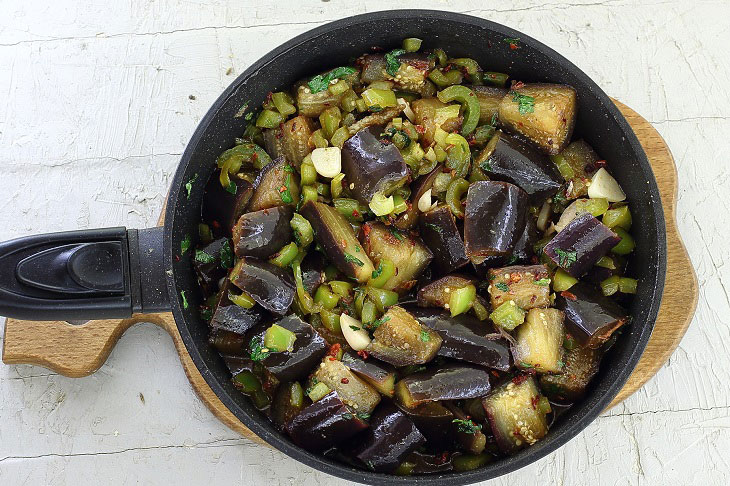 Eggplants in caramel are ready.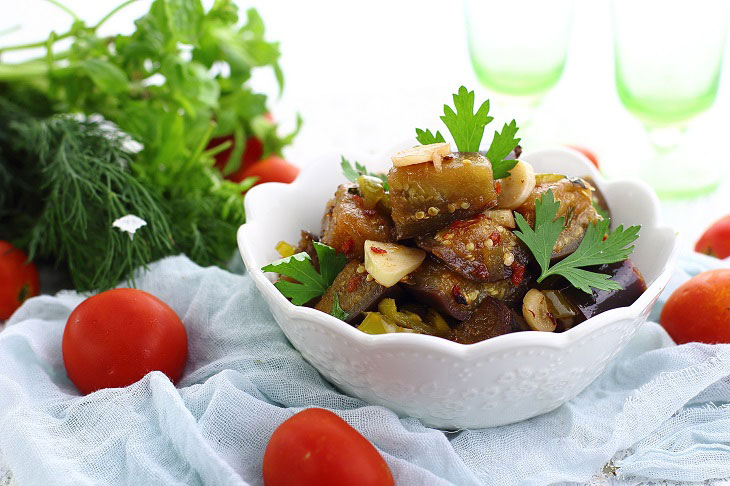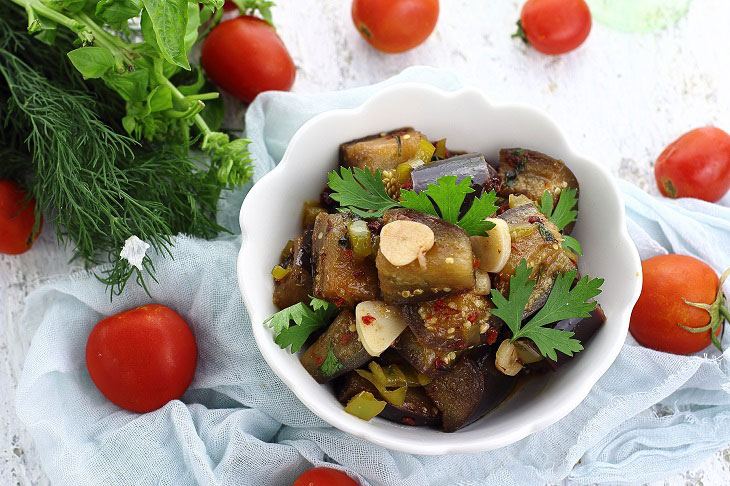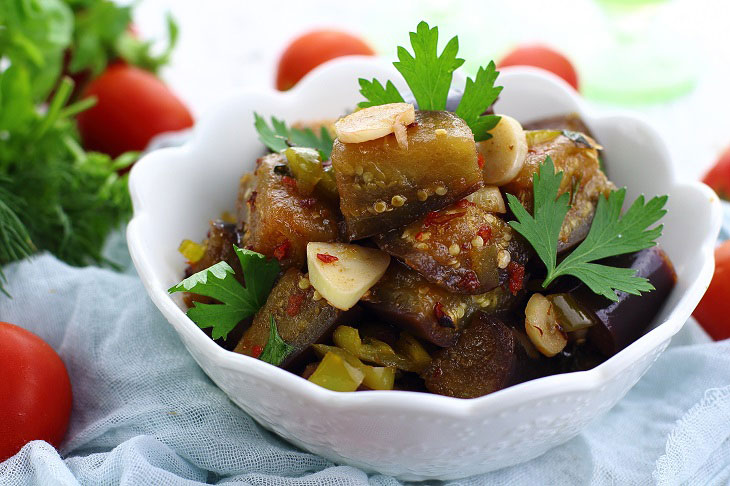 Enjoy your meal!