Eggplant like mushrooms (quick snack) is an original dish that can be prepared in just half an hour. Of course, it will become as tasty as possible after 2-3 hours, when it is infused.
Such an appetizer can be supplemented with a side dish of potatoes in any form, as well as a meat or fish dish. If desired, you can add a little less garlic to the eggplant and get a light characteristic aroma, or you can make it hot by adding hot pepper in addition to garlic.
Ingredients:
Eggplant – 1 pc.
Salt – 3 pinches.
Fresh dill – 3-4 sprigs.
Fresh parsley – 3-4 sprigs.
Garlic – 1-2 cloves.
Table 9% vinegar – 1 tsp.
Vegetable oil – 1 tbsp. l.
How to cook:
1. To make eggplant as similar to mushrooms as possible, several conditions must be met. The hard peel of the vegetable needs to be cut off – you can take a knife or a vegetable peeler. Then cut the eggplant into small cubes. Put salted water to boil.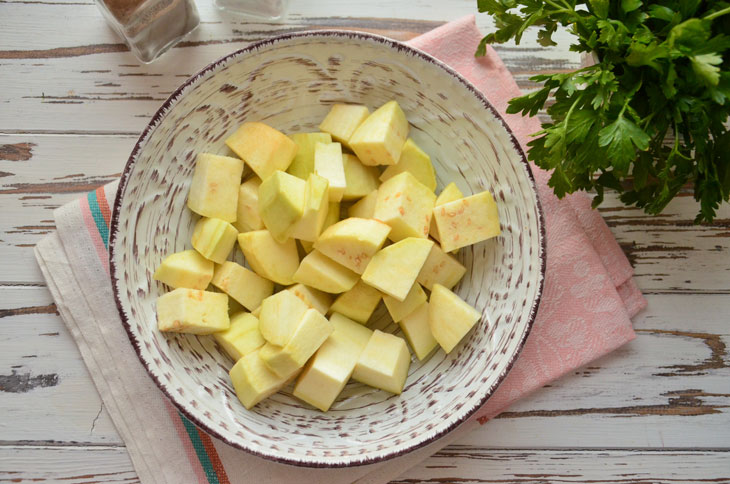 2. Rinse the sprigs of fresh herbs with cool water, then dry them, and then finely chop and transfer to a bowl. Peel and chop the garlic – it is convenient to use a special device. Move the garlic to the greens.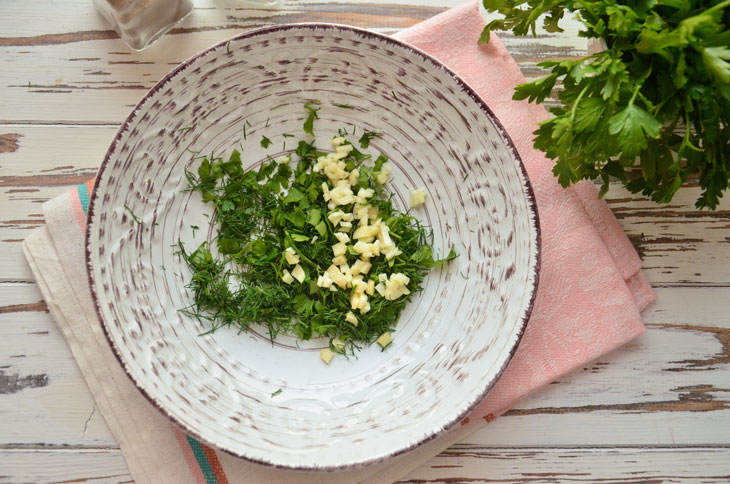 3. When the water in the saucepan begins to boil, lower the colander with eggplant into it. Blanch vegetables for 5 minutes, then remove from boiling water. Allow excess water to drain for 15 minutes. It is not recommended to wring them out, as the delicate structure may be damaged.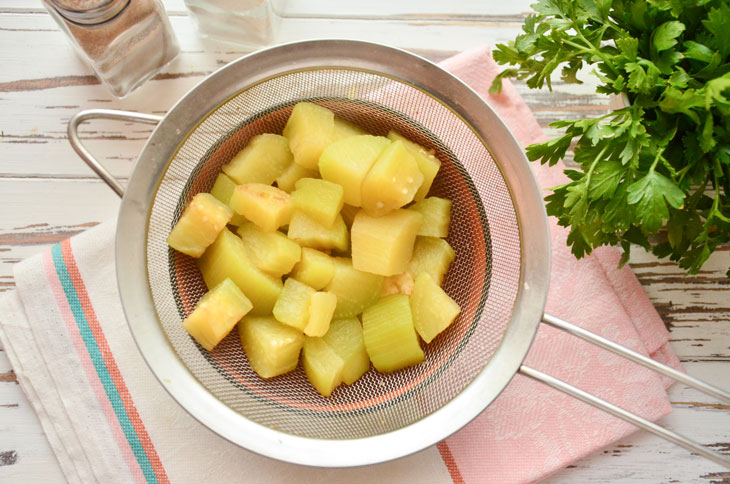 4. Transfer the eggplant slices to a bowl with garlic and herbs. Season with vegetable oil and table vinegar.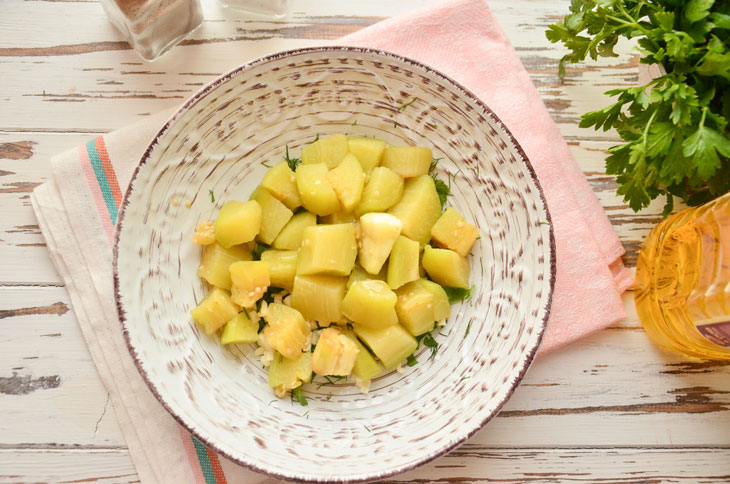 5. Mix everything well with a spatula and leave to soak for 10-15 minutes.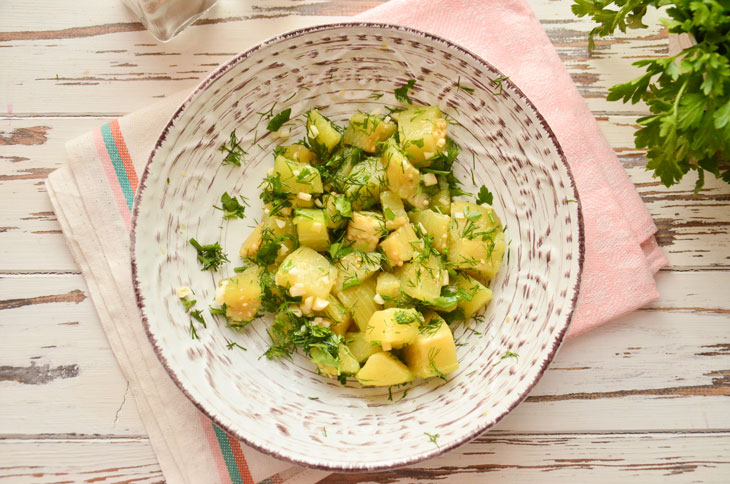 Before serving, the appetizer needs to be mixed again. It is better to wait until the eggplant has completely cooled down.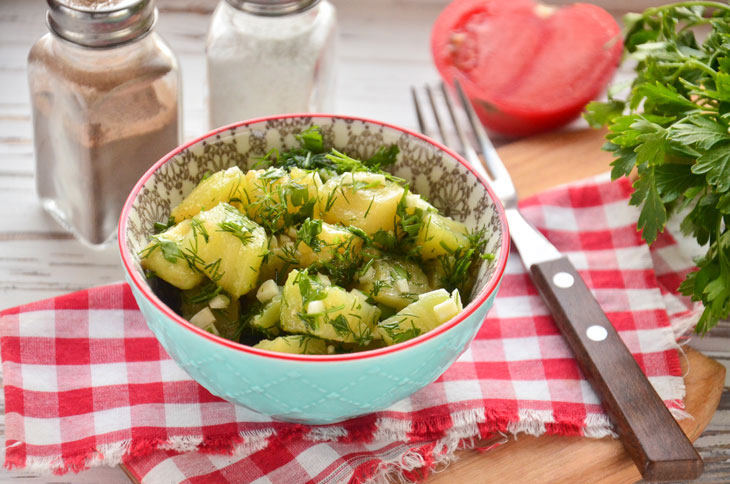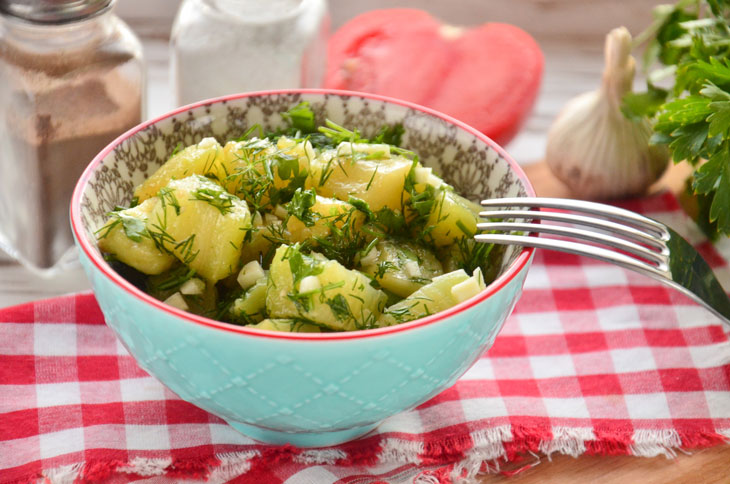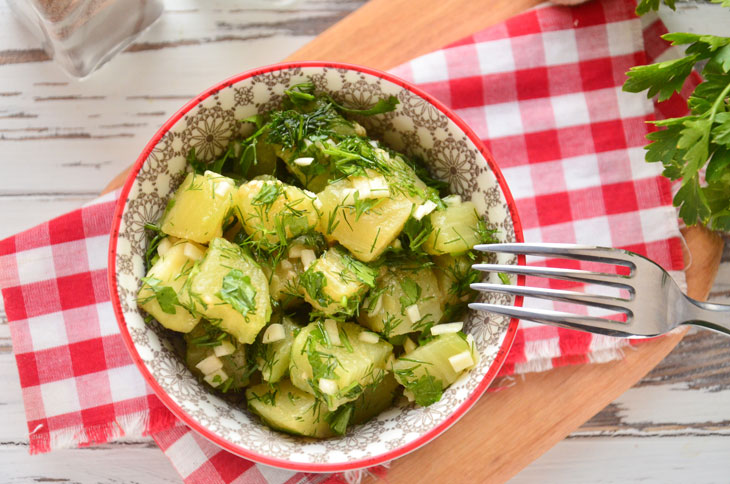 Enjoy your meal!