Korean-style crunchy zucchini are very tasty. Cooking them is very simple and fast, so if you don't want to spend a lot of time in the kitchen, this recipe is what you need. To prepare such an original vegetable snack, you should use young vegetables. Cut them into circles or half circles.
It is best to serve ready-made vegetables to the table with some kind of meat dish, although they are quite appropriate as an independent snack. In addition to dill, you can also add parsley to zucchini. If you want to get a very spicy dish at the exit, then in addition to garlic, you should add chopped hot pepper to them. Of the spices, it is best to opt for salt and sugar, but you can also take ground pepper, and also replace fresh garlic with dried 1.
Ingredients:
Zucchini – 4-6 pcs.
Garlic – 2-3 cloves.
Dill – 1 bunch.
Salt – ¼ tsp
Sugar – ¼ tsp
Vinegar 9% – 1.5 tbsp. l.
Vegetable oil (no pronounced odor) – 3 tbsp. l.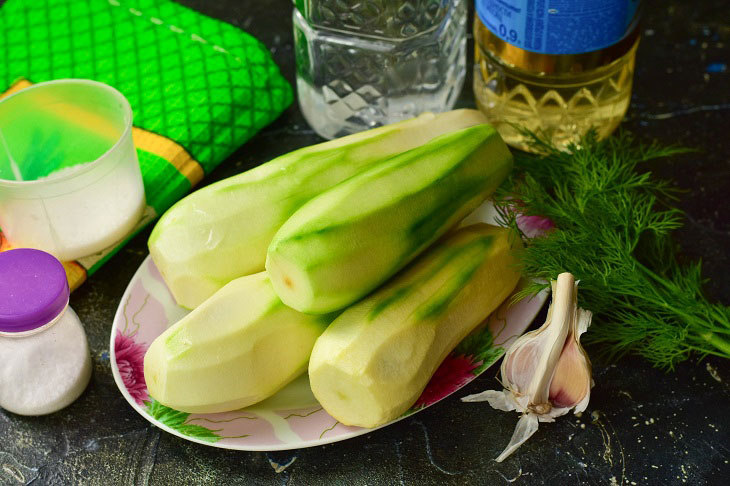 How to cook:
1. Wash the greens very carefully, chop them finely. Peel the garlic and cut it in the same way or squeeze it through a garlic press.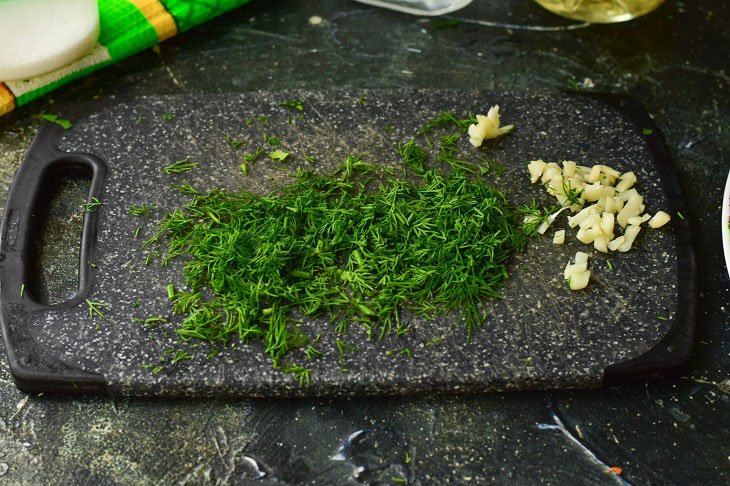 2. Wash the zucchini, cut off the edges on both sides. Peel the vegetables, cut them into semicircles.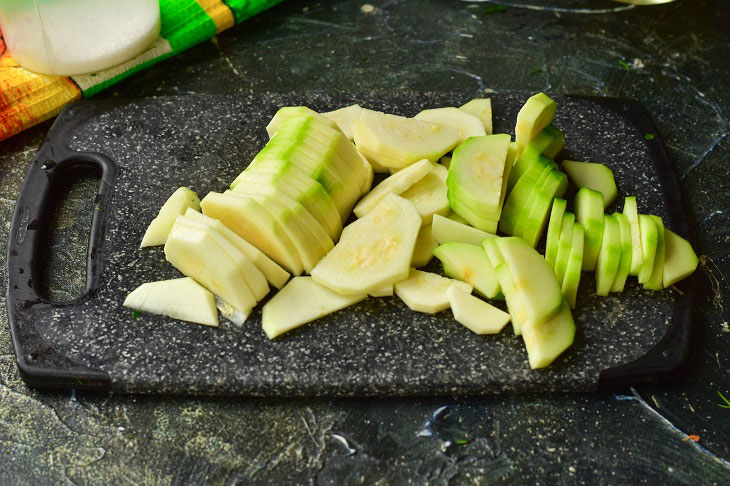 3. Put vegetables, herbs and garlic in a deep bowl or the most ordinary saucepan.
4. Now add sugar.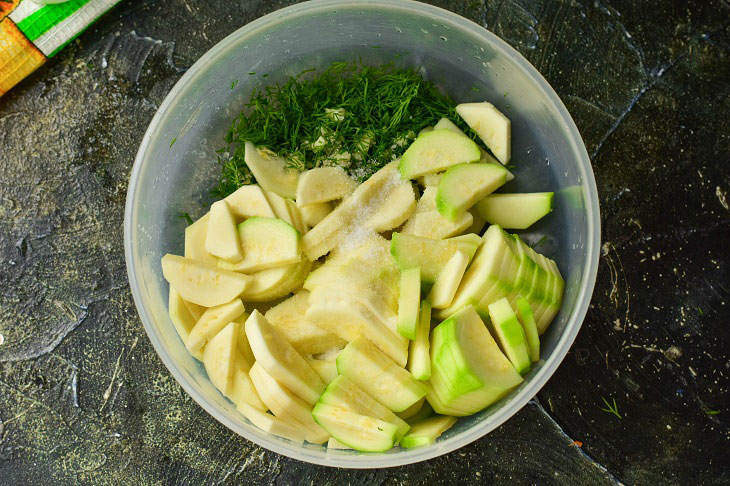 5. After it, add salt to the vegetables.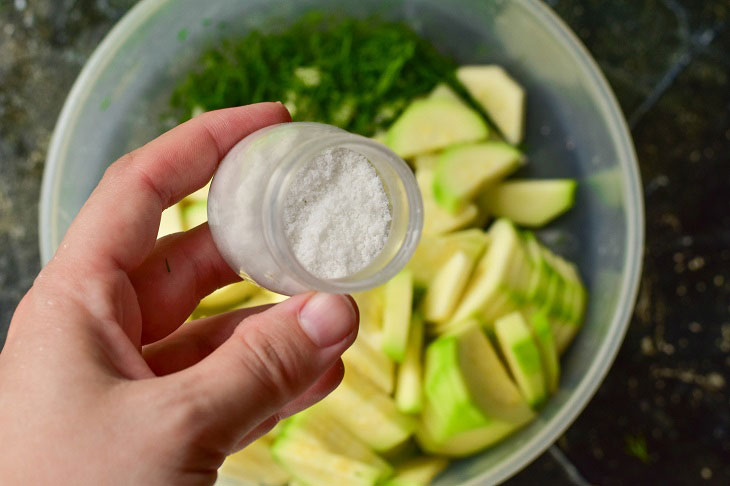 6. Pour in the vinegar.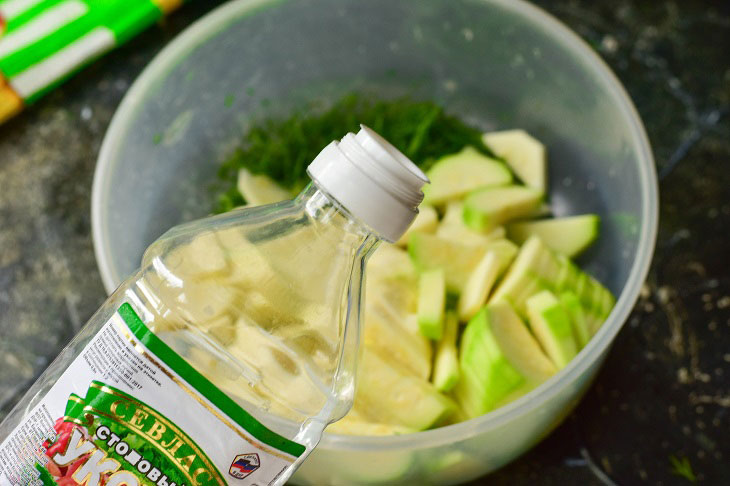 7. The last ingredient will be vegetable oil.
Vegetable oil should be used without a pronounced odor.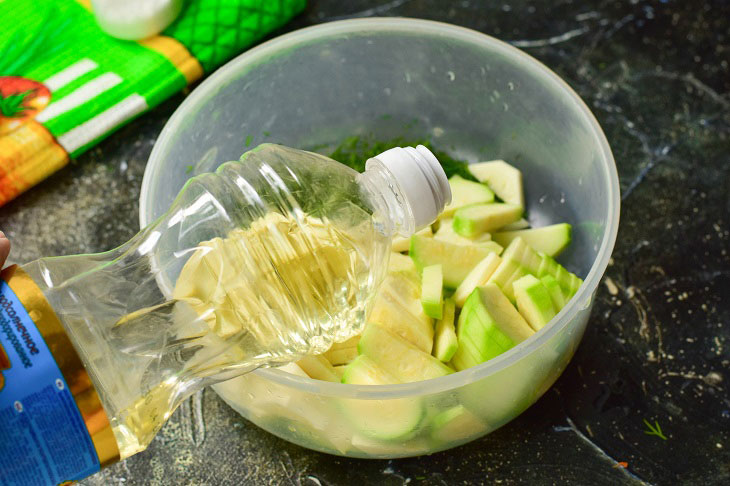 8. Mix all the ingredients very well with a regular spoon.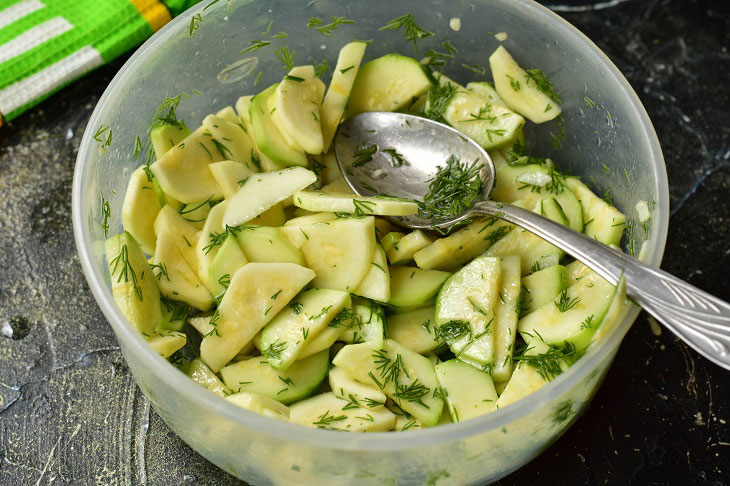 9. Be sure to leave the vegetables for a day. You can put them in the refrigerator, only the bowl or pan should be covered with a lid.
In a day, crispy Korean-style zucchini will be completely ready. You can safely cook a meat steak or chop for them. If there is no desire to eat a meat dish, then just boil the new potatoes. It is with him that Korean-style zucchini is best combined!
Enjoy your meal!