Korean-style eggplant salad is prepared quite simply from affordable and inexpensive ingredients and it turns out very tasty and spicy. If you like spicy dishes, add hot peppers to the salad and increase the amount of garlic.
Ready-made eggplants with vegetables are fragrant with a sweet and sour taste. They go well with meat, especially barbecue, and fish. Eggplant salad will be a bright addition to any festive table. Store the salad in the refrigerator in a tightly sealed container for up to 2-3 weeks.
Ingredients:
Eggplant – 500 g.
Sweet multi-colored pepper (small size) – 3 pcs.
Carrot (medium) – 1 pc.
Onion – 1 pc.
Garlic – 2-3 cloves.
Vegetable oil – 50 ml.
Apple cider vinegar – 50 ml.
Sugar – 30 g.
Salt – 0.5 tsp.
Ground black pepper – 0.25 tsp. (taste).
Cilantro – 20 g.
Parsley – 20 g.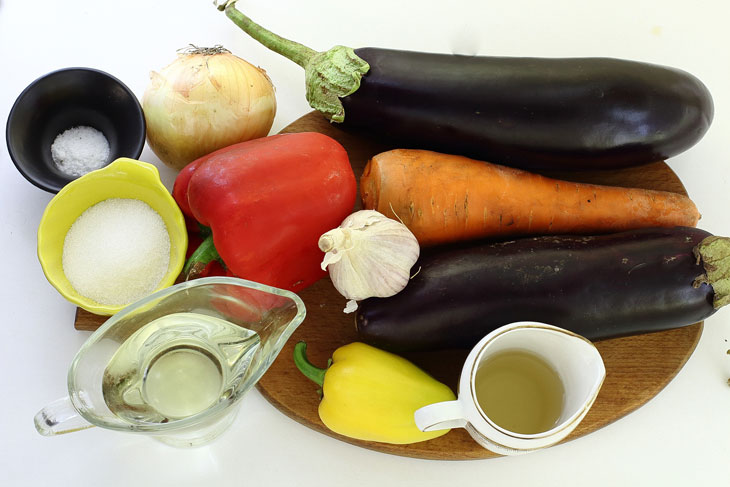 How to cook:
1. First, prepare the eggplant. This one can be any variety, as long as it has small seeds. Wash them well, peel them and cut them in half.
Boil water in a saucepan. Add two tablespoons of salt, stir. Drop eggplant into boiling water. Cook until soft, 5-7 minutes, so that the vegetables remain whole and do not spread. They should be easy to pierce with a fork.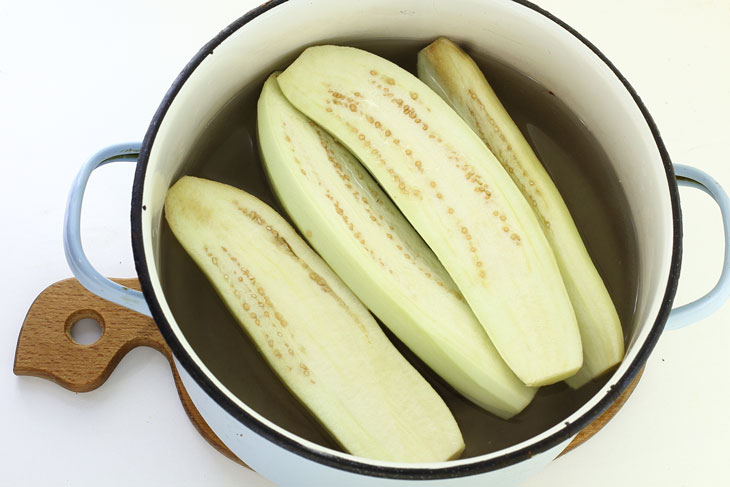 2. Throw the boiled eggplants in a colander and leave to cool completely.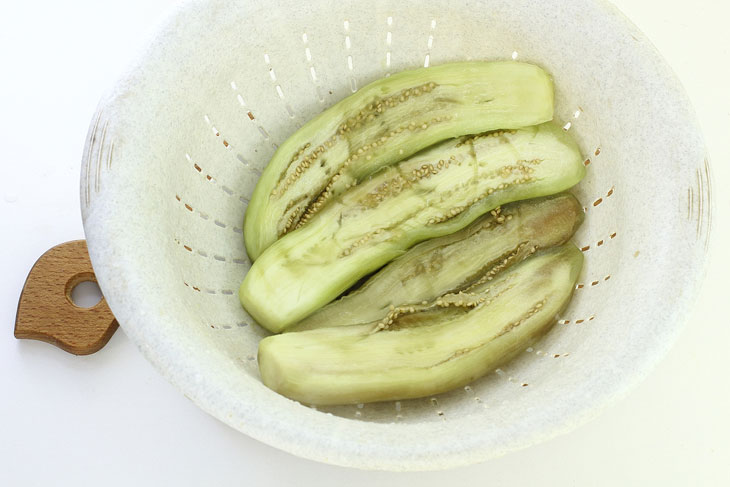 3. While the eggplant is cooling, prepare the rest of the ingredients. Peel the carrots, rinse, grate with thin straws.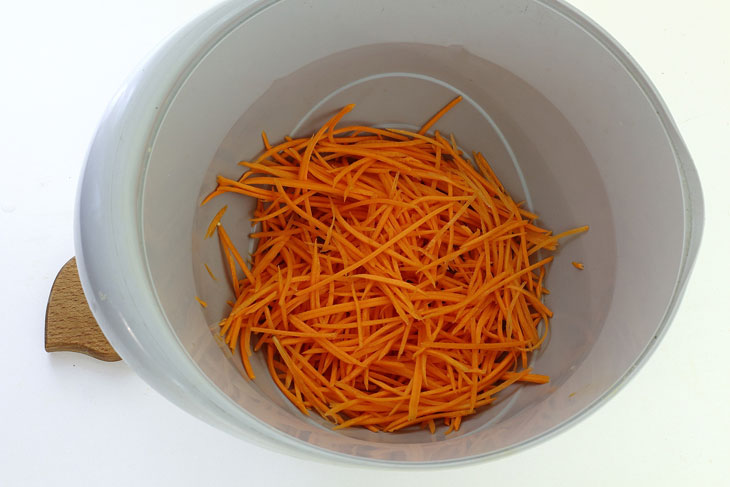 4. Peel the middle onion. Grind to thin half rings. Add to carrot sticks.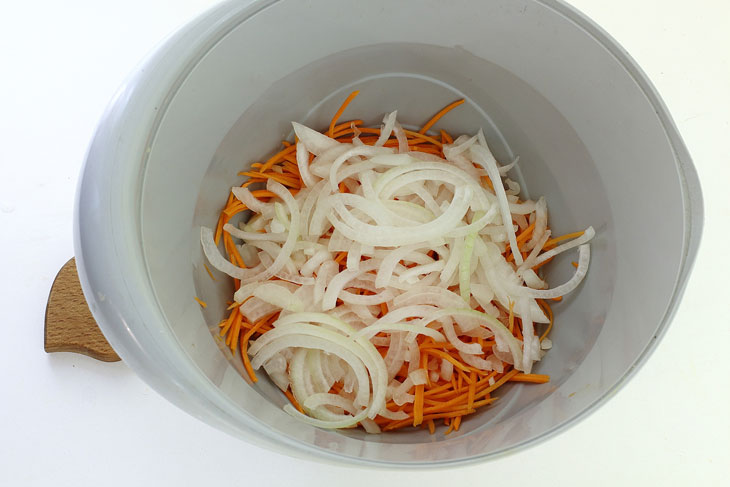 5. Rinse and dry sweet peppers of different colors. Clear the seeds. Cut into thin strips. Add to bowl with vegetables.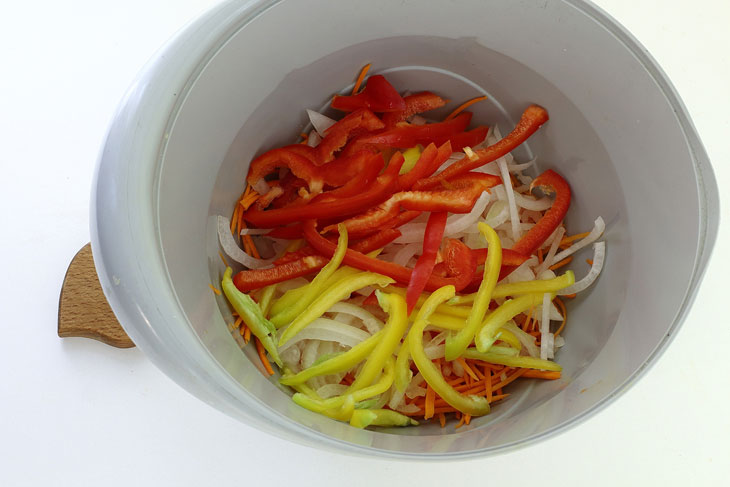 6. Add salt, sugar, apple cider vinegar, oil, minced garlic. Stir. Let the vegetables marinate for 15-25 minutes.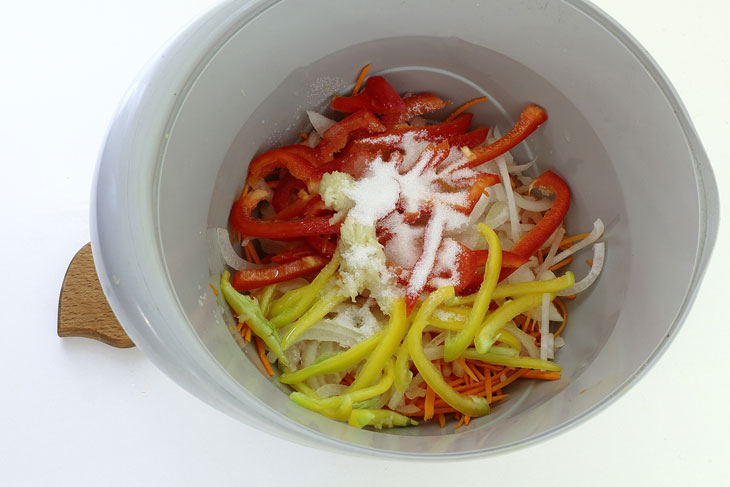 7. Cut the blue ones into cubes. Add to vegetables. Stir gently.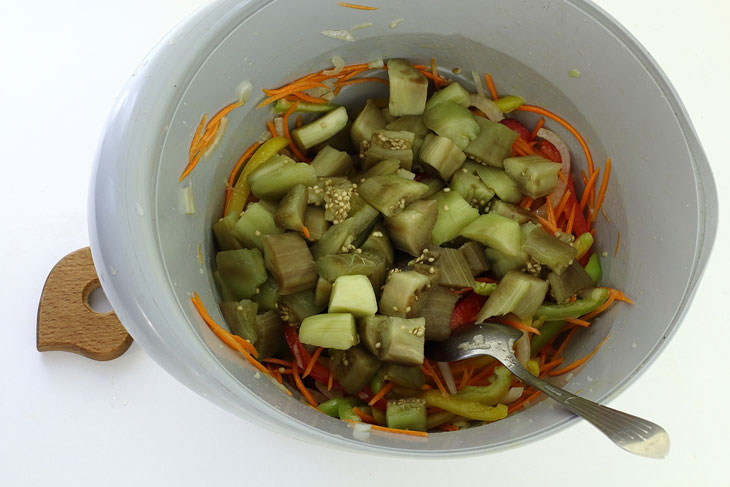 8. Rinse cilantro and parsley and pat dry. Chop finely and add to the rest of the ingredients. Stir. Transfer to a container with a lid and refrigerate for a couple of hours. The longer the salad marinates, the better it tastes.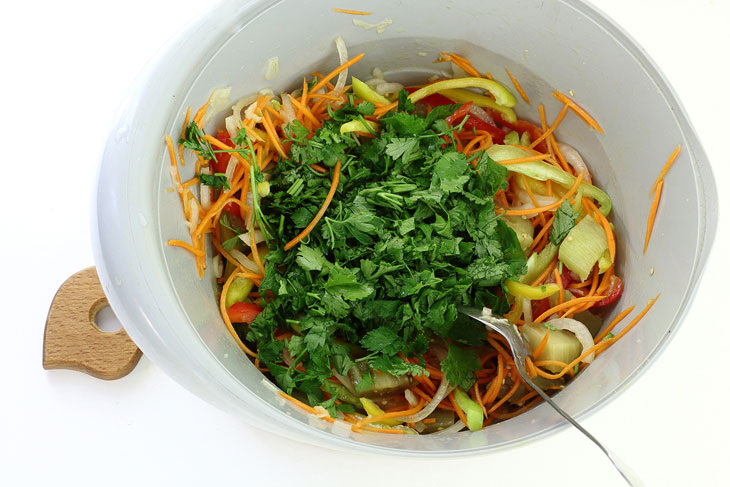 The salad is ready.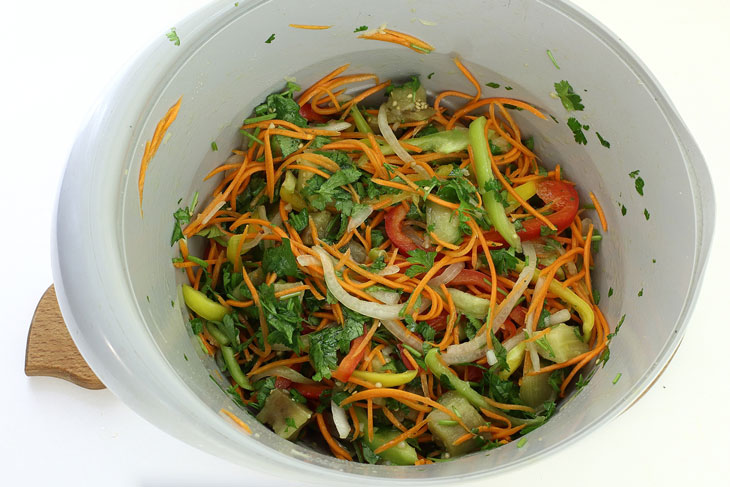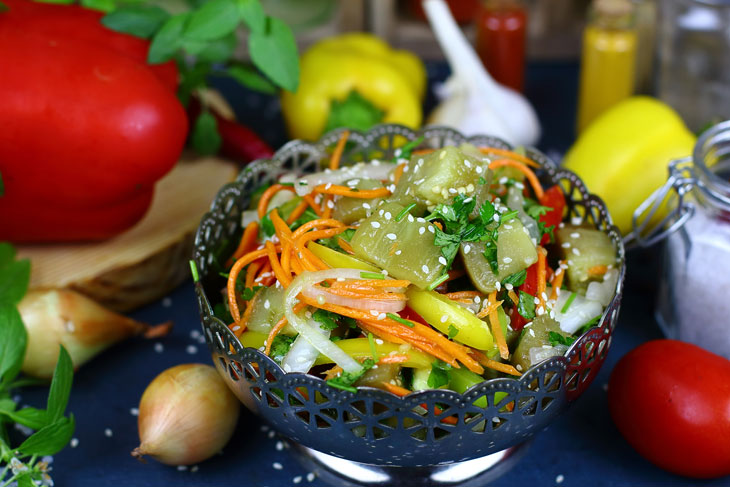 Enjoy your meal!