This salad has a very unusual taste and composition: fried eggplant, Adyghe cheese, tomatoes, garlic, herbs and walnuts. You don't need to strictly adhere to the recipe, if you wish, you can always replace the Adyghe cheese with cheese or feta cheese, add more tomatoes or use cilantro instead of parsley. The main thing is that you enjoy it!
Ingredients:
Eggplant (small) – 2 pcs.
Tomatoes – 1-2 pcs.
Adyghe cheese – 100 g.
Garlic – 1 clove.
Walnut – to taste.
Vegetable oil – 2 tbsp. l.
Salt and pepper – to taste.
Soy sauce – 1 tbsp. l.
Parsley or cilantro – 2-3 sprigs.
How to cook:
1. Rinse the eggplant, remove the stalks, cut into cubes. Salt and leave for 10-15 minutes, then rinse and wring out excess moisture with your hands.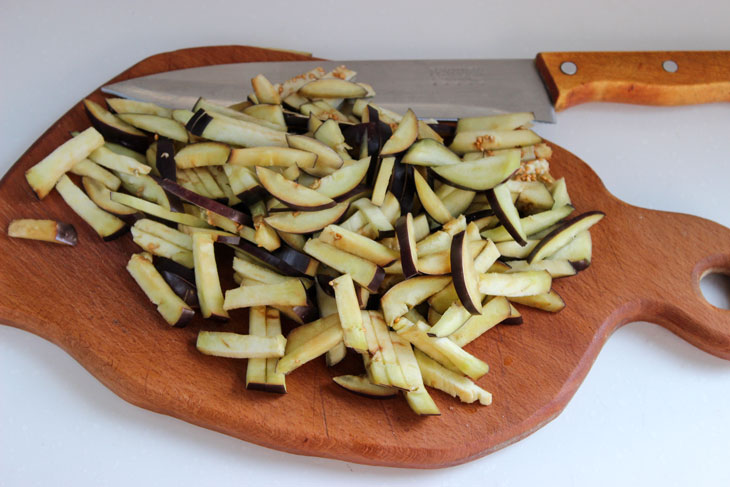 2. Heat a little oil in a frying pan and fry the blue ones until cooked through, stirring occasionally. Make sure that nothing burns, otherwise the salad will be bitter. At the end of the frying, pour in the soy sauce and wait until it is absorbed into the vegetables. Cool the fried eggplant.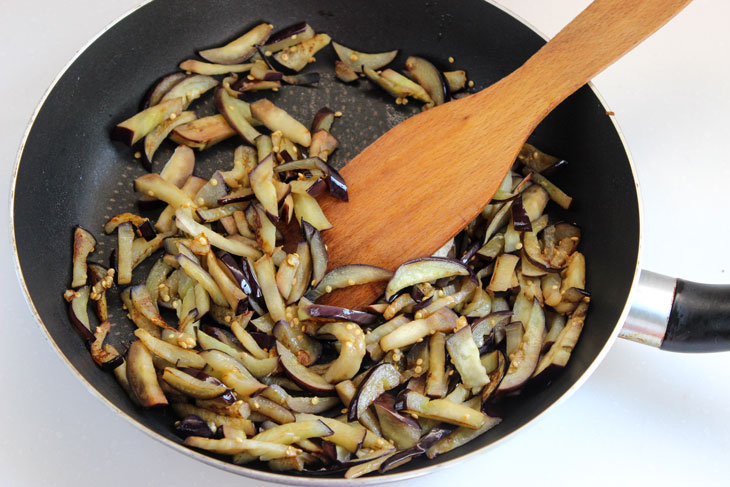 3. Cut tomatoes and soft cheese into cubes.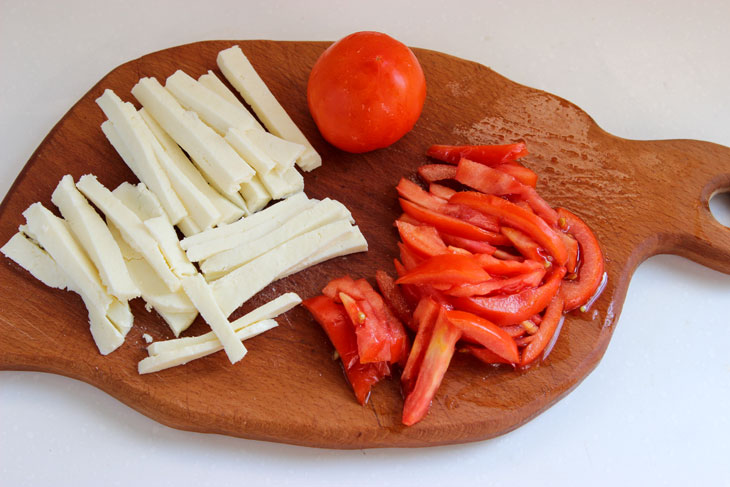 4. Peel the garlic, crush with the flat side of a knife and chop finely. Peel the nuts, dry them in a dry frying pan, and then chop them in any way convenient for you (in a blender, rolling pin, knife), the crumbs can be either large or completely "dusty" – at your discretion. Chop the greens with a knife.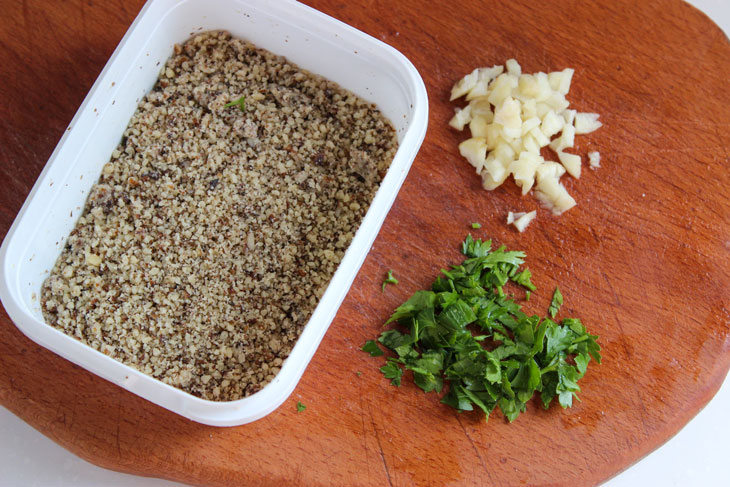 5. In a bowl, combine all ingredients except nuts. Add black pepper and stir. Try it – you may want to add more salt or pepper, and if the tomatoes gave little acidity, then sprinkle with lemon juice (you do not need to add oil, since the eggplants were fried on it, this is quite enough).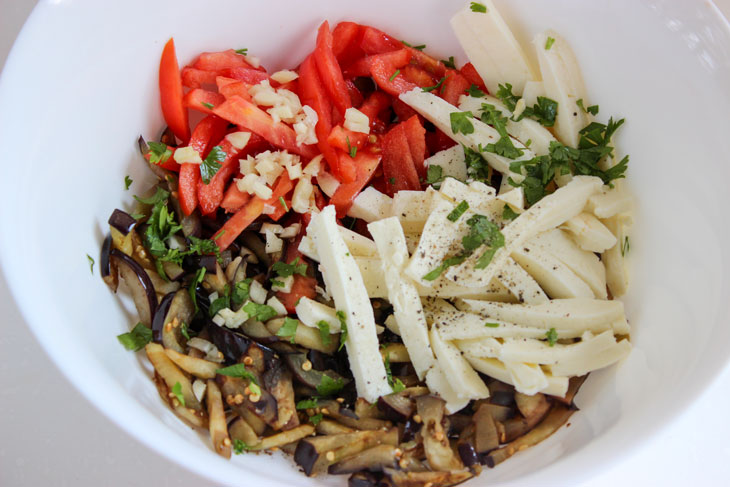 Divide the eggplant salad among plates and sprinkle with walnuts.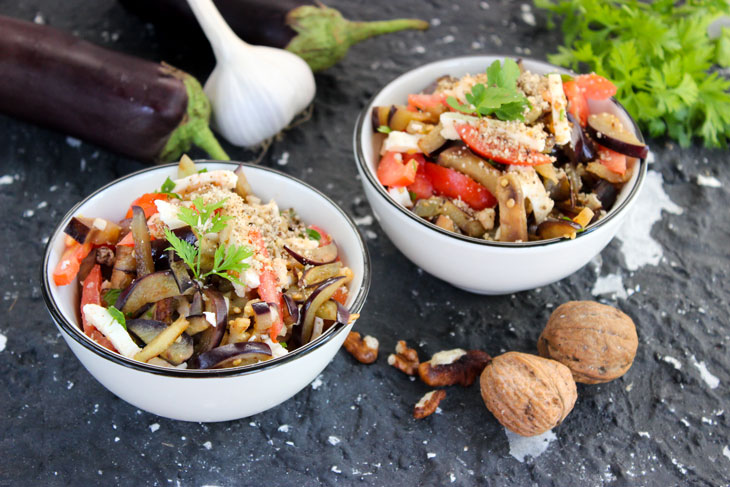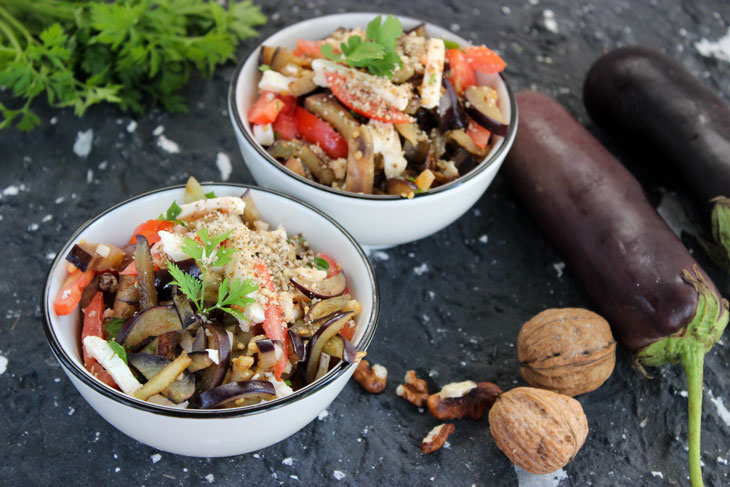 Enjoy your meal!