Eggplant with stew and tomatoes is just an amazing and very satisfying dish that you can safely cook not only on a regular weekday, but also for any holiday. For cooking, it is worth buying a high-quality stew, choose the manufacturer that you are sure of. When choosing eggplants, it is better to buy vegetables that are not overripe, the peel should be cut off. Any tomatoes will do. It is best to stew vegetables in the most ordinary pan, but you can also use a cauldron for this purpose. The dish is served hot. There is no need to prepare any side dishes or salads for it.
Eggplants with stew and tomatoes have the finest spicy taste, in which there is both a light aroma of ground pepper and the juiciness of all vegetables. Be sure to try this dish! It will definitely appeal to all members of your family and will not leave anyone indifferent!
Ingredients:
Eggplant (not large) – 1 pc.
Fresh tomato – 2 pcs.
Salt – to taste.
Ground black pepper – to taste.
Beef stew or any other – 0.5 cans.
Vegetable oil (it is better to use odorless oil) – for frying.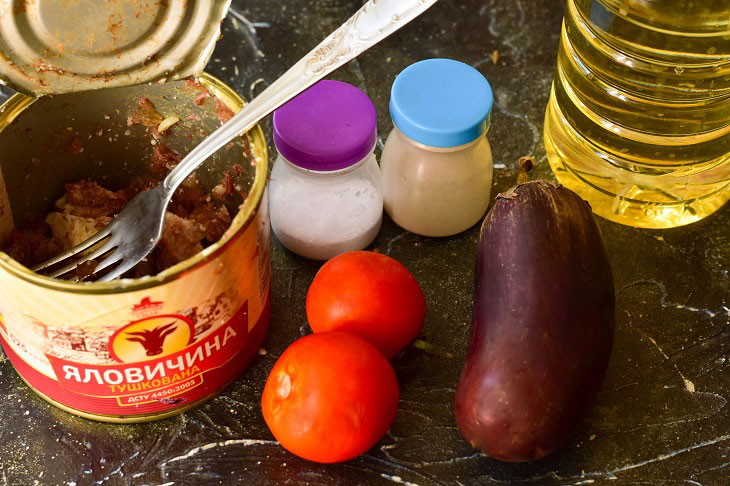 How to cook:
1. First of all, wash, peel and cut the eggplant into cubes.
If you have time, then you can put the vegetables in a deep bowl, salt them and leave for 20 minutes. This process will help remove the bitterness from the eggplant.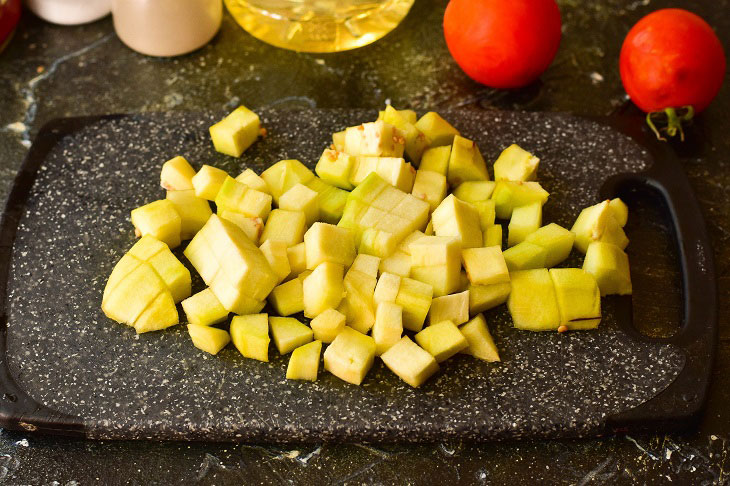 2. Do the same with tomatoes, only you do not need to peel them.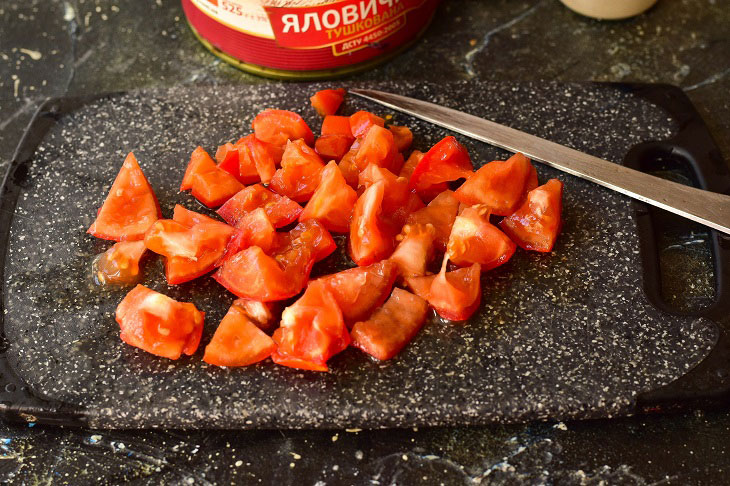 3. Pour vegetable oil into the pan. Lay out the chopped vegetables.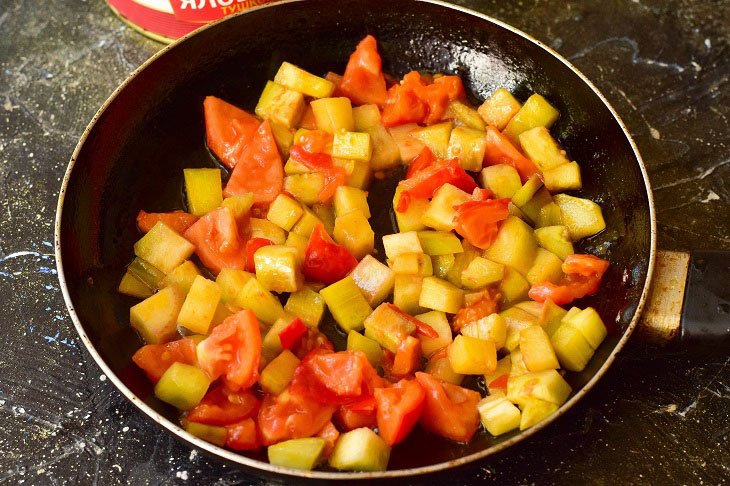 4. Add salt and ground black pepper to taste.
In addition to these spices, you can safely add more paprika, chopped dill or parsley, dried or fresh garlic, as well as bell or hot peppers.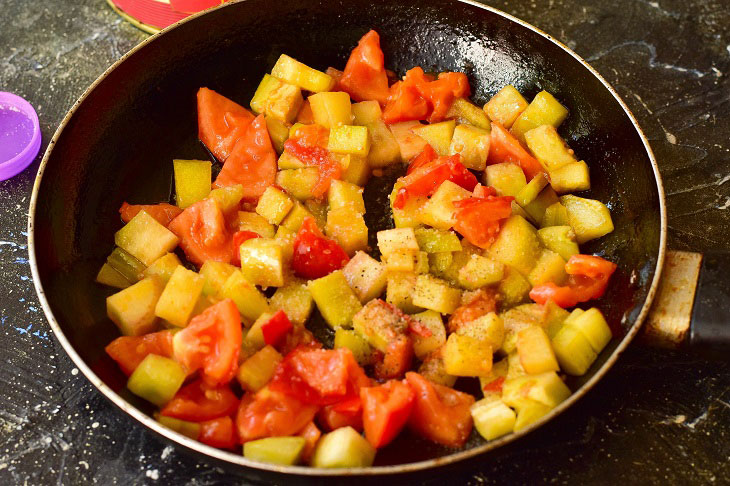 5. Put the stew in the pan with the vegetables. Simmer everything together for 10-15 minutes. Fire must be kept to a minimum. You can cover the pan with a lid on top, but after 5 minutes remove it so that the excess juice that forms from the vegetables during the frying process evaporates.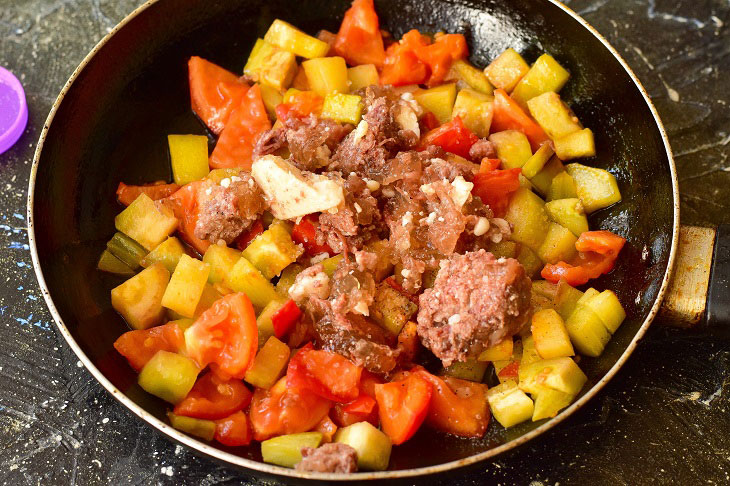 6. Put ready-made eggplants with stew and tomatoes on a beautiful dish. Serve them to the table.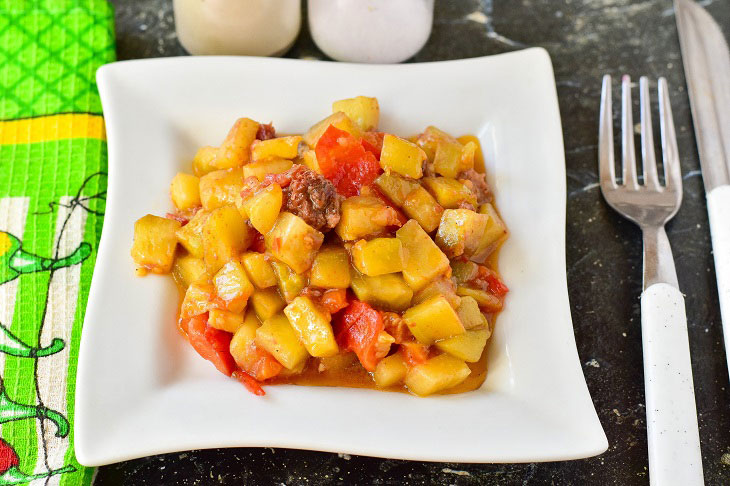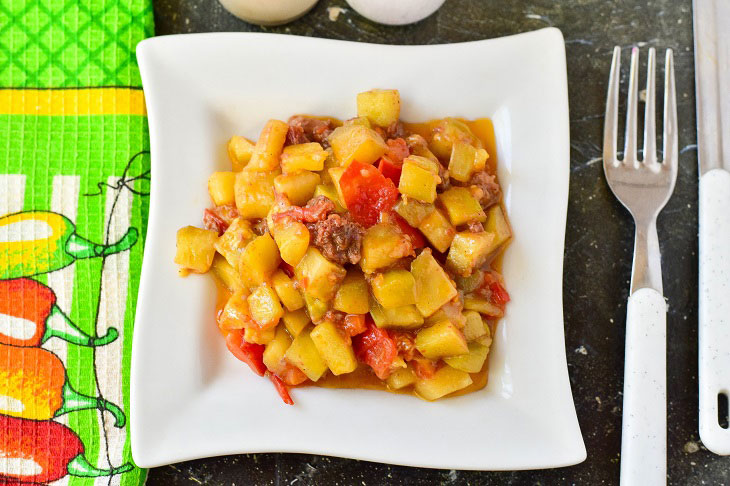 Enjoy your meal!