The coming year 2022 will be held under the sign of the Tiger. This brave noble animal will surely bring good luck to our lives. In order to appease the tiger, the New Year's table should be decorated in bright colors. It should have a lot of meat salads and snacks. We suggest you cook the Tiger Heart salad. The dish is prepared from simple products according to a simple recipe and decorated in the colors of a tiger skin. Despite the simple design, the salad looks very impressive and will not go unnoticed at your New Year's table.
As a meat base, you can use boiled lean pork, chicken, turkey or soft ham. Potatoes, carrots and eggs are best boiled the day before the salad is prepared. Thick mayonnaise, fat sour cream with mustard or a mix of sour cream with mayonnaise are suitable for dressing. For spice, add a little grated garlic or a pinch of granular product to the dressing. Lettuce is collected in layers on a flat dish and does not require any forming rings.
Ingredients:
Fillet – 200 g.
Potatoes – 2 pcs.
Carrot – 1 pc. in salad + 1 pc. for decoration.
Eggs – 3-4 pcs.
Sour cream – 50 ml.
Mustard – 10 ml.
Mayonnaise – 30 ml.
Salt, pepper – to taste.
Cucumber – for serving.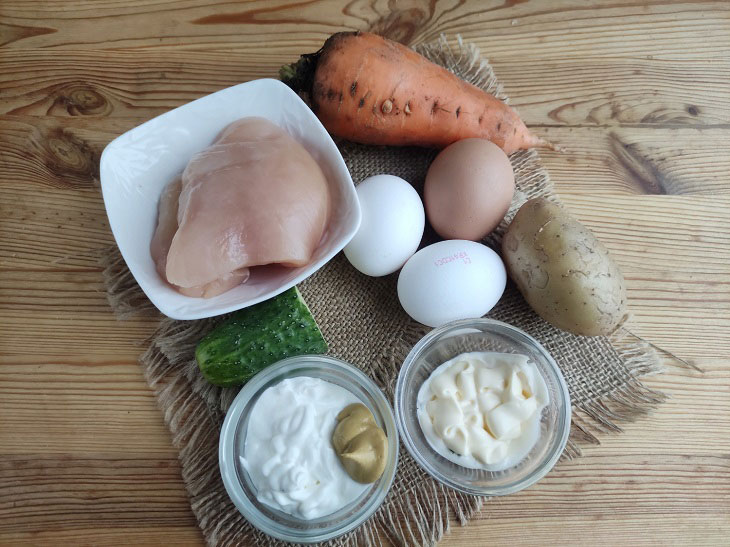 How to cook:
1. Boil potatoes and carrots separately in separate pans.
It is important not to overcook vegetables. Root vegetables are ready when they are easily pierced with a knife.
Peel the potatoes from the skin and grate. Lay out the first layer in the form of a heart, align with a fork or silicone spatula. Sprinkle with salt and pepper. Apply mayonnaise.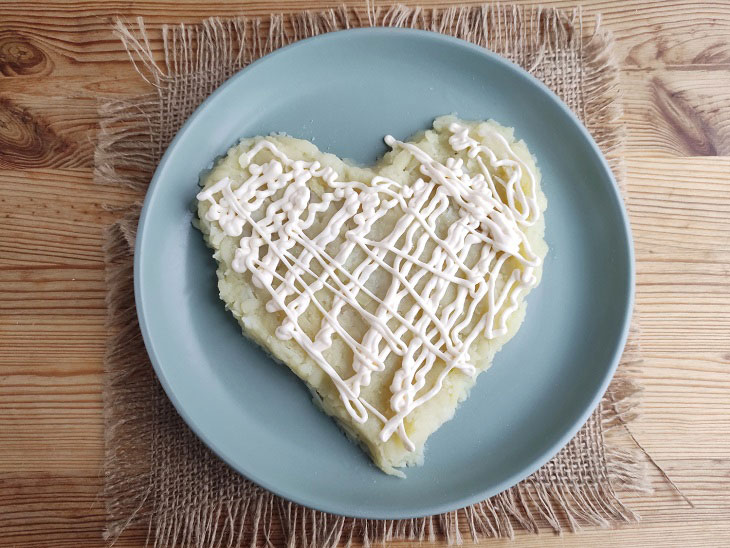 2. Boil the meat in salted water for 10 minutes. Lay out the next layer. Mix sour cream with mustard, grease the meat layer with sauce.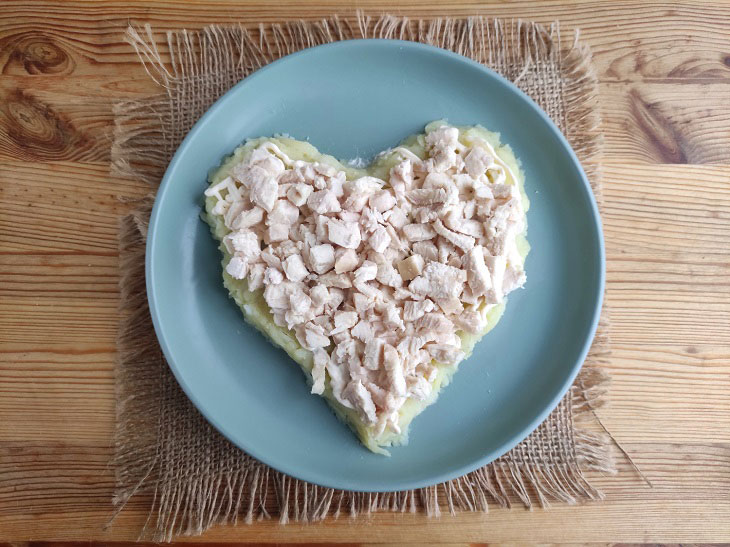 3. Grate boiled peeled carrots on a grater with an average hole size. Put on top of the meat layer, repeat the mayonnaise.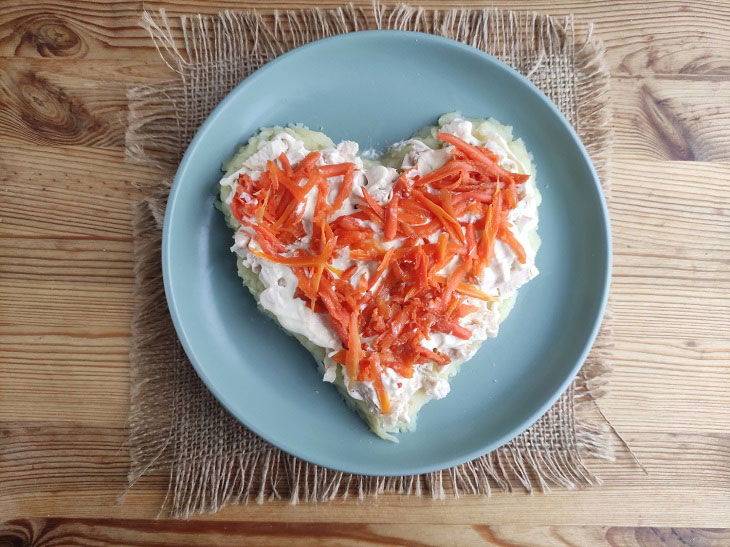 4. Boiled peeled eggs (2 pieces) divided into yolks and proteins. Set aside 2 squirrels. Grind the yolks and the rest of the eggs, put on the salad.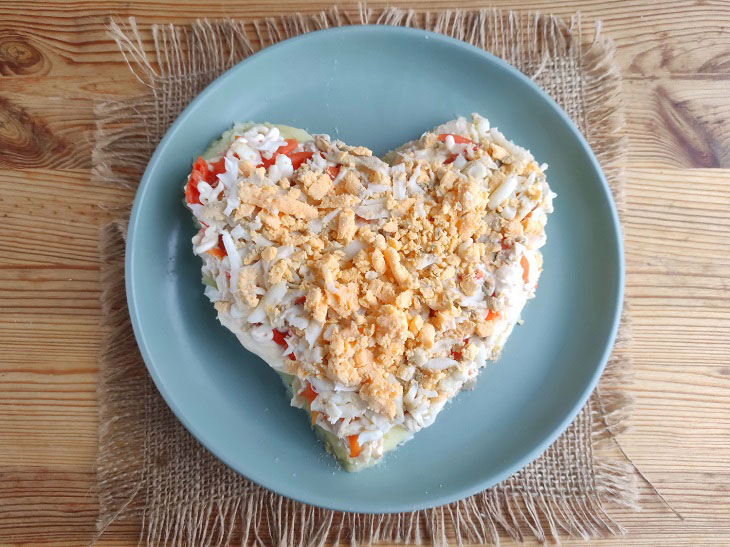 5. Apply a mesh of mayonnaise.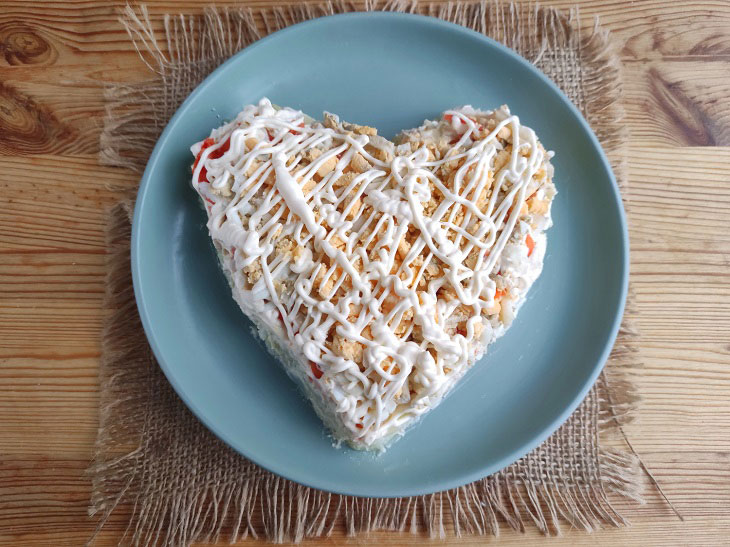 6. Decorate the salad with strips of grated carrots and proteins.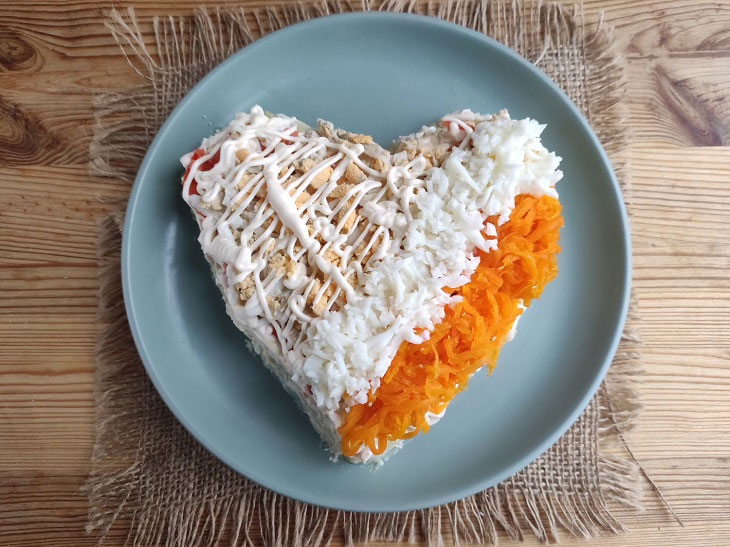 7. Lay out the cucumbers. Leave the dish to infuse for 30 minutes and serve.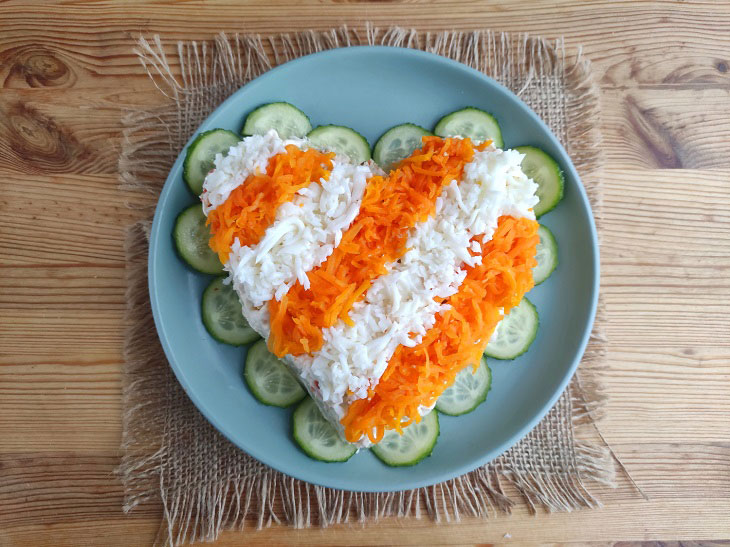 Happy New Year! Happy holidays!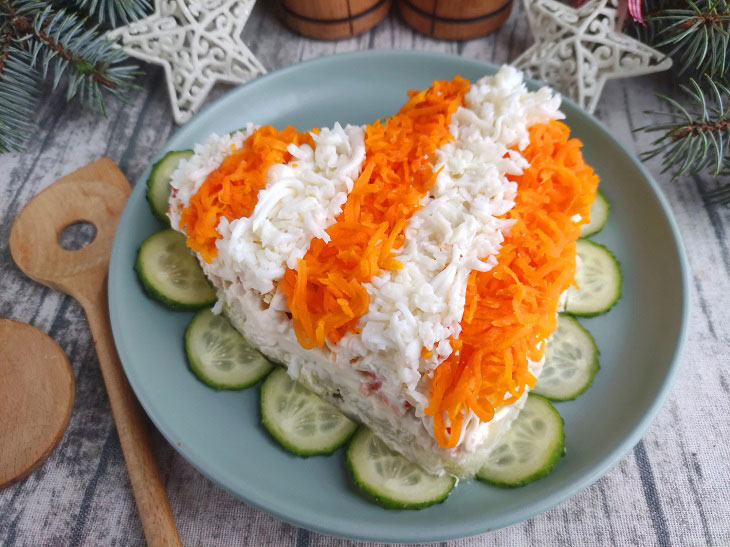 Bon appetit!