A quick breakfast or snack option is puffs with spinach and feta. The recipe will help out if you need to feed your family deliciously, and there is not so much time for cooking.
In the evening, transfer a pack of ready-made puff pastry from the freezer to the refrigerator shelf to defrost. And in the morning, all you have to do is make a quick frozen spinach and feta filling. Puffs are baked for 15 minutes, about the same time you will need to mold.
Ingredients:
Yeast-free puff pastry – 250 g.
Feta cheese – 70-80 g.
Chicken egg – 1 pc.
Spinach (frozen) – 100 g.
Onion – 1 pc. small.
Garlic – 1 clove.
Vegetable oil – 1 tbsp. l.
Salt – 1-2 pinches.
How to cook:
1. Turn on the oven to warm up to 180-190 degrees. Roll out the defrosted dough with a rolling pin to make a rectangle of about 20×30 cm. Using a pizza cutter, cut it into squares of 10×10 cm (you can make them larger, but not smaller, otherwise the filling will not fit).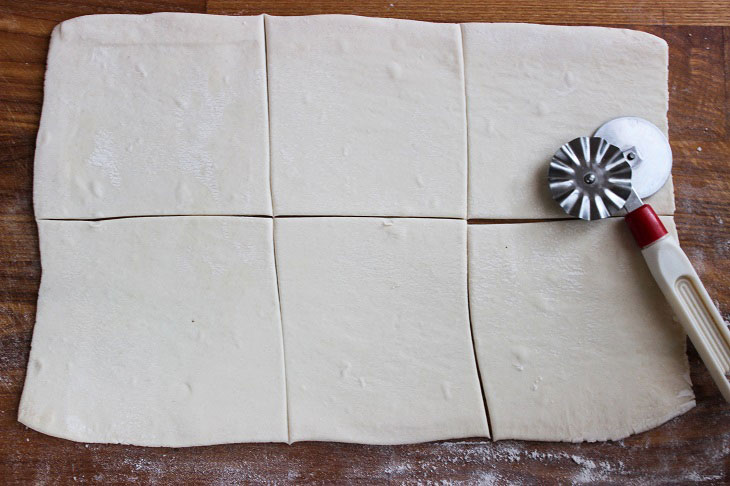 2. Then, in each square, make cuts with indents of 1 cm from the edge.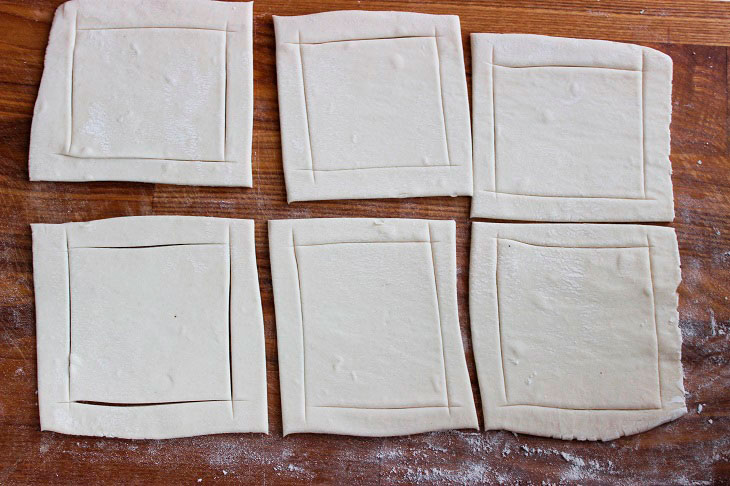 3. Break the egg into a small bowl, stir so that the yolk and white are combined. Brush the inside of the squares with a brush.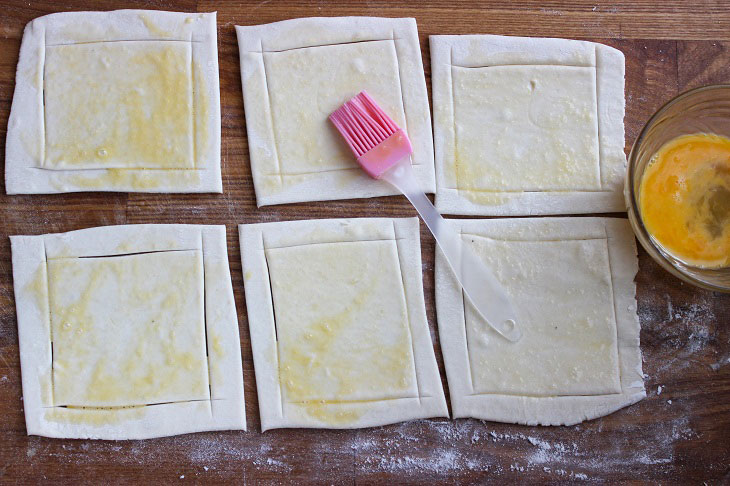 4. Then fold the cut off upper part down, and lift the lower part up, as in the photo. You will get puffs with sides. Due to the fact that the inside of ours is already smeared with an egg, they will "stick" when baking.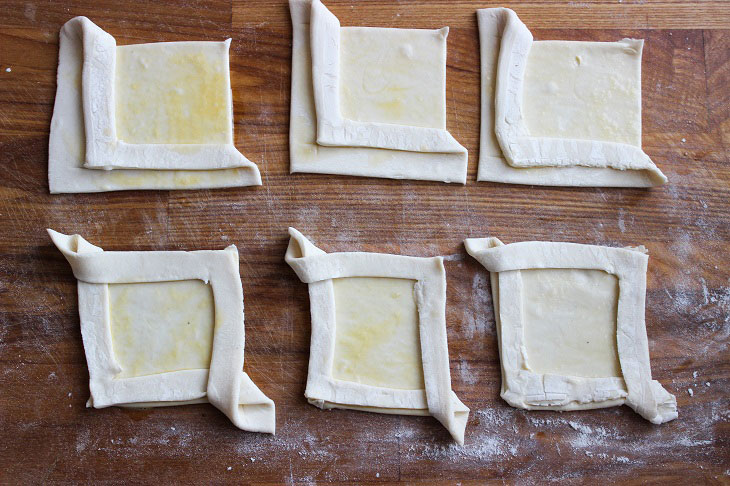 5. Using a brush, grease from above – this time already the sides. Transfer the blanks to a baking sheet with a non-stick mat.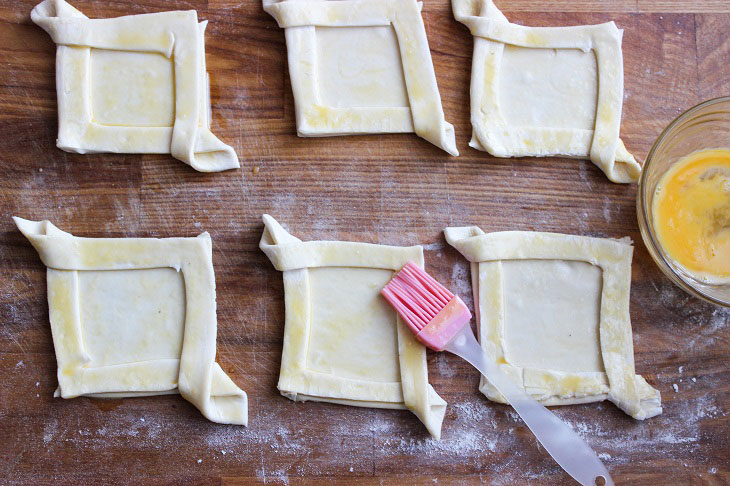 6. In a frying pan with vegetable oil, sauté finely chopped onion with garlic. Once the onion is translucent, add the spinach (without defrosting). Warm everything together for literally 20-30 seconds, salt to taste. Mix the fried spinach, crumbled feta cheese and the remains of a raw egg (which will remain after greasing the puffs) – the filling is ready!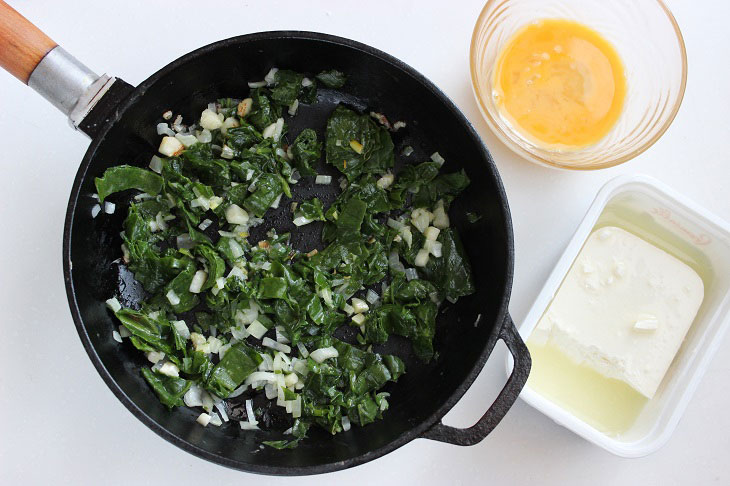 7. Spread the filling in the center of each piece.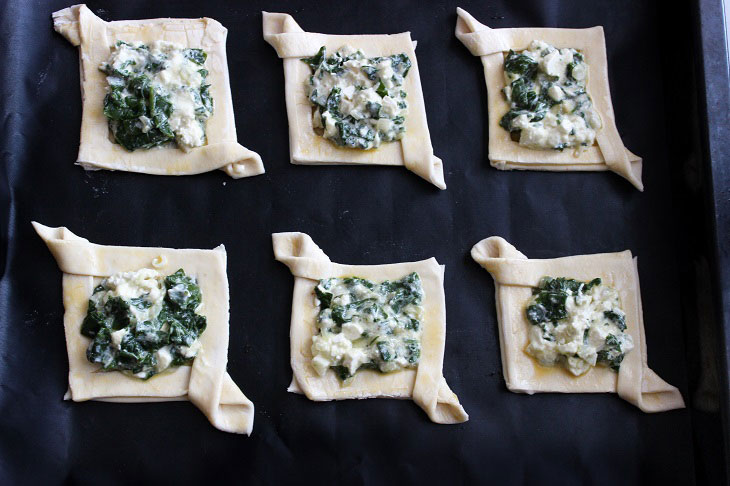 8. Bake puffs with feta and spinach in the oven, preheated to a temperature of 180-190 degrees, for about 15-20 minutes, until the puffs are browned.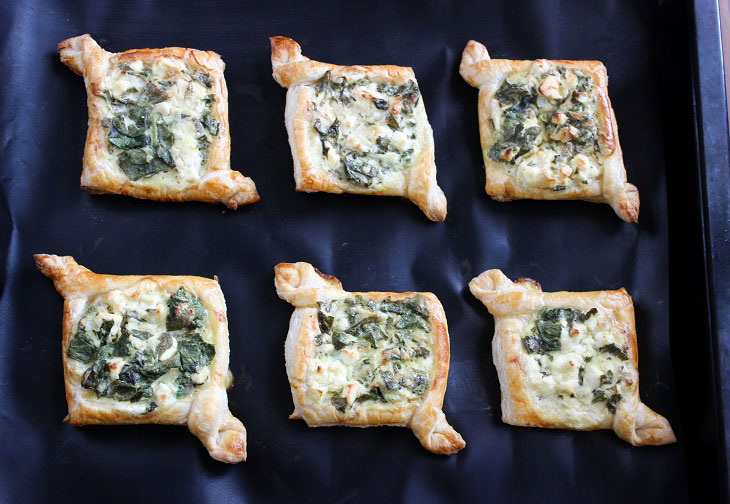 You get 6 servings – crispy dough and delicious, very fragrant and tender cheese filling with spinach. Serve hot.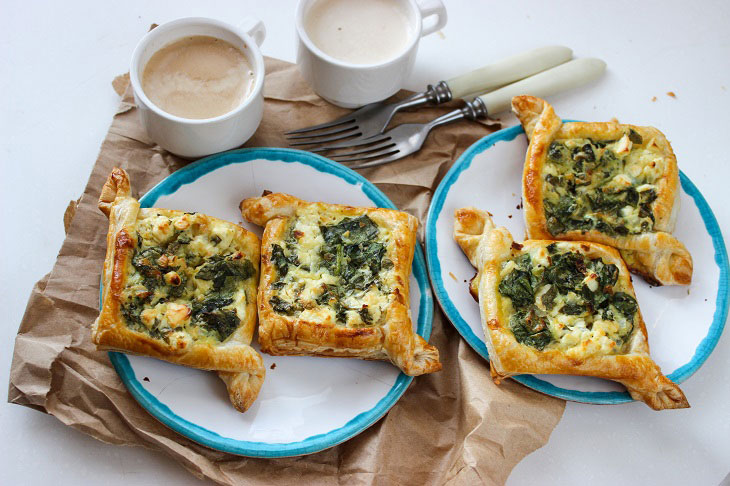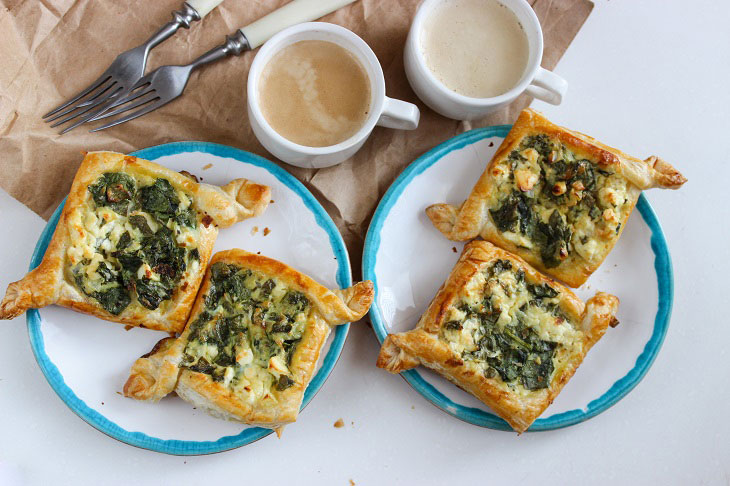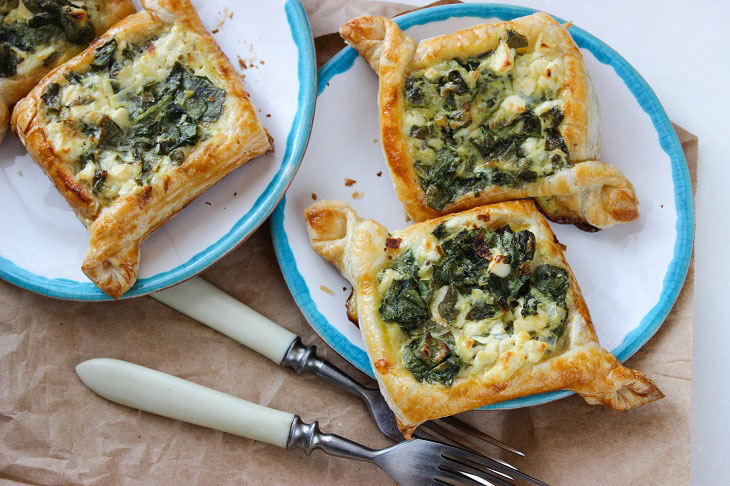 Bon appetit!