Looking for unusual recipes for cold appetizers and salads for the festive table? Make a French Gypsy salad. Where did such an unusual name come from – history is silent, but the dish is always in demand at the most generous table. It is especially popular with the female audience. For a salad, you don't have to boil the components, you don't need long cutting and complex design. The novice hostess will cope with the recipe.
The main component of the salad is high-quality hard cheese. When choosing this ingredient, give preference to varieties with a fat content of 50%, with a bright taste. Cheddar cheese is perfect.
For the recipe you will need fresh grapes of sweet varieties. You can choose seedless sultana berries or large grapes with a small number of seeds and elastic pulp. A salad with grapes of 2 varieties of different colors looks elegant and unusual. Additionally, it is allowed to add canned pineapples, sour apple, pear slices to the salad and each time you get a new version of the salad according to the same recipe.
Spicy lovers can add a little garlic to the dish, season the salad with garlic mayonnaise or sauce with the addition of grain mustard.
Ingredients:
Cheese – 300 g.
Large grapes – 350 g.
Peeled apples (net weight) – 150 g.
Mayonnaise (50 – 60% fat) – 50-70 g.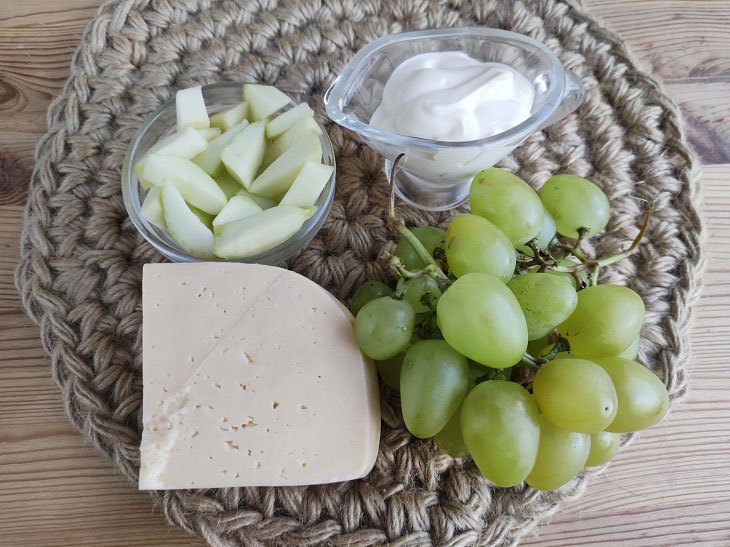 How to cook:
1. Rinse the grapes with cold water, dry on a towel. Cut each berry into 4 parts, remove the seeds. Grind apples into cubes with a side size of an angle of 4-5 mm.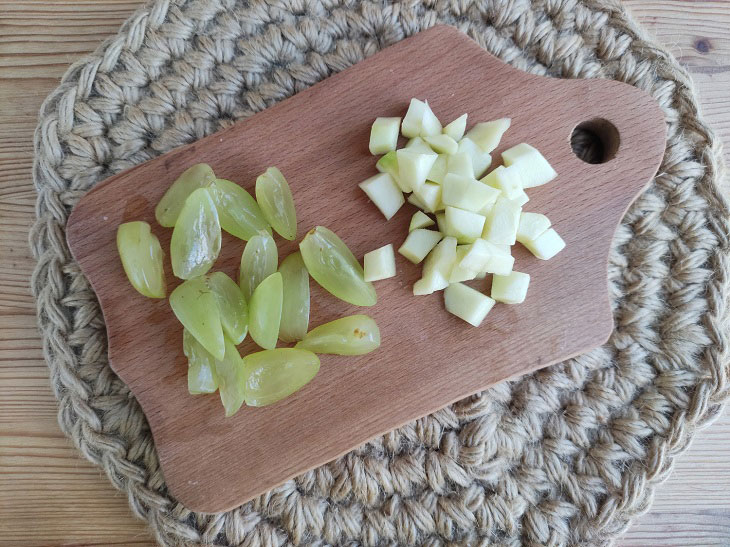 2. Moisten the grater with cold water. Coarsely grate the cheese, put in a salad mixing bowl.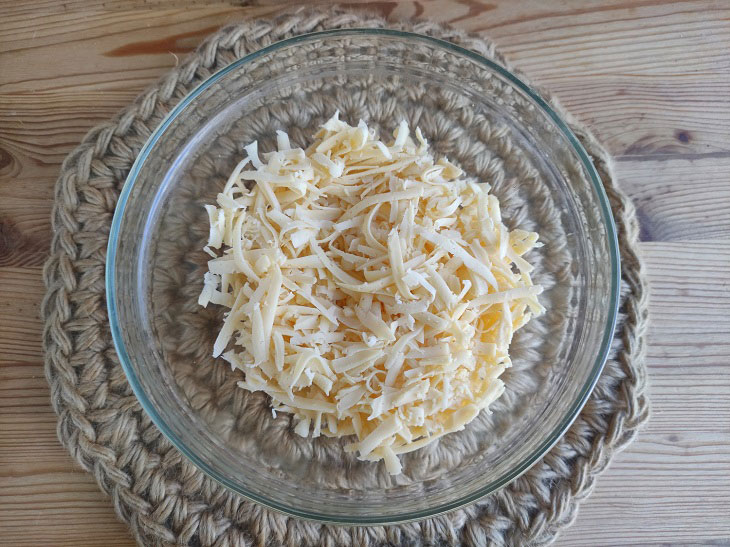 3. Add apples and grapes. Do not salt!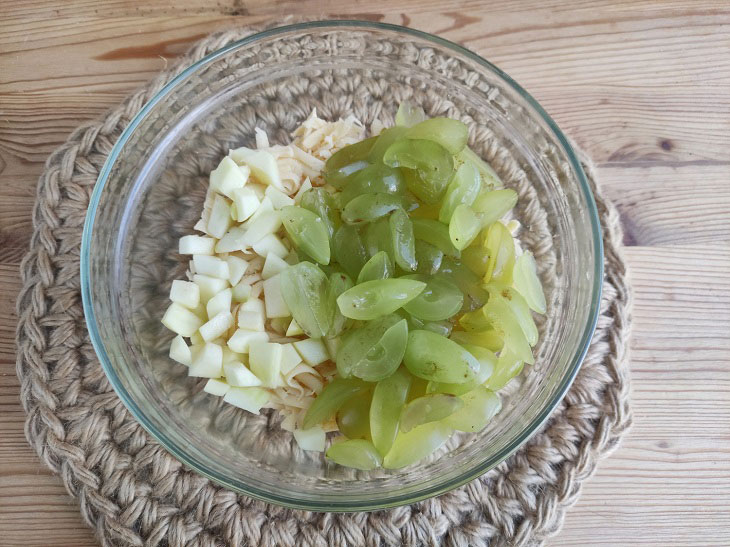 4. Season the salad with mayonnaise, leave the dish to infuse for 20 minutes at room temperature.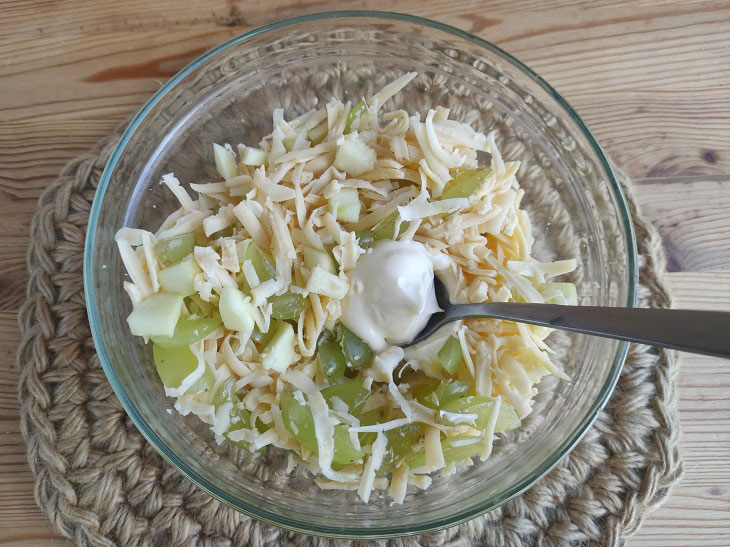 5. Transfer the salad to a serving plate, garnish with fresh herbs – mint or basil.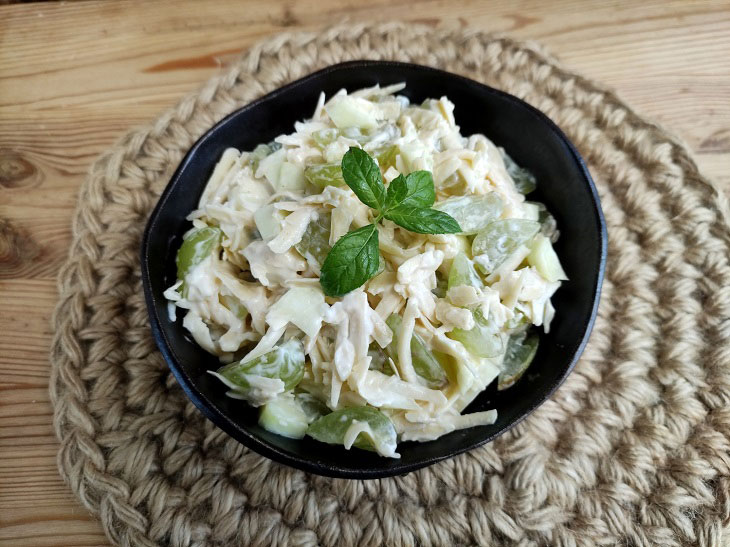 The dish looks appetizing, has an unusual taste. Cheese salad can be served with pasta, fried chicken or fish. For a buffet table, the dish can be laid out in portions in shortbread baskets or on small lettuce leaves. You can diversify the taste of the salad by adding thinly sliced ​​ham or a little boiled chicken meat.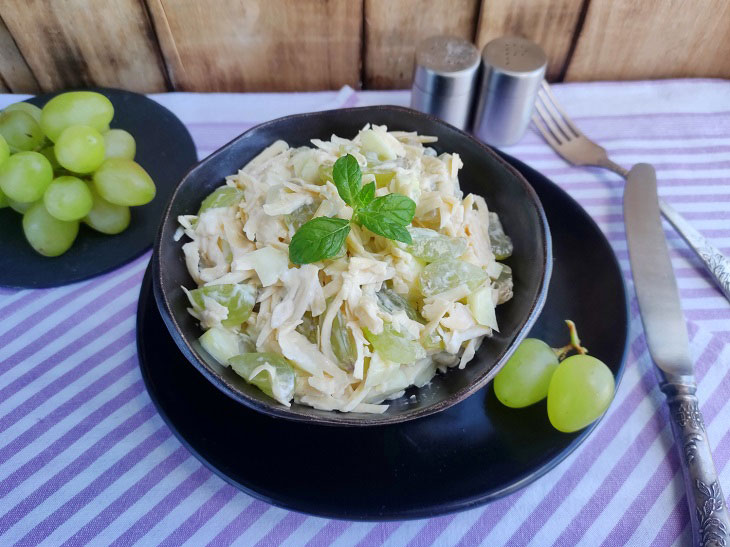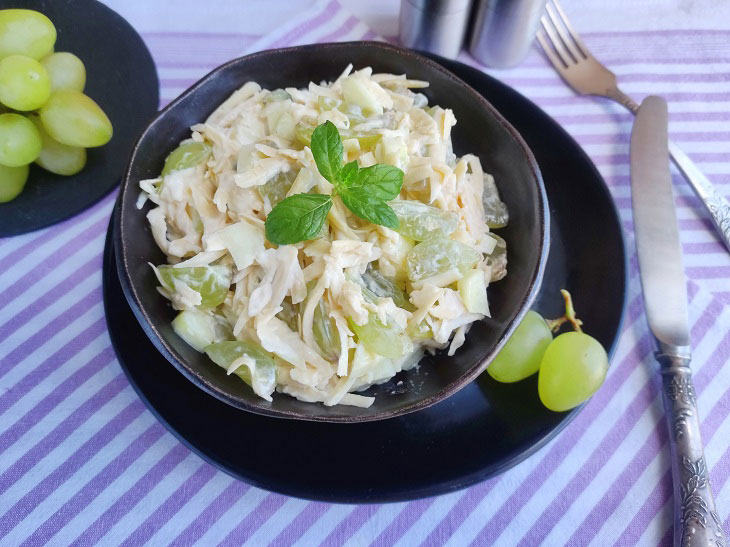 Bon appetit!