French salad with mushrooms always turns out very tasty, bright in appearance and very original. For its preparation, you can use any mushrooms, champignons were taken in this recipe. Sausage can be safely replaced with ham or smoked chicken. When choosing cheese, it is better to buy high-quality and the one that you like best. Canned beans are white or red in color. Red beans will look more beautiful in a salad. Fill the salad with mayonnaise or sour cream. Carrots and onions must be fried first.
It is best to serve a ready-made French salad in a beautiful bowl with a leg, so it will look more advantageous. Guests will definitely find out what is included in it and how to cook it.
By the way, I would also like to note the moment that the finished salad goes well with any dishes, or rather, with side dishes. That is why, you can safely make the one you like. And the salad comes out quite satisfying, so it can be served at the table as a treat or for a snack or snack.
Ingredients:
Canned beans – 15-20 g.
Carrot – 1 pc.
Onion – 0.5 pcs.
Mushrooms – 2 pcs.
Sausage or ham – 70 g.
Hard cheese – 50 g.
Mayonnaise – 0.5 tbsp. l.
Salt, pepper – a pinch.
Vegetable oil – 40 ml.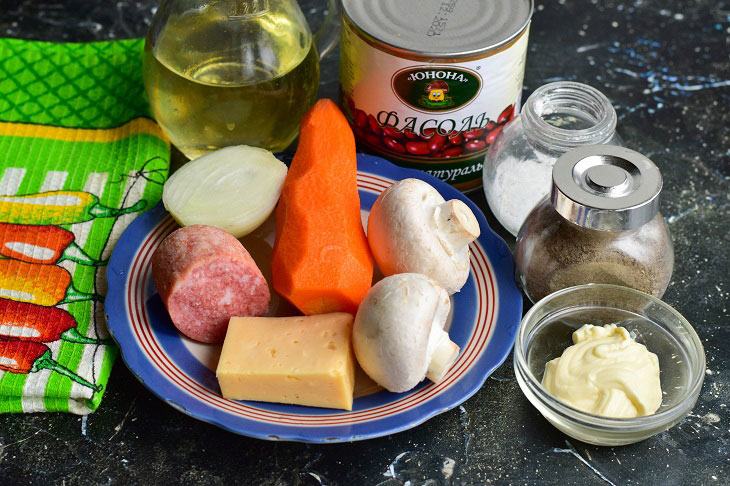 How to cook:
1. So, chop the onion immediately, and then grate the carrots in a convenient way.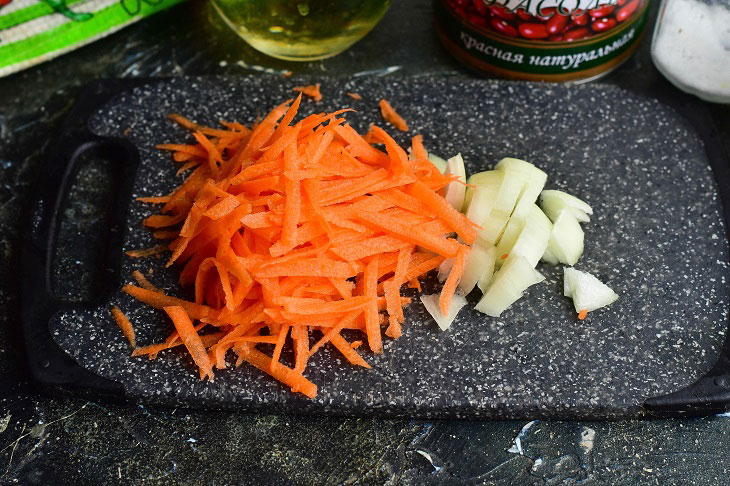 2. Put the vegetables in a pan in which heat the vegetable oil.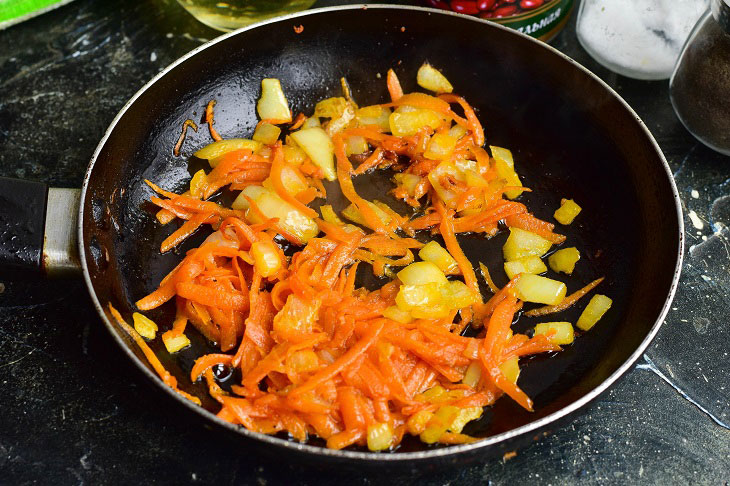 3. Mushrooms cut into small pieces.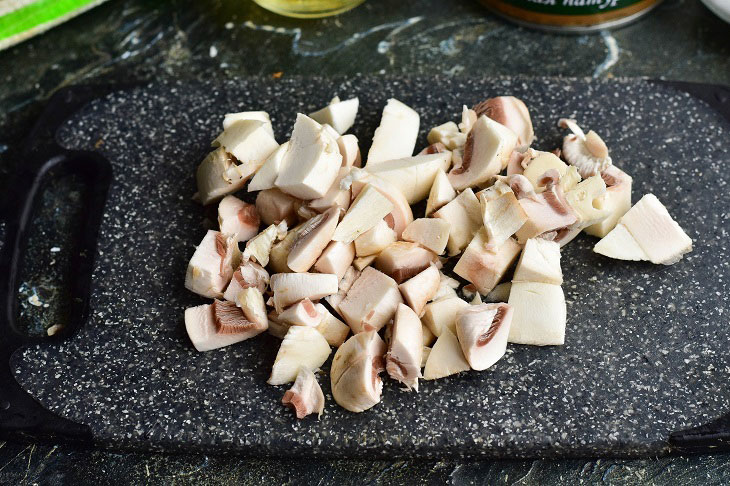 4. Saute the mushrooms. This procedure will take about 3 minutes.
If forest mushrooms, then they must be cleaned, boiled and only then fried.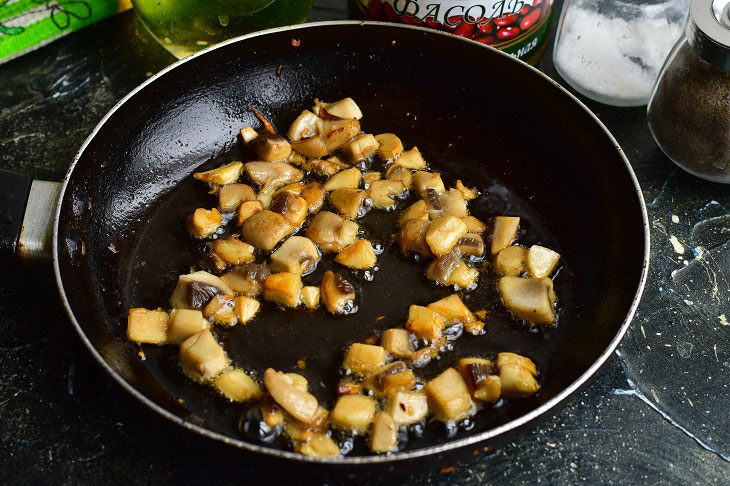 5. Cut the sausage into cubes.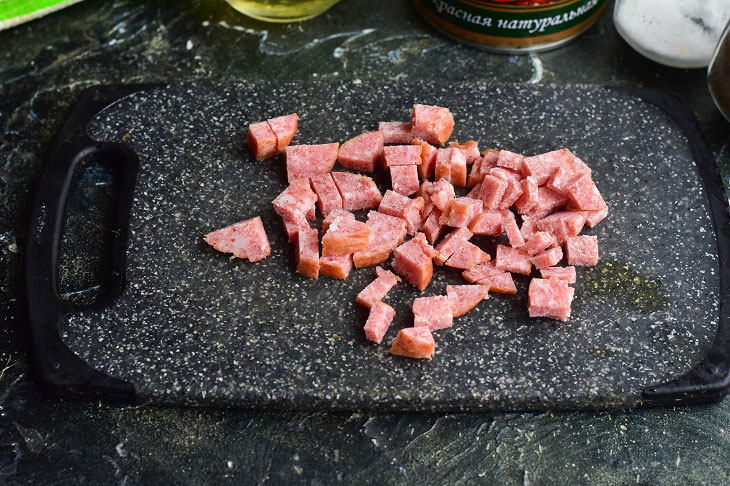 6. Do the same with hard cheese.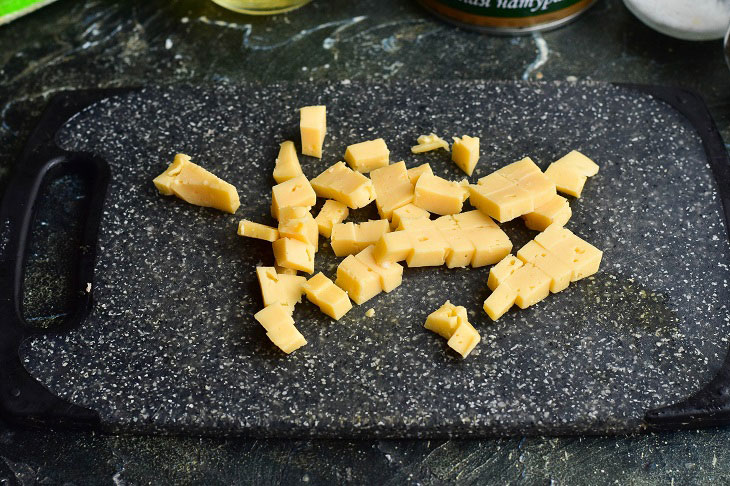 7. Transfer the chopped ingredients to a bowl. Open the beans with a special key, put the part in a bowl.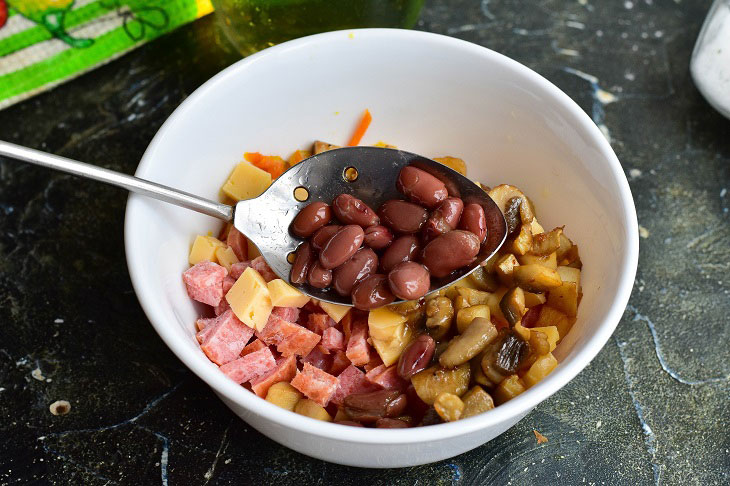 8. Now add the indicated amount of mayonnaise or sour cream if you decide to use it.
9. Stir the salad. Leave it for an hour to soak all the ingredients in the sauce. After that, carefully transfer it to the bowl and serve it to the table.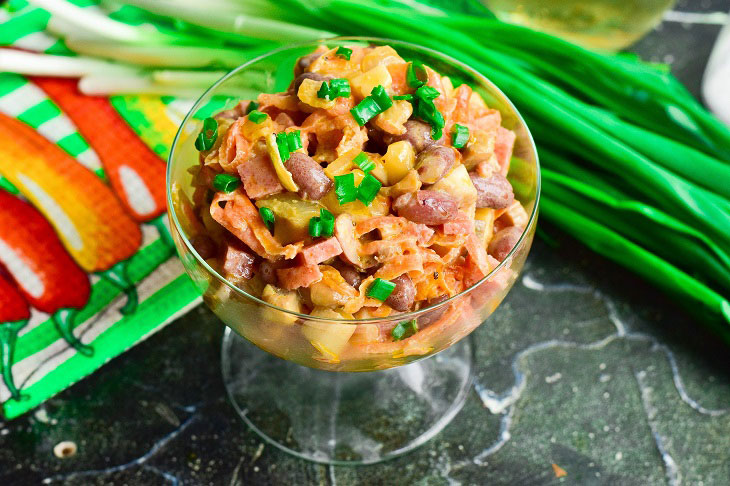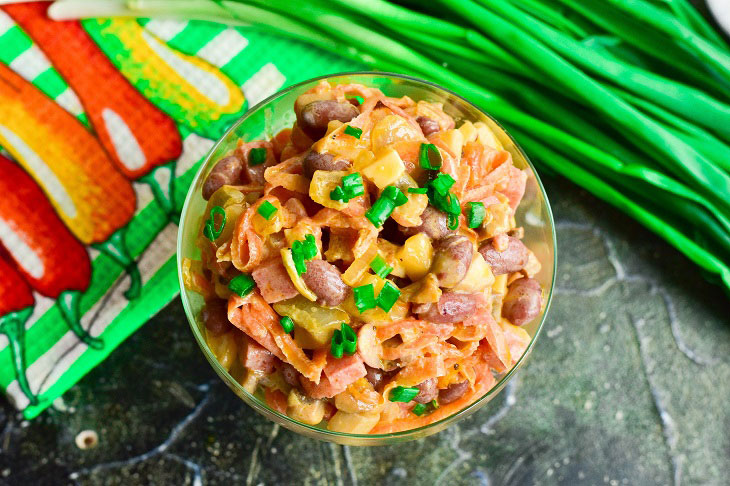 Enjoy your meal!