Kholodnik is a cold first course based on kefir and sour cream. Beetroot acts as the main ingredient, it is she who sets the main color and taste of the dish. Additional products – cucumber, radish, greens.
In addition to the standard set of products, in the proposed recipe we use sausage and potatoes. These components fill the dish with a new taste and originality. The refrigerator will perfectly refresh in hot weather, and will also nourish the body with vitamins.
Ingredients:
Beets – 2 pcs.
Fresh cucumber – 2-3 pcs.
Radishes – 120 g.
Dill – 20 g.
Green onion – 20 g.
Parsley – 10 g.
Boiled sausage – 250 g.
Sour cream – 150 g.
Kefir – 1 l.
Potato – 1 pc.
Salt – to taste.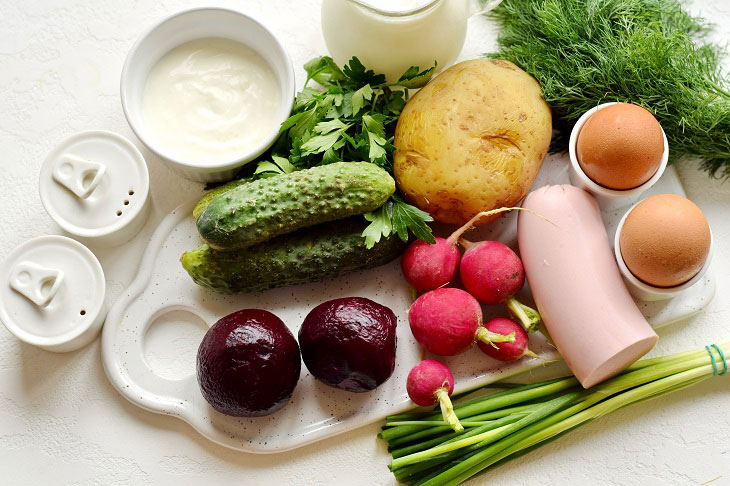 How to cook:
1. First of all, boil the beetroot as a whole, without peeling off the cinnamon. The approximate cooking time for beets is 60 minutes, but this may vary depending on the size and variety of the fruit. For example, a young vegetable will cook faster than a mature 1. After cooking, cool the beets, peel the skin, grate the fruit on a grater with large holes.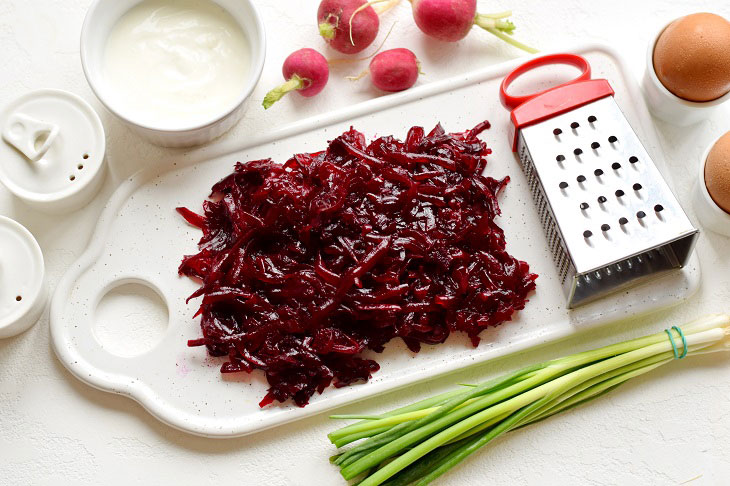 2. Wash cucumbers and radishes, cut off the roots. Chop cucumbers into small cubes, radishes into strips.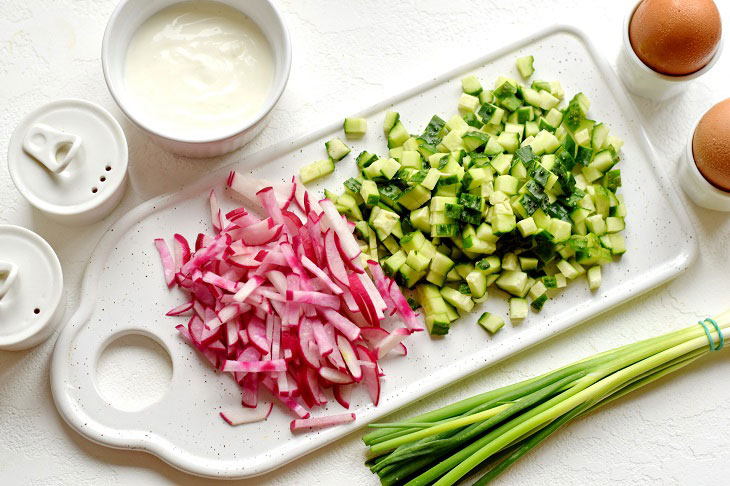 3. Rinse the greens, dry slightly, cut in a fine way.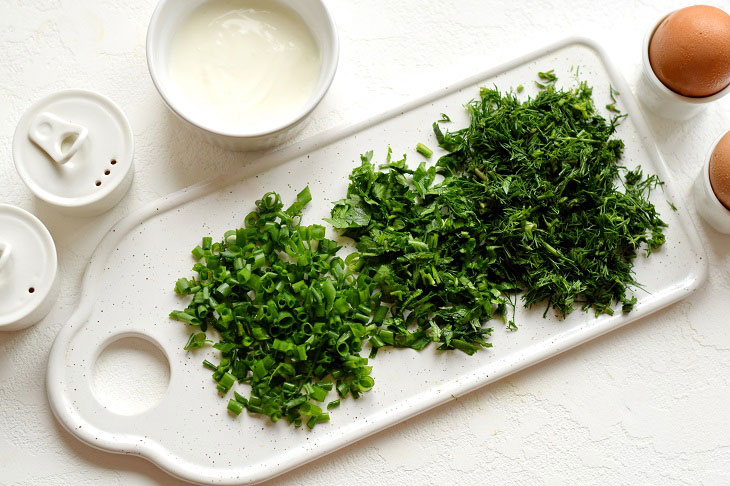 4. Free the sausage from the wrapper, chop into cubes.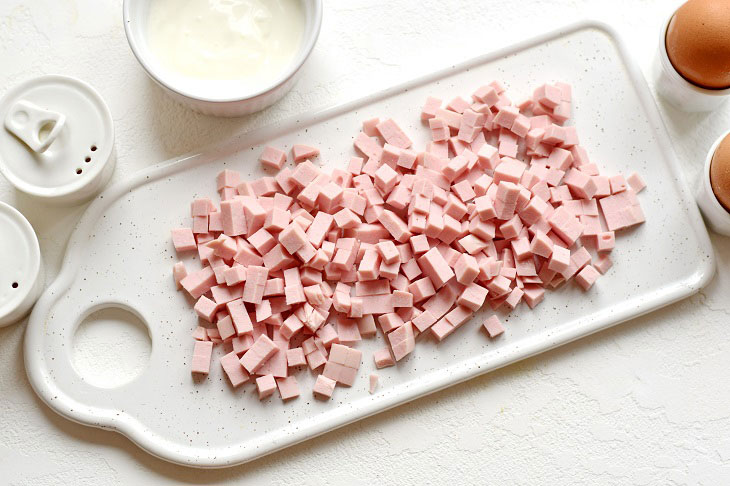 5. Unload all prepared elements into a bulk container, pour the contents with chilled kefir, add sour cream and salt. Stir the mixture thoroughly so that the sour cream dissolves into the liquid base as much as possible. Freshly squeezed lemon juice can be added if desired.
If the mixture is too thick, add water.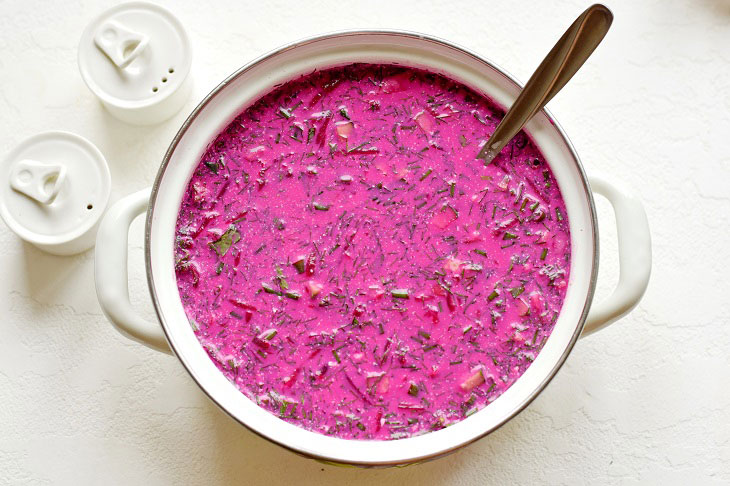 6. Boiled potatoes can be cut into slices and served separately, or chopped into cubes by throwing slices into the main composition.
7. Cool the soup in the refrigerator, while boiling the eggs until cooked. Peel the eggs, carefully cut in half. Pour the ice cream on plates, put half an egg on each plate.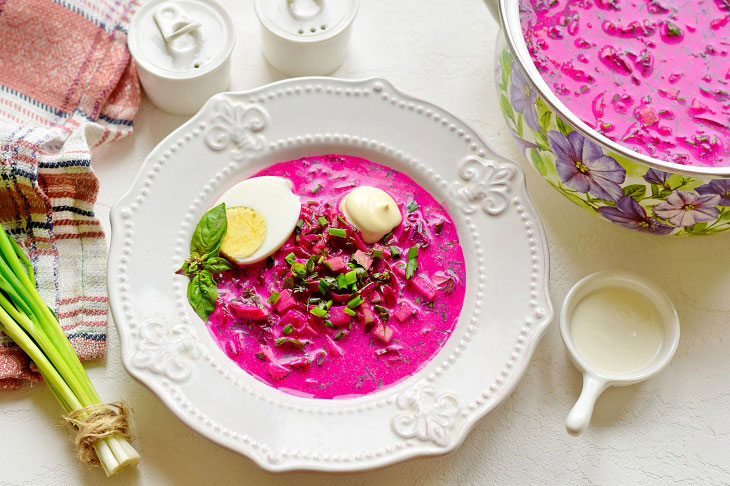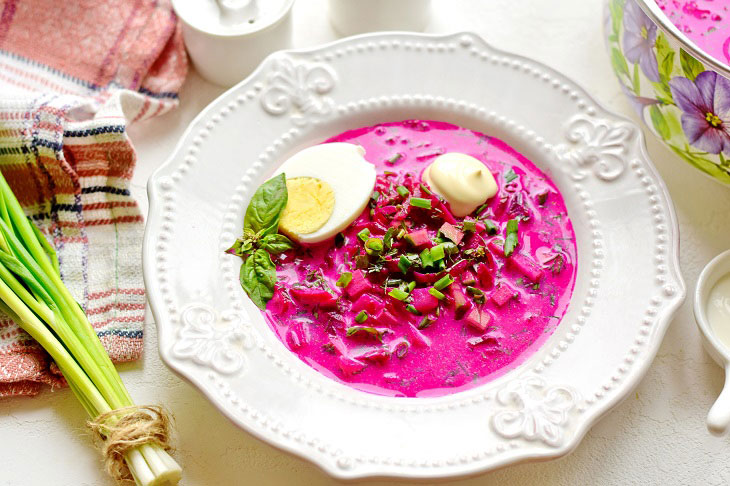 Bon appetit!