This dish is prepared from a minimum set of products, but serving them for dinner, you can be sure that everyone will like it. For the recipe, you can use any tomato sauce – spicy or more tender. Chicken meat goes well with tomato sauce and the dish turns out tasty and unusual. If you do not know how to fry chicken legs with a crispy crust in a pan, then this recipe will help you with this.
Fragrant fried legs can be easily fried in a pan, so a novice cook and any housewife can handle it. You can add fried legs with any side dish, just boil any porridge, pasta or potatoes. Vegetable salad will also come in handy.
Ingredients:
Chicken legs – 350 g.
Tomato sauce – 2 tbsp. l.
Vegetable oil – 2 tbsp. l.
Onion – 80-100 g.
Salt, pepper – to taste.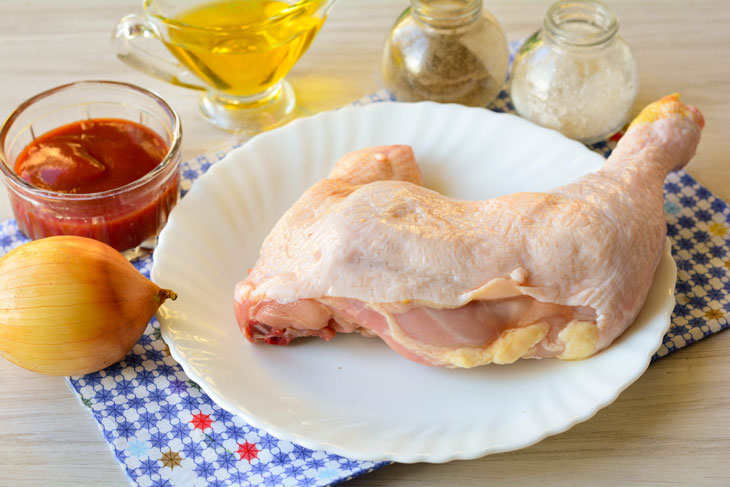 Cooking:
1. Rinse the chicken legs, rub with salt and pepper on all sides. Use spices to taste.
Remember that tomato sauce also has salt in its composition, so do not overdo it.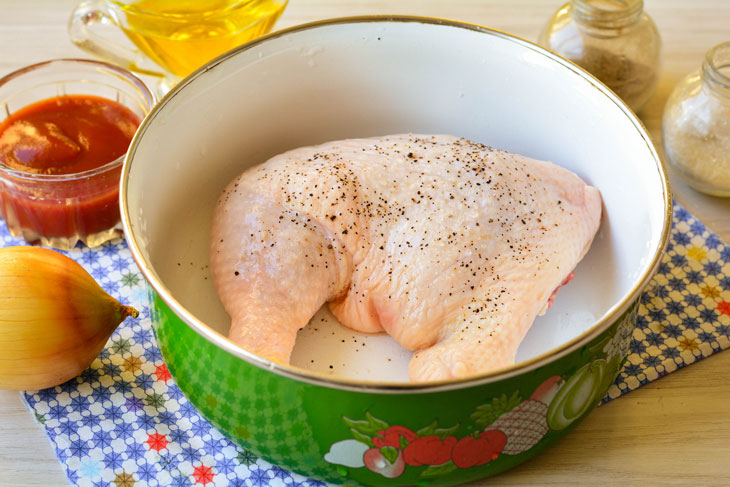 2. Marinate chicken meat, brushing on all sides with tomato sauce. Leave the chicken legs in the refrigerator for 40-50 minutes.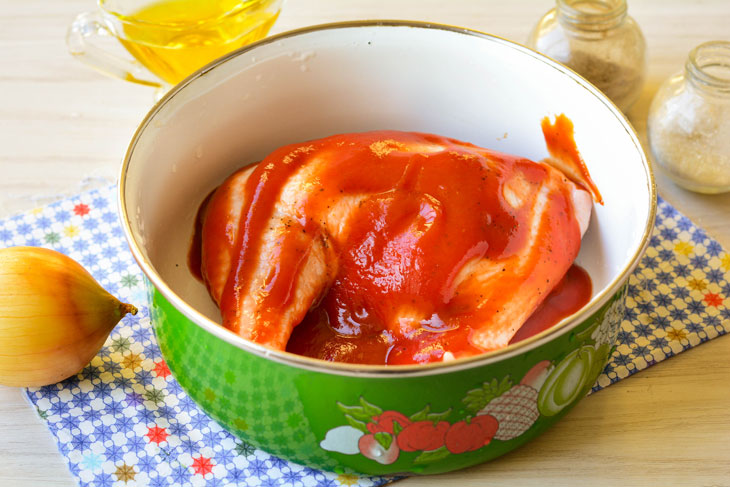 3. Heat the oil well in a frying pan, lay out the chicken legs. It is important to first make a strong fire so that the meat is browned.
Do not cover the pan with a lid. If you cover once with a lid, you get stew and boiled meat without a crisp.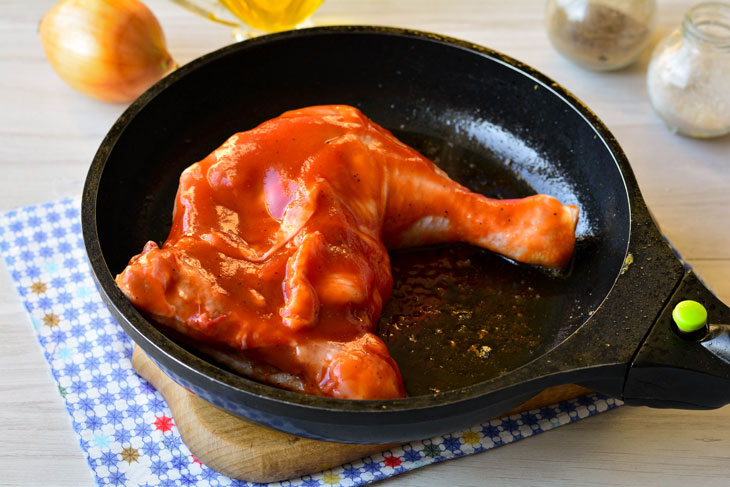 4. After 3-4 minutes, turn the chicken legs over, you get a golden crisp. Fry for the same amount of time on the second side.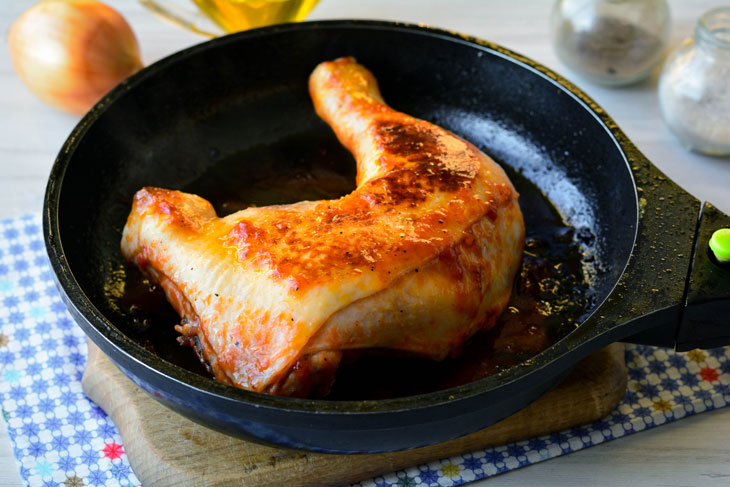 5. Then add the onion cut into half rings to the chicken. Fry everything together for a few more minutes, stirring the onions.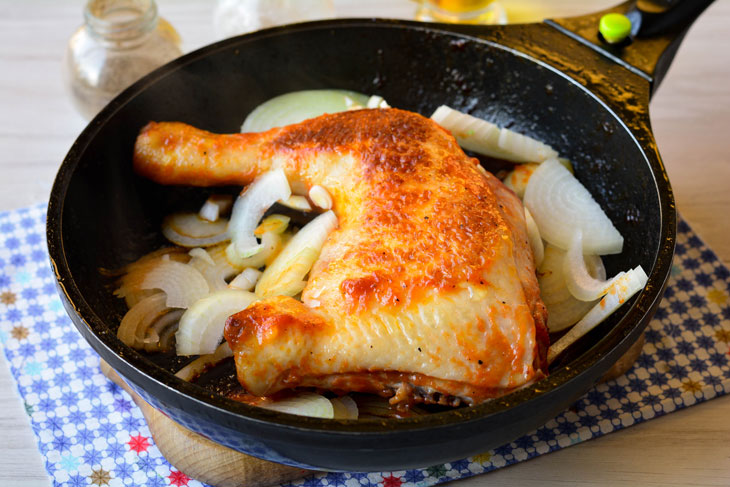 6. At the end, cover the pan with a lid and bring the dish to readiness. Fry the chicken legs under the lid for another 5 minutes and you're d1.
Serve hot fried chicken legs in tomato sauce immediately to the table.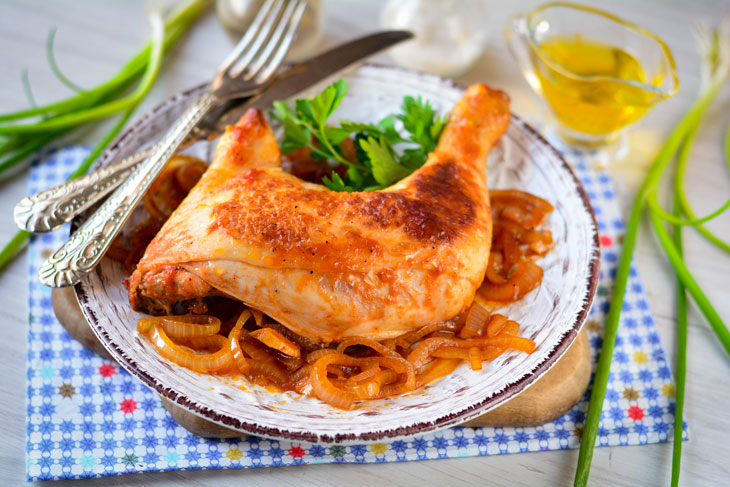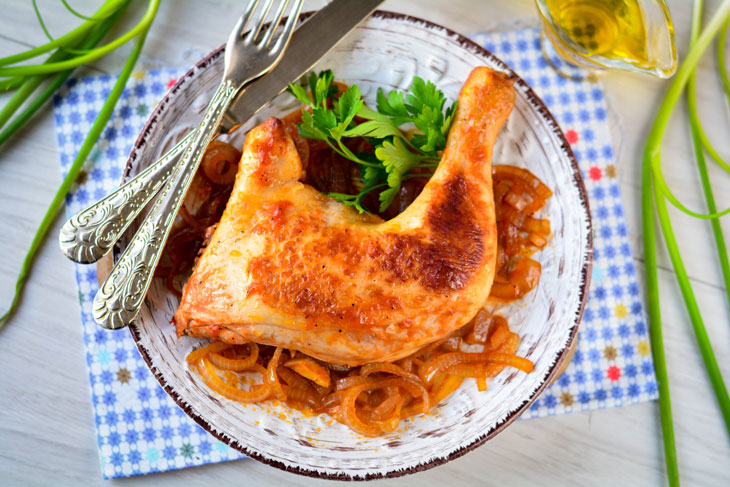 Enjoy your meal!