On the eve of the new year, each housewife makes a menu for the holiday. These can be proven classic appetizers, salads, hot dishes and traditional pastries. In addition to serving the usual dishes, you can surprise your guests and prepare an unusual and original appetizer of roasted grapes. In many countries, grapes are a symbol of wealth, success and prosperity. In Spain and Spanish-speaking countries, you must eat 12 grapes and make a wish during the chimes. Therefore, a grape appetizer is just right for a New Year's banquet.
Try an unusual dish – fried grapes with mushroom sauce. For the recipe, you need seedless grapes, preferably dark in color. It is better to fry it in olive oil. For the mushroom sauce, choose wild mushrooms. You can use fresh, dry (pre-soak and boil) or frozen forest gifts. We chose frozen butternuts. For a creamy taste, sour cream or heavy homemade cream is added to the sauce. Choose dry spices and aromatic herbs to taste. To thicken the sauce, use flour or starch. Their quantity can be changed depending on the desired density of the sauce.
Ingredients:
Grapes – 350 g.
Frozen butternuts – 250 g.
Onion – 110 g.
Flour – 20 g.
Sour cream 21% – 45 ml.
Olive oil – 20 ml.
Vegetable oil – 20 ml.
Salt, pepper, thyme – to taste.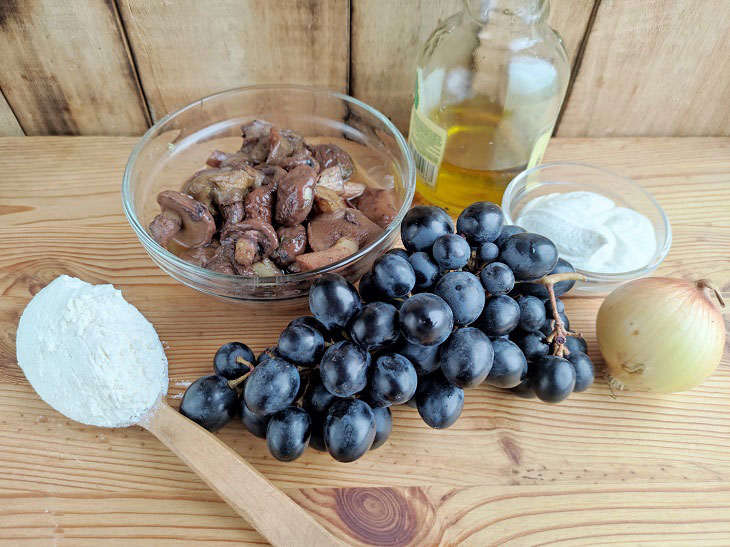 How to cook:
1. Cut the peeled onion into medium cubes and fry it in vegetable oil until transparent.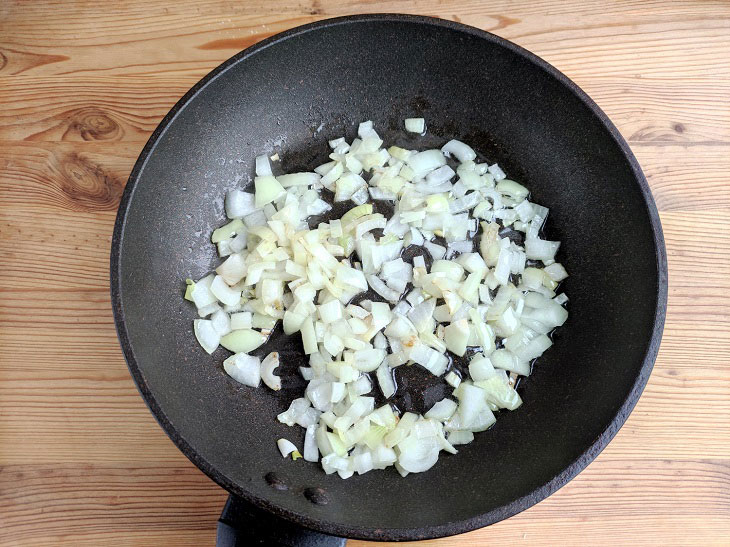 2. Defrost butternuts on the bottom shelf of the refrigerator. Cut large mushrooms into 4 parts, leave small ones as they are. Add the butternut squash to the pan and fry for 5 minutes over medium heat.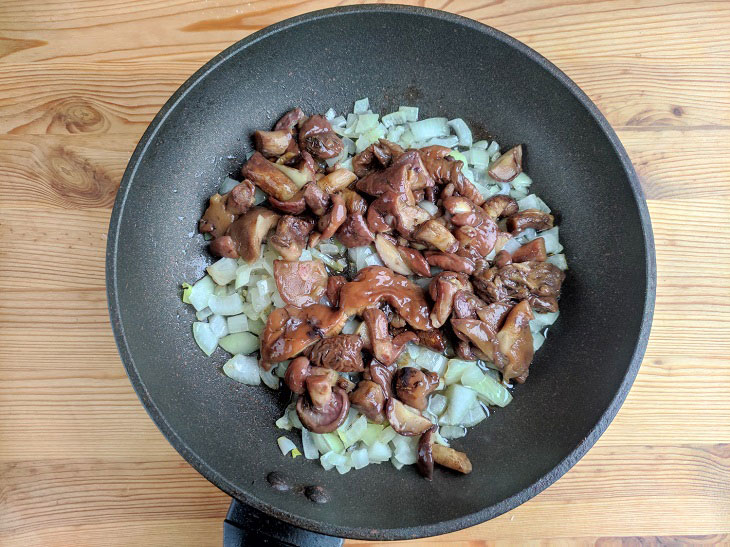 3. Dilute the flour in 200 ml of boiled cold water.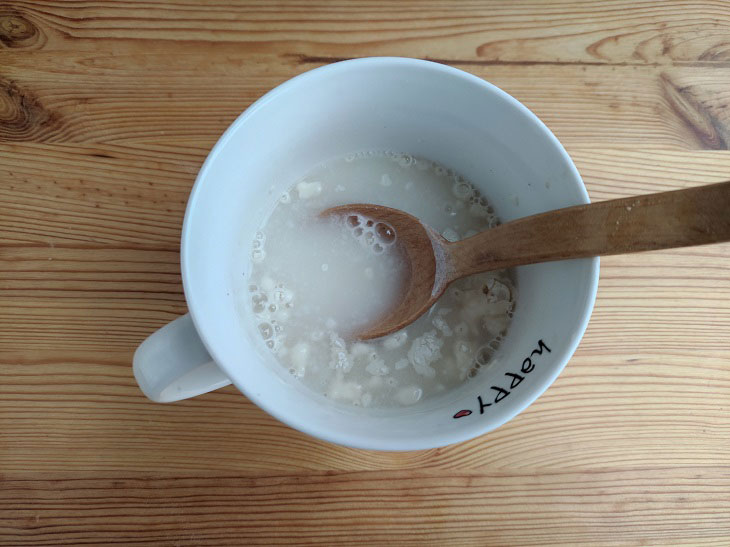 4. Pour the flour filling into the pan, add sour cream, salt and pepper. Stir the contents of the pan. Bring to a boil, cover the sauce with a lid and cook over low heat for 10 minutes.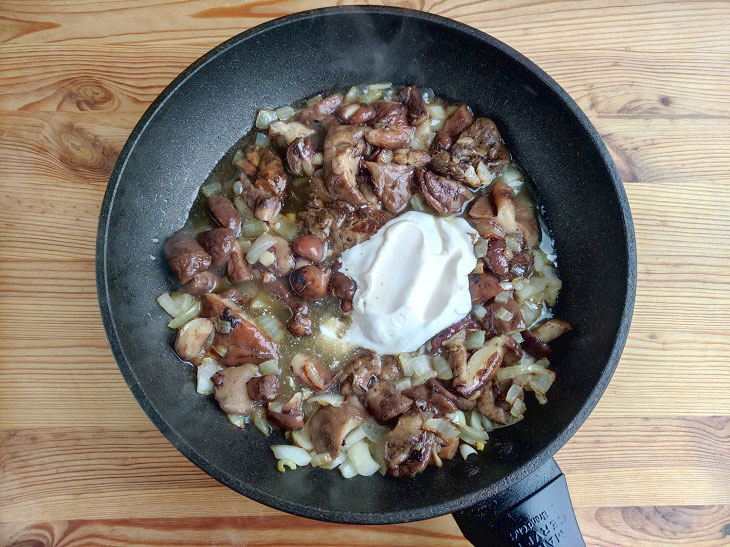 5. Remove stems from grapes.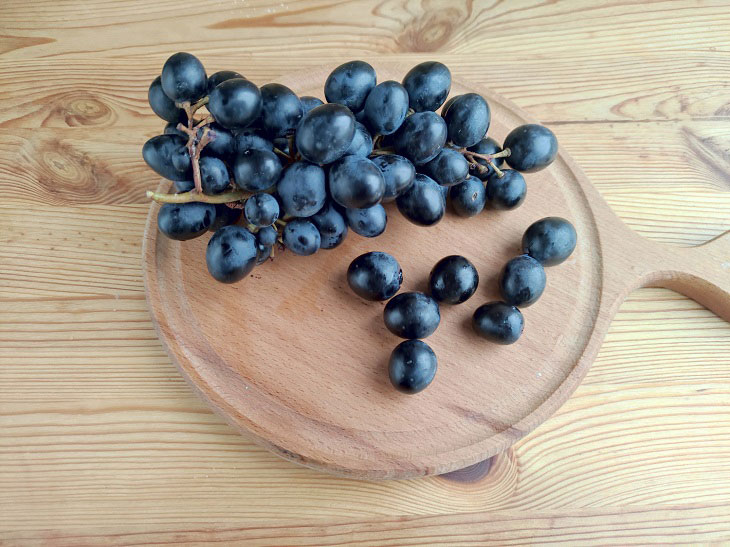 6. Heat a frying pan with olive oil, put the grapes. Fry the berries until cracks appear. Add a pinch of thyme.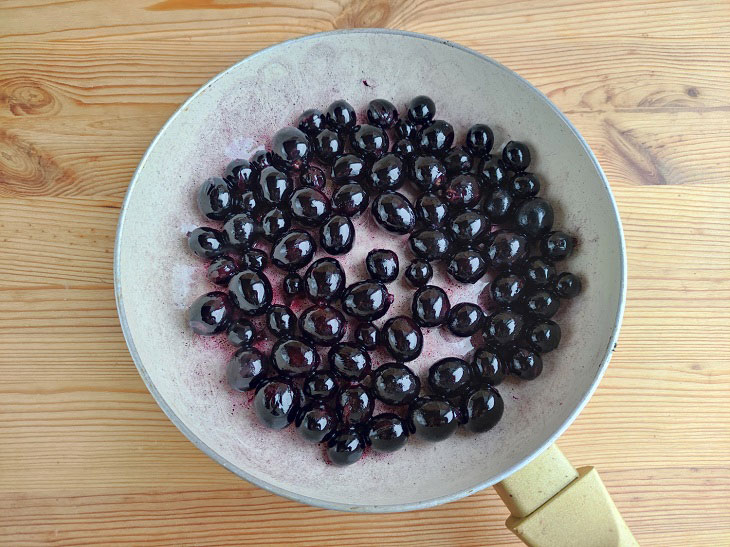 7. Pour the mushroom sauce into a small bowl. Install the socket in a plate, spread the grapes around. Garnish the dish with fresh herbs, lemon slices, serve.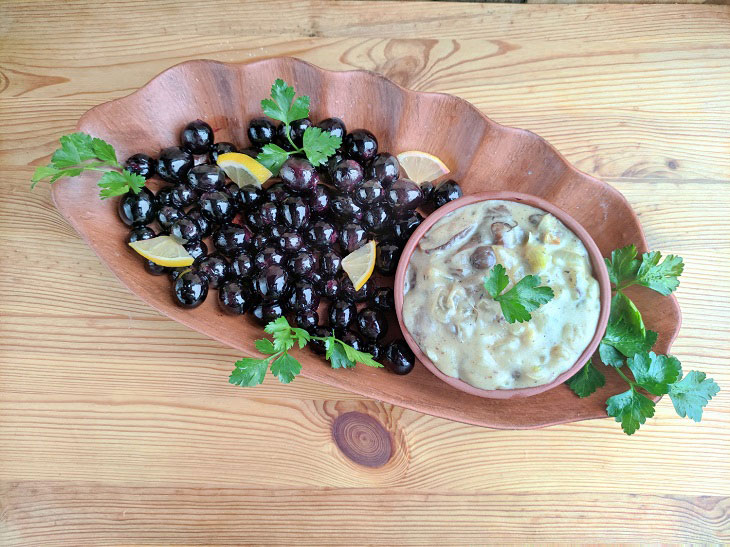 The dish looks very unusual and will be enjoyed by all guests of the family.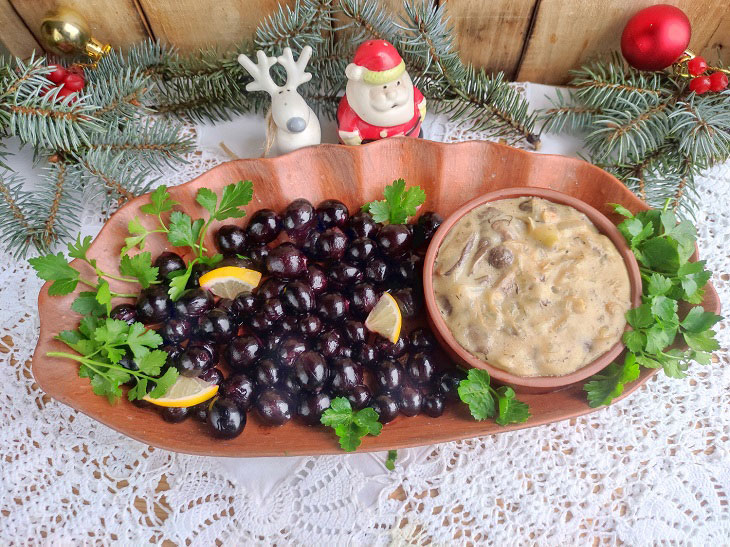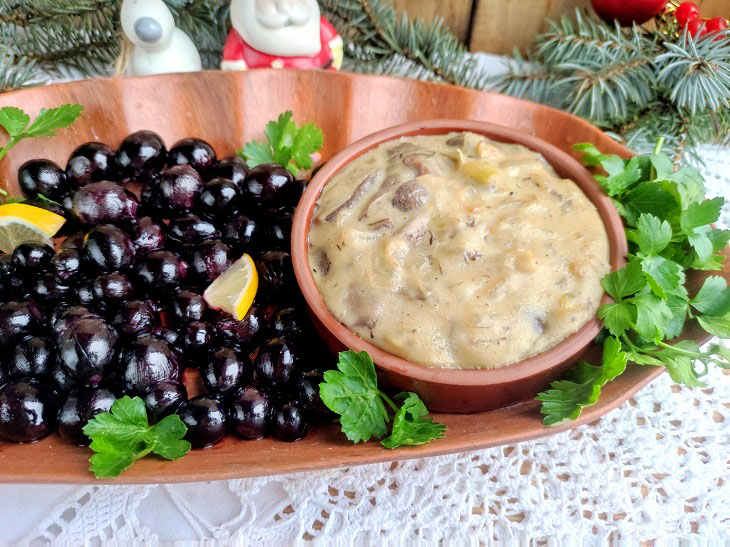 Bon appetit!