Gauranga is the most famous dish of Indian cuisine, named after the great Vaishnava saint Chaitanya Mahaprabhu. In translation, gauranga means "golden", "sparkling".
The dish really resembles gold, although it is prepared from simple potatoes. It's all about the turmeric, which is added to the sour cream filling and gives the casserole an unusual color. For the recipe, you will need starchy potatoes and sour cream with a fat content of 21%. When choosing cheese, give preference to medium-salted young cheese such as "Adyghe" or "health". For an authentic taste, we recommend that you use Indian spices – turmeric and asafoetida. Turmeric is sold in any supermarket, and asafoetida can be bought in an online store or Indian shops. This spice is not cheap, but the consumption is very economical.
For the recipe, potatoes are cut into thin slices with a special grater. If you do not have such a grater, cut the vegetable with a sharp knife. But before baking, blanch the potatoes for three to four minutes.
Ingredients:
Potato – 500 g.
Sour cream – 150 ml.
Cheese – 120 g.
Turmeric – 4 g.
Garlic – 0.5 pcs.
Asafoetida – at the tip of a knife.
Vegetable oil – 12 ml.
Parsley – 3 branches.
Dill – 2 sprigs.
Bay leaf – 1 pc.
Salt, pepper – to taste.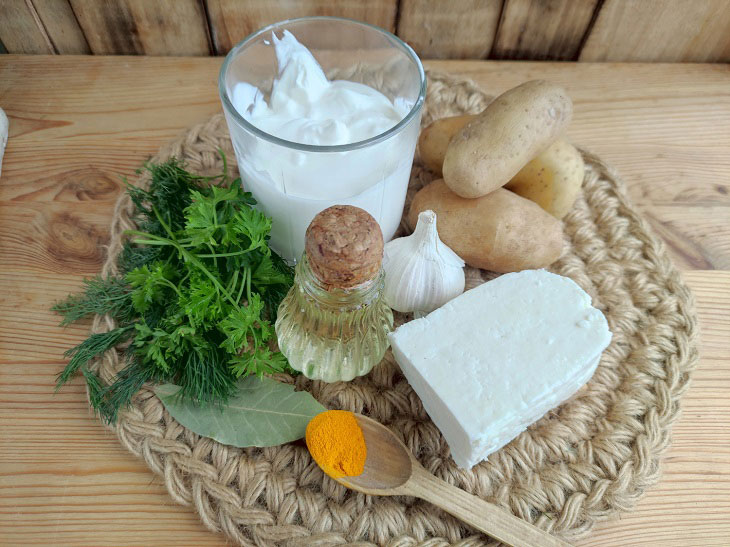 How to cook:
1. Mix asafoetida, salt and turmeric together with sour cream.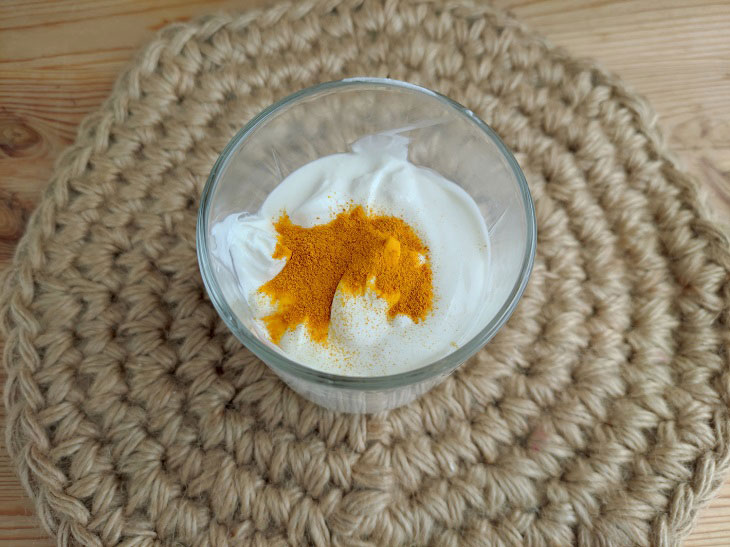 2. Wash potatoes. Peel the root vegetables and cut into thin slices. Put the vegetables in a bowl, salt and pepper.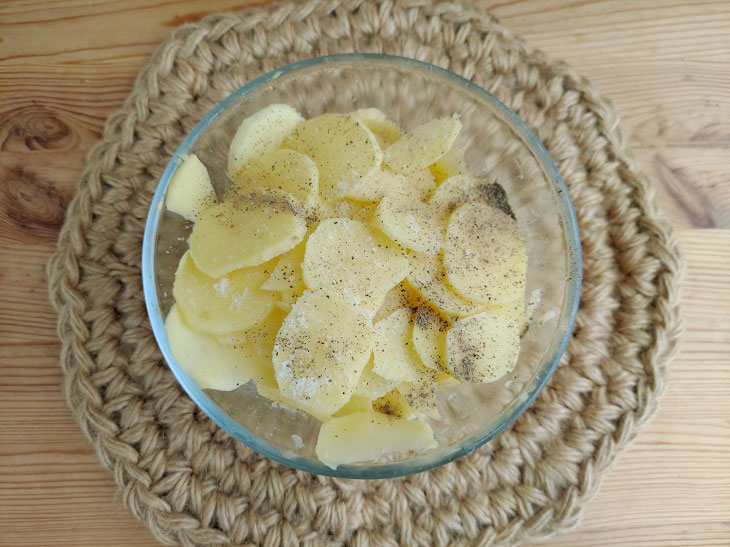 3. Grease a baking dish with vegetable oil, lay out half a portion of potatoes. Spray a layer of oil.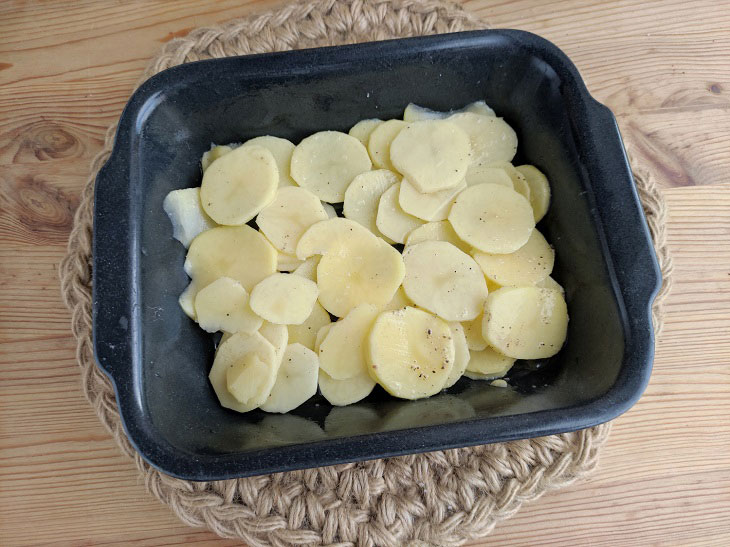 4. Sprinkle the dish with finely chopped herbs and chopped garlic on top.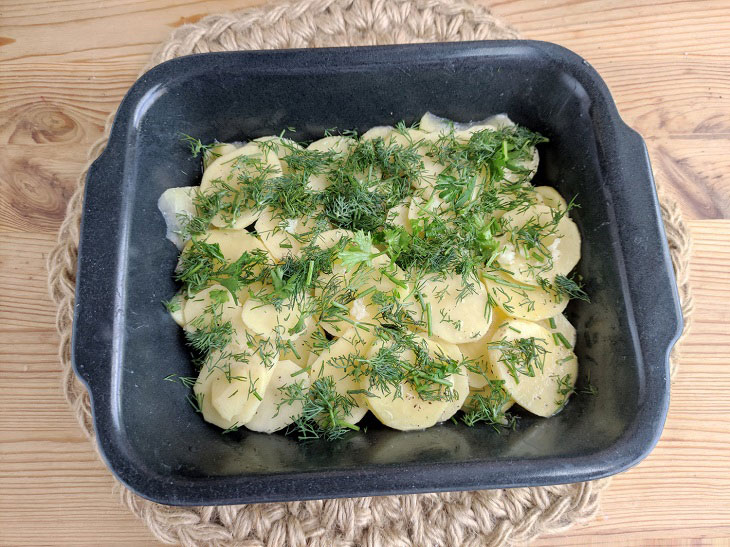 5. Put half a serving of sour cream filling, spread it over the entire surface.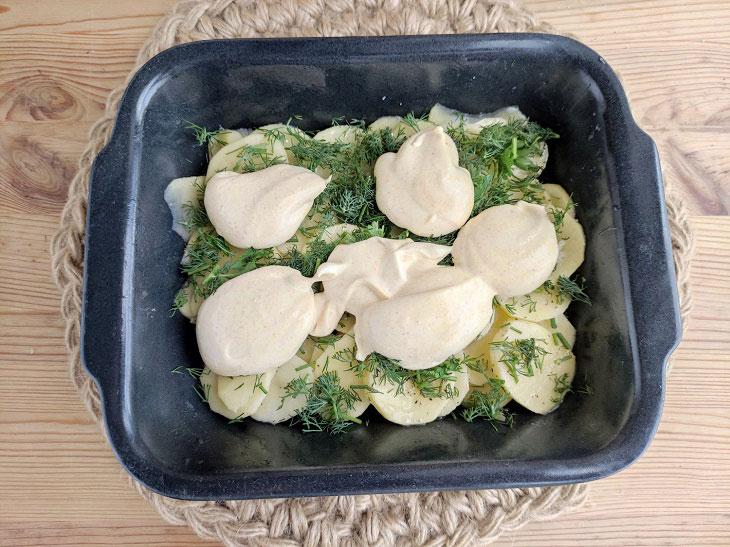 6. Grate the cheese. Put half of the cheese on top of the sour cream layer.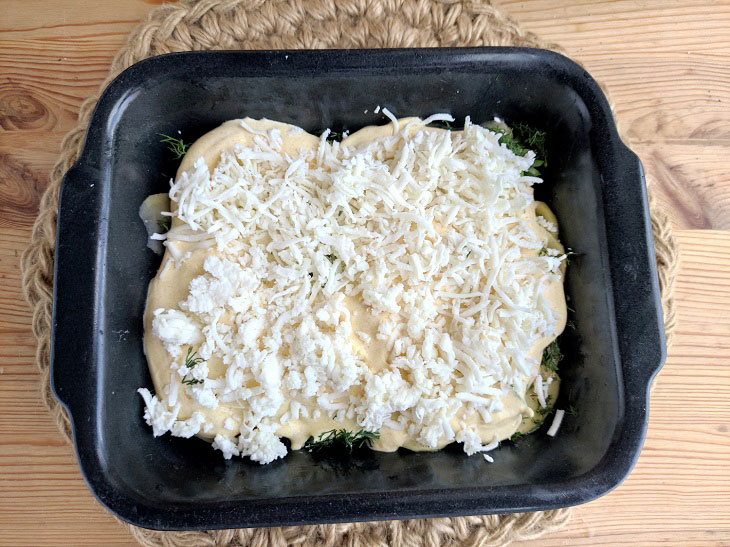 7. Lay out the rest of the products in the same way. Cover the form with food foil and cook for half an hour at 200 degrees. Remove the foil, bake the gauranga for another 20 minutes at a temperature of 180 degrees.
8. Serve Gauranga in the form in which it was prepared. The dish looks appetizing, it has a golden color and a pleasant creamy taste.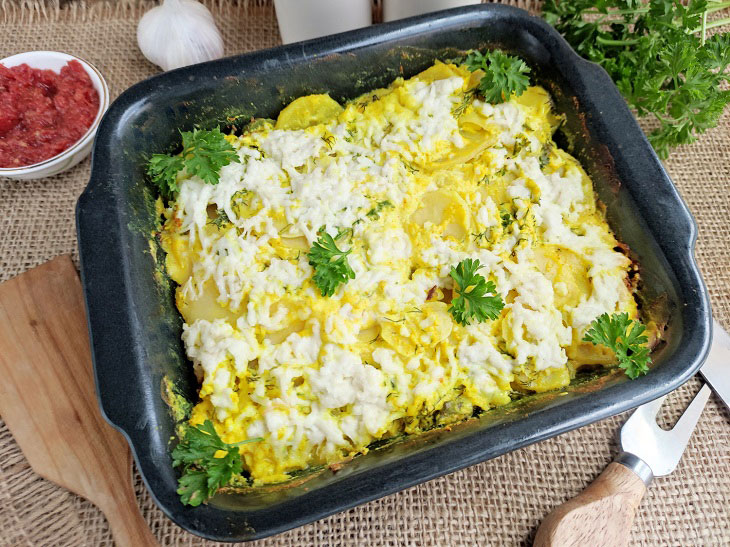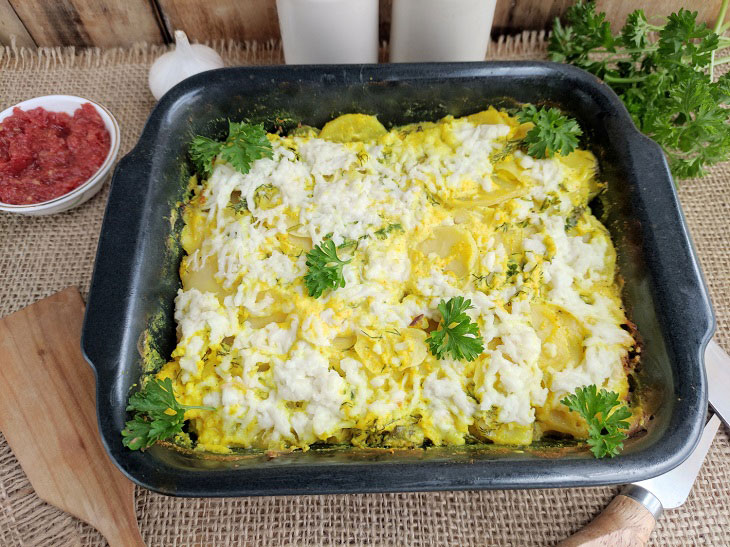 Bon appetit!