Preparations for the New Year begin long before the holiday. You need to have time to choose gifts, clean and decorate the apartment, and of course think over the festive menu. After all, the closest and dearest people will gather at the table. New Year's dinner usually starts at 22:00 and lasts until the morning. Therefore, cold appetizers and salads are the main dishes of the festive night. It is impossible to imagine a New Year's table without traditional salads "Olivier" and "Shuba". We offer salad "Herring under a fur coat" with some changes in composition and unusual design.
For the dish, you can choose ready-made preserves or pickle the herring yourself. Vegetables and eggs are best boiled in advance. For a salad, you will need mayonnaise with a fat content of 60% or more with a classic taste. Pancakes can be prepared according to your favorite recipe or use the presented option.
Ingredients:
Beets – 1 pc.
Carrot – 1 pc.
Herring – 250 g.
Eggs – 2 pcs.
Potatoes – 1-2 pcs.
Onion – 1 pc.
Mayonnaise – 3-4 tbsp. l.
Salt, pepper – to taste.
Parsley – for serving.
For 4 pancakes:
Egg – 1 pc.
Milk – 80 ml.
Flour – 45 g.
Salt – a pinch.
Vegetable oil – 1 tbsp. l.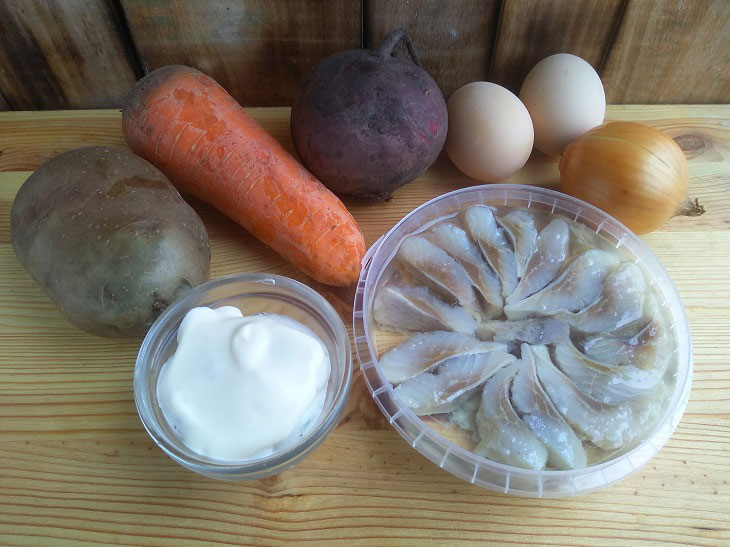 How to cook:
1. Potatoes, boil. Cool the vegetable, peel and grate on a fine grater. Prepared potatoes Lay out the prepared potatoes. Salt, pepper, apply mayonnaise.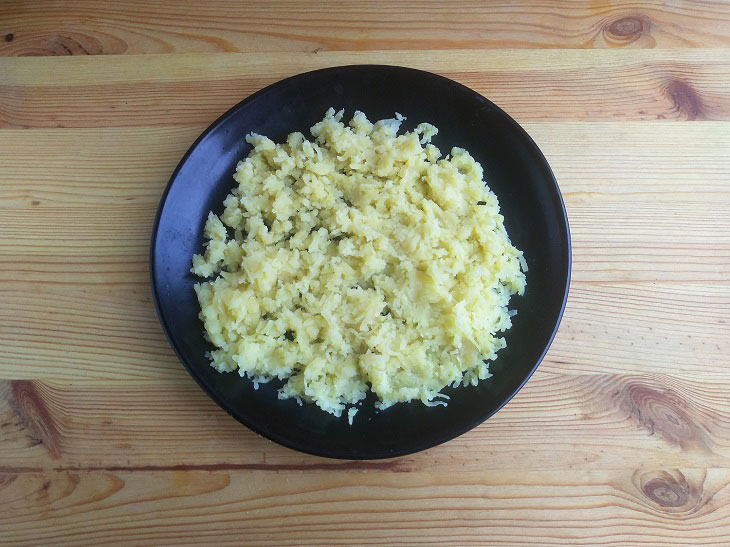 2. Cut the herring into small cubes, put on a potato layer.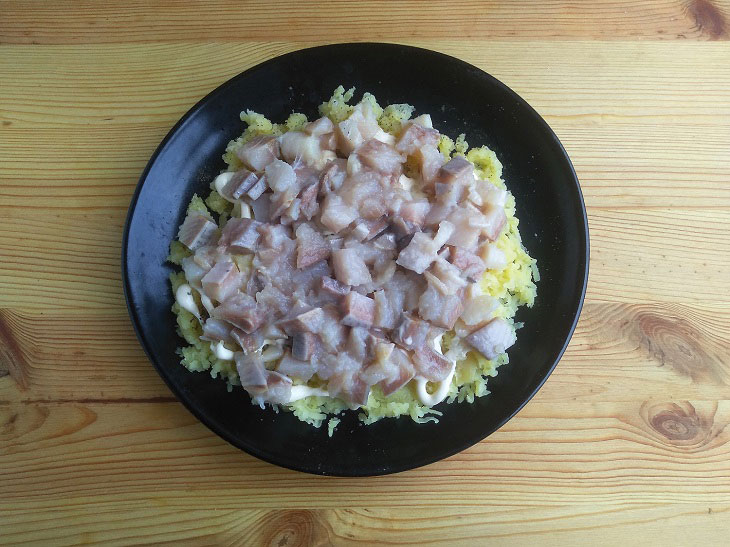 3. Peel the onion, chop, sprinkle with vinegar. Put on a herring, apply a mayonnaise net.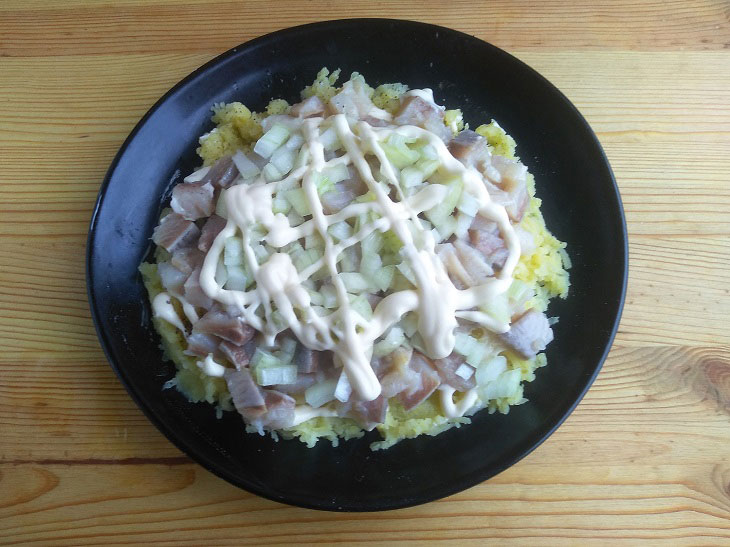 4. Boil carrots and grate on a fine grater. Put on the salad in the next layer, giving the dish the shape of a dome.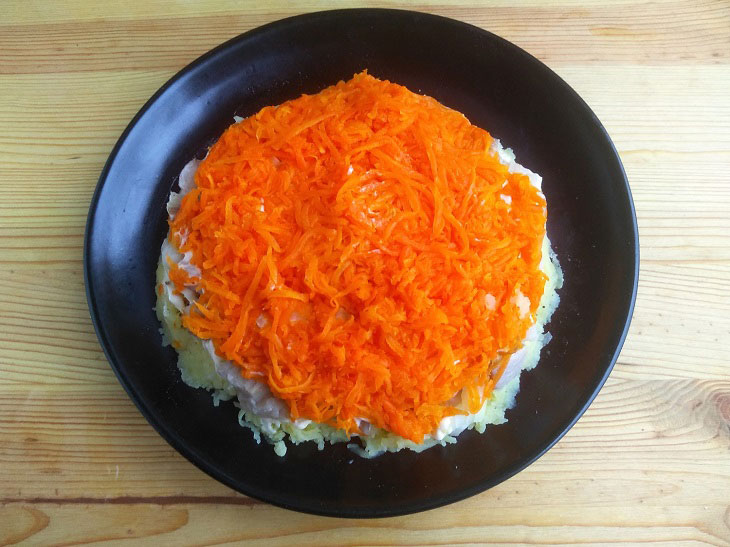 5. Lubricate the layer with mayonnaise.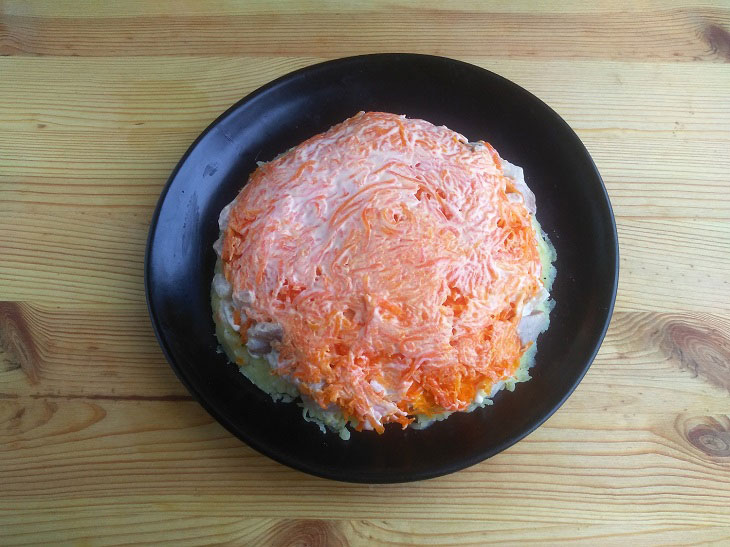 6. Boil eggs, chop. In an auxiliary plate, mix the egg mass with salt, pepper and mayonnaise so that a viscous mass is obtained. Spread the egg layer over the salad.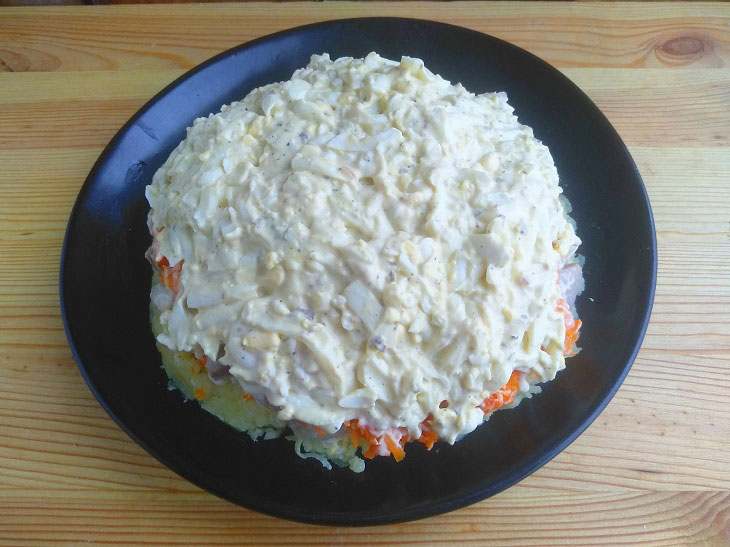 7. Mix the components for pancakes with a blender. Bake pancakes from the dough.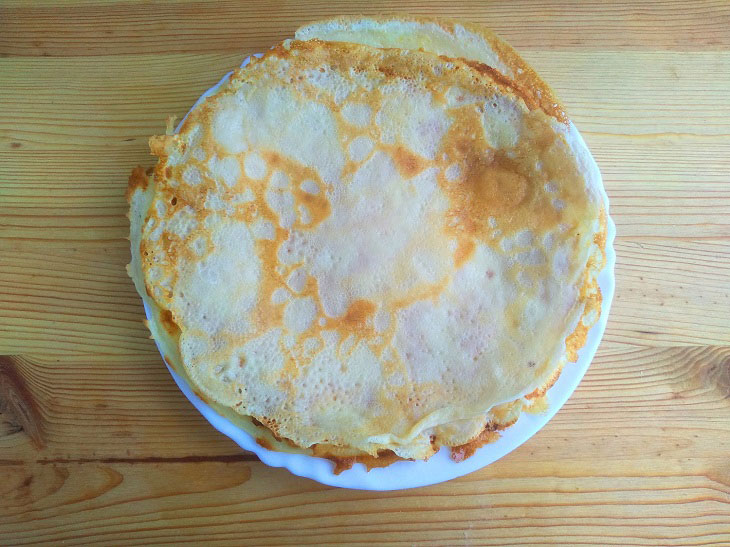 8. Boil beets, grate. Lubricate the pancake with mayonnaise, put the beets on the pancake, roll into a roll. Grease the second pancake in the same way, lay out the filling. Wrap the roll with the second pancake.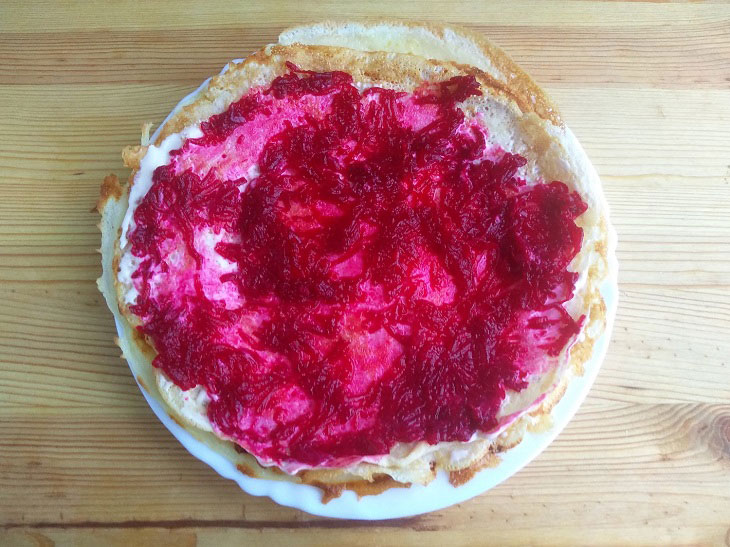 9. Cut the roll into five pieces, approximately 2 cm long.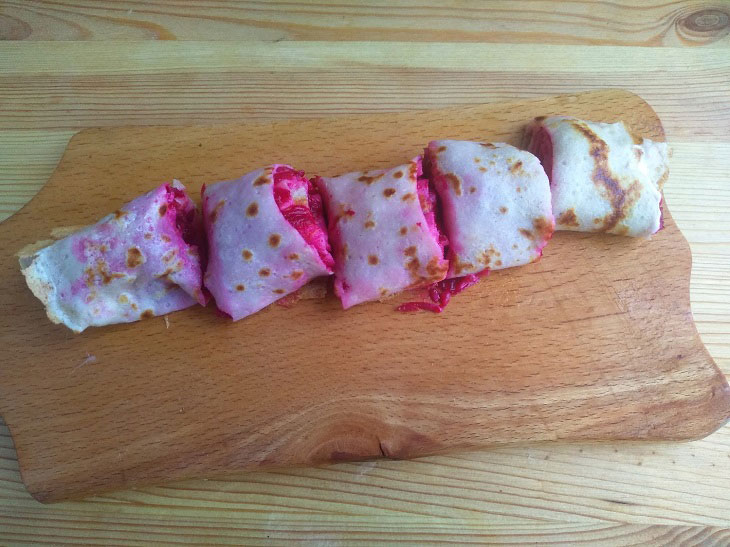 10. Decorate the salad with beetroot roses, spread parsley leaves around.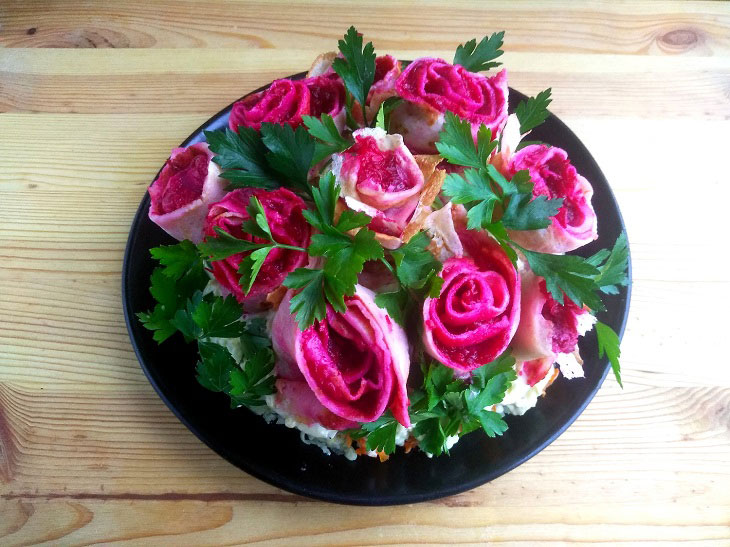 11. Leave the fur coat to soak for 30 minutes at room temperature and serve.
The salad has a familiar taste and a bright appetizing look.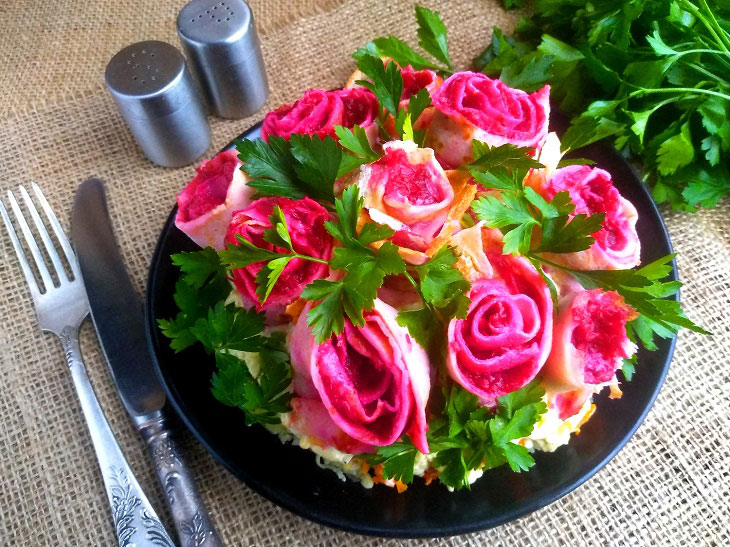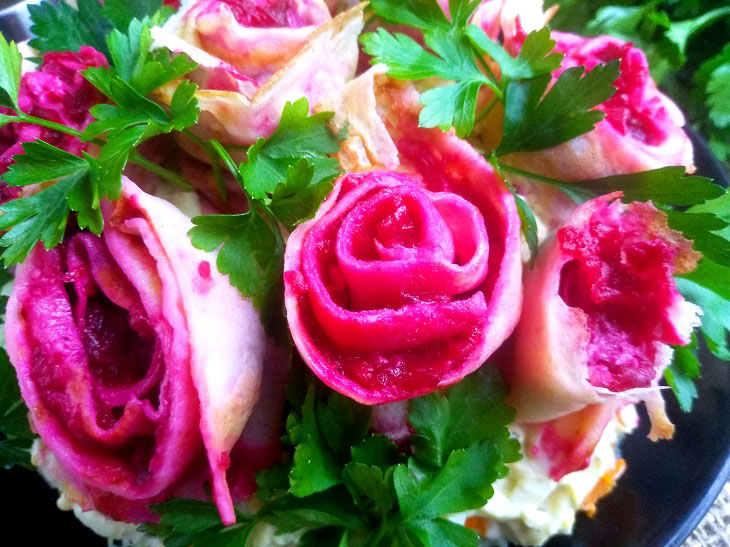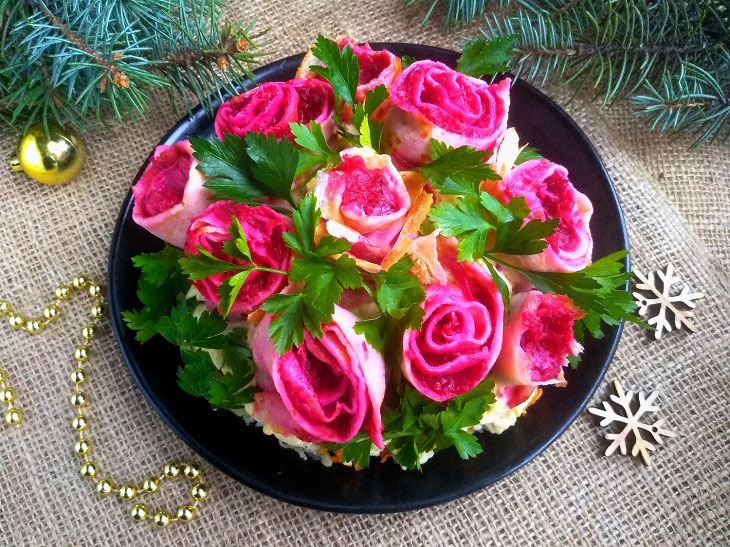 Enjoy your meal!