Turkey "Juicy" is an incredibly easy dish to prepare. The meat cooked according to this recipe is very juicy and quite spicy. The secret is that the turkey is soaked in salt water for a long time. Then the meat is stuffed with garlic and rubbed with a mixture of fragrant spices. And in the end it is baked in the oven and then it cools down in it. You can also use this recipe to cook pork tenderloin.
Turkey "Juicy" can be an independent dish, for example, you can serve it to the festive table as one of the components of cold cuts. Or it can be the main one, that is, you can combine the turkey with all kinds of side dishes.
Ingredients:
Turkey (breast) – 1 kg 400 g – 1 kg 500 g.
Garlic – 8 cloves.
Dried rosemary (needles) – 1 tsp
Coriander (seeds) – 1 tsp
Dried basil – 1 tsp
Curry – 0.5 tsp
Freshly ground black pepper – to taste.
Salt – to taste.
Olive oil – 2 tsp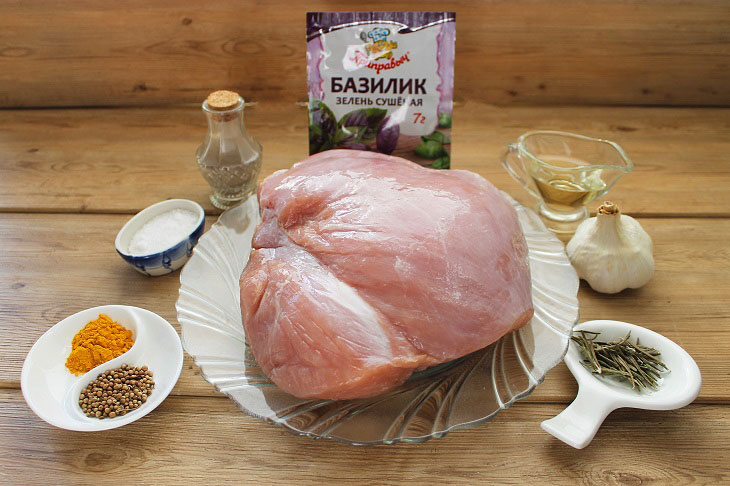 Cooking time: 5 hours 40 minutes. Servings Per Container: 10-12.
How to cook:
1. Rinse the turkey breast under cold water and place in a large pot or bowl. Fill with salt water at the rate of 2 tbsp. l. salt without a slide for 3 liters of water. The liquid should completely cover the meat. Leave the turkey in the water for 2 hours.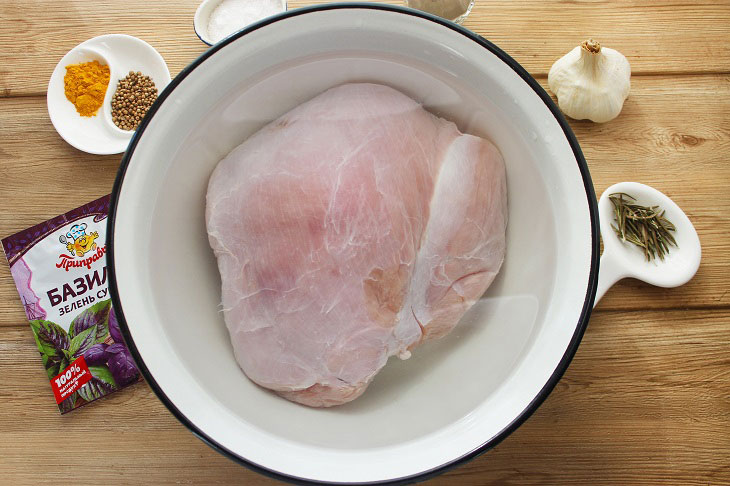 2. While the turkey is soaking, prepare the rest of the ingredients. Peel the garlic cloves and divide each lengthwise into 3-4 slices. Pour rosemary needles and coriander seeds into a mortar. Grind spices to fine crumbs.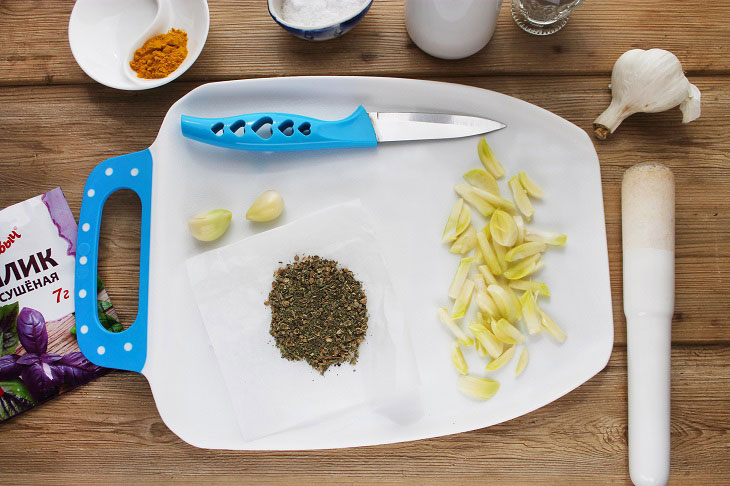 3. Pour rosemary and coriander into a small bowl, add curry, basil, black pepper and salt to taste.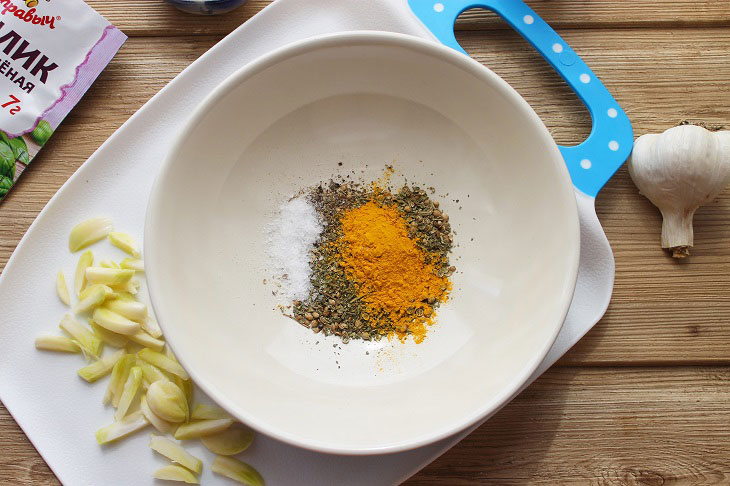 4. Pour in the olive oil. Mix all ingredients thoroughly.
You can replace olive oil with sunflower oil.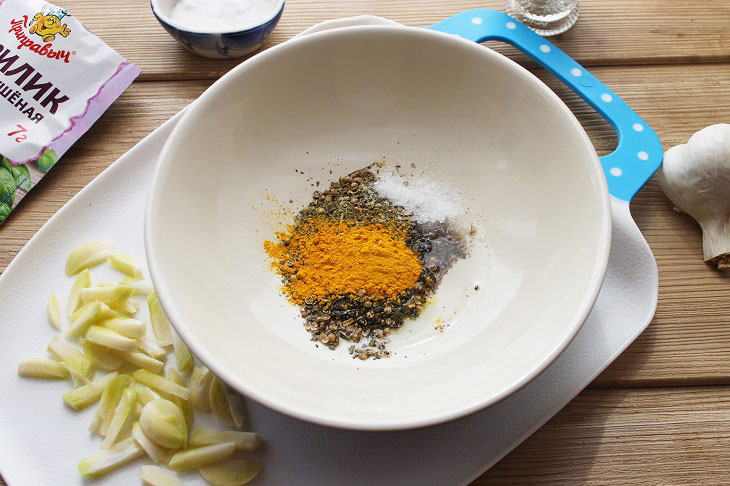 5. Remove the turkey from the water. Pat dry with paper towels.
With a small sharp knife, make shallow vertical holes in the meat according to the number of garlic slices.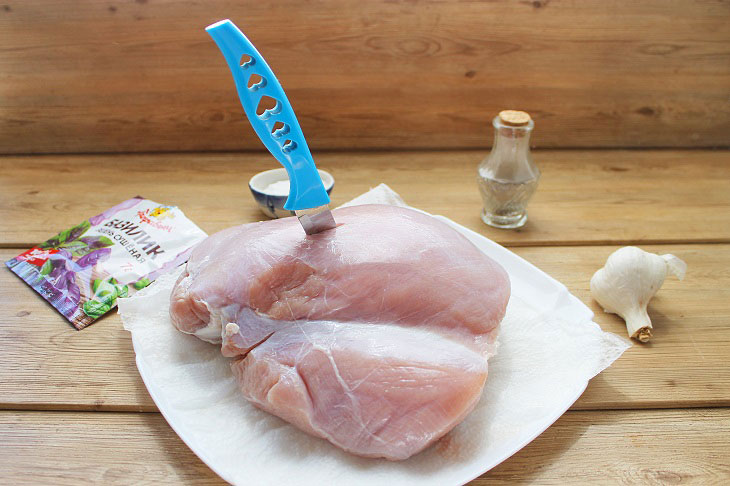 6. Stuff the turkey with garlic.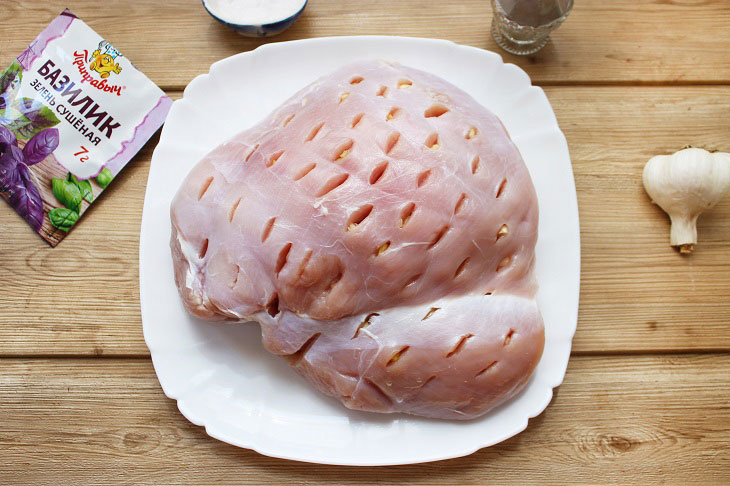 7. Rub the meat, massaging lightly, on all sides with a mixture of spices.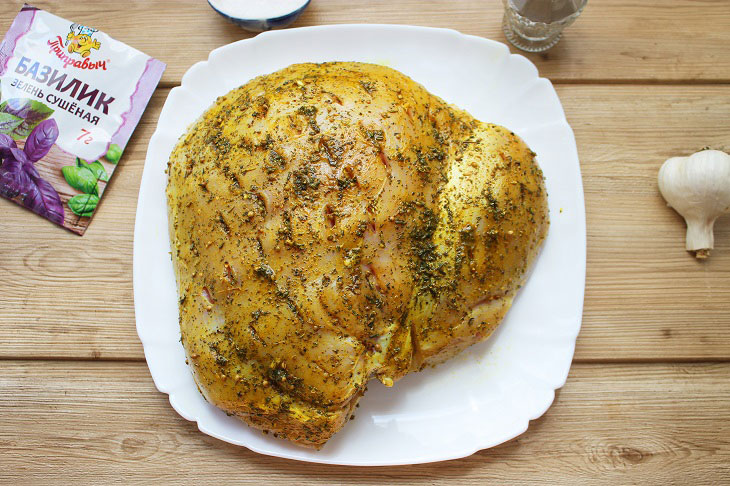 8. Wrap the turkey in foil and place in an ovenproof dish.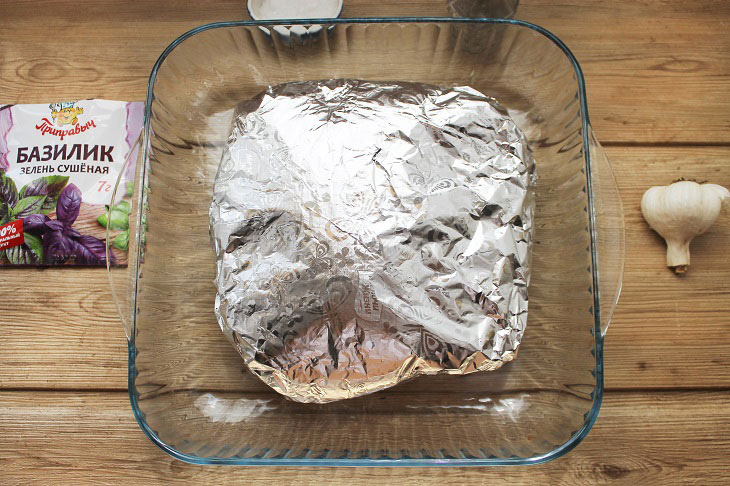 9. Preheat the oven to 220⁰ C.
Send the form to the oven and bake the turkey for 1 hour. Then turn off the oven and leave the meat in it for another 2 hours.
After this time, the "Juicy" turkey will be ready. But, if you want to brown it, you can open the foil and bake the meat at 180⁰ C for literally 15-20 minutes.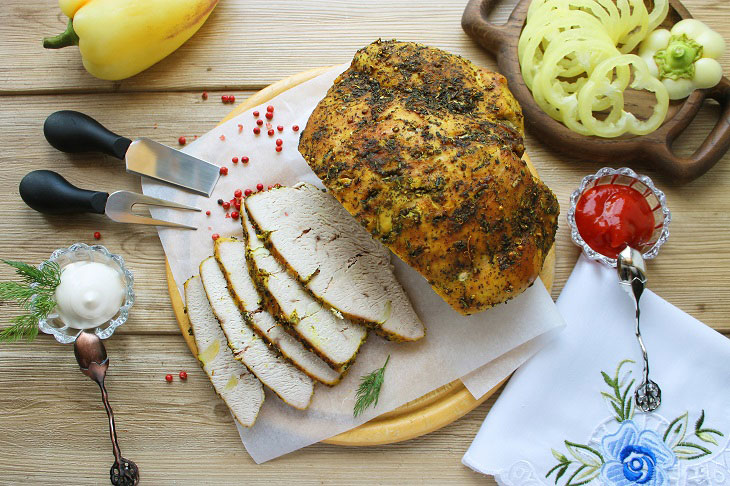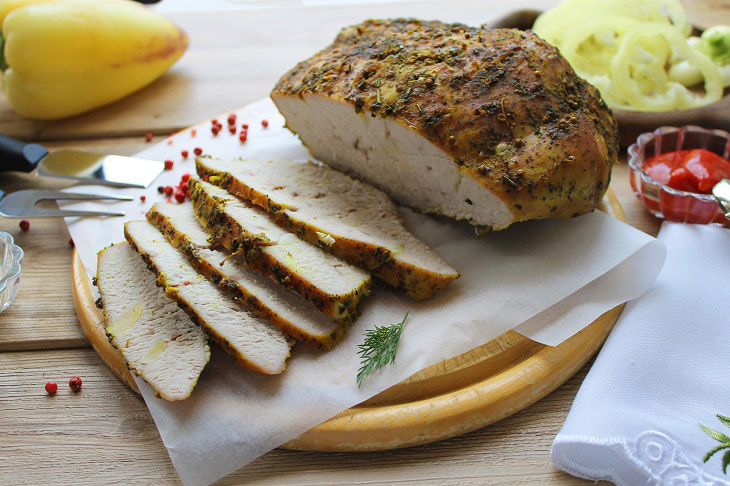 Enjoy your meal!