Samosas are small, deep-fried pastries made from unleavened dough. The birthplace of this pastry is India, where you can try these ruddy triangles with spicy vegetable or sweet fruit filling literally on every corner, piping hot. It is not at all difficult to prepare these mouth-watering pies, and for this you will need the most ordinary products that you will always find in your kitchen. The peculiarity of this national Indian pastry is precisely the very spicy, even spicy taste of the vegetable filling, but we can slightly adjust it to our taste and desire.
You can use any vegetables for the filling and in different combinations, here the imagination and taste of the hostess will tell you. Usually we cook such pies according to the classic recipe with potatoes, carrots, onions and green peas. We add different spices, but it is always zira with curry, ground black pepper and a little greens.
To cook Indian Samosa pies, we will prepare the necessary products. Wash the vegetables for the filling in clean water and clean.
Ingredients:
Flour – 300 g.
Cold water – 150 g.
Vegetable oil (in the dough) – 40 ml.
Salt – 1/3 tsp.
Chicken eggs – 1 pc.
Potatoes – 2-3 pcs.
Carrot – 1 pc.
Onion – 1 pc.
Canned green peas – 100 g.
Vegetable oil – 3 tbsp. l.
Salt, spices to taste (zira, curry, ground black pepper), dill, cilantro – optional.
Oil for frying – 300 ml.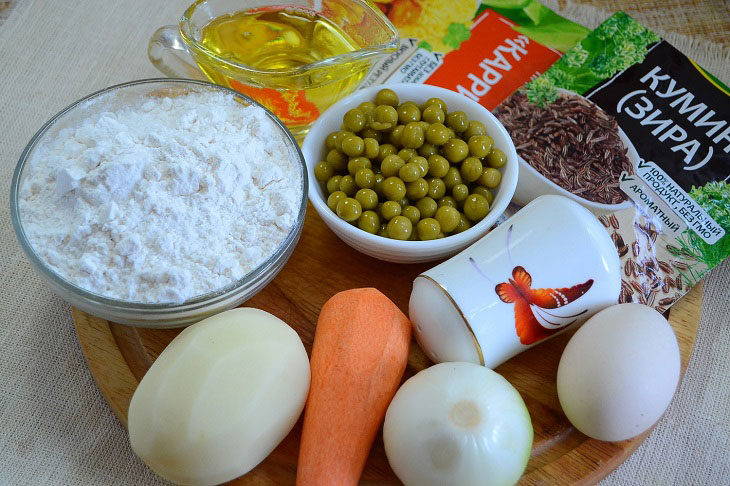 Cooking time: 1 hour 20 minutes. Servings Per Container: 6.
How to cook:
1. Cut potatoes and carrots into small cubes and boil until tender. Drain the vegetables in a colander to drain excess liquid.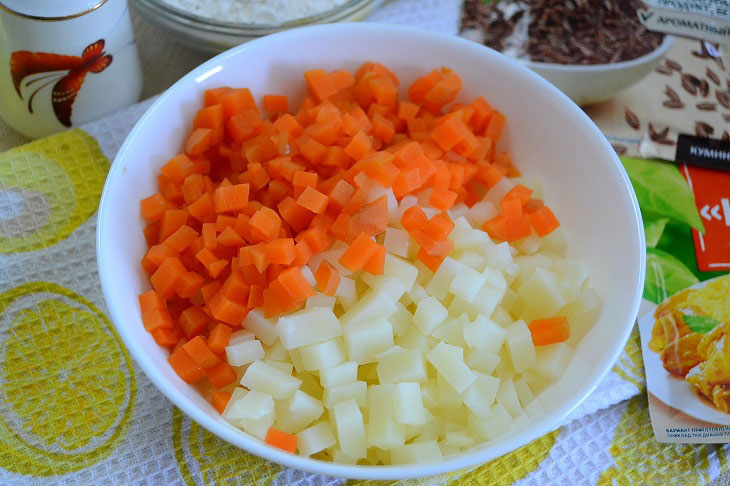 2. Finely chop the onion and lightly stew in vegetable oil until soft. You can substitute vegetable oil for butter if you like.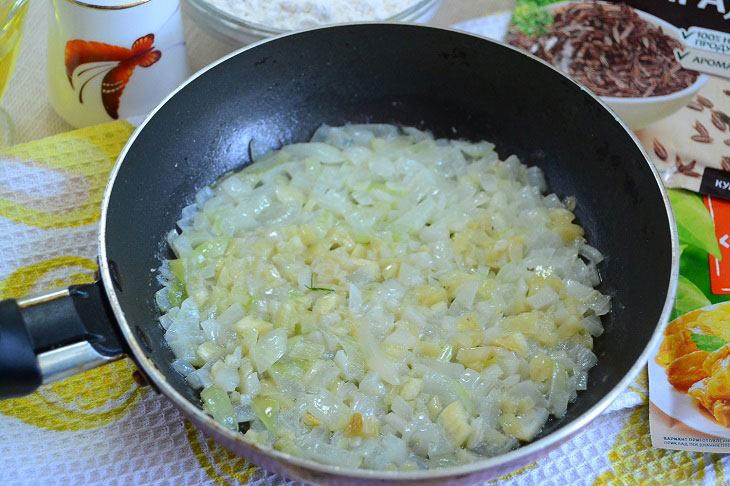 3. Add stewed onions, canned green peas, salt, spices to your taste to potatoes and carrots.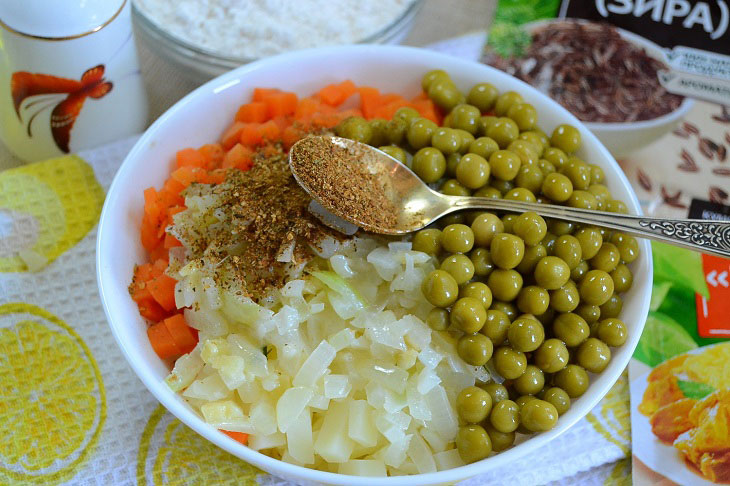 4. Optionally, you can add a little chopped dill or cilantro. Stir the filling gently with a spoon and set aside.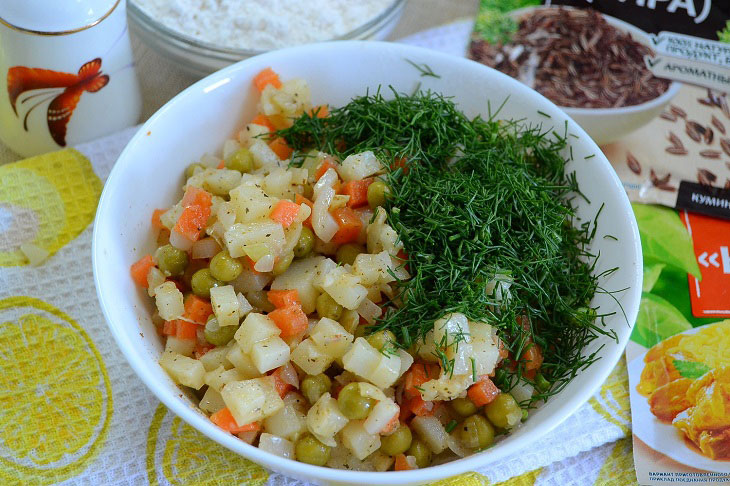 5. Sift flour into a bowl, add vegetable oil and grind until oil crumbs are obtained.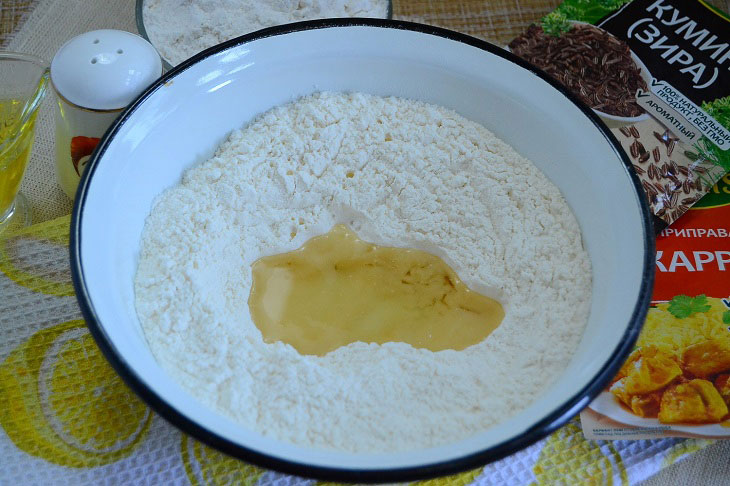 7. Break an egg into flour and butter, pour in cold water with salt and knead a rather dense, elastic dough. We knead it on the table for about 5-8 minutes so that it becomes smooth and elastic.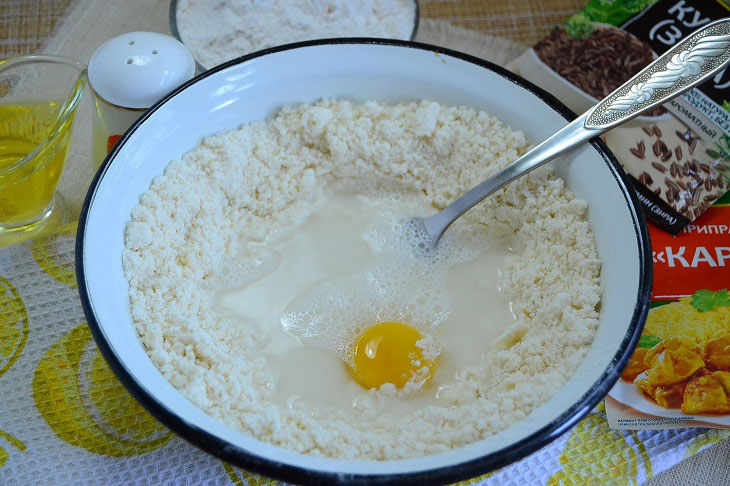 8. We wrap the finished dough in a film and leave it on the table for 15-20 minutes.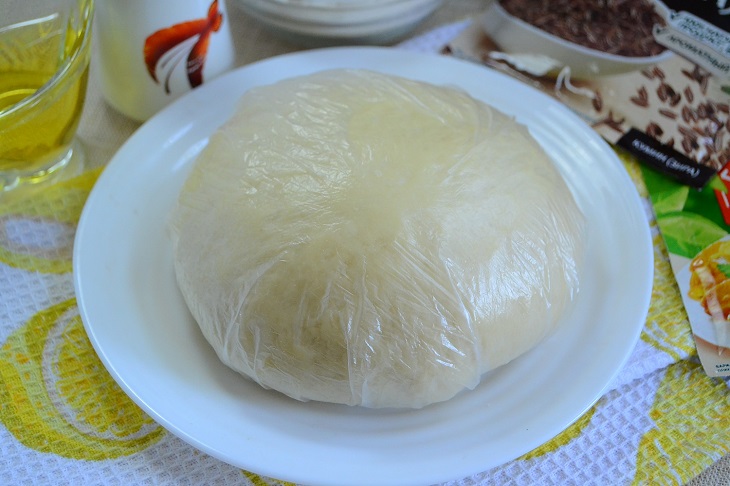 9. Divide the samosa dough into pieces and roll them in flour.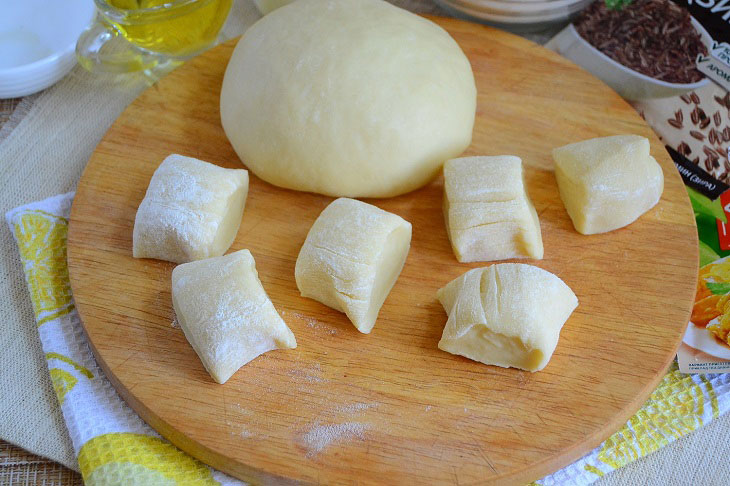 10. Roll out the pieces of dough into thin round cakes with a diameter of about 12-14 cm and a thickness of 1.5 mm. We cut them in half.
11. Wet the long straight side of the semicircle with water and glue it into a bag. We fill it with the filling not too tightly and firmly pinch the edge with a "rope".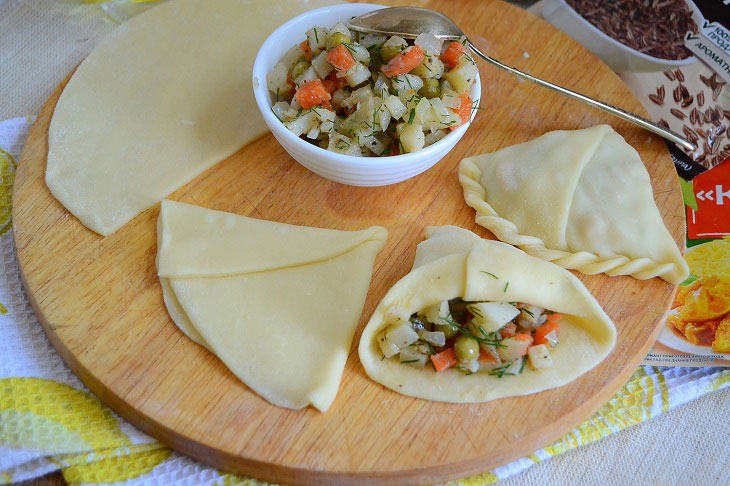 12. Before deep-frying the samosa, brush off excess flour from the surface of the pies with a dry brush.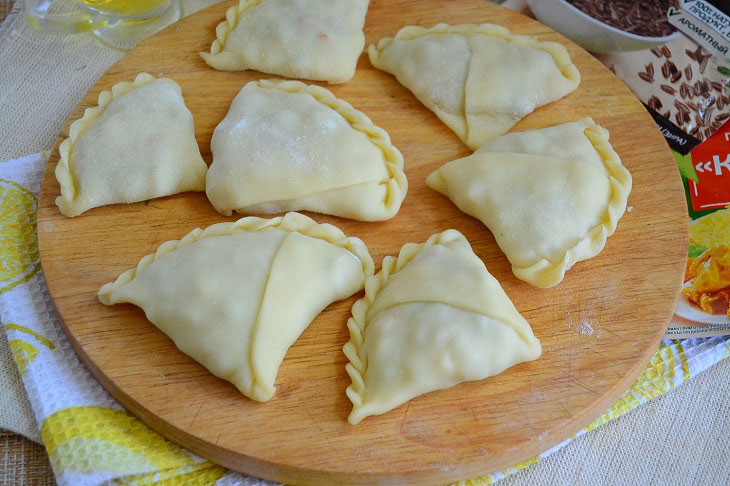 13. We heat high-quality vegetable oil in a saucepan with a thick bottom and fry the samosas on both sides. The oil level should be such that the samosas float in it and brown evenly on both sides. We put the finished pies on a plate with paper napkins to remove excess fat.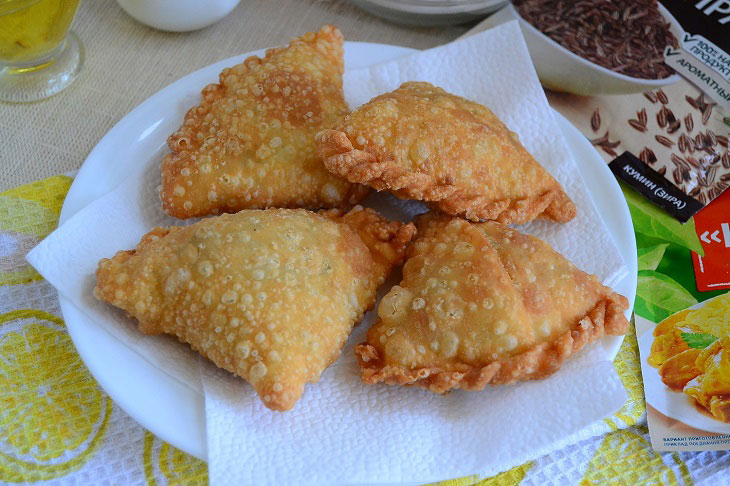 Our samosas are ready. Serve them hot as an independent snack for lunch or dinner, supplemented with fresh vegetables or any favorite sauce. But they are also very good with fragrant tea.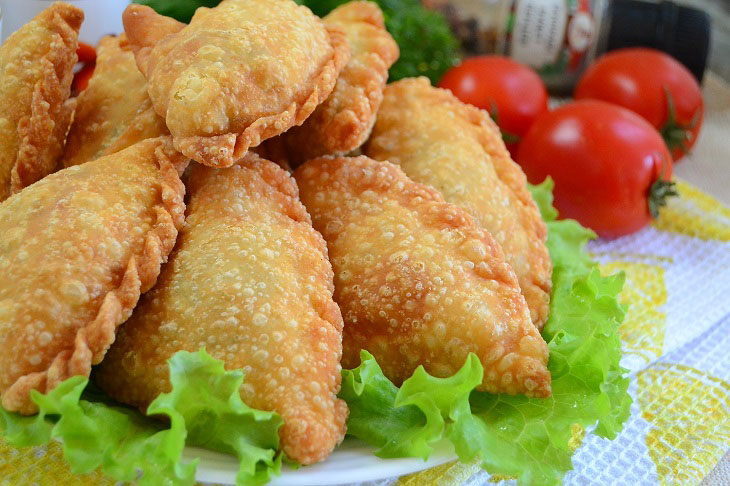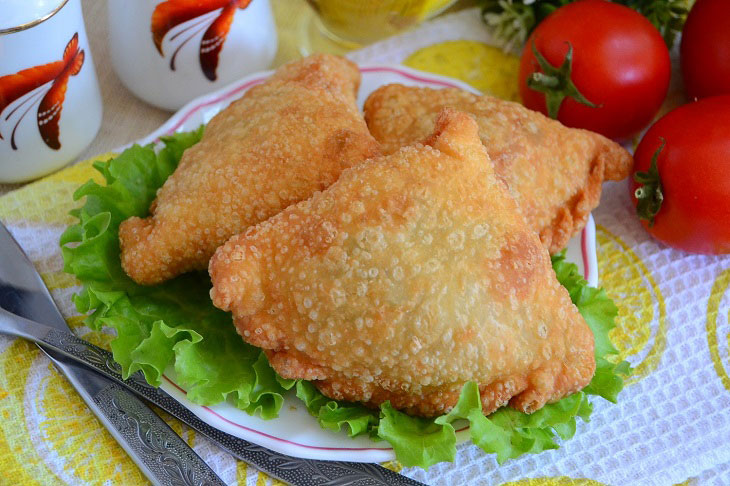 Enjoy your meal!