Zucchini with garlic in the oven is a snack that can be prepared quite simply. It turns out it is juicy and original in taste.
To prepare this dish, it is better to purchase young vegetables so that you do not need to cut the peel from them. You should definitely buy high-quality hard cheese. As a sauce, you can use mayonnaise or sour cream with any percentage of fat content. Serve ready-made zucchini with garlic to the table with some vegetable side dish, for example, young boiled potatoes, to which you should definitely add a piece of butter and chopped greens.
This recipe is attractive because the zucchini is not fried in a pan in vegetable oil. It is thanks to this that they are low-calorie, so this recipe is suitable for those people who are on a diet.
Ingredients:
Zucchini – 1 pc.
Hard cheese – 30 g.
Mayonnaise or sour cream – 1 tbsp. l.
Salt – to taste.
Ground black pepper – to taste.
Garlic – 0.5 cloves.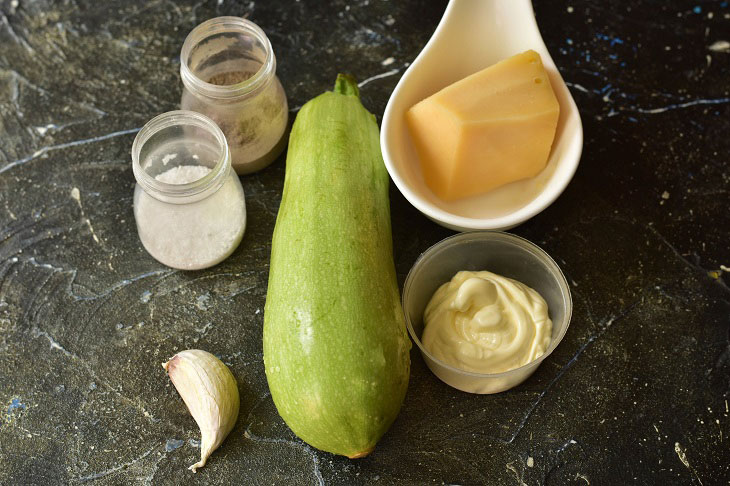 How to cook:
1. Wash the zucchini very thoroughly. If there are scratches or damage on the peel, then be sure to cut them off. Also cut off the edges of the vegetable on both sides. Cut the zucchini into slices. They should be no more than 1 cm thick.
2. Squeeze peeled garlic into mayonnaise or sour cream. Mix everything well.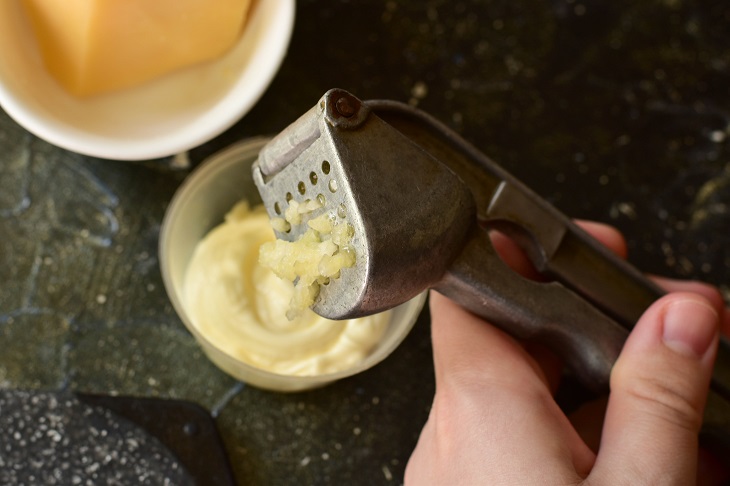 3. Place zucchini circles on a baking sheet, salt and pepper each of them. Then grease them with the prepared stuffing.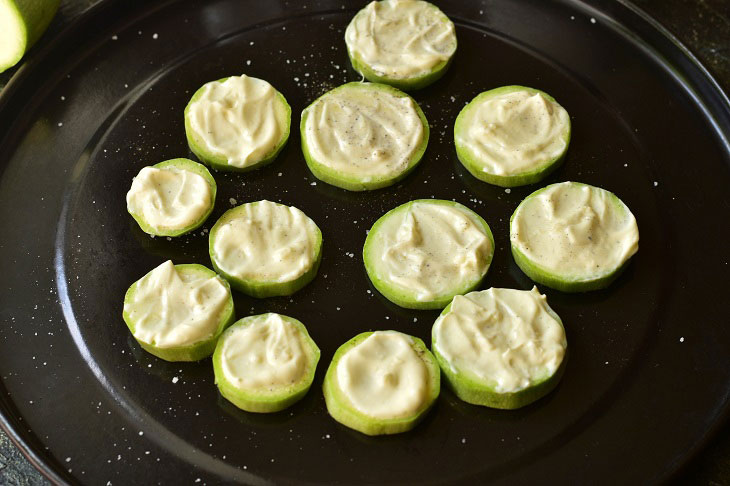 4. Grate hard cheese.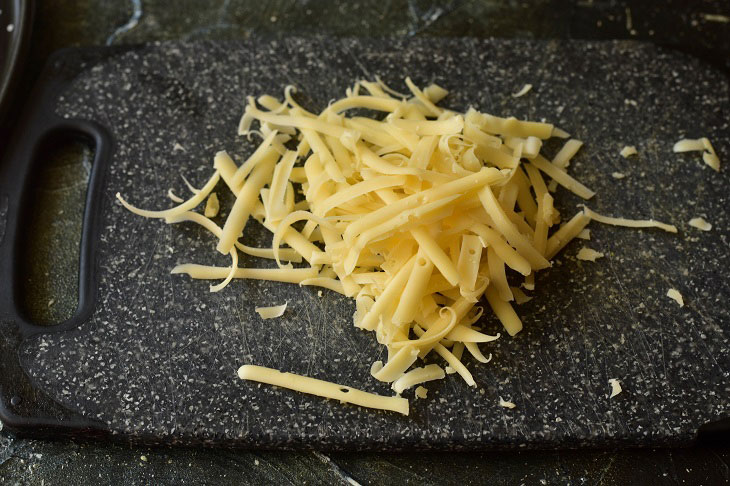 5. Put it on top of each circle of zucchini.
You can put cheese on zucchini after they are baked in the oven.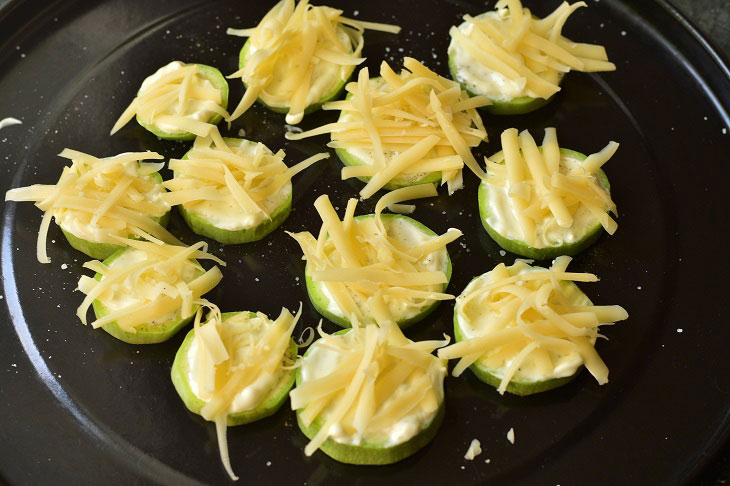 6. Send the baking sheet to the oven preheated to 190 degrees for 25 minutes.
If you have a gas oven, the cooking time may be slightly shorter.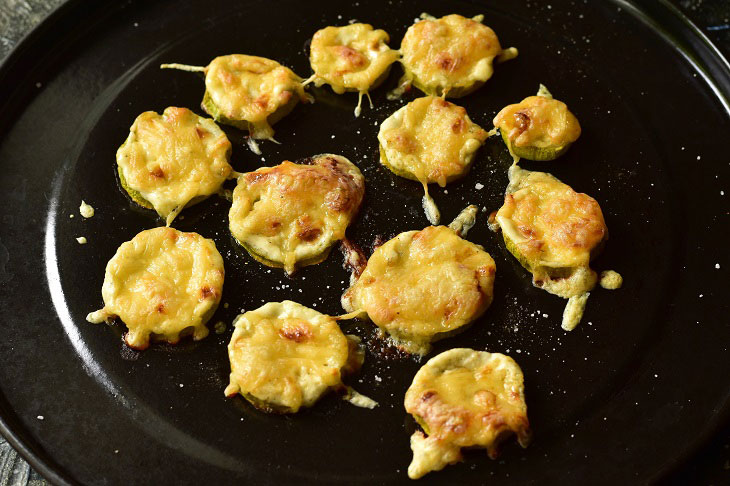 7. Carefully transfer the finished zucchini with garlic in the oven to a dish. It is most convenient to do this with a metal or Teflon spatula.
To make the dish more spectacular in appearance, chop any greens and put it on top of the finished zucchini.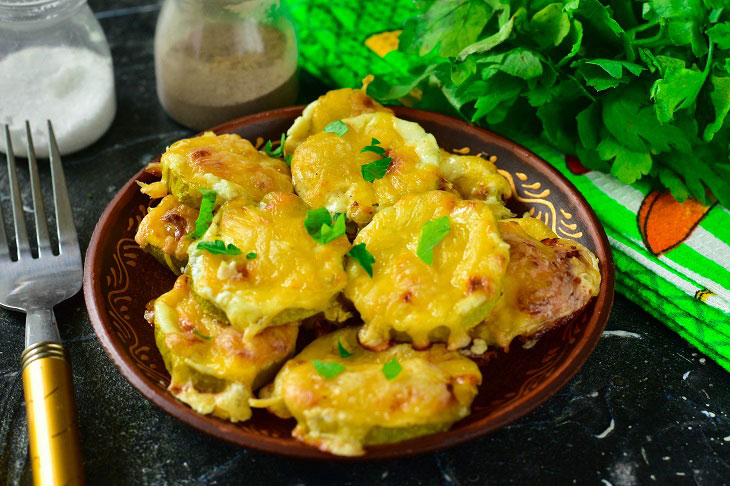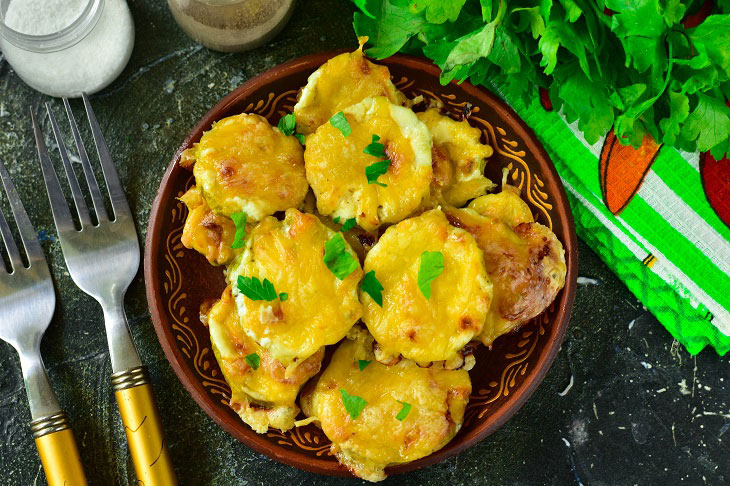 Enjoy your meal!