Japanese potato salad is an original dish for a holiday and everyday table. Its taste is reminiscent of our favorite Olivier, but with some nuances.
The main comp1nt is potatoes, which are boiled until soft, and then kneaded with a crush. You should not get a homogeneous puree, it is good if there are potato pieces in it. The meat part is ham or sausage of your choice. Fresh cucumbers are added to Japanese potato salad. Optionally, you can enter young peas, but not canned. Use a frozen boiled product. When choosing eggs, give preference to a product with bright yolks. For dressing you will need Japanese mayonnaise. It can be prepared independently from ordinary mayonnaise with the addition of vinegar and sugar.
Ingredients:
Potato – 620 g.
Carrots – 120 g.
Ham – 150 g.
Eggs – 2 pcs.
Cucumber – 120 g.
Mayonnaise – 30 ml.
Vinegar 9% – 10 ml.
Sugar – 3 g.
Salt, pepper – to taste.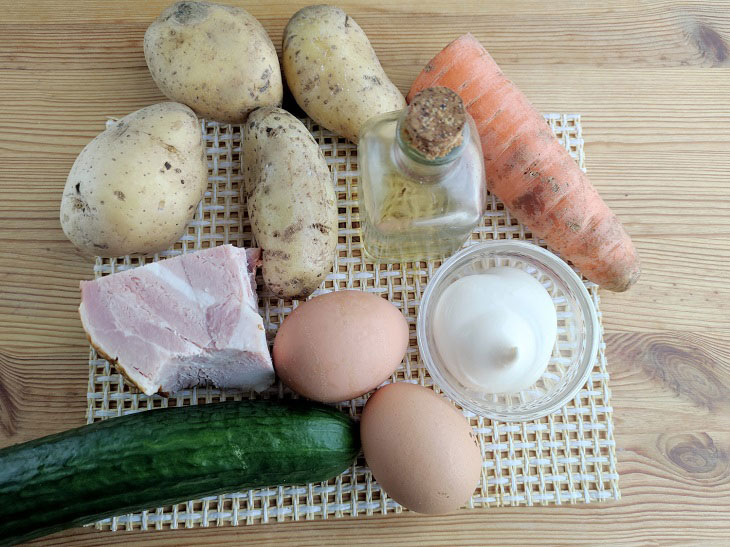 How to cook:
1. Place potatoes, carrots and eggs in a saucepan and boil. Cut the ham into medium cubes with a side size of 0.7 cm.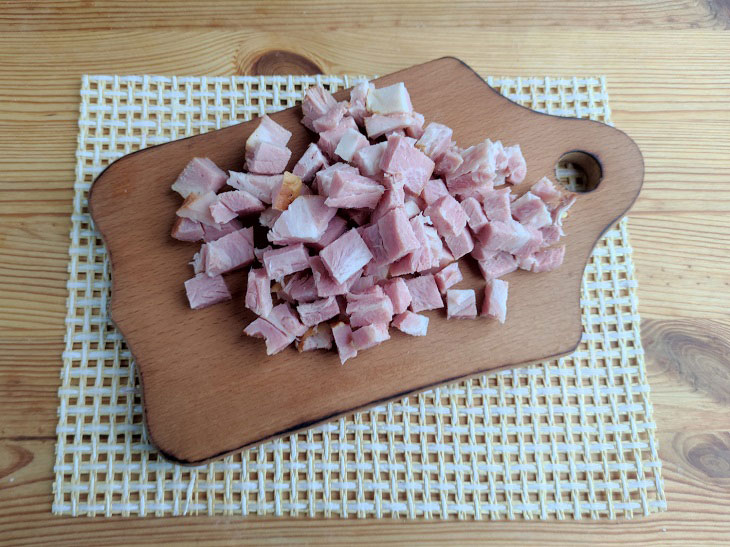 2. Rinse the cucumber, cut off the ends. Cut vegetables in the same way.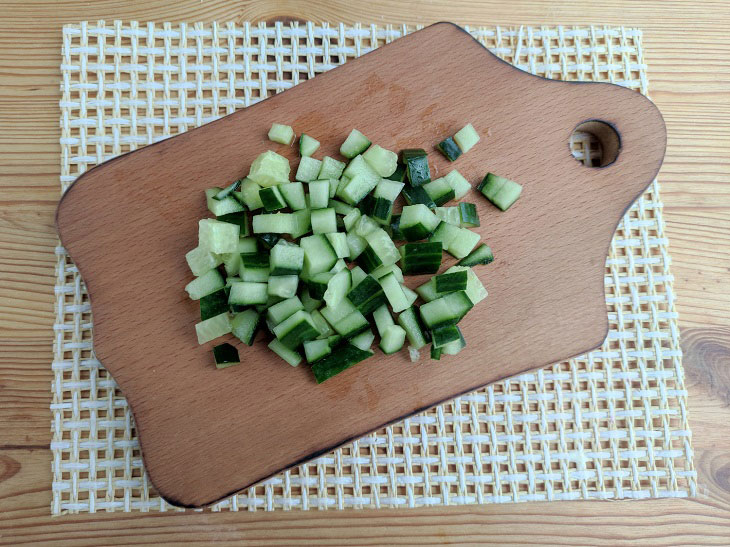 3. Peel boiled eggs. Set aside half of the yolk for decoration. Chop the rest of the eggs with an egg cutter. Peel carrots, cut into small pieces.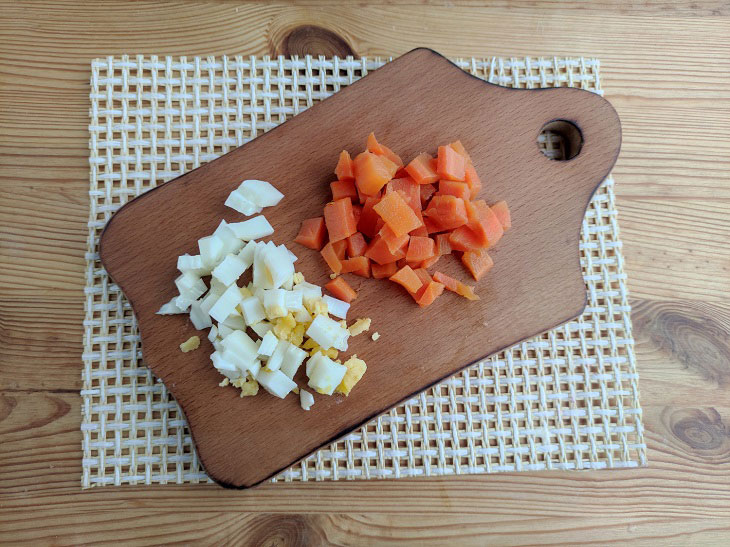 4. Peel boiled potatoes and place in a bowl. Salt it, pepper it.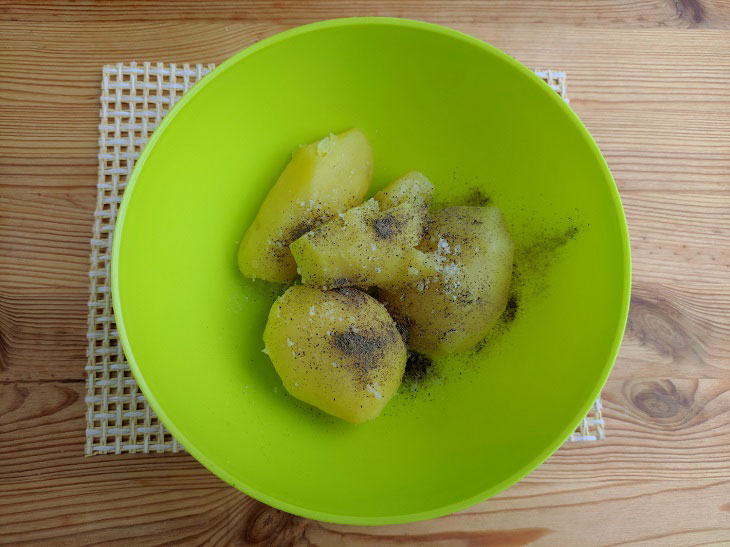 5. Mash the potatoes with a crush without fanaticism.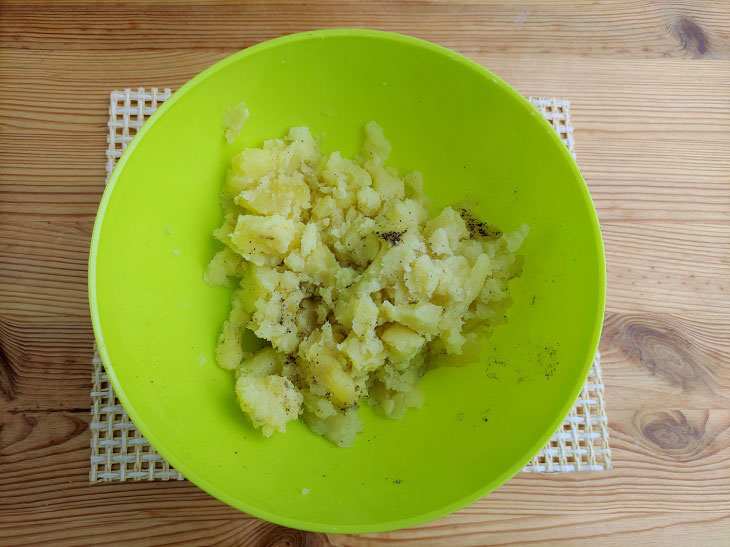 6. Put the prepared ingredients on the potatoes.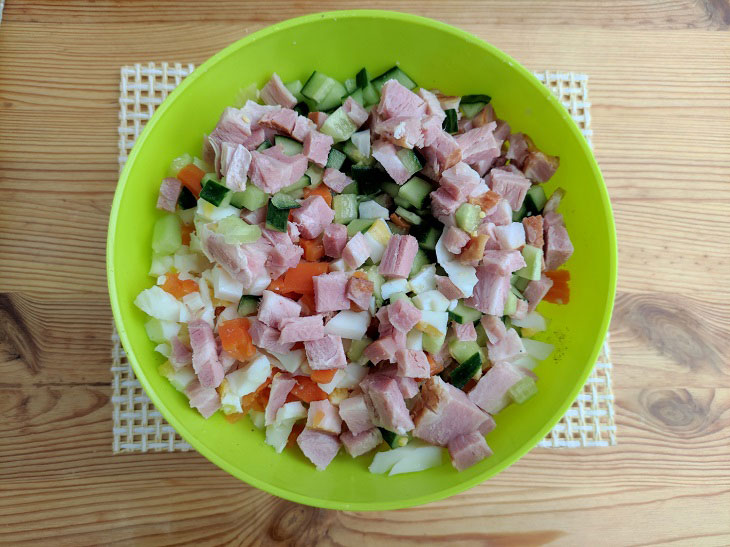 7. Pour vinegar into mayonnaise, add a little sugar. Mix the mass with a spoon. Season the Japanese salad with mayonnaise.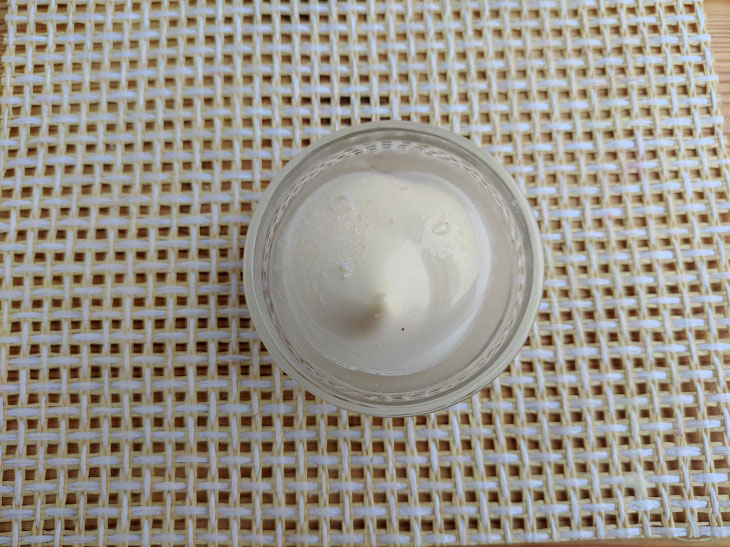 8. Form a large ball or several porti1d balls from the lettuce mass. Put bright lettuce leaves on a serving plate, put a ball. Sprinkle it with yolk. Top with leeks.
The Japanese salad looks quite unusual and will certainly not go unnoticed on our holiday table. The dish is very pleasant to the taste, it has a delicate structure and unusual texture.
The salad can be served on its own, or used on sandwiches or as a side dish.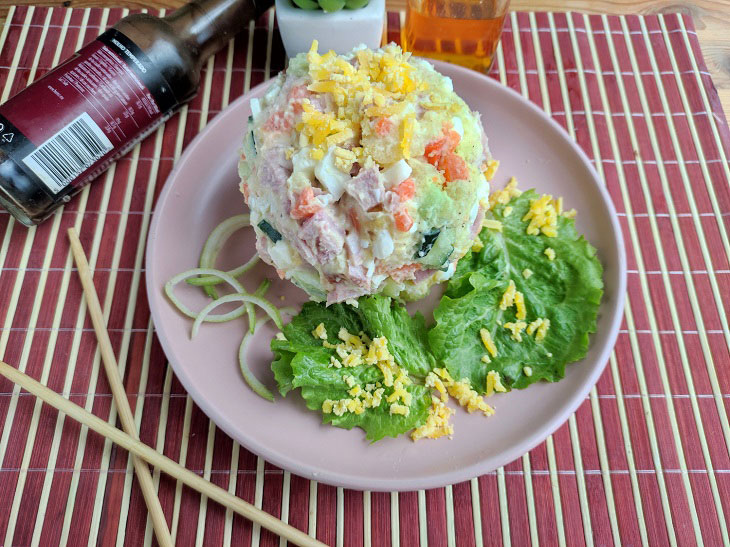 Bon Appetit!