Jellied chicken thighs for the New Year is a great treat for the whole family, as well as guests. It will not be difficult to buy chicken thighs when the rest of the housewives are looking for pork legs and beef shanks.
This tasty and low-fat dish is suitable for both adults and children. When serving a festive jelly to the table, do not forget to decorate it with fresh herbs. The rest of the preparation of chicken jelly is very simple and does not require special skills and abilities. The broth comes out clear and pleasant to the taste, everyone will like it, especially on a festive night. Aspic is prepared from thighs much faster than from other types of meat that require many hours of boiling.
Ingredients:
Chicken thighs – 800 g.
Water – 800 g.
Carrots – 80 g.
Onion – 80 g.
Peppercorns – 4-5 pcs.
Bay leaf – 2 pcs.
Salt – to taste.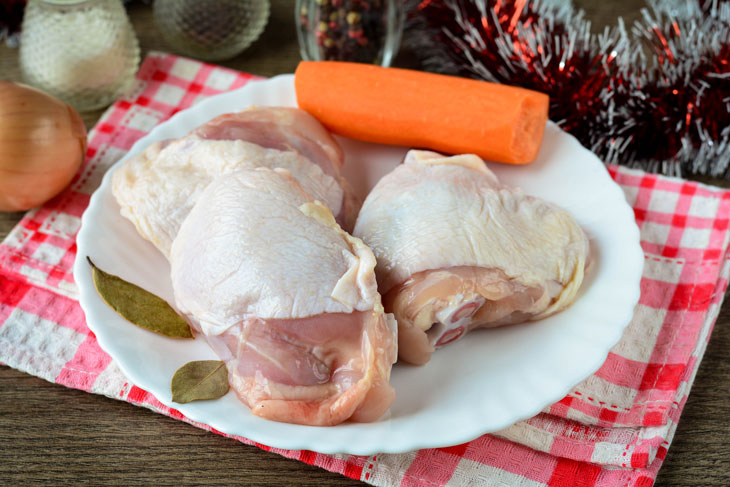 Cooking:
1. Rinse the chicken thighs and put them in a saucepan, pour cold water so that the liquid is 2-3 cm higher than the meat. Put the meat to cook on a slow fire. If you immediately turn on a large fire, the broth will turn cloudy.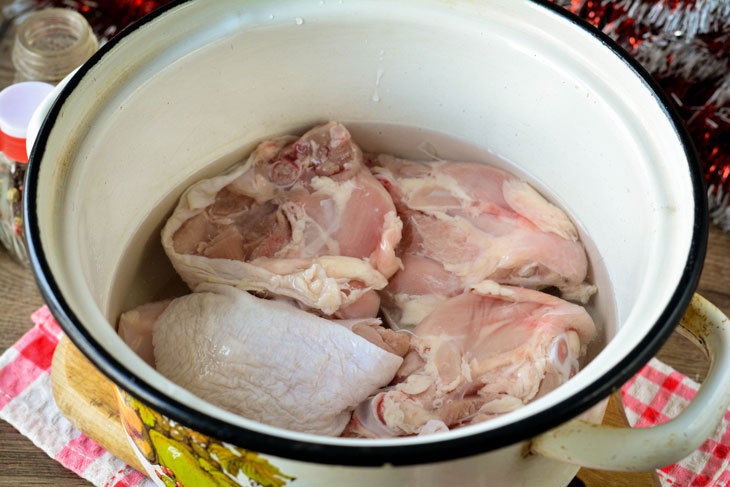 2. Cook the chicken broth under a lid over low heat for 1 hour, salt to taste in the middle of cooking.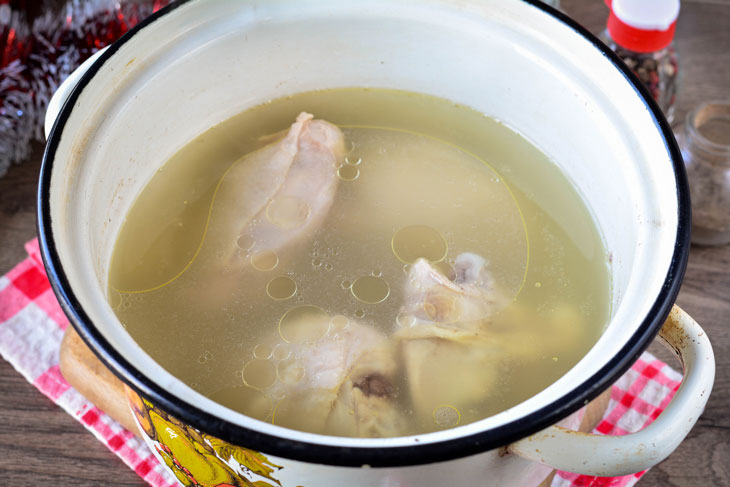 3. Then dip the peeled carrots and well-washed onions in the peel into the broth. Cook jelly for another 20-25 minutes with a little seething.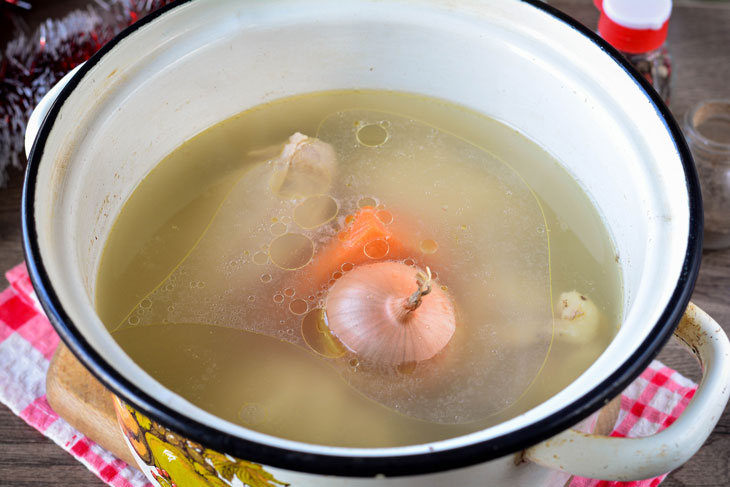 4. Pour in peppercorns and bay leaf, cook jelly with spices for another 10 minutes. Turn off the heat and let the jelly cool on the table for 1 hour.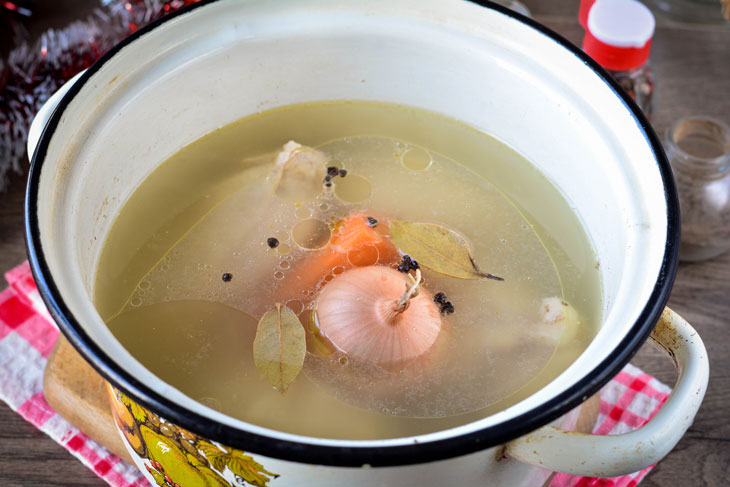 5. Get the meat, separate from the skin and bones. Chop the meat into medium pieces.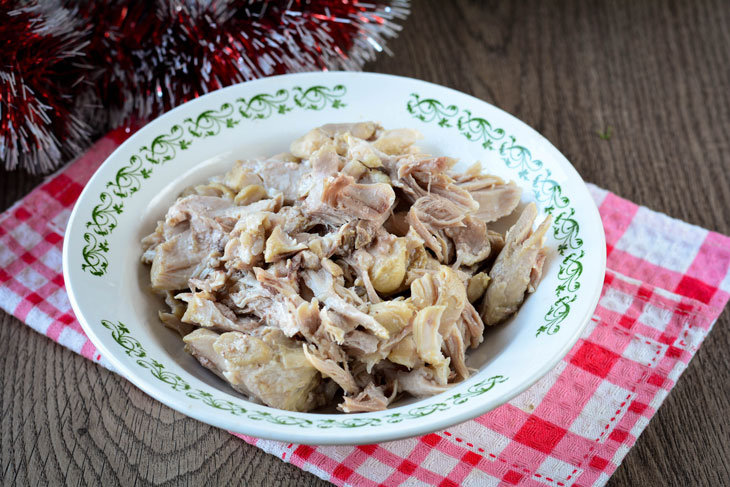 6. Put the pieces of meat in a jellied dish, add, if desired, pieces of boiled carrots. Pour the meat with broth, pouring it through a sieve.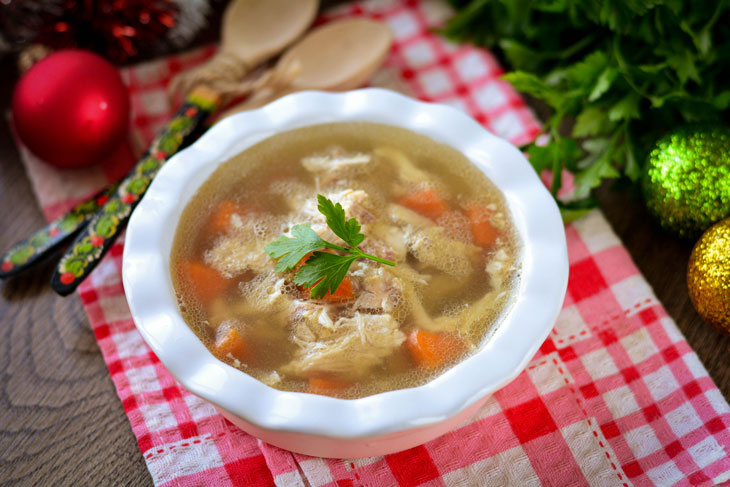 7. Put the jelly in the refrigerator for 3-4 hours until completely solidified.
The finished dish can be served for a festive feast.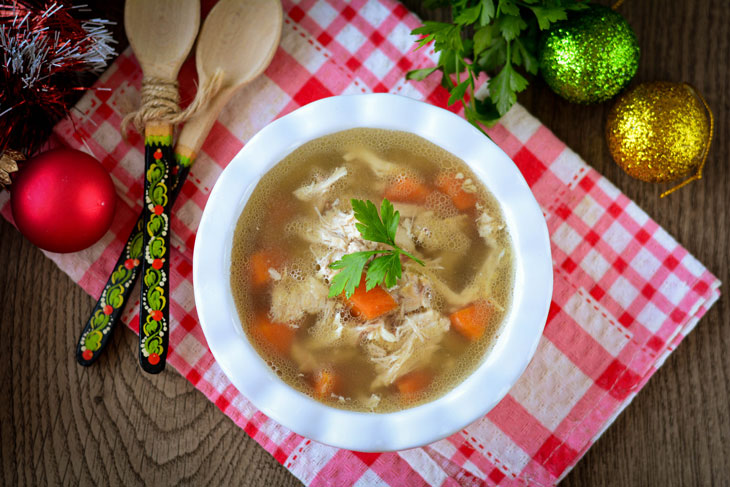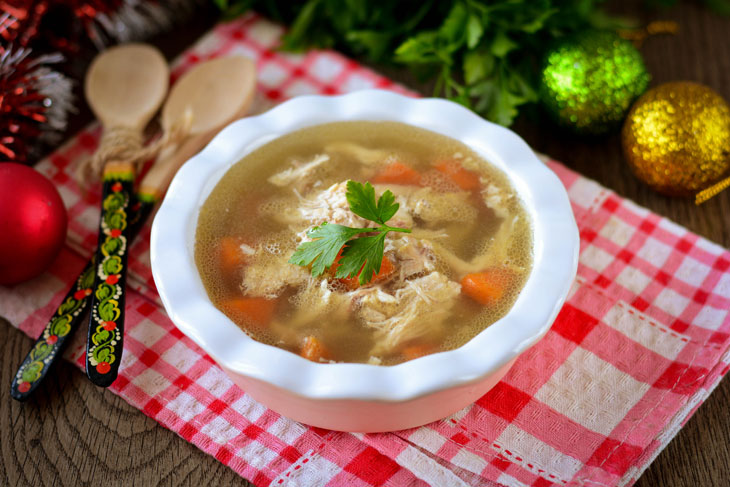 Enjoy your meal!