If you are looking for a recipe for a savory and original snack, then Korean herring is perfect for you. It is prepared relatively quickly – at least 6 hours – this is the minimum time for marinating. It is convenient to make a preparation in the evening, and the next day you will have an excellent snack on the table. Due to the fact that vinegar is used in the recipe – it dissolves all the small bones in the fish, guests will be surprised.
Who loves fish recipes, use this option – Korean herring will definitely suit your taste and liking.
Ingredients:
Fresh- frozen herring – 350 g.
Onion – 50 g.
Tomato sauce or ketchup – 2 tbsp. l.
Vegetable oil – 2 tbsp. l.
Apple cider vinegar 6% – 3 tbsp. l.
Salt – 0.5 tsp.
Black ground pepper – to taste.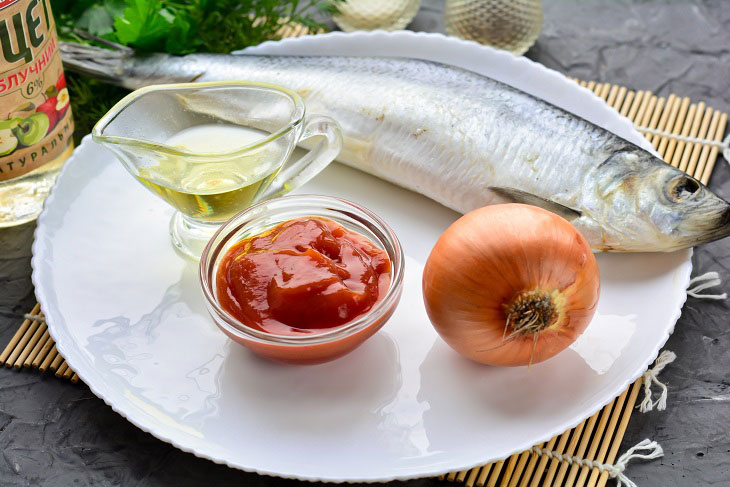 How to cook:
1. Defrost the herring in half – this will make it easier to cut and clean, it will not be too soft. Rinse and dry the fish on paper towels. Then remove the head, innards and cut off the tail. Remove the skin from the herring and remove the central spine. Thus, you will get a fillet, you can not remove small bones, and large ones will leave along with the ridge. Cut the peeled herring into medium pieces. Put the herring in a bowl or other container where you will marinate.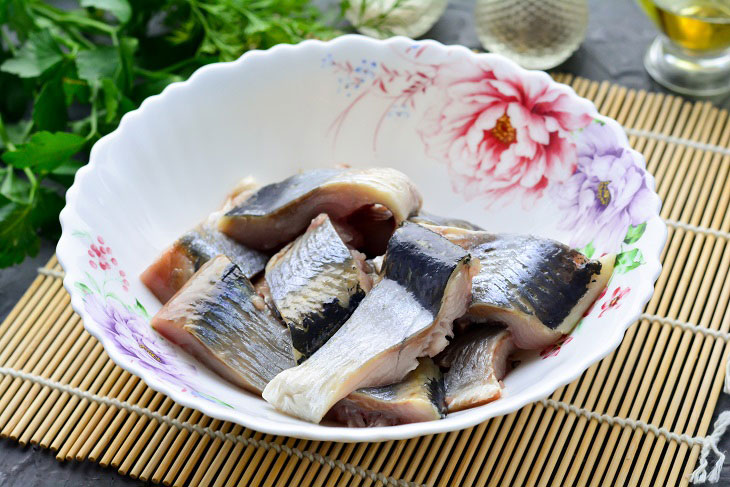 2. Cut the peeled onion into half rings and add to the herring.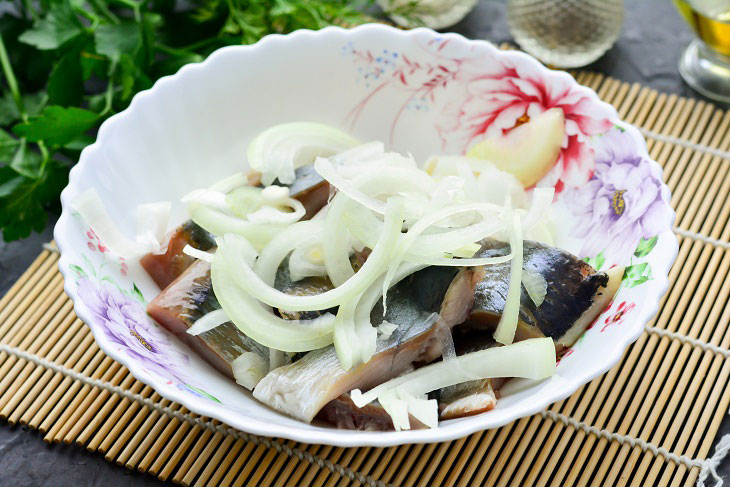 3. Add salt, ground black pepper if desired, mix well.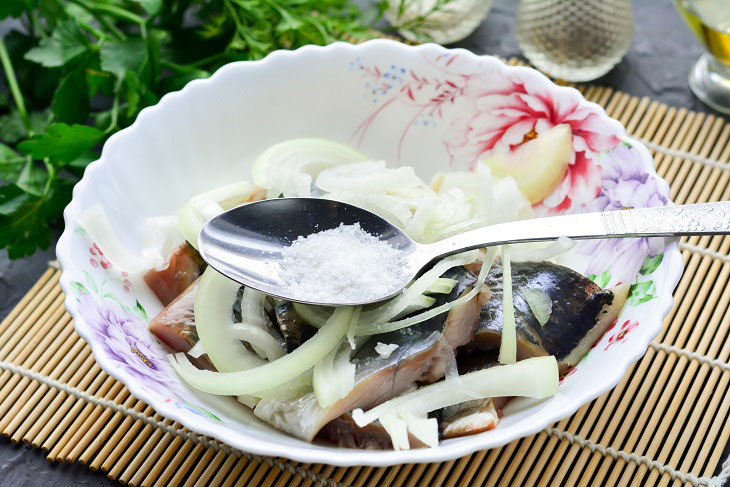 4. Add vegetable oil, then pour in apple cider vinegar – it does not have a very sharp smell, on the contrary, it gives off an apple flavor.
If there is no apple cider vinegar, replace it with regular table vinegar 9%, just reduce the amount by half.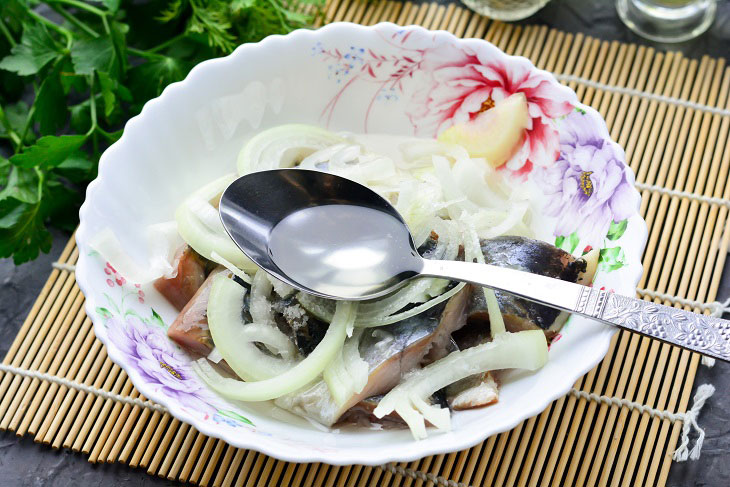 5. Now flavor the herring with any tomato sauce or ketchup.
Alternatively, you can use Krasnodar sauce – it is slightly sweet and pleasant in taste.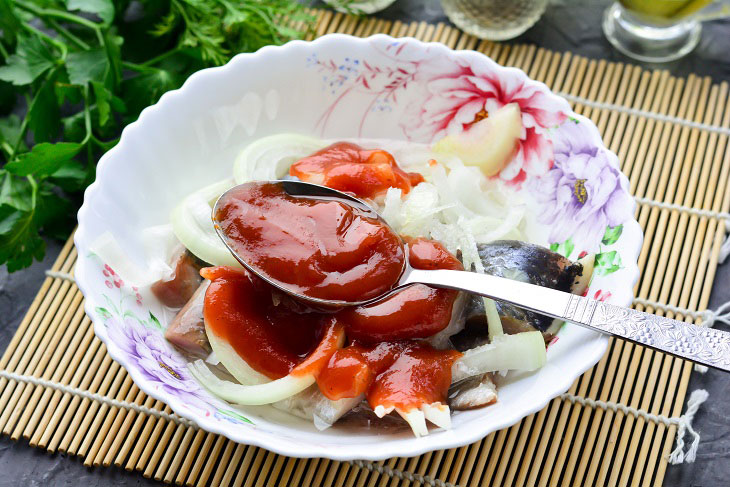 6. Mix all the ingredients well, cover the bowl with cling film or close the lid. Place in the refrigerator to marinate for at least 6-8 hours. If you marinate longer (about 1 day), small bones will magically dissolve – this is amazing. That's probably how vinegar works.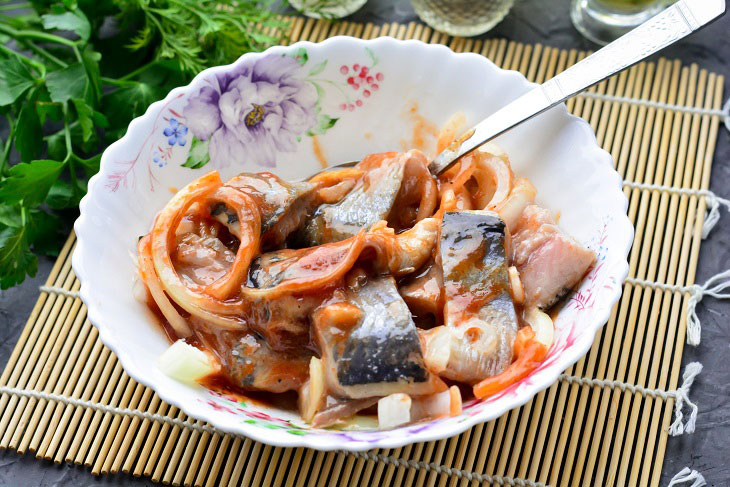 Serve ready-made Korean-style herring to the festive table or family dinner, it will be delicious! Do not forget to spread the herring along with the onion – it also turns out pickled and spicy.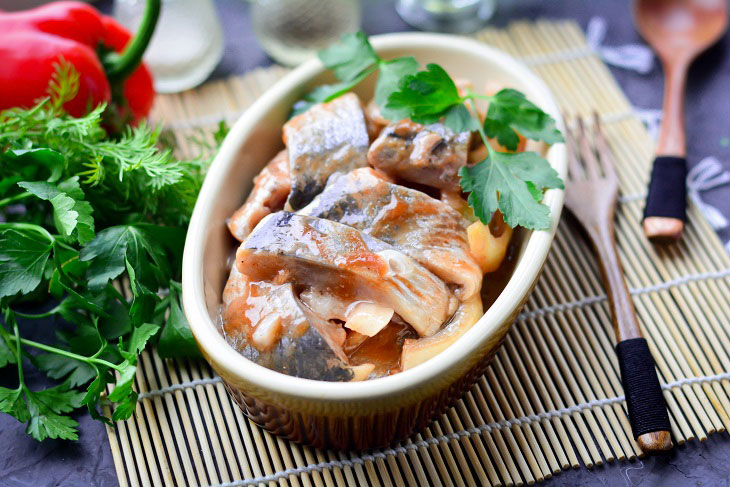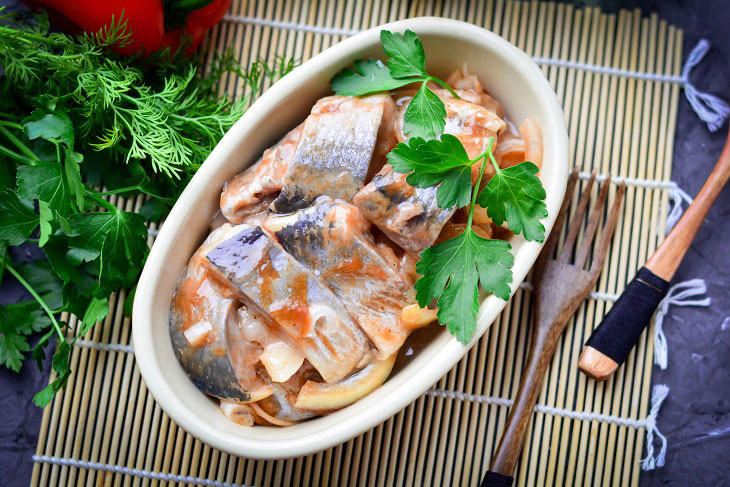 Bon appetit!