In addition to garlic, bell and hot peppers, carrots are added to Korean-style tomatoes prepared for the winter, grated with thin chips on a special grater – probably hence the corresponding name for this snack.
Like all Korean salads, it has a rich, spicy taste, the recipe definitely deserves the attention of lovers of such preparations. Make at least one or two jars for testing, and after trying, decide how much to do next year.
Korean-style tomatoes are very fragrant, pungent, but not hot, juicy and bright. It is better to take fleshy tomatoes so that they remain dense and do not lose shape after sterilization. Sweet pepper is also fleshy, preferably red. Adjust the spiciness with the amount of fresh chilli and garlic. If you follow the recipe, the tomatoes will turn out to be spicy, but not like for "fire eaters", the spiciness will be moderate. For lovers of significantly spicy snacks, you can add one or two more chili peppers.
Ingredients:
For two cans of 0.5 liters:
Dense ripe tomatoes – 700-750 g.
Chili pepper – 1-2 pcs.
Bulgarian pepper – 2 pcs.
Carrots – 1 medium or 2 small.
Onion – 1 pc.
Garlic – 4-5 cloves.
Salt – 0.5 tbsp. l. with a hill.
Sugar – 1 tbsp. l. with a hill.
Vegetable oil – 2 tbsp. l.
Vinegar 9% strength – 2 tbsp. l.
Any greens – to taste.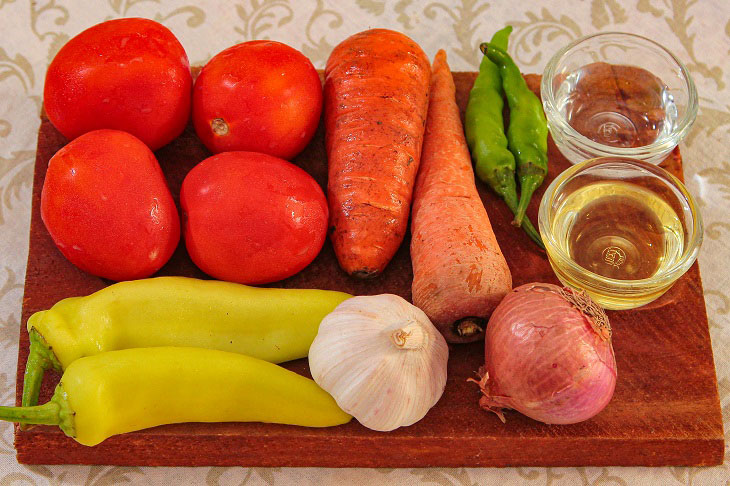 How to cook:
1. Cut the bell pepper lengthwise, remove the stalk, seeds. We cut the pulp into pieces. We clean the garlic, cut into plates. Cut hot pepper into rings.
To avoid excessive sharpness in the filling, the seeds can be cut out along with white partitions.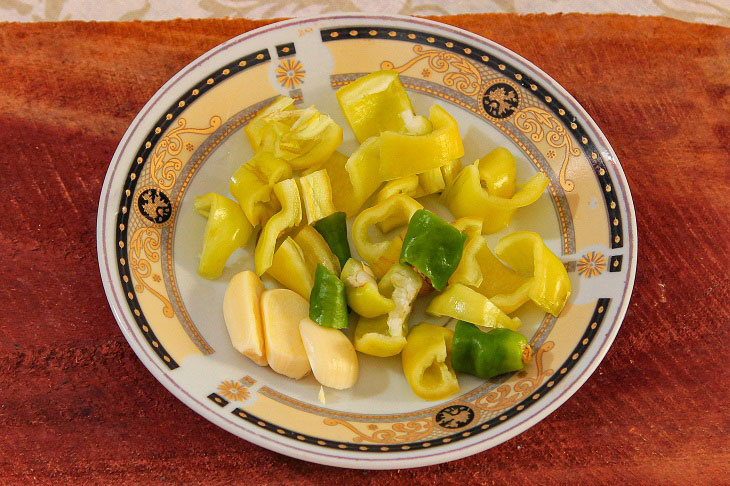 2. Cut a small onion into a small cube. We rub the carrots with not very long chips, using a special grater for chopping vegetables into Korean salads.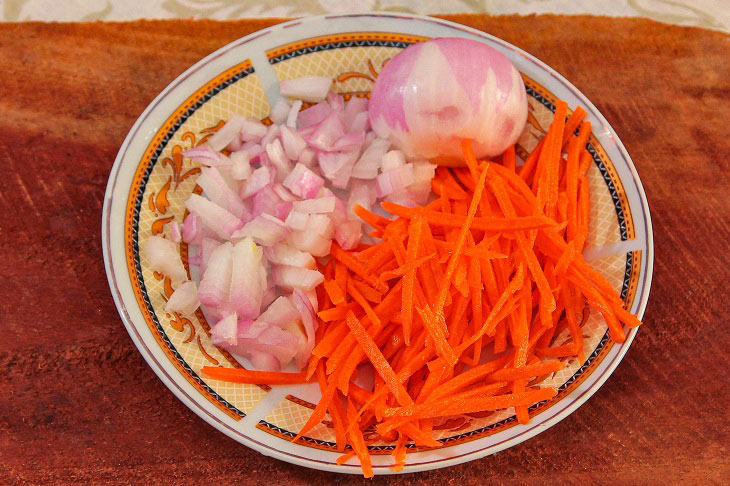 3. Grind the garlic, Bulgarian and hot peppers with a blender into gruel. We shift into a bowl, add carrots, onions, finely chopped greens (dill, celery, parsley, basil – whatever you like). Pour vinegar, vegetable oil, put salt and sugar. After mixing everything, leave for ten minutes until the salt and sugar crystals dissolve.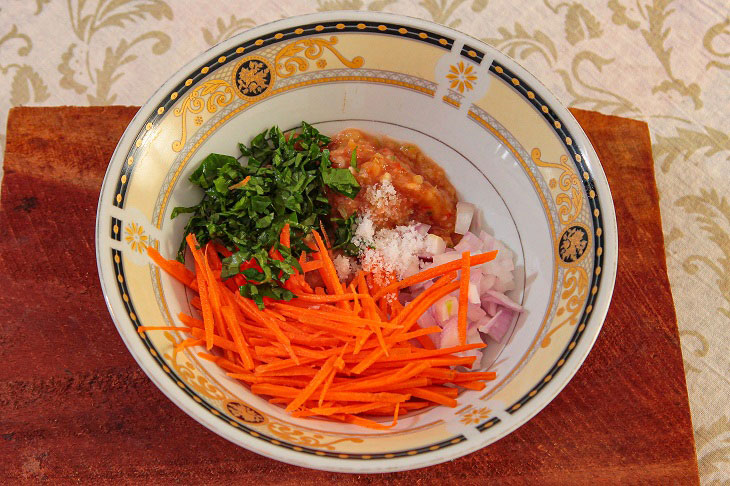 4. Cut the tomatoes in half, cut especially large specimens into four to six parts.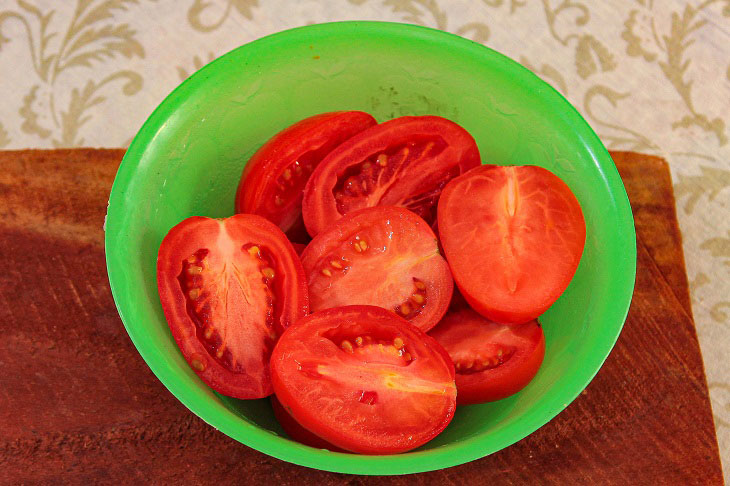 5. Wash the jars thoroughly with a hot solution of soda or detergent. Rinse clean, scald with boiling water or sterilize over steam for several minutes. Let cool slightly by turning upside down on a towel. At the bottom of the jar we lay out a spoonful of filling. Put a layer of tomatoes cut down and fill again.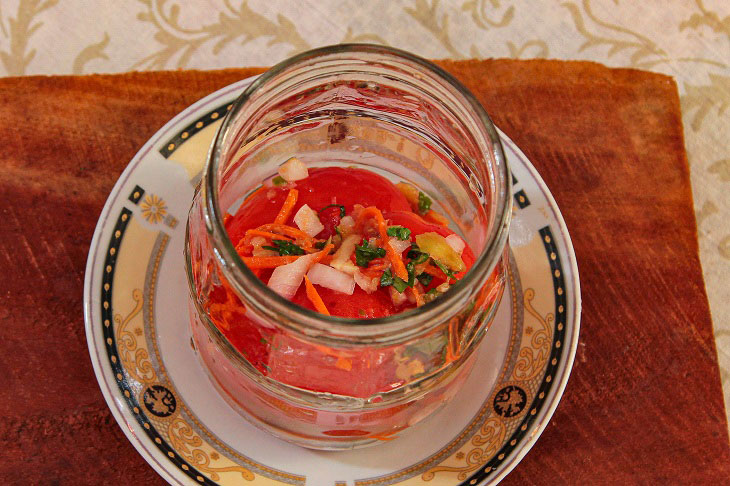 6. Alternating tomatoes and filling, tightly fill the jars to the top, leaving some free space.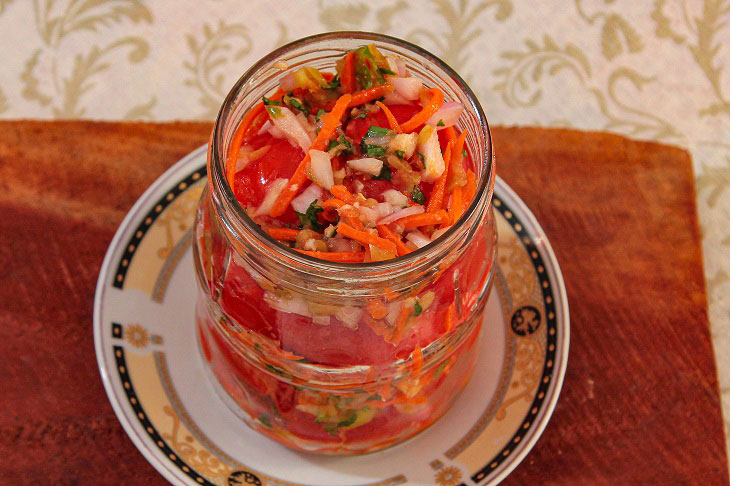 7. Put a thick cloth or kitchen towel on the bottom of the pan, folding it in several layers. We put the jars, cover the top with a lid, without rolling. Pour water up to the middle of the jar or slightly higher. We sterilize half-liter jars for 15-20 minutes, we mark the time from the beginning of the boiling of water in the pan.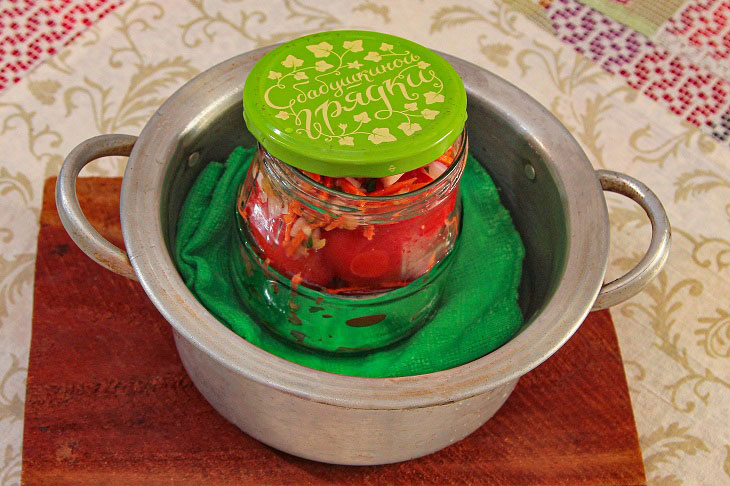 8. We take out the sterilized jars one by one from the pan, tightly screw them on or roll them up with a machine. Turn upside down, cover and let cool completely. After we clean it in a dark place: a pantry, a cellar or a basement.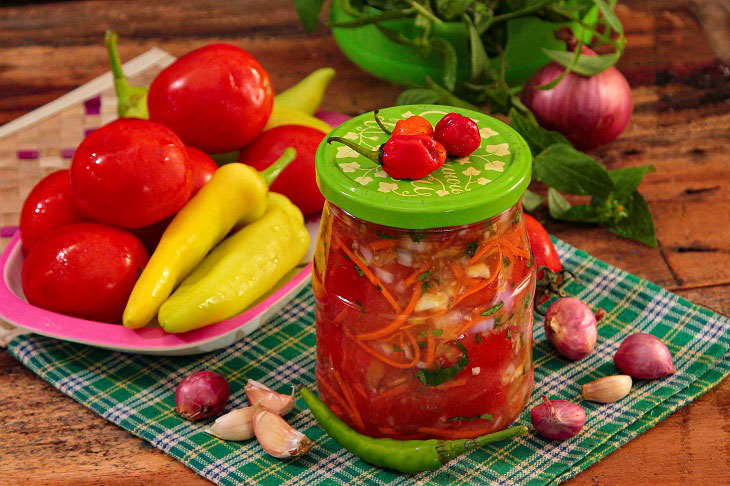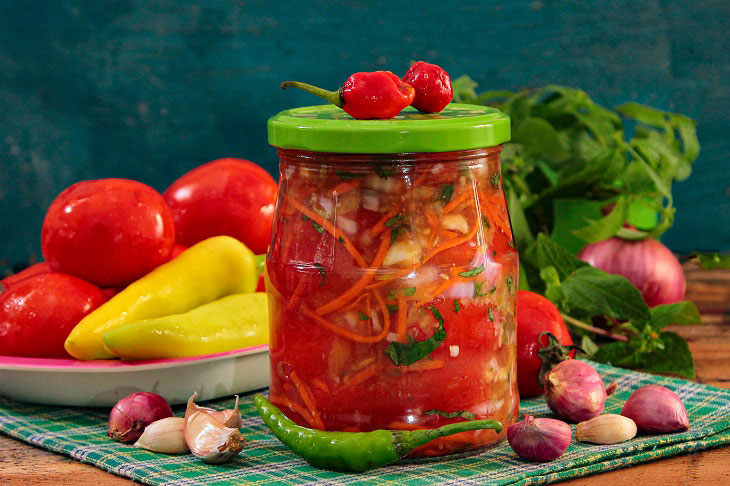 Enjoy your meal!