Chic puffs can be served for dinner or as a hot snack for an afternoon snack. You can use ready-made puff pastry or make your own. In the first case, cooking will take only forty minutes, and in terms of complexity, even an inexperienced hostess will easily perform it. It is best to put on the table with a creamy sauce. As an alternative sauce, grated tomatoes with salt can be served.
Ingredients:
Packing of puff pastry – 500 g.
Turkey ham – 120 g.
Suluguni cheese – 150 g.
Bulb – 1 pc.
Parsley – a small bunch.
Chicken egg – 1 pc.
Butter – 25 g.
Spices – to taste.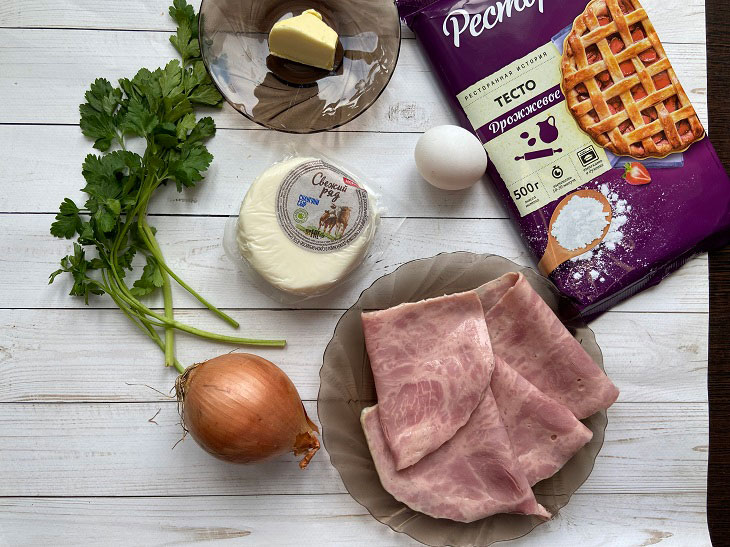 How to cook:
1. Peel the onion from the husk and chop finely.
If turnip onions seem too harsh to you, then you can take white onions – they have a more delicate aroma.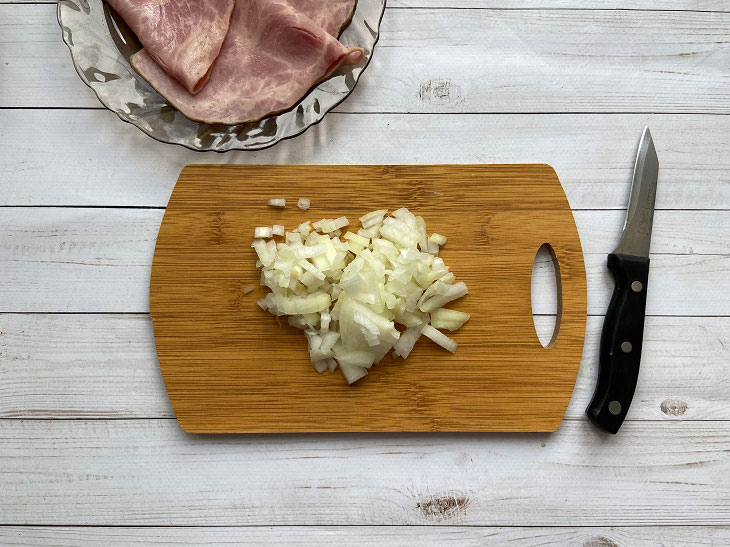 2. Ham should be chopped as finely as possible. If the pieces are too large, it will affect the taste of the dish.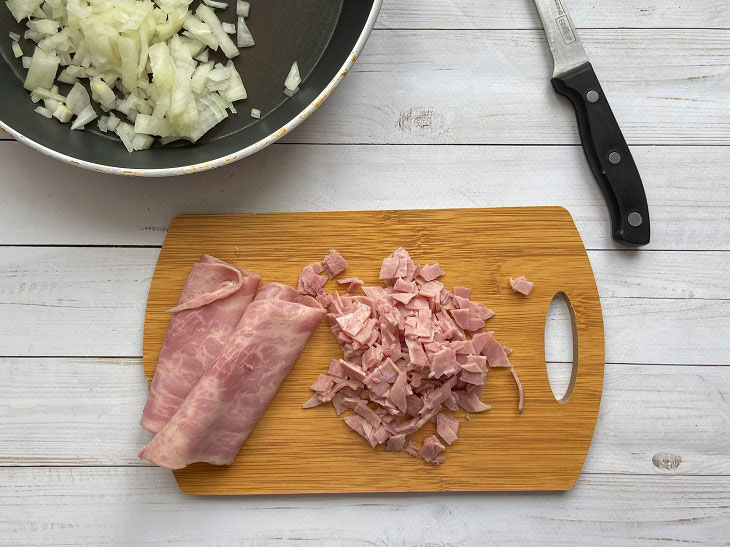 3. Pour a small amount of oil into a preheated pan, and then send the onion and ham. Fry for about three to five minutes.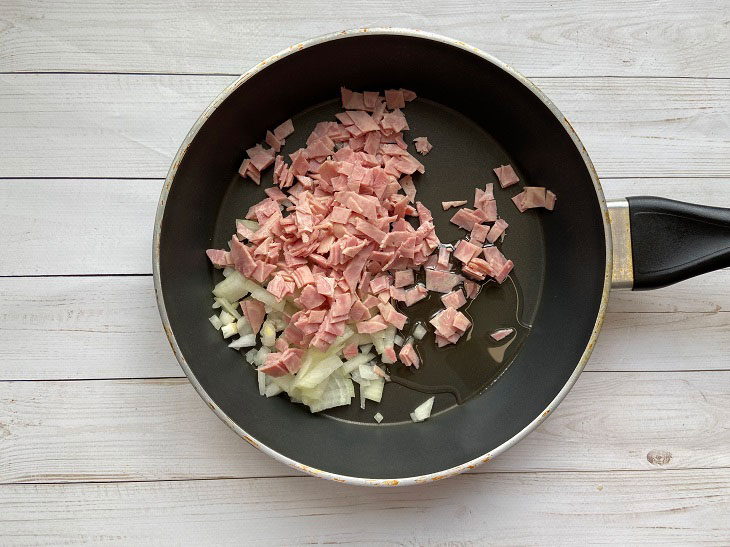 4. Parsley needs to be chopped and poured into the pan with the ingredients.
You can also take cilantro, it is brighter in taste.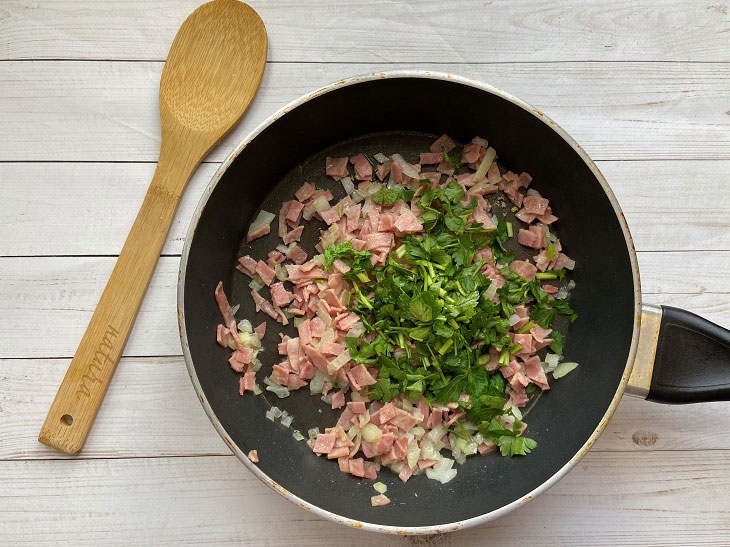 5. You can add spices to your taste, most often the housewives add ground pepper – it fits perfectly here.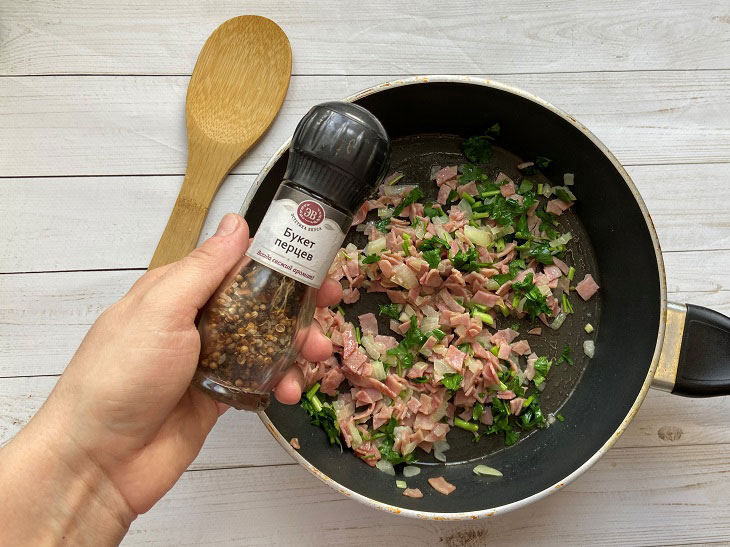 6. Remove the suluguni from the film and grate on a coarse grater.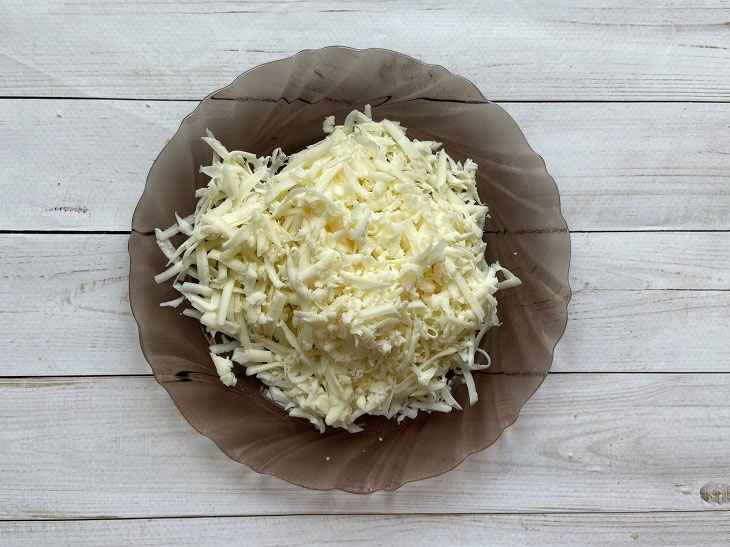 7. Remove the pan from the heat and pour in the grated suluguni. After that mix well.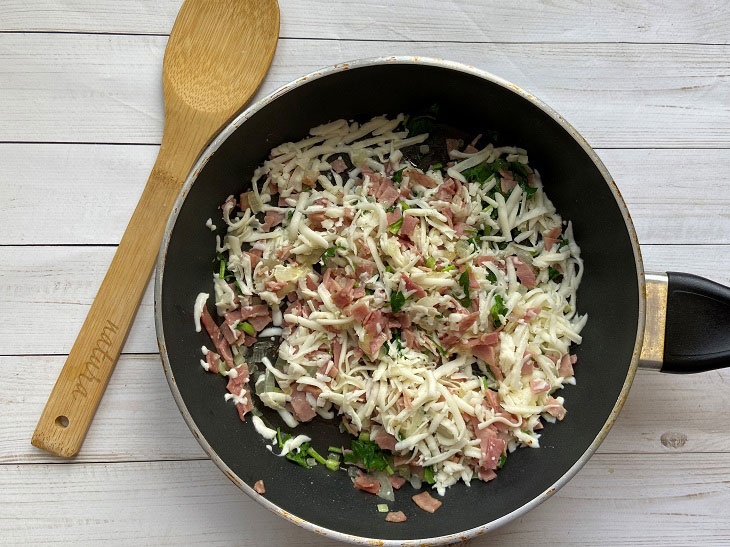 8. Store-bought puff pastry is usually sold in layers. We will need two, they will need to be rolled out slightly and each divided into four pieces.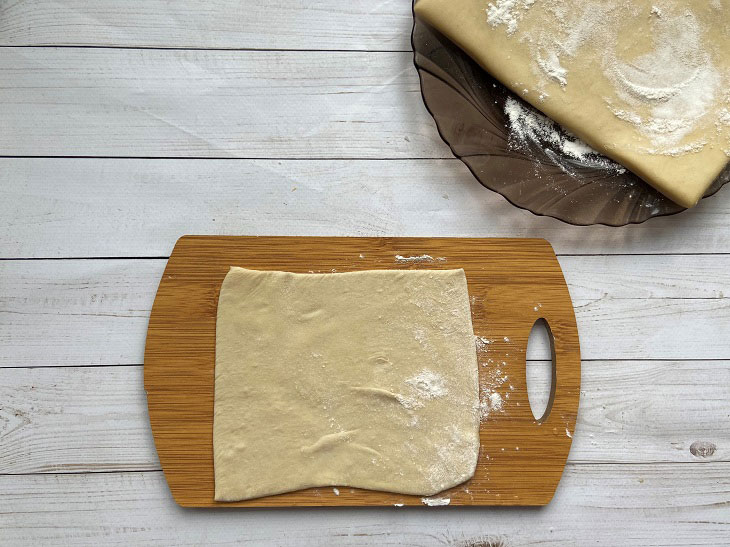 9. To give the puff the correct shape, you need to follow the steps in sequence. The first step is to make cuts on four sides.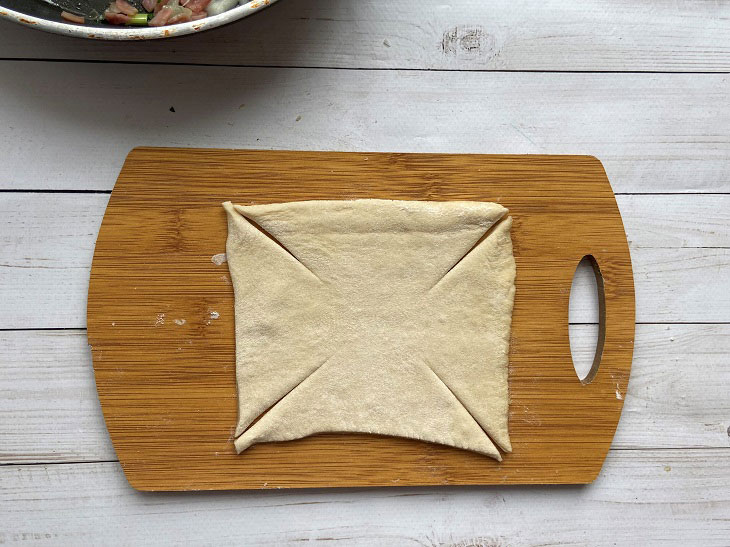 10. Place the filling in the center of the future puff, and mold the dough in each direction as in the photo.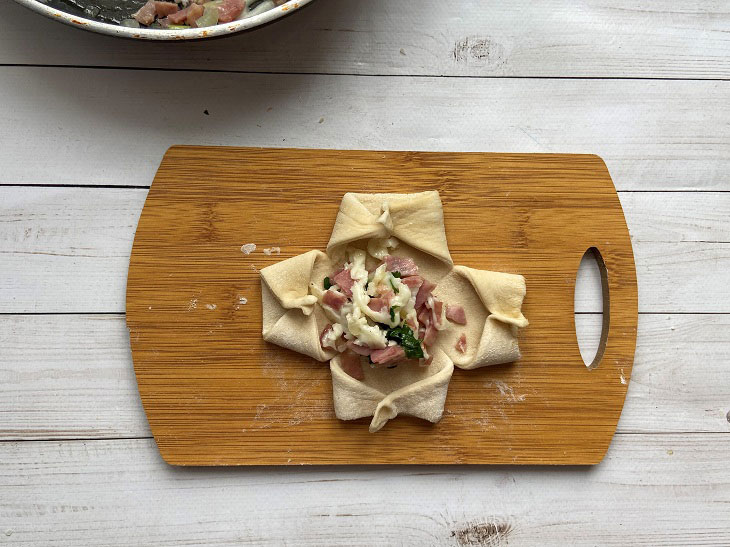 11. In order for the puff to take on a finished look, the dough petals must be connected crosswise, like manti.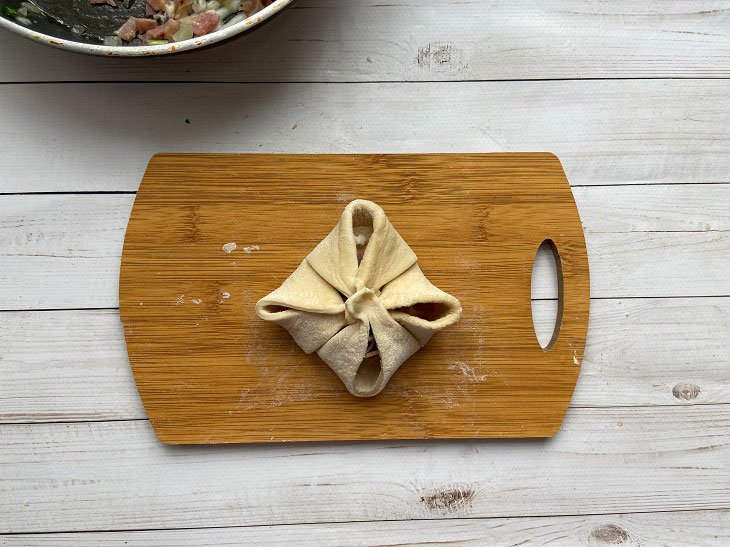 12. In a deep bowl, shake the chicken egg and grease the pies before placing in the oven. Bake for about twenty minutes, you should focus on your technique and appearance.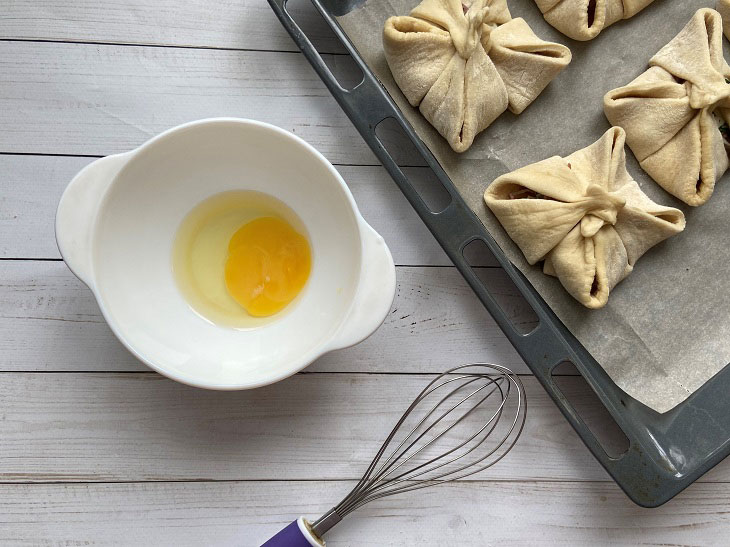 Ready puffs should be served hot. You can also put sour cream with garlic and herbs on the table, or grated tomatoes with salt.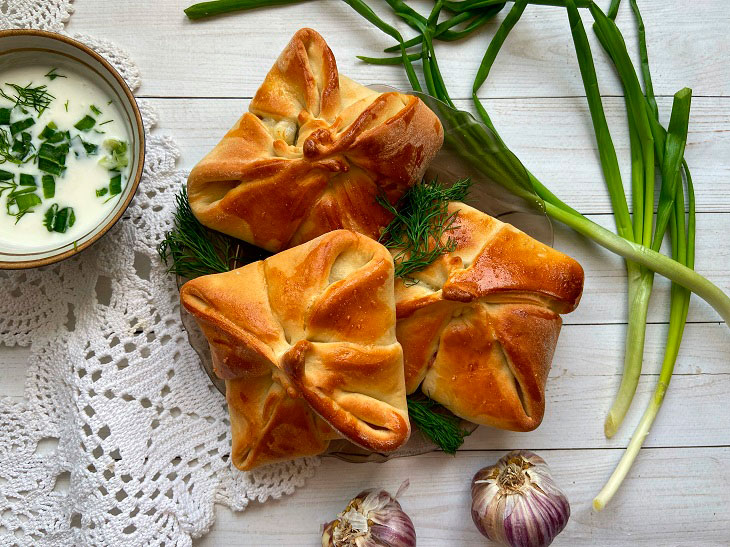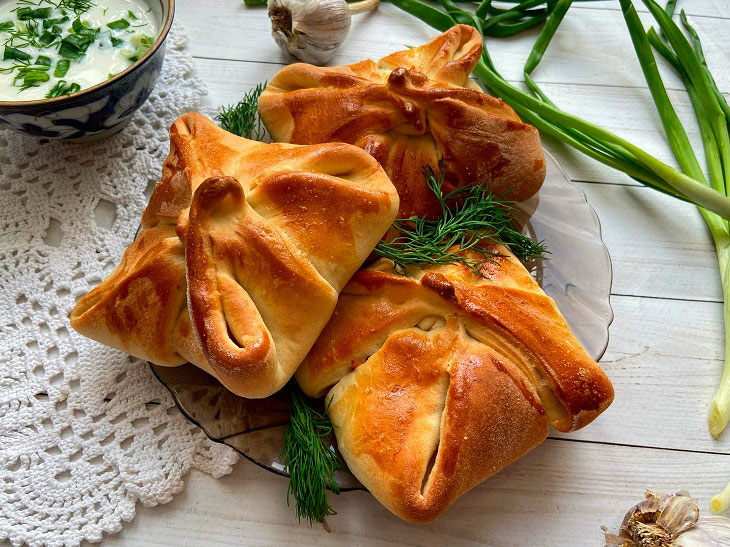 Bon appetit!