Puff salad "Ideal", despite the seemingly unusual combination of ingredients (boiled beets with smoked sausage cheese and fried chicken), is very tasty and satisfying. Such a salad looks pretty, and for many at first glance it may resemble a herring under a fur coat.
Preparing a salad is very simple, so that it comes out neat, it is best to form it using a special split ring. All the necessary ingredients are laid in layers, two of which are smeared with mayonnaise-garlic sauce (which, by the way, also gives the salad an original taste), the rest with mayonnaise. An important point – the salad should be well soaked. Therefore, before serving the Ideal salad on the table, send it to infuse in the refrigerator for several hours.
Ingredients:
Sausage smoked cheese – 150 g.
Chicken breast – 1 pc.
Beets – 1-2 pcs.
Eggs – 2-3 pcs.
Salt – to taste.
Vegetable oil – for frying.
Mayonnaise.
Seasoning for chicken – 0.5 tsp.
For sauce:
Mayonnaise – 2-3 tbsp. l.
Garlic – 2-3 cloves.
How to cook:
1. On the dish in which you will form the salad, put a detachable form or salad ring, grease the bottom with mayonnaise. Grate the smoked sausage cheese on a coarse grater and put it in the first layer of the salad.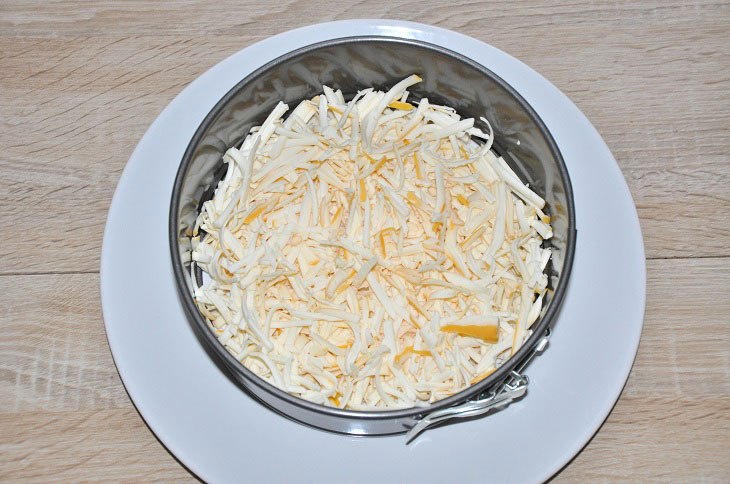 2. To prepare the sauce, mix mayonnaise with squeezed garlic cloves.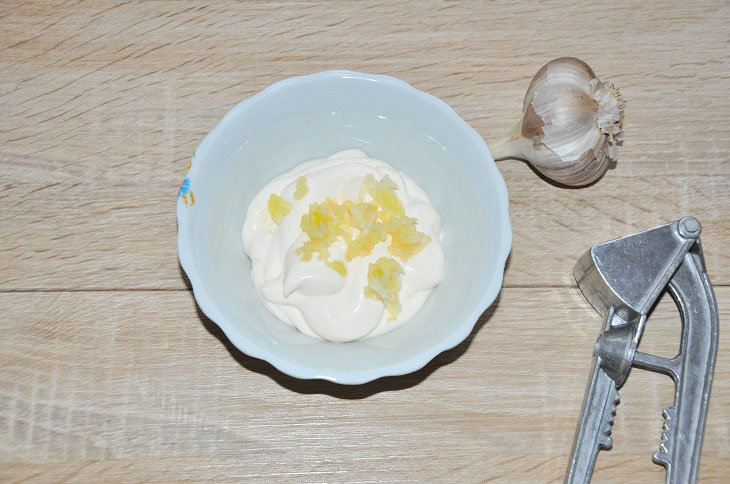 3. Put half of the prepared sauce on the lettuce cheese layer and spread evenly over the entire surface.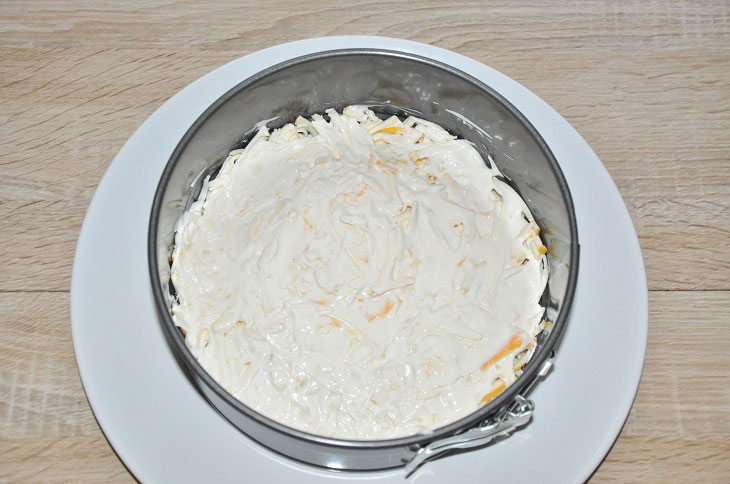 4. Grate the eggs on a coarse grater, and evenly distribute them, smearing them with just a mayonnaise mesh (not mayonnaise sauce!).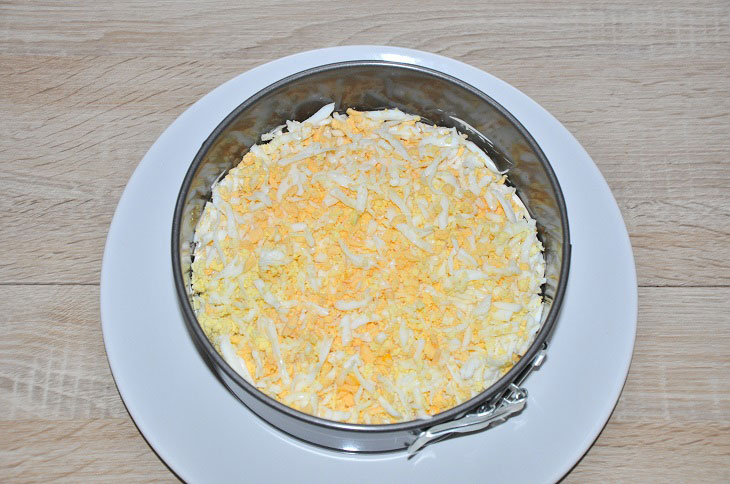 5. Rinse and dry the raw chicken breast, then salt it to taste and coat with chicken seasoning, then fry in vegetable oil on both sides (until golden brown). After the fried chicken breast has cooled, cut it into pieces and place on top of the egg salad layer.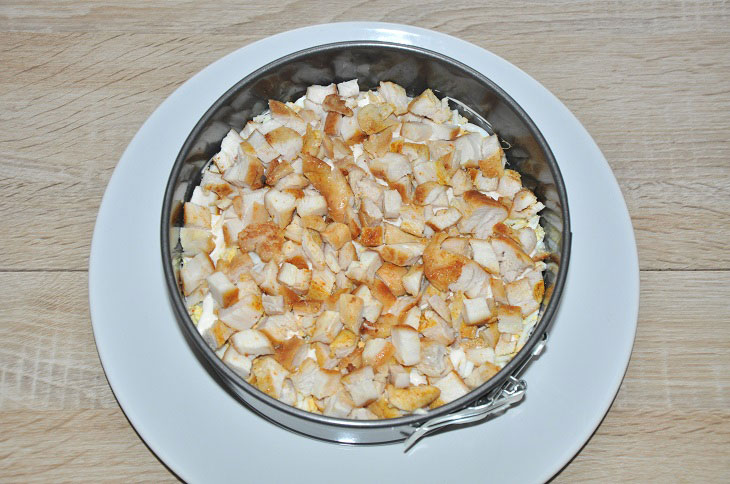 6. Spread the chicken generously with the remaining mayonnaise-garlic sauce.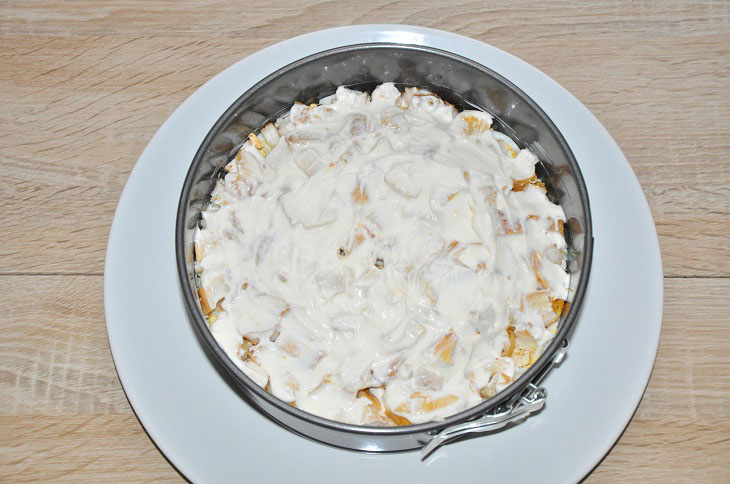 7. Grate the beets on a coarse grater (if necessary, to remove the beetroot juice, squeeze it out) and spread evenly with the final layer of lettuce.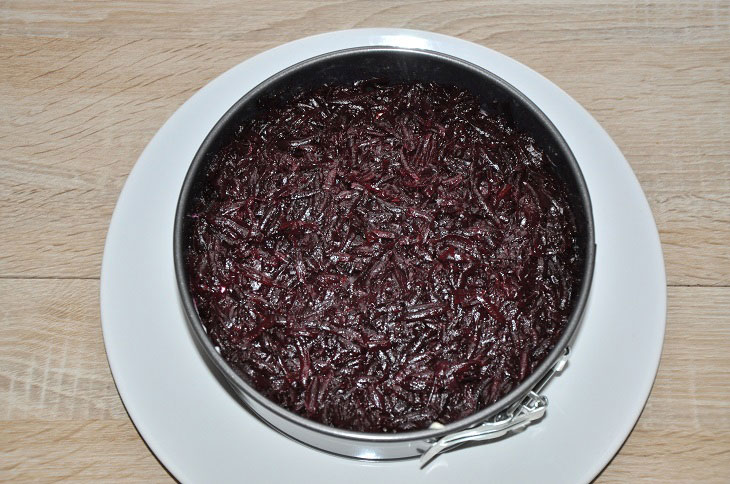 8. Grease a layer of grated beets with mayonnaise. After that, put the dish in the refrigerator for 2 – 3 hours so that it is well soaked.
To prevent the salad from getting weathered, cover it with cling film on top.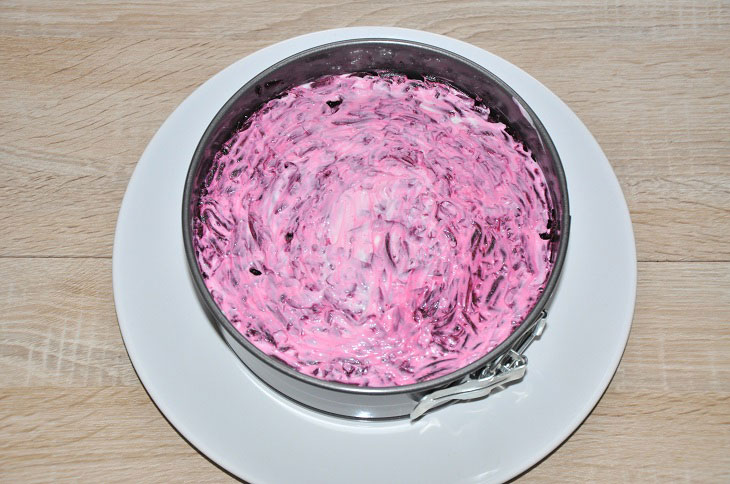 9. Then carefully remove the Ideal salad from the detachable form / ring, decorate as you wish and serve.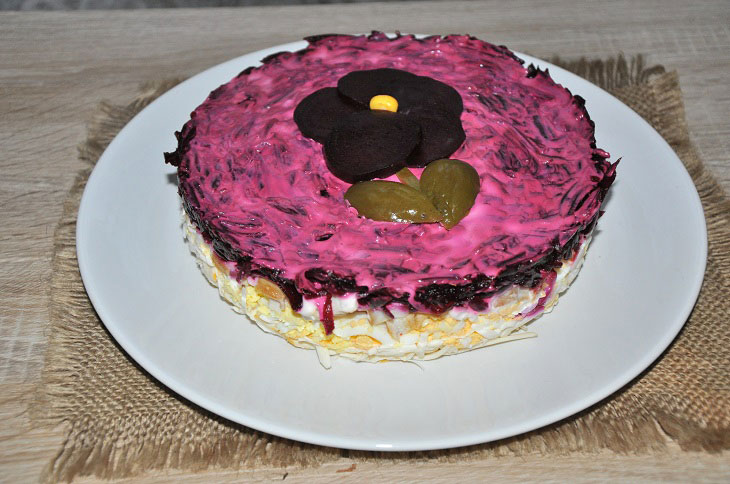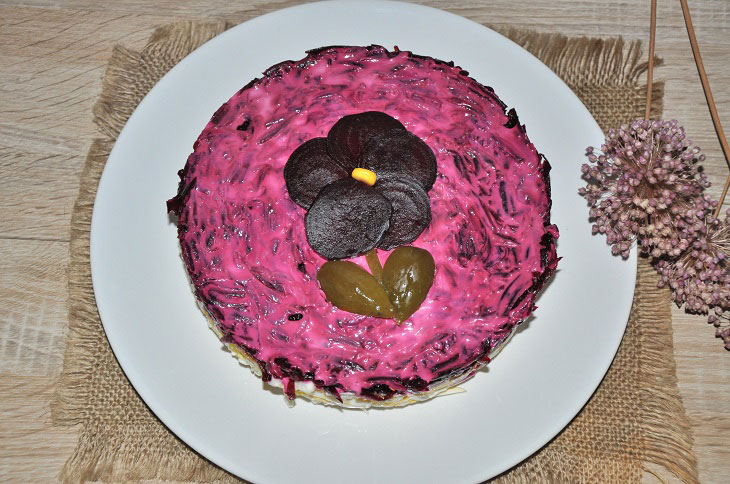 Enjoy your meal!