Macho puff salad with beef turns out to be quite satisfying and very tasty, the main thing is to choose the right beef. The meat should be soft and juicy, and you can prepare it for salad in the oven, in a saucepan or in a slow cooker. Do not use lean beef, as it can end up tough or dry.
All the ingredients for the salad are very simple and affordable, so you can cook it any day without waiting for a special occasion.
Ingredients:
Beef – 200 g.
Fresh cucumber (small) – 1 pc.
Chicken eggs – 2 pcs.
Walnuts – 1 handful.
Mayonnaise – 45 ml.
Garlic – 1 clove.
Fresh herbs – 2-3 sprigs.
How to cook:
1. It is advisable to boil the beef in advance in salted water or bake it in any convenient way, for example, in foil or in a sleeve. Boil chicken eggs, cool. Break open the shells of the nuts and take out the kernels, check that they are not rancid.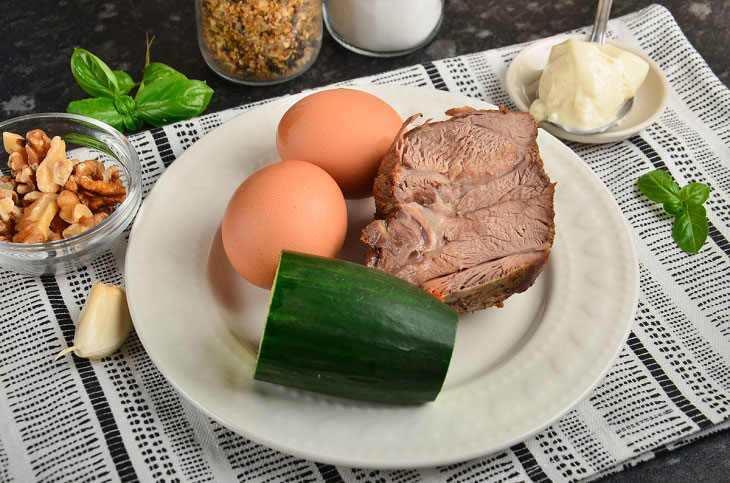 2. To "assemble" the salad, you can take a special form. Cut the beef into small pieces and form the first layer of lettuce, smooth and tamp.
3. Lubricate the layer of beef with mayonnaise of any fat content.
You can use both a homemade product and a store-bought 1.
4. Cut a fresh cucumber into thin strips. You should not grate, as in this case the cucumber will release a lot of juice.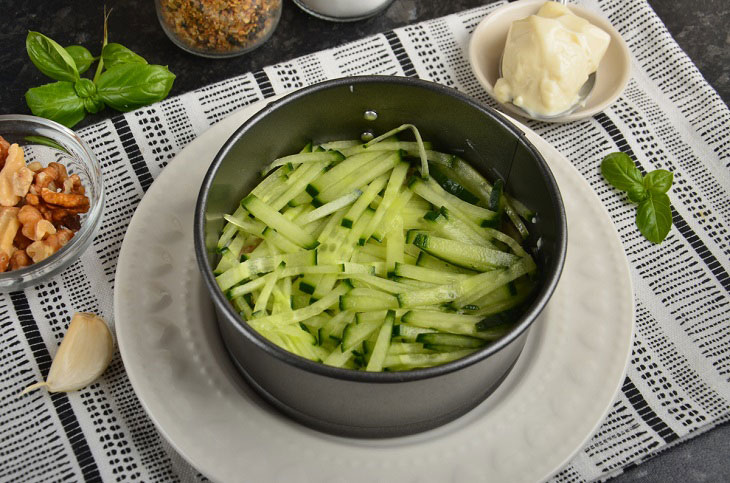 5. Peel chicken eggs, grate on a coarse grater, add mayonnaise. Finely chop the garlic clove and add to the eggs, mix everything.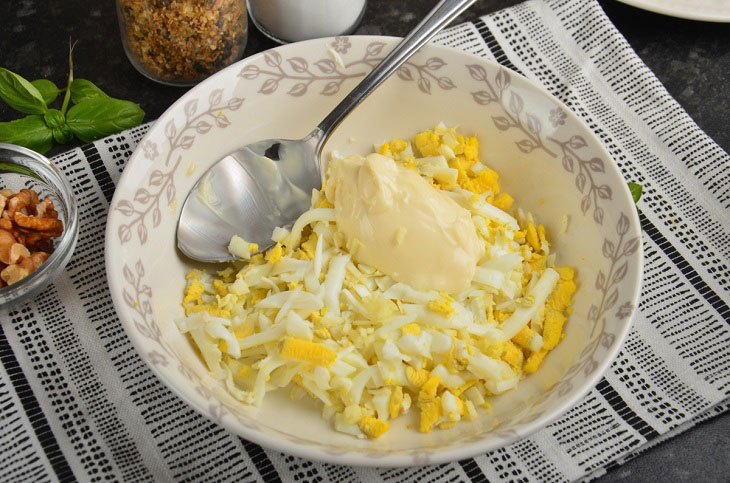 6. Form the next layer of eggs with mayonnaise and garlic, smooth.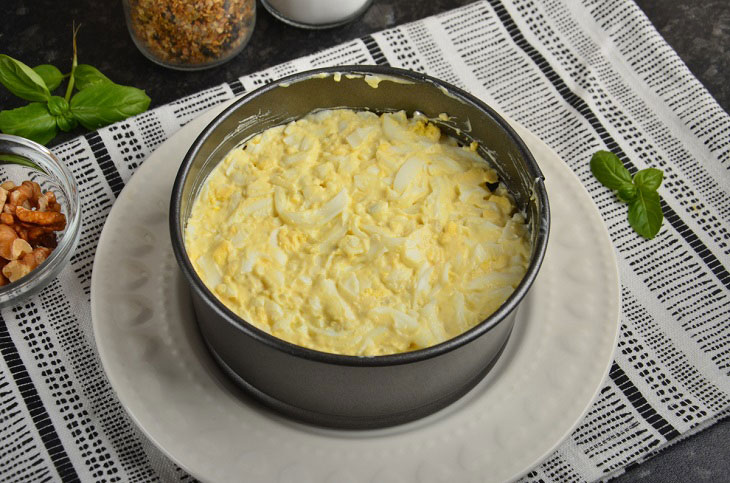 7. Walnut kernels can be very easily crushed into small crumbs – you need to put them in a plastic or paper bag, and then roll them out with a rolling pin several times. Form a final layer of nut crumbs, then refrigerate the salad to soak. A few hours will suffice.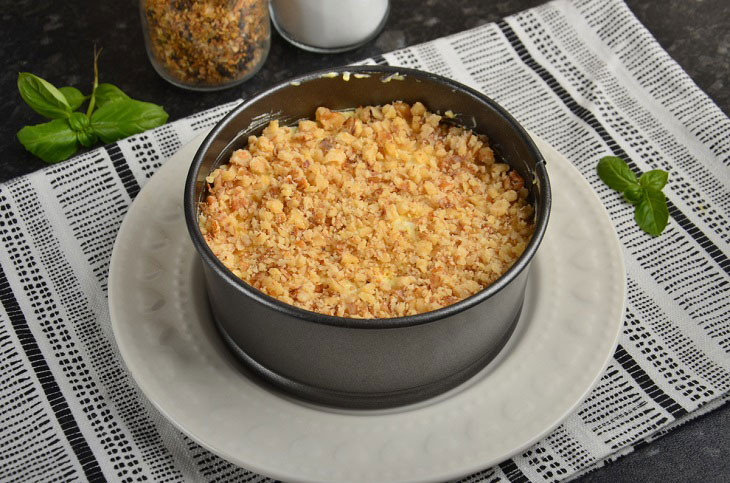 Before serving, you can decorate a serving of salad with a sprig of fresh parsley, dill or basil.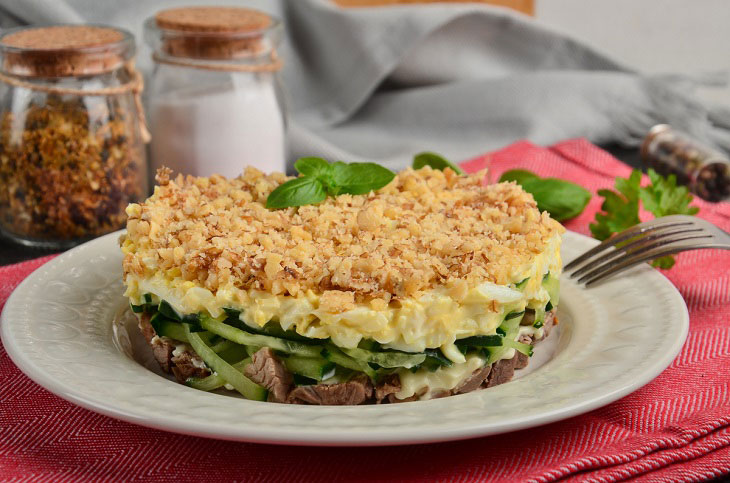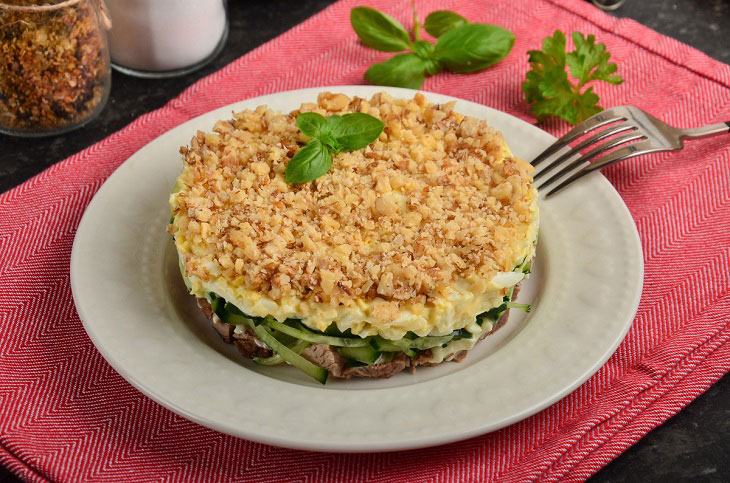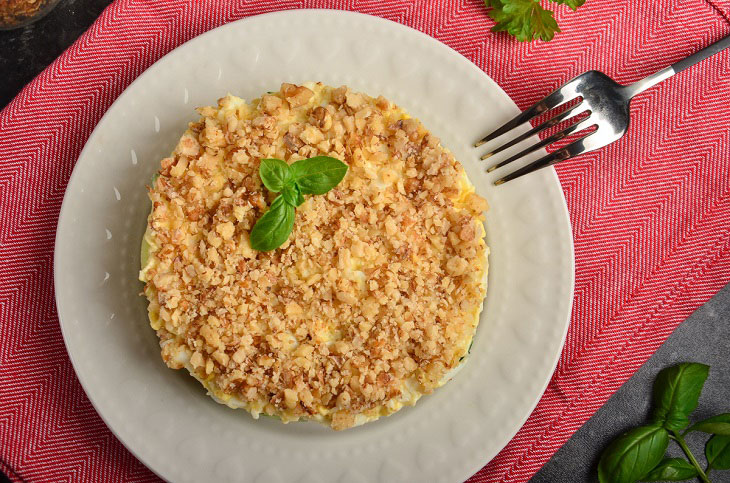 Enjoy your meal!