The salad got its name because it consists of four vegetables – beets, pickles, onions and garlic. The combination of spicy garlic, fried onions and pickles subtly sets off the taste of the dish and harmonizes perfectly with sweet beets.
Salad "Quartet" is very easy to prepare, and it will not take much time, but, provided that the beets were cooked in advance. The main ingredient, namely, beets, choose a burgundy color, with a thin skin, without light rings. Ideally, such varieties are suitable – Bordeaux, Pablo, tenderness.
Ingredients:
Large boiled beets – 1 pc.
Pickled or pickled cucumber (medium size) – 1-2 pcs. or gherkin – 3-4 pcs.
Onion – 1 head.
Garlic – 1-2 cloves.
Sunflower refined oil – 1.5 tbsp. l.
Freshly ground black pepper – to taste.
Salt – to taste.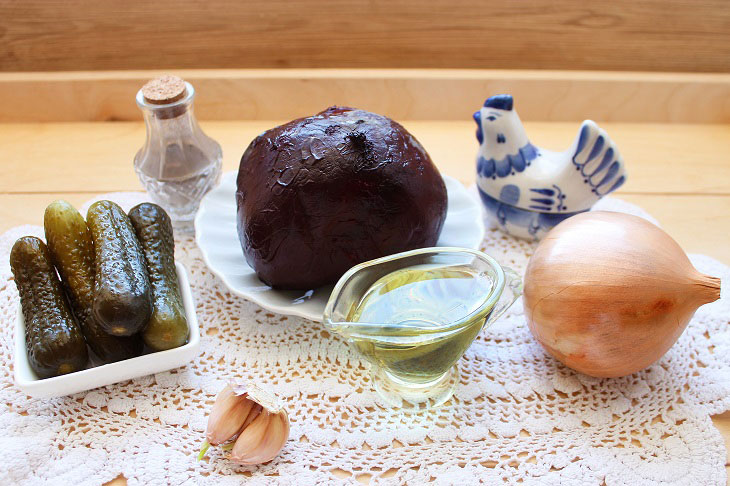 Cooking time: 20 minutes. Servings Per Container: 2.
How to cook:
1. Peel the onion, rinse and chop finely. Next, heat the sunflower oil in a frying pan and fry the onion in it.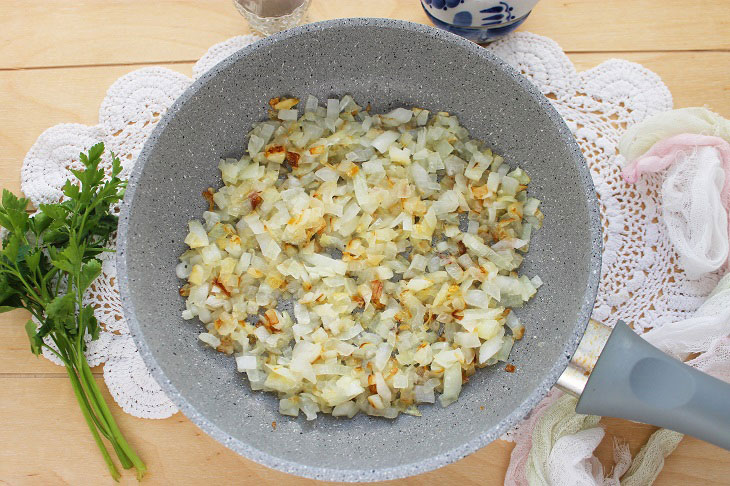 2. Peel and grate the boiled beets on a grater with large holes.
For this salad, you can use not only boiled, but also baked beets. Wrap the beets in foil and bake in the oven for 45-50 minutes at 180⁰C.
Put in a bowl.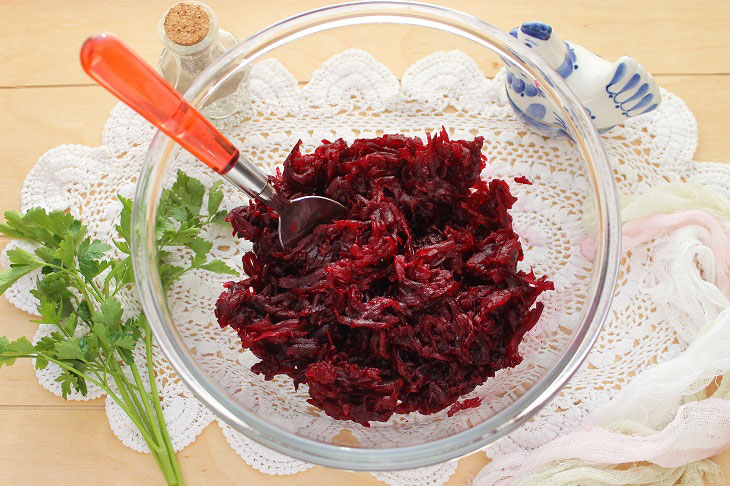 3. Salted or pickled cucumbers, too, grate on a coarse grater. Add to beets.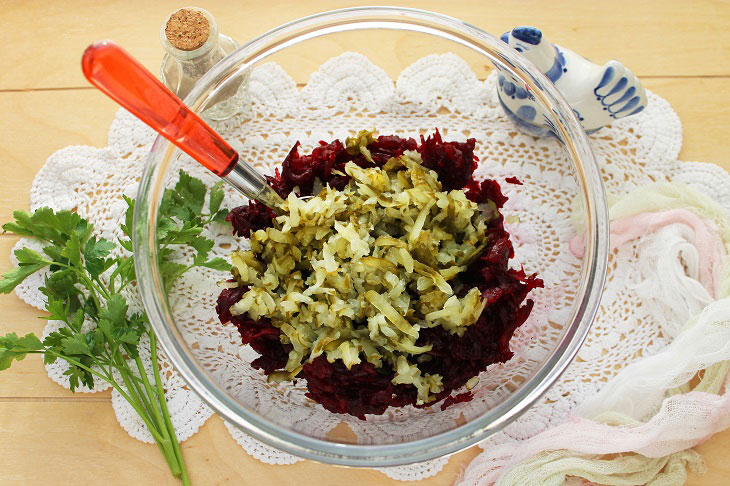 4. Transfer the fried onion to a bowl along with the oil in which it was fried.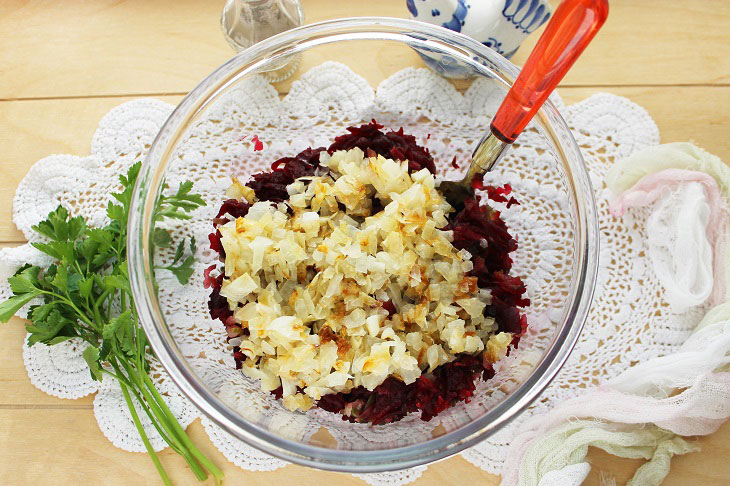 5. Peel and finely chop the garlic cloves or pass through a press. Put in a bowl. Season to taste with black pepper. Stir, taste for salt, as there are pickles in the salad. Salt the salad if necessary.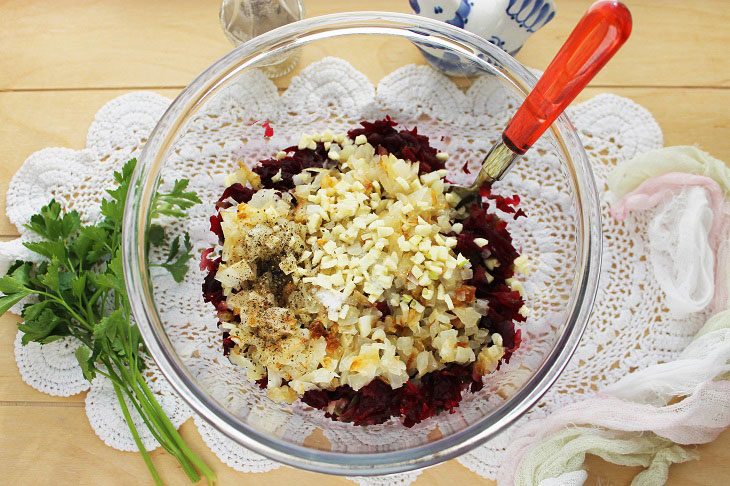 Salad "Quartet" is ready. Transfer it to a beautiful salad bowl and serve. If you wish, you can decorate the dish with parsley or dill, and also decorate with a "rose" of cucumber, as in the proposed recipe.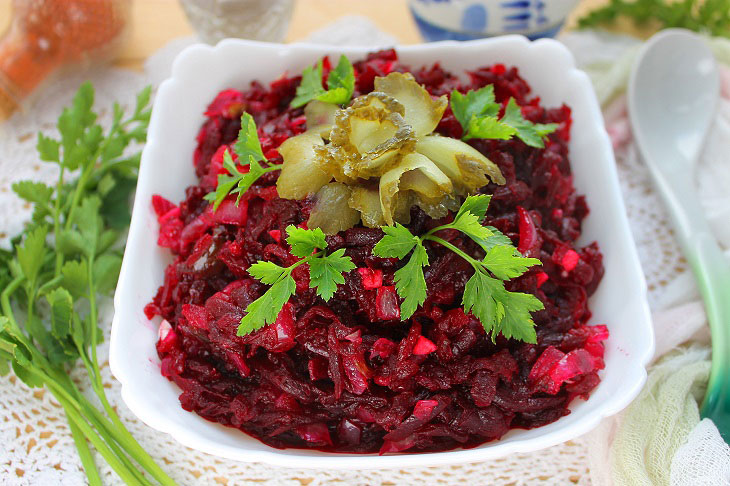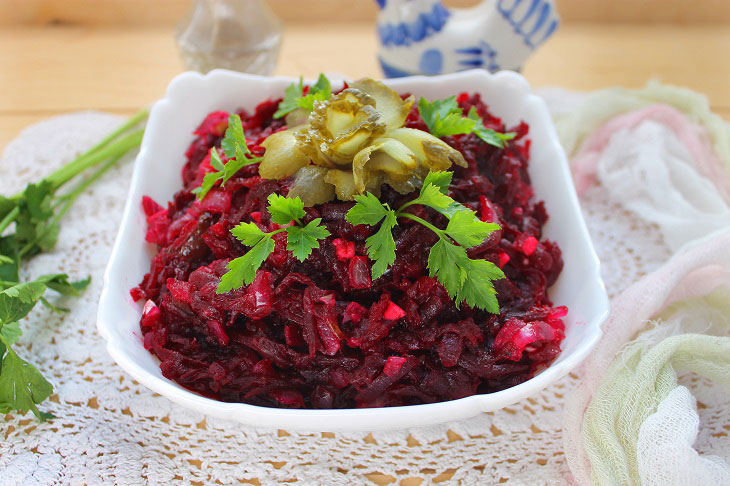 Enjoy your meal!